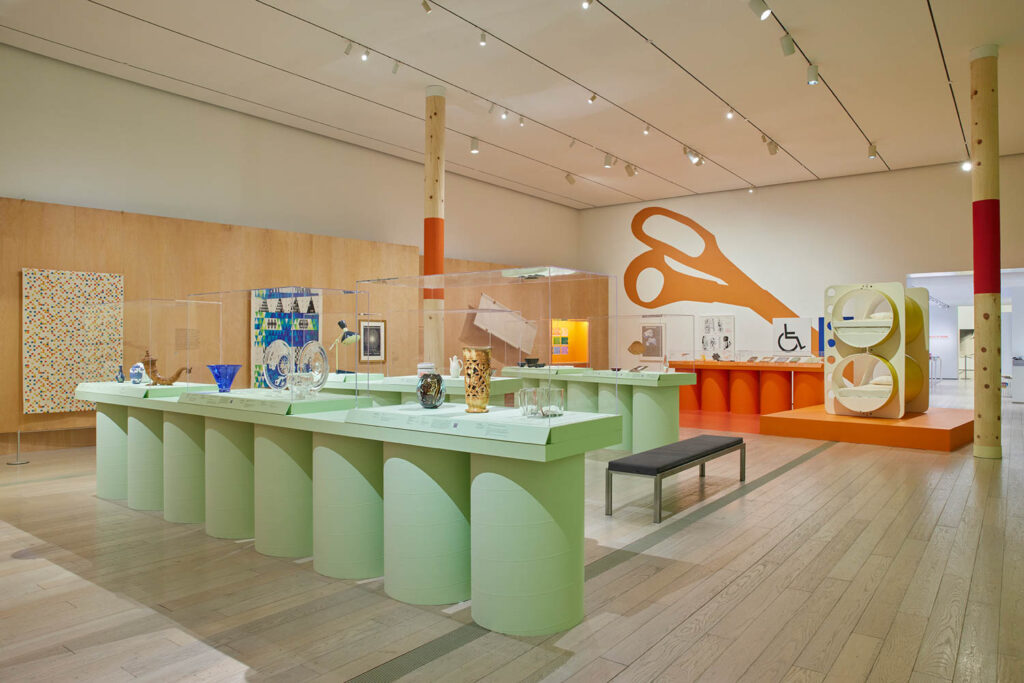 An Exhibit Designed by Barbara Bestor at the Los Angeles County Museum of Art Explores the Scandinavian-American Design Connection
Chairs by Eero Saarinen, Hans Wegner, and Alvar Aalto. Textiles emblazoned with bold, vibrant supergraphics. Crave-worthy works of glass and ceramics. These are among the 175 objects, many we've come to know and love, on view in a Barbara Bestor-designed exhibition, "Scandinavian Design and the United States, 1890-1980" at the Los Angeles County Museum of Art. The exhibit, for which the architect collaborated with curators Bobbye Tigerman and Monica Obniski is, however, more than a collection of objects. Instead, it takes a deeper dive into the design and cultural exchanges between the United States and the Nordic countries, Denmark, Sweden, Finland, Norway, and Iceland. In this aspect, it is said to be the first of its kind.
Spread across three rooms on the second floor of Renzo Piano's Broad Contemporary Art Museum (BCAM) at LACMA, the exhibition builds upon ideas forming six thematic constructs. Examined are: Migration and Heritage; Teachers and Student; Travel Abroad; Selling the Scandinavian Dream; Design for Diplomacy; and Design for Social Change. Together they propose an alternative to the European-centric influence on American design history as presented by the Bauhaus.
Presented, for example are: the design haven Cranbrook; Scandinavian design as part of the United Nations headquarters building; and Niels Diffrient Humanscale ergonomic design guide for a range of bodies including wheelchair users. They're all part of the picture as is Dansk. Although founded by an American, the company took the Danish word to appeal to Americans' appreciation of Scandinavian design. The selling and merchandising of Nordic design to the U.S also comes into play with the merchandising boat, created of course, to reference a Viking ship. The Travel Abroad section touches upon a more disturbing event. It tells of the Black American artist Howard Smith moving to Finland to escape the racism and lack of professional opportunity at home. Ultimately, his story had a happy ending: his textile print for the firm Vallila was a popular export back to the U.S. for home décor.
For her part, Bestor, whose exhibition resumé includes Albert Frey and Lina Bo Bardi at the Palm Springs Art Museum and Deborah Sussman loves Los Angeles at the erstwhile Woodbury University Hollywood Outpost, was a natural choice for the commission. Her mother, a northern European German emigrating to the U.S in the '60's, instilled a love of Danish furniture and Marimekko fashion. Growing up in Cambridge, she frequented the store Design Research, a temple to Scandinavian design. "In college and graduate school Alvar Aalto was my favorite architect, and four years ago I did a long trek through Finland," she continues the litany. "The exhibition design representing Finland for the 1939 World's Fair was a big inspiration." So was Sussman's environmental design for LA's 1984 Summer Olympics. Ergo the undulating plywood walls and platforms atop painted cardboard tubes. What's more? "I still collect Marimekko. I consider my studio's work to be 'maximalist modernism.'"
A collaboration among LACMA, the Milwaukee Art Museum, Sweden's Nationalmuseum, and Nasjonalmuseet, Oslo, the exhibition is up until February 5, 2023. If in Los Angeles, hurry to catch it.