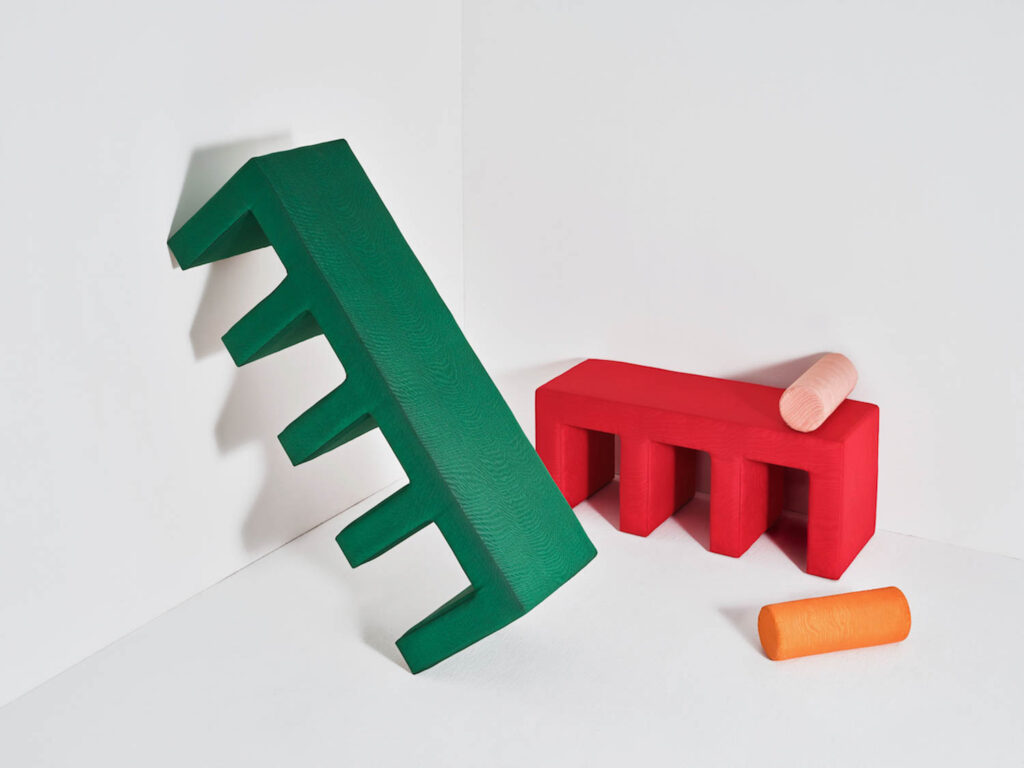 9 Bold Color Highlights from Milan Design Week 2023
There is a springtime following winter, and we are in it. Color can match our emotional state. Bold and bright, it seizes a room, lifts us up, and comforts us. For the first time since the global pandemic, international furnishings event Salone del Mobile and the coinciding Milan Design Week returned to their former April time slot, for the most part back to the usually scheduled program.
As Interior Design jaunted around town and the fairgrounds, we saw color, color, and more color. And this makes sense. Would a gray or neutral beige really express what we have gone through? Now, in this moment, color should shout. Or perhaps, wrapped up in our own spaces for so long, we know ourselves better. Color is about individualism, after all. From a pastel outdoor sofa system to a balloon that won't float away and pendants that climb to the heavens, here are nine of our favorite, colorful finds from Milan Design Week 2023.
Pops of Color at Milan Design Week 2023
1. BomBom Outdoor by Joana Vasconcelos for Roche Bobois
The pastel-hued facades of Lisbon's Old Town sparked the idea for the exuberant color pallet of the curvaceous BomBom Outdoor sofa system by Joana Vasconcelos, upholstered in hardy outdoor fabric. Vasconcelos, who lives in Portugal's capital, also designed the suspended ceiling installation in the same hues, as seen in the Milan showroom here.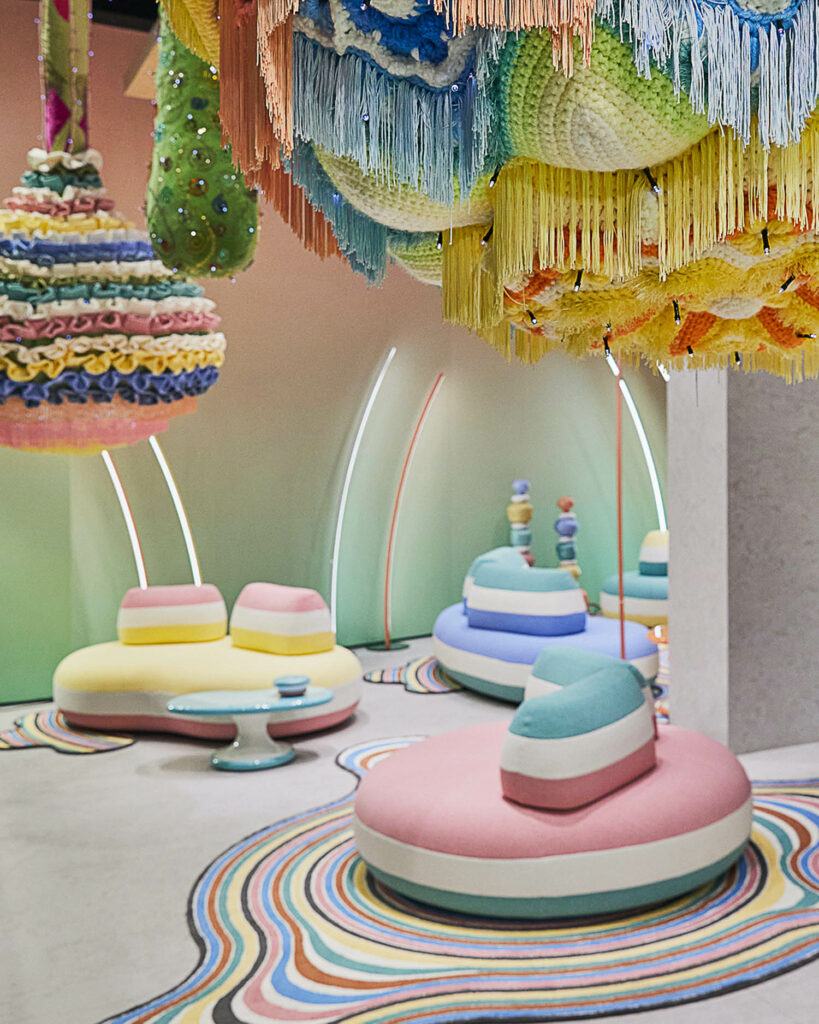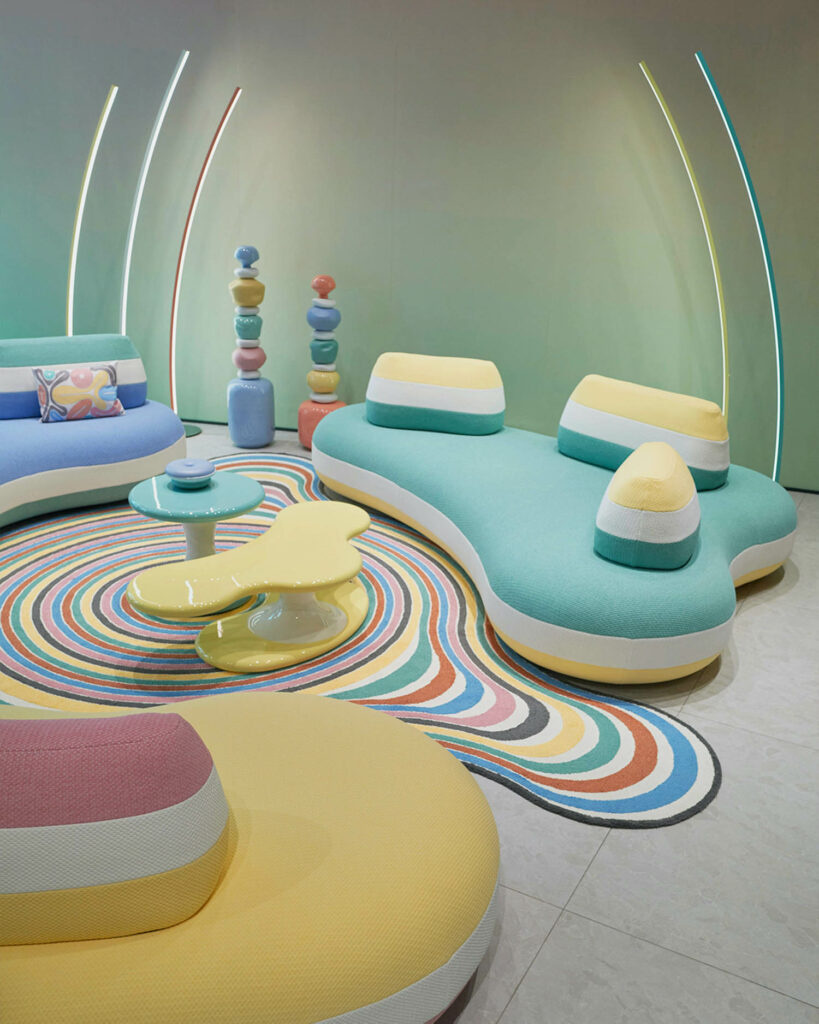 Evoking childhood memories of the excitement that comes with a balloon, Bulla wall lamps are crafted from glass in pastel hues mouth-blown without a mold—making each piece unique. The loop-shaped light element follows the form.
There are times when limitations lead to the best results. A basic light could be considered three parts: base, stem and illuminating element. "The Elements collection is based on reinterpreting one or two elements of this archetypical three-component light," says Gwendolyn Kerschbaumer, cofounder of Atelier Areti. Parallel Tubes, a new addition to the collection, is a wall lamp where this simplicity shines.
4. Starglow Spiral by Eloa
A colorful floating stairway gracefully ascending to the sky, the Starglow pendant light by Eloa is a string of colored spheres of mouth-blown glass, each unique. Both color and height are adjustable—allowing the possibility of floor-to-ceiling rainbows for living rooms, stairwells, and more.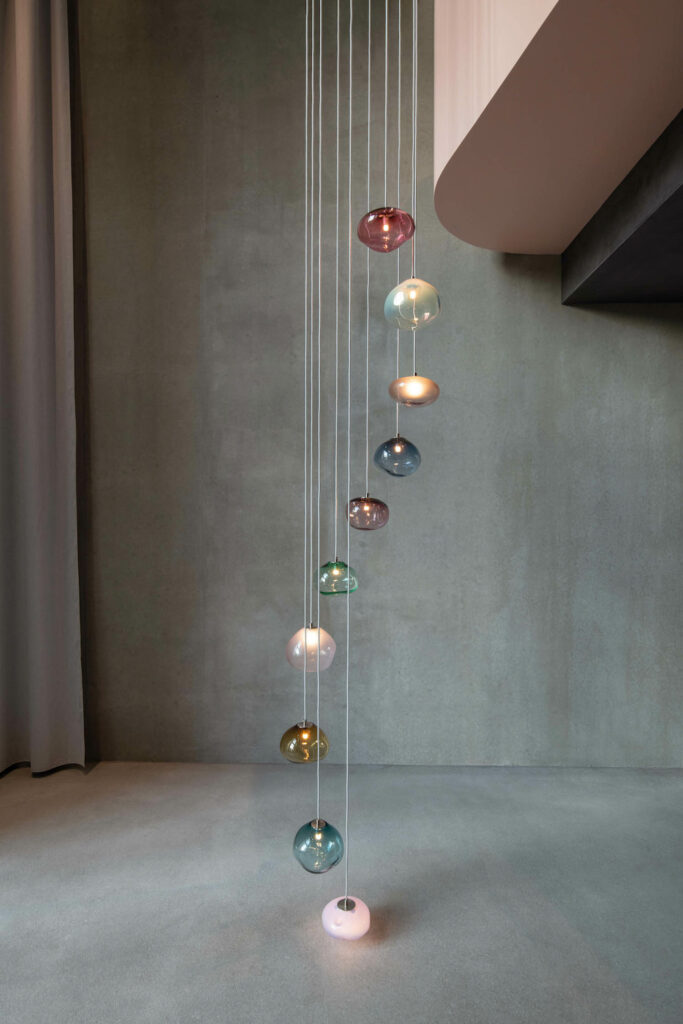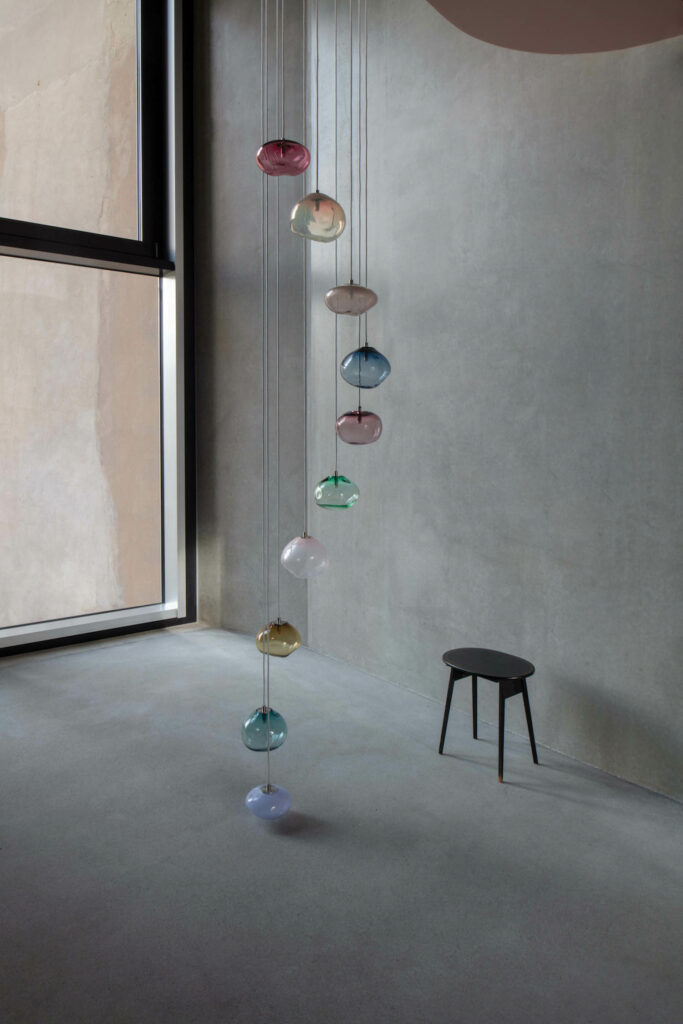 With a nod to Light Boxes by artist and composer Brian Eno, pendant light rods Ray and table Rainbow demonstrate with electrifying results the possibilities of acrylic resin. Irregularly-shaped swaths of color form Rainbow, while Ray drops enthusiastic hues from the ceiling. "I imagined a kind of waterfall or a curtain made of light," says Draga & Aurel cofounder Draga Obradovic. "In this collection, we wanted color because it gives the sensation of lightness."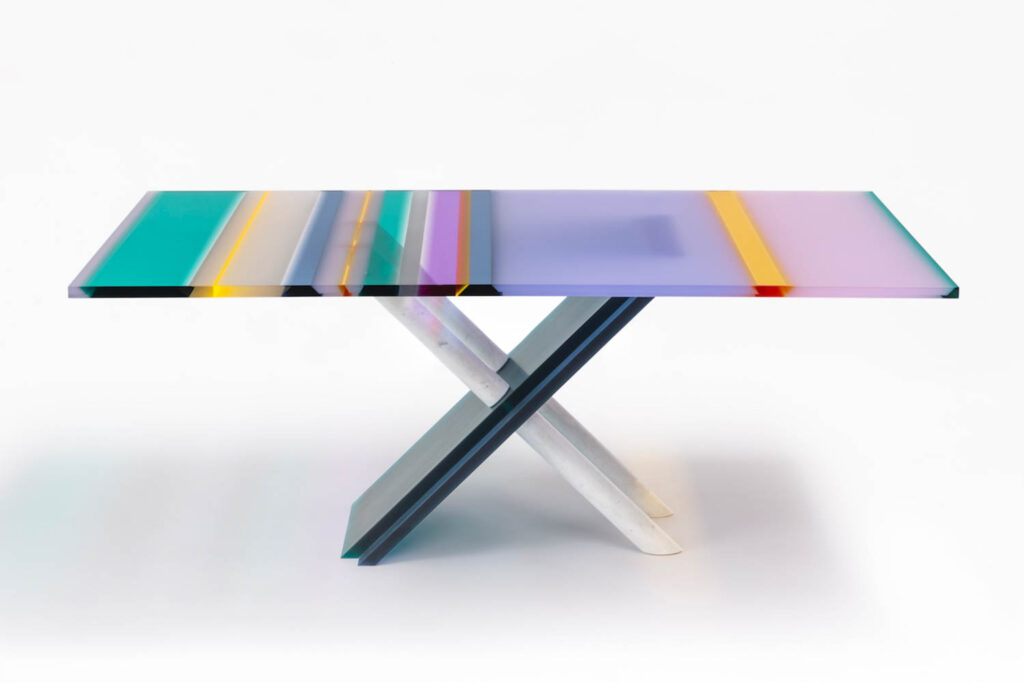 6. Moiré by Objects of Common Interest for CC-Tapis
Rugs can also explore the natural beauty of wood grain, according to Objects of Common Interest. The design studio's Moiré rugs, woven in a jacquard technique rare for the rug world, draw from the moiré-like patterns of grain and rings occurring in wood.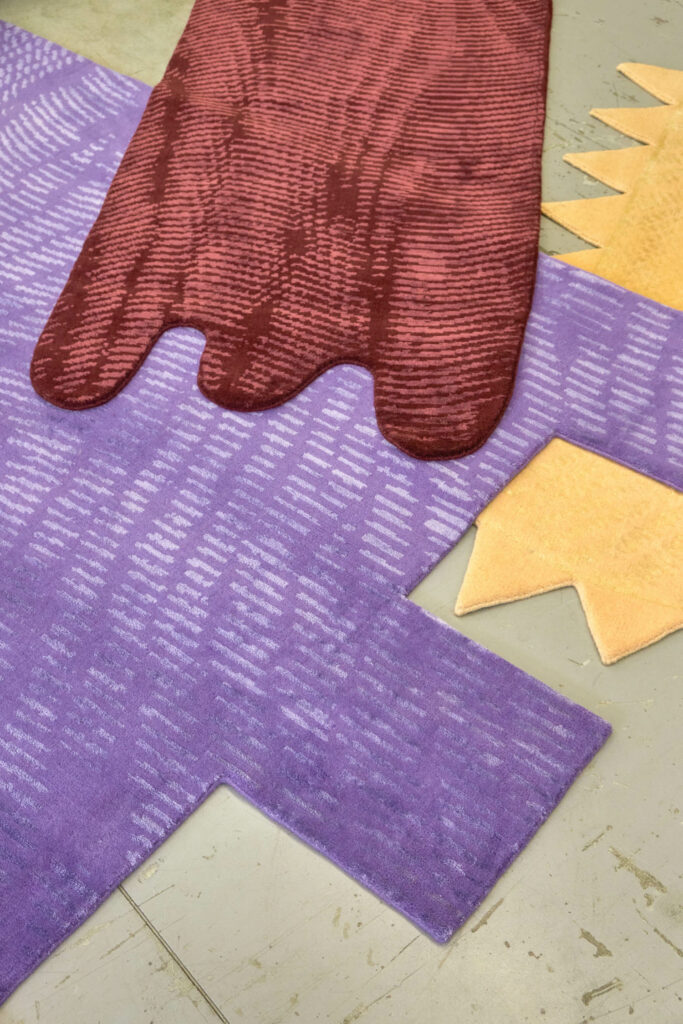 7. Bentar by Hendro Hadinata for Robries
Split gateways (candi bentar in Indonesian) are often found at the entrances of palaces and temples in Indonesia. Similar in form, the Bentar lamp by Hendro Hadinata is made from a material that recycles plastic waste. The light dims when its two pieces are pushed together.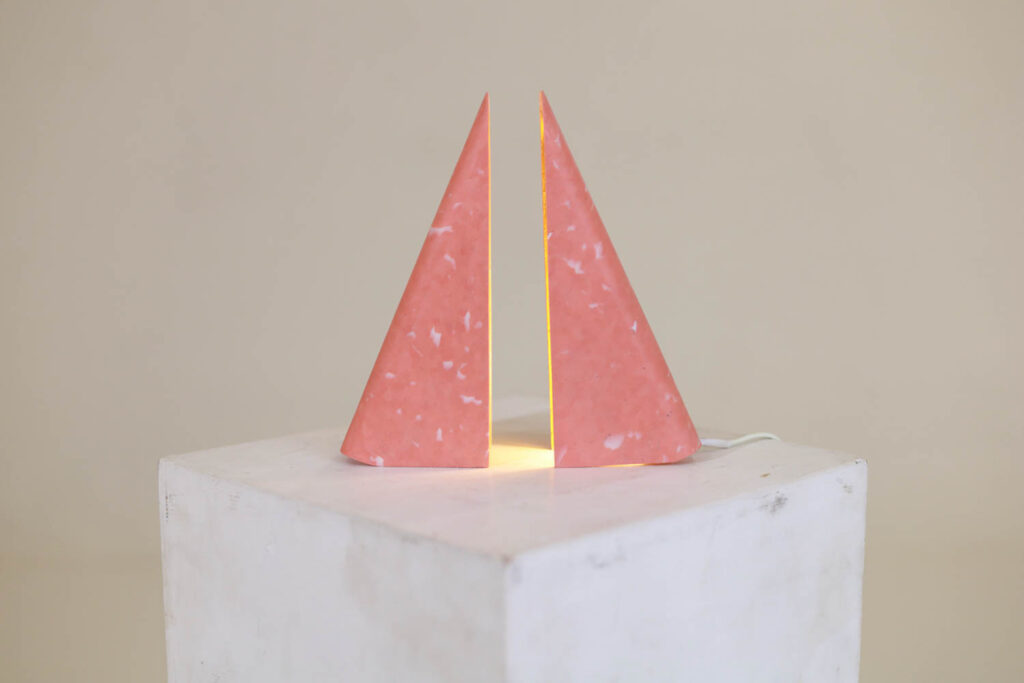 The shimmering, hand-woven silk 'kutnu' fabric upholstering the blocky Otto bench by Yellowdot takes its wavy pattern from the Ottoman Empire, where it was used for royal kaftans and furnishings. Today, the technique is kept alive by a small group of craftworkers in the city of Gazientep, Turkey.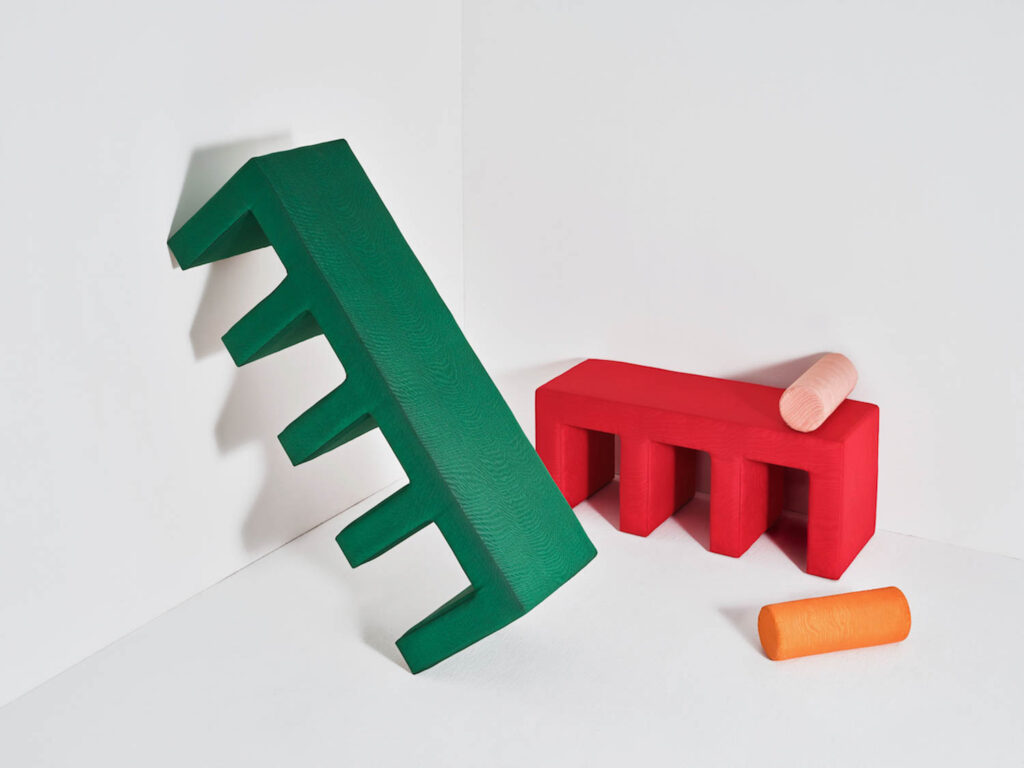 With piping accenting its backwards-sweeping, futuristic curves, the upholstered Blinda armchair and sofa elevate the average living room to the one you keep talking about. In addition to 'cream and coral'—shown here—bold color options include 'deep blue and violet' and 'orange and milk.'