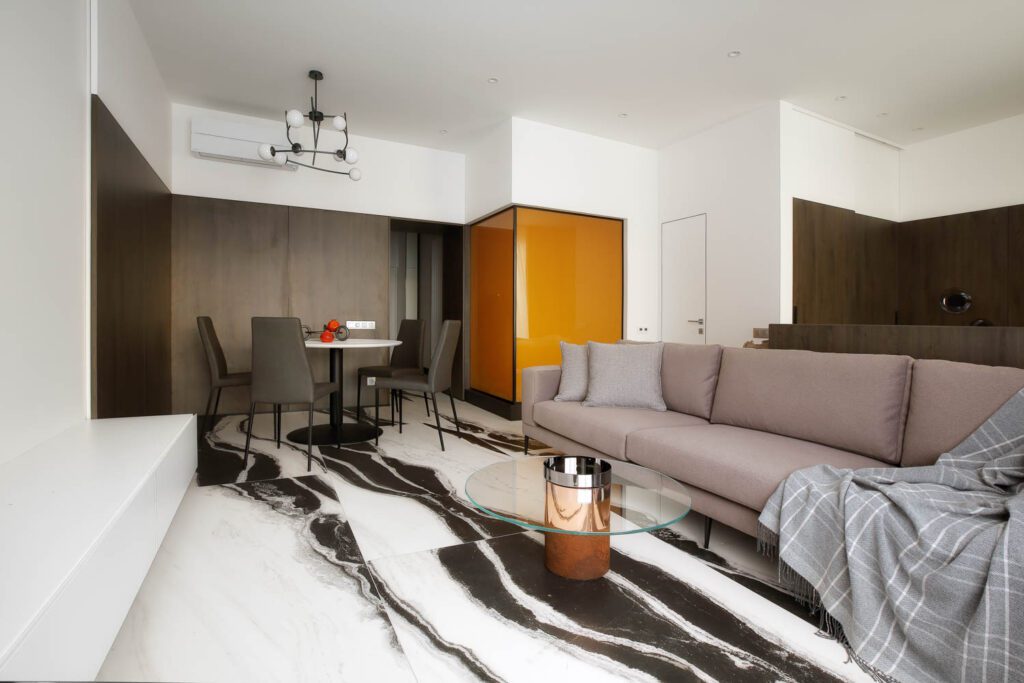 Dispatches from Ukrainian Designers: Kostiantyn Rusiev
Kostiantyn Rusiev, RP Project, Kharkiv
Project: Karhkiv Studio Apartment
RP Project is a small architectural and interior design studio based in Kharkiv, operating worldwide, using a wide variety of contemporary styles. Established in 2005 by two architects Kostiantyn Rusiev (R) and Liubomyr Podolianych (P), our team offers the clients a custom multi-disciplinary approach to high-end design. We are focused on private architecture, private and public interior design. Our professional philosophy is to create varied outstanding design that is an extension of the character of its owners: personality equals uniqueness. That's why our projects are diverse in approaches and styles.
Our main office is (or was) located in Kharkiv, which is now under intensive shelling by Russian troops. The office space was a symbol of prosperity and respectability of our small company: the place where the archive of projects was stored, a large library of books dedicated to architecture and design, all in all our creative shelter. At the beginning of the war, we were working remotely. Moreover, the scheme of work on projects has changed. The main team consisted of four people and the rest were freelancers, who we involved in projects as needed because of the numerous restrictions and lockdowns caused by the Covid pandemic. In addition, thanks to cooperation with large IT companies, in recent years the geography of our projects has expanded, and new projects have appeared in other cities of Ukraine and Europe.
"We are in search of new opportunities, sending CVs to find remote job opportunities, trying to start over on freelance platforms."
It so happened that on the day the war began, there was no one in the Kharkiv office. The war found me in Spain, where my business partner Liubomyr and I were finishing work on a large project in Valencia. Everything was left there in the office like it was before, including office appliances, computers, and some of our personal belongings. In March, several windows were blown out in our office by a blast. I don't have any idea what is happening there now. Since all my acquaintances and friends left the city, the city is shelled every day and the situation can change at any moment. I still believe that one day we will be able to get together there, hug each other, and think about the future.
At the moment, it is relatively safe in the west of the country. Although every day Russia shells the entire territory of Ukraine. As I said before, now we don't have any jobs at all. That's why there are two people left in the team. In fact, we have returned to the point from which we started almost 17 years ago! We are in search of new opportunities, sending CVs to find remote job opportunities, trying to start over on freelance platforms.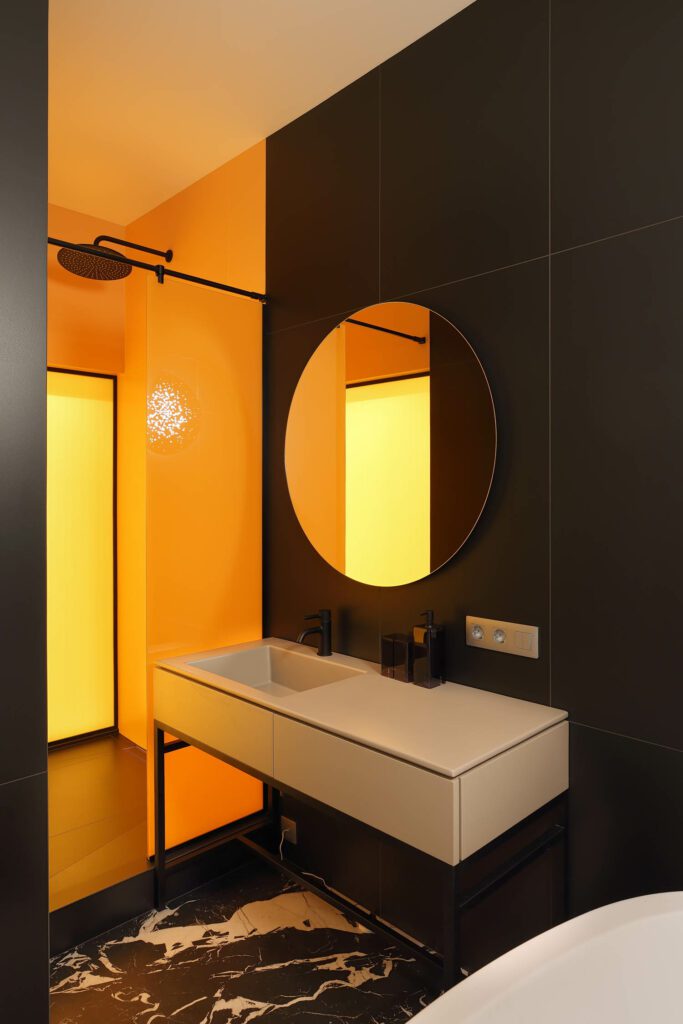 Unfortunately, all projects in Ukraine have been suspended. I do not think that they will be finished in the near future. All the guys are in safe places now. I am sure that it is very difficult for everyone to accept the fact that all your knowledge and skills, at the moment, are not needed in Ukraine. Business is destroyed, routine life is destroyed, there is no work anymore. Every day is a challenge, fighting with yourself and working on self-improvement. I would like to keep working, to be useful and helpful to my country, to take care of my loved ones, to see my friends, to stop thinking about the war and not to read the news, to go to my favorite restaurant…to wake up at home. How much I would like to. I believe, I cry, I hate, I hope, I grab over my memories, I live….Everyone experiences this personal tragedy in their own way, war is a huge challenge for each of us.
You can't be ready for war. You will believe until the last minute that everything is fine and this is just a political intrigue for bargaining between politicians. Metaphorically, I would compare my emotional state to myself like this gorgeous stained glass window of the central stairs in my University—damaged, but alive. My profession means peace, development, creativity. War is a basic human instinct, there is no place for creativity here. To survive as a nation we must win… Thanks to American people and all our friends for standing up for Ukraine, for your incredible support that makes millions of us believe in victory.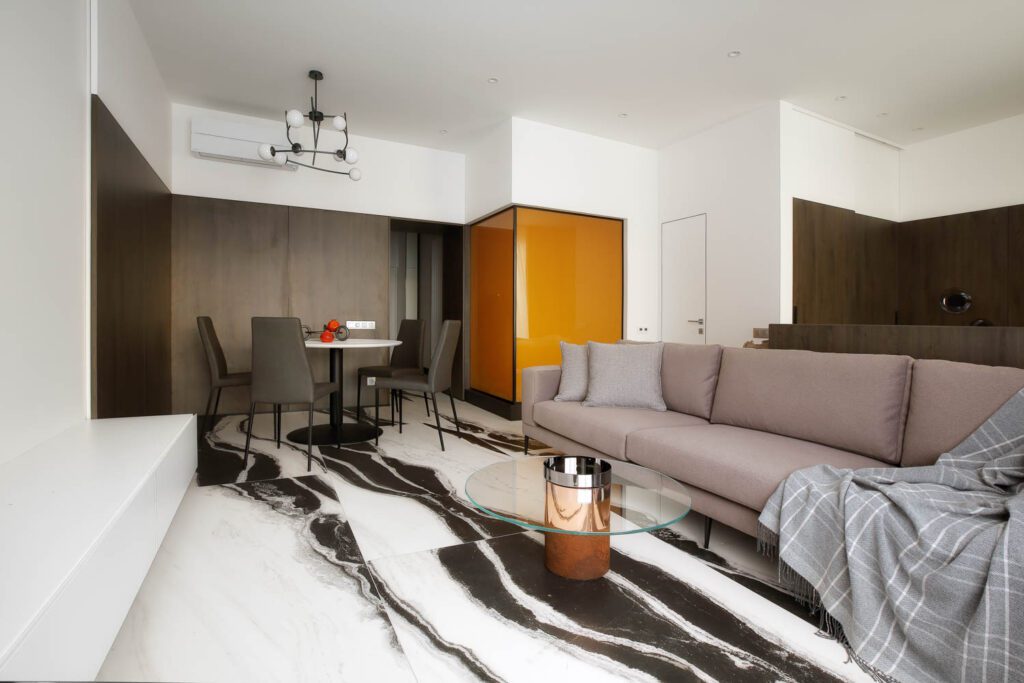 See more interviews from Ukrainian architects and designers about the state of their offices, their industries, and their homes here.