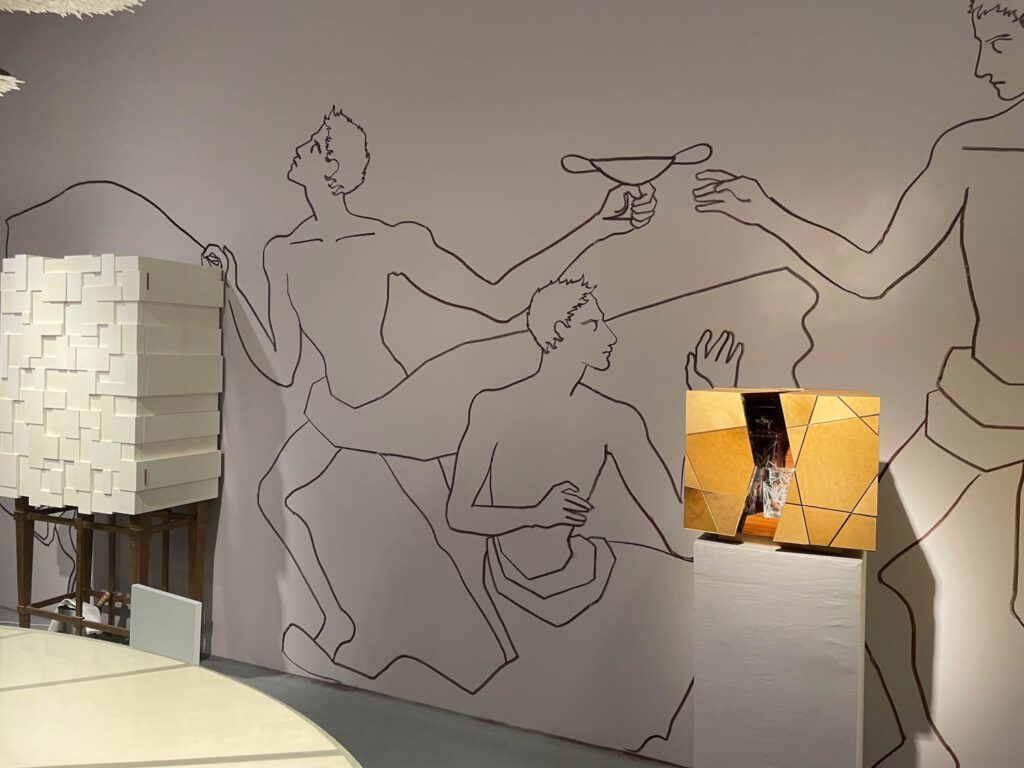 7 Highlights from PAD London
Fourth-generation Parisian antique dealer Patrick Perrin brought his design and art fair, PAD, to London 15 years ago, and it continues to energize the city. The week-long show, which coincided with London's international contemporary art fair, Frieze, featured 62 design and jewelry galleries from 13 countries spotlighting 20th-century and contemporary design. "PAD is a place where collectors, museum experts, interior specialists, design practitioners and the public alike feel at home," Perrin told Interior Design. "It is a treasure trove for design where one can learn, discover and be inspired, a platform that celebrates and promotes cross-collecting and the combination of genres, which we see as a growing trend amongst collectors."
The fair's positioning as a market stable in London and abroad was evident during the event preview when international collectors, dealers, and design lovers roamed the aisles, perusing objects from mid-century Nordic furniture and art by Swedish gallery Modernity to a whimsical installation of objects and furniture presented by Milan's powerhouse Nilufar Gallery. London's own Carpenter's Workshop Gallery occupied two booths, one dedicated to wearable pieces by contemporary art and fashion stars like Cindy Sherman, Michelle Lamy, and Rashid Johnson.
Between 41 returning and 21 first time participants, the fair had a foremost European program, reflected not only in the exhibitors' original locales but also in the visitor-base, as well as the works on view. For its return after a two-year pandemic-enforced break, PAD also committed to reducing its paper waste through entirely digitized tickets, a catalogue, and press kits.
Award-winning designs up the buzz at PAD London
The excitement was elevated on the event's second day when a black lacquer beech armchair by Jose Pleènik, dating to the early 1930s, at Patrick Fourtin's booth won the the historical design prize. Meanwhile, the best booth accolade was shared between Jacques Lacoste and Wa Design galleries and the contemporary design award went to Francesco Perini for his oak, maple, and black marble table at Gallery Fumi.
Read Interior Design's event highlights from PAD, which closed October 16 and will return to Paris on March 29, 2023.
Nilufar Gallery
Although an establishment with global impact, Nilufar Gallery still reflects the genuine eye of its founder Nina Yashar, a tastemaker and collector with an avid fascination for elegant maximalism and alchemy of color and pattern. Fittingly, the gallery's booth was a whimsical display of furniture that pulled fairgoers to a potpourri of colors and forms. Artist, designer, and style figure Bethan Laura Wood's selfie-begging, romantically-decorated mirrors were steps away from Italian designer Osanna Visconti's bronze table. Wood was also represented with her sculptural wooden cabinet, Meisen Caterpillar, which was a crowd-pleaser with its piled rounded teal shelves and painted wash of psychedelic patterns. The furniture's mind-bending presence is not a coincidental given that Alice in Wonderland was the artist's main inspiration for the piece.
Jousse Entreprise
French galleries expectedly have a large presence across the Parisian-born fair, such as Jousse Entreprise, which presented an ample selection of French and international designers, both contemporary and of the 20th century. In the heart of their booth was Charlotte Perriand's geometric bookcase, Mexique, which the late architect and designer created in 1952 with enameled aluminum and wood in a geometric pattern of colors. Another head-turner was Roger Tallon's Module 400 coat rack with its elegant polished tube, cast aluminum, and plastic body. 1965 being the work's year of creation, the influence of Minimalist art is clear from its economic silhouette and use of industrial materials.
Modernity
Stockholm and London-based gallery Modernity received a wave of foot traffic thanks to its ambitious selection of international Nordic designers from the last century and a dramatically-design booth with wooden accents by architect Emilie Bonaventure. Paavo Tynell's intriguing chandelier from 1940s was made with a brass frame and rolled tabletop place mats. In a corner, a vignette of art, furniture, and objects created a neat domestic setting: Ingebourd Lundin's 1957-dated elegant glass vase The Apple was placed atop Mogens Lassen's clean-cut wooden coffee table, The Egyptian Table from 1935; Finn Juhl's two-seater teak sofa from 1945 and Sven Hansson's 1982-dated oil on canvas geometric abstraction completed the juxtaposition.
Ceramics Now
Founded by Raphaella Riboud-Seydoux and Florian Daguet-Bresson in Paris, ceramic and glass gallery Ceramics Now filled their booth with a display of intriguing vessels by young designers who push the tradition with help from technology. Claire Linder's neon-colored objects reflect her interest in underwater and unearthing nature's own process of creation; Faye Hadfield's colorful unabashedly flamboyant creations marry clay's malleable softness with ceramic's fragile firmness, adorned on their surfaces with explosive colors in dancing patterns. A surprise in the display is world-renowned conceptual artist, Lee Ufan, whose emphasis on the materials' bare essences—whether with pigment and canvas, drypoint on paper or clay—found its reflection here through his gentle ceramic bowl.
Galerie Jallu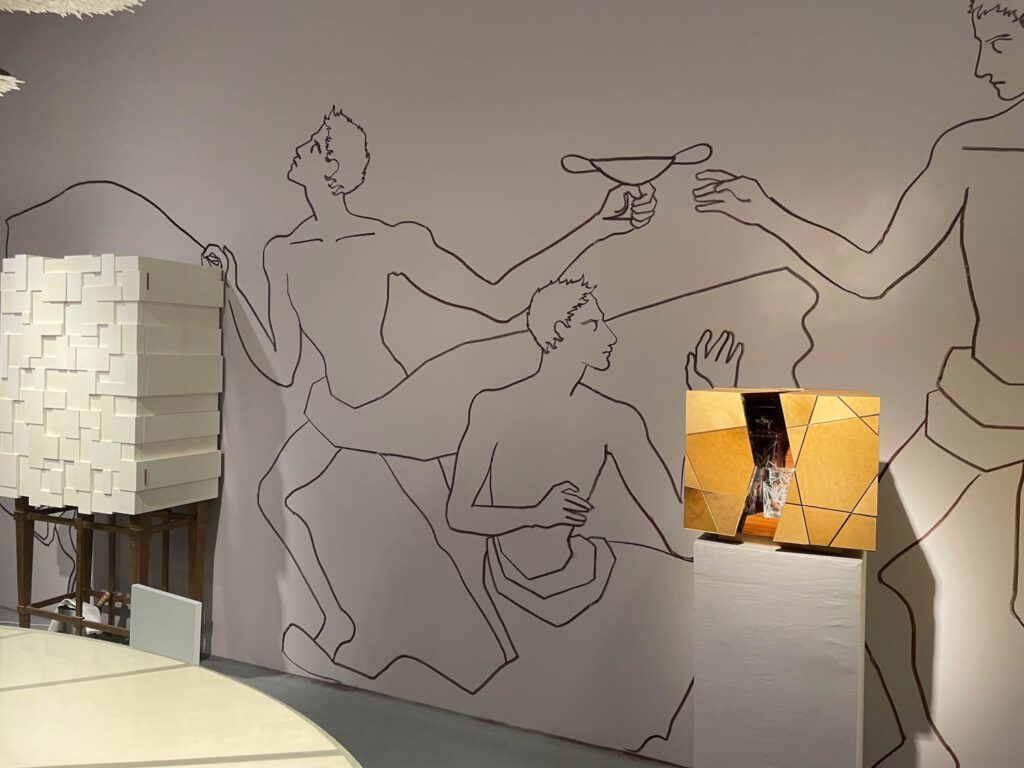 Among this year's newcomers, Galerie Jallu from Paris made its first impact with Roberto Ruspoli's romantic wall-covering drawing of bodies as a backdrop to a large selection of furniture. London-based designer Cox London's polypore and glass chandelier mixed classical with experimentalism in material, with 7500 Venetian glass leaves held by polypore frames. Sitting on a pile of large discs made out of selenite, bleached sycamore and white gold leaf, gallery founders Sandra Scolnik-Jallu and Yann Jallu's large scale Ring Table was a masterful amalgamation of materials and balance, with large chunks of discs in an energetic composition lifting a rounded surface. Clement cabinet, also designed by the couple, again merged materials—in this case black mica, pyrite and bog oak— in an elegant concert, outlining the surface with aa that radiated the impression of aa flowing down
Adrian Sassoon
London's own Adrian Sassoon brought a large selection of designers from the gallery's roster, showcased in a fashion similar to domestic displays in its townhouse location by Hyde Park. Danish designers Tobias Møhl's blown glass vessels captured a veil-like thinness, while Dutch designer Bouke de Vries's two playful creations, Delft Stack I and III, included toweresque piles of 18th century Dutch Delft porcelain segments at 38 feet heights. Silver was also represented with Japanese artist and designer Junko Mori's Silver Organism; Garden Flowers, a flower-shaped creation of forged fine silver.
Cristina Grajales Gallery
New York's own Cristina Grajales Gallery made its PAD debut with a selection of designers offered at the gallery's downtown Manhattan space. Colombian designer Alexandra Agudelo's silver mirrors reflects an oozing sensation embodied through a contrast between the material's history across cultures and her liquid visual lexicon. Glass found a similarly surreal and playful form in Randy Polumbo's Sprout, which as its title suggests, captures an organic growth blended with a biomorphic sensation with a sheeny aluminum branch and glass pods glaring with help from LED lights.