Ones to Watch: David Derksen

David Derksen

founded his eponymous Rotterdam-based studio after graduating from the

Eindhoven Design Academy

in 2009 and obtaining his MSc degree in Industrial Design at

Delft University of Technology

in 2011. We spotted his work at the 2013

Ventura Lambrate

exhibition, organized by seven up-and-coming Dutch design studios to have the convivial feeling of a hometown show; most of the designers were friends and colleagues based in Rotterdam and Amsterdam.
Derksen debuted a prototype of his Lightness Table alongside new Wooden Lights and the Dewar Glassware series and Copper Lights. The designer draws inspiration from nature—both its mysteries and its certainties.
"Often I am inspired by science (physics, chemistry, biology, etc.), since these sciences study the principles of our world," says Derksen. "For me, science, design and art originate from curiosity about our world. Why is a rainbow round and why does it have such beautiful colors?"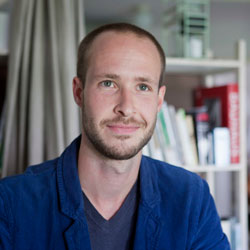 Often Derksen's pieces take their shape from inspiration on the material level. "The Copper Lights originate from my efforts of trying to make stable shapes from a very thin material," he says. "Once you find out how a material behaves, the design comes naturally."
The same is true of the Transience mirrors that he designed with Amsterdam-based

Lex Pott

in 2011. The duo were fascinated by antique mirrors with oxidation stains, so they tried to understand the process and replicate it to form designs. "When we found out how we could do that, we just had to think of some good shapes that show the steps in the process," explains Derksen. "It is almost like showing steps in time."
The team will launch a new collection of furniture developed from experiments with biodegradable in September at the next

Maison et Objet

in Paris. In his solo work, Derksen continues experimenting with laboratory glassware, working on details of the Dewar series and developing new ideas as he begins to understand each material.

<



Ones to Watch: Thinkk Studio



Ones to Watch: Acqua Aalta