6 Homeware Designers to Know
Whimsy and color abound in these homeware selections ideal for gifting.
These Must-See Home Accents Double as Design-Minded Gifts
Available exclusively on French designer Espeuete's own website, these tablecloths and runners are carefully embroidered by hand in Marseille on vintage linens. Their quirky depictions of plates, food, cutlery, and more "are the trompe-l'oeil of an imaginary meal, a dear moment engraved," Espeute says. We love their gestural, Matisse-esque quality. No mass-production here, these are instant heirlooms.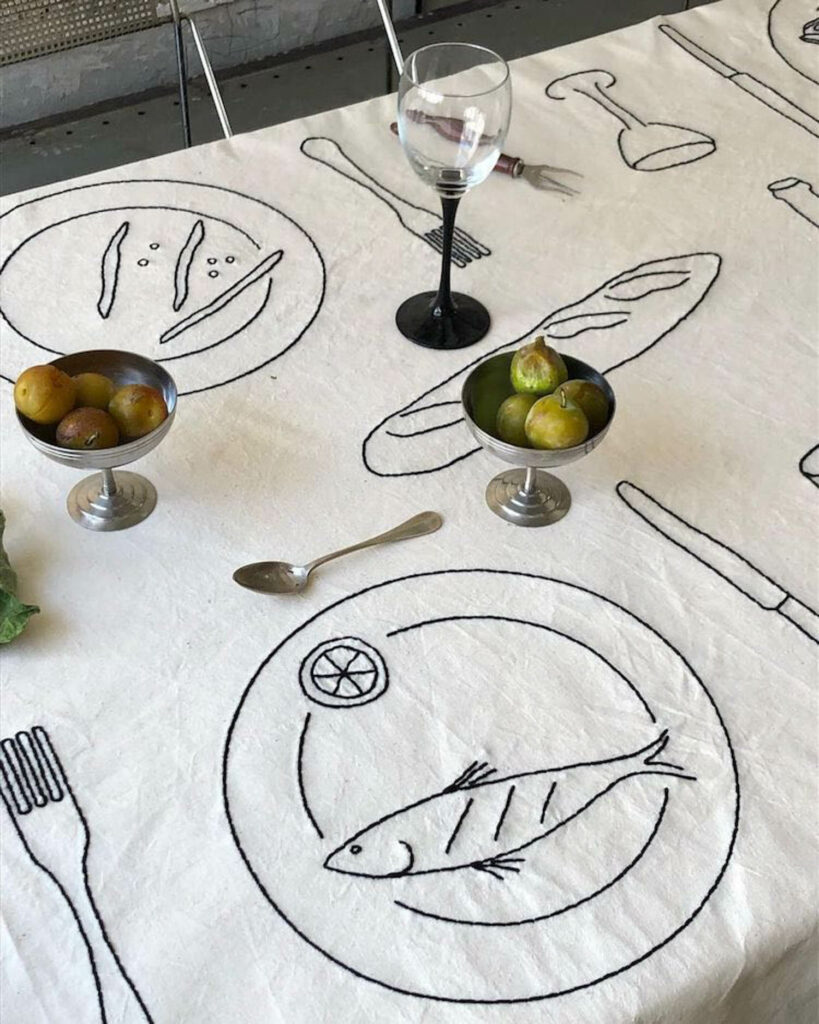 Follow @chell_fish_nyc (aka Michele Mirisola) on Instagram to be alerted to when and where the Brooklyn-based artist is dropping the next installment in her line of covetable limited-edition ceramic goods (they go quick!). Her whimsical blue-and-white dishes and platters incorporate real shells held together by an air-dry clay. Gouache paint and food-safe resin lend pattern and shine. Don't delay: these wares are sure to become collectables.
Based on the seminal work of Ojai sculptor Firoozeh Neman, Delphina is a candle that echoes the female form, it's semi-abstracted curves available in a host of refined colors: ivory, beige, stone, olive green, and obsidian black. Prop one on a stack of books to instantly bring an artistic touch to any room.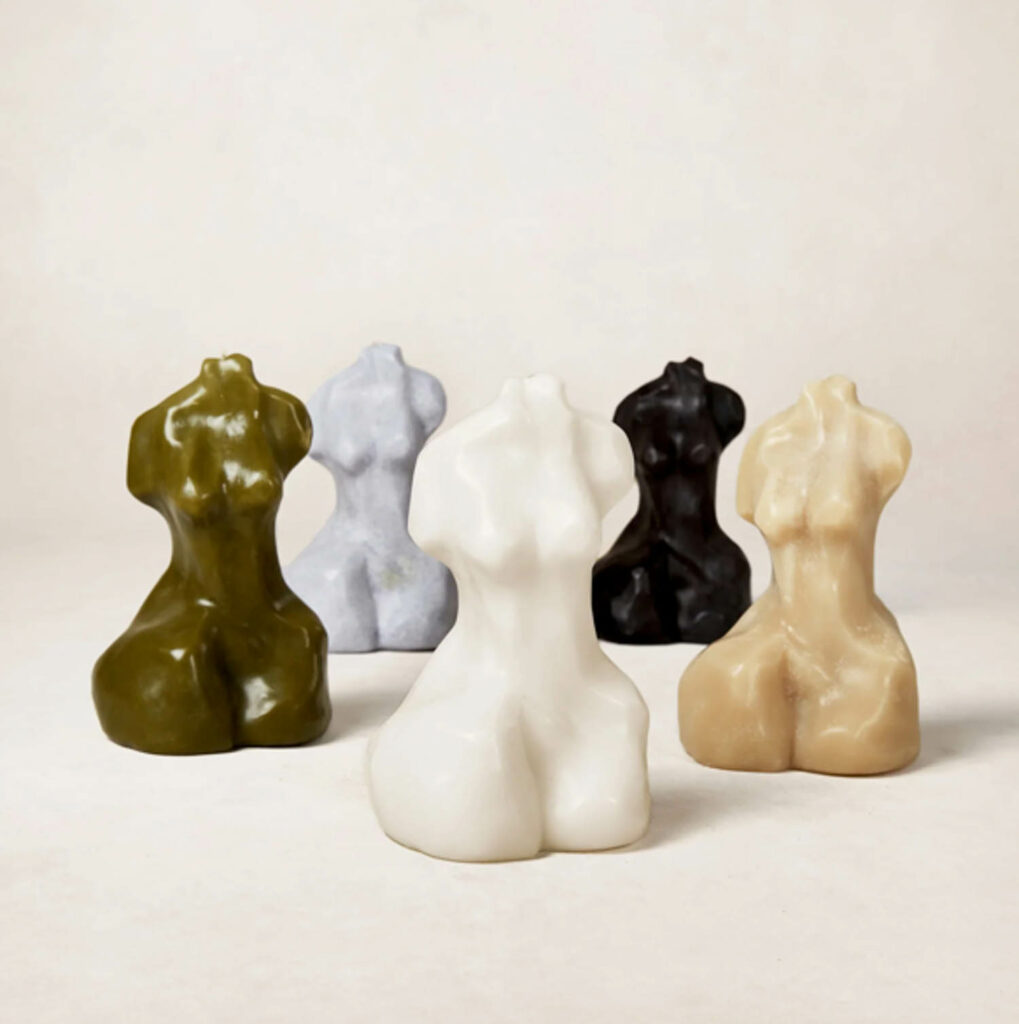 Haines is an Australian artist who paints color as feeling, her oils on canvas inspired by both her creative grandmother and greats such as Mark Rothko and Helen Frankenthaler. Working with warm and vivid tones and drawing on her experience of motherhood in Melbourne, Haines homes in on small domestic moments, creating vibrant still life art. Alongside her originals she sells prints of each work: all hand signed and numbered.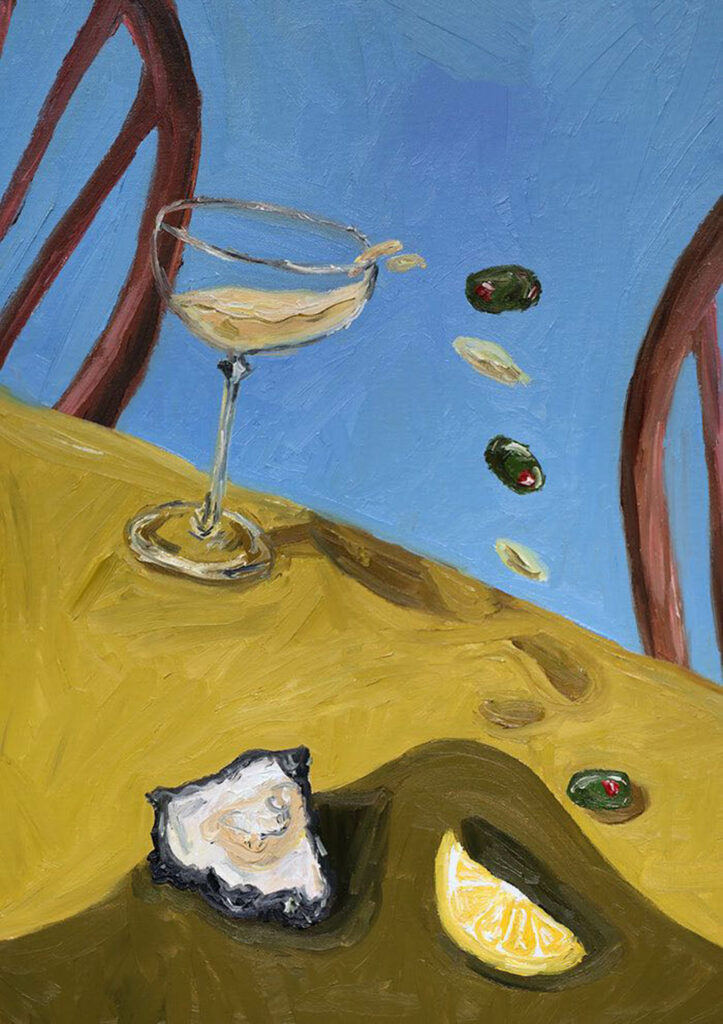 Scallop Linen Napkins by Matilda Goad
Matilda Goad is a London-based creative who makes spectacular spaces and visuals: she's lent her magic touch to shop windows, events, and now her own products. (Check out her stunning, Insta-famous house tour also.) Goad's lamps, pillows, and other home accessories are impeccable examples of a specifically British brand of tradition-led "cottagecore." May we suggest the scalloped linen napkins with contrast trim as a particularly effective gift for avid hosts and entertainers.
Dot Vase by Maison Balzac at Coming Soon
Maison Balzac excels at decorative glassware and this flower vase is no exception. The clear cylinder is made of borosilicate glass and finished with a smattering of rainbow dots applied by hand. It's a centerpiece that is at once both playful and minimal, so can suit a wide variety of personal styles. There are also matching cocktail glasses that are equally delightful.