10 Chic & Cheerful Breakfast Areas
Just try to resist the coziness of these nooks, bars, and tables—designed for coffee, tea, and full-on breakfast fiends alike.
1. Architect Scott Glass Uses Unfinished Cypress Cladding on His Hamptons Weekend Home
Many people come to own a vacation home by renting for years and falling in love with a particular place. That's the way New York City residents Scott Glass and family became smitten with the East End of Long Island, particularly its most unspoiled enclaves. Glass sited a new seven-bedroom house in Amagansett, and let it step up to the natural topography of the land, exposing it to as much southern light as possible. The kitchen features radiant-heated bluestone floors and a quartzite backsplash.
2. Pascali Semerdjian Arquitetos Employs Wood, Stone, and Metal for a Festive São Paulo Home
The unassuming glass facade could easily pass as an office building. But the 1970s structure in Jardins, an upscale neighborhood in São Paulo, Brazil, that's rife with restaurants, galleries, and concept stores is actually a residential high-rise housing 30 window-wrapped apartments. Among them is a 4,100-square-foot aerie remodeled for a young family by local firm Pascali Semerdjian Arquitetos. Chairs by Luciana Martins and Gerson de Oliveira pull up to the breakfast room's Eero Saarinen table with custom top.
3. Michael K. Chen Renovates a Commodious Park Avenue Pre-War Apartment
New York architect Michael K. Chen knows his way around a tight floor plate. Sliding, pivoting elements that maximize micro-apartments are his namesake studio's specialty. But Chen proves just as adept with more commodious spaces. To wit: a 2,800-square-foot Park Avenue prewar renovated for a young couple, Laura and Jason Schwalbe, and their two children. In the kitchen, the clients' favorite zone, glossy dimensional tiles bounce light, and an Enzo Mari Il Gorilla print livens the breakfast nook.
4. An Artsy Sag Harbor Retreat by Groves & Co. Is All About the Mix
It's one thing to live with art. But to live submerged in it—as do the owners of this Sag Harbor, New York, getaway by Groves & Co.—requires a whole other level of connoisseurship and commitment, not to mention a rather prolific collection. A 1970s Murano-glass pendant hangs above the kitchen's breakfast nook, with Eero Saarinen table serviced by Charles and Ray Eames chairs.
5. East Coast Residence Inspired by the Classic American Farmhouse
For a verdant site that slopes down to a marshy wetlands, O'Neill Rose Architects designed a structure that cantilevers out from high ground. An intimate eating nook is sheltered in cypress slats painted light azure and punched to admit sunlight. The arresting pop of blue serves well as a backdrop for the open-plan dining zone. A custom steel light fixture extends over the granite-top Eero Saarinen Tulip table.
6. Sydney, Australia Residence by Richards Stanisich
The colors of Rick Amor's artwork hanging above the built-in banquette and custom table informed firm director Jonathan Richards's palette for his own kitchen by Richards Stanisich, with painted plaster walls, oak-veneered cabinetry, and a quartzite backsplash.
7. Looking to the Past, Studio Paradisiartificiali Provides Milan Apartment with Timeless Design
The designers behind the Milanese collective Studio Paradisiartificiali keep their identities anonymous, and their project teams global. But their work always has a clear point of view. This 1,100-square-foot apartment in Milan is a prime example. It's a collaboration with the Mexican artist Guillermo Flores Orbeh that travels through time collecting influences and objects from mid-century Italy, the Memphis movement, and global jungles. In the kitchen, vintage Gio Ponti chairs for Cassina boast new cushions by Maisons du Monde, who also manufactured the pendants.
8. Sabine Marcelis and Paul Cournet's Artful Loft Brings Glamour to Rotterdam's Coolhaven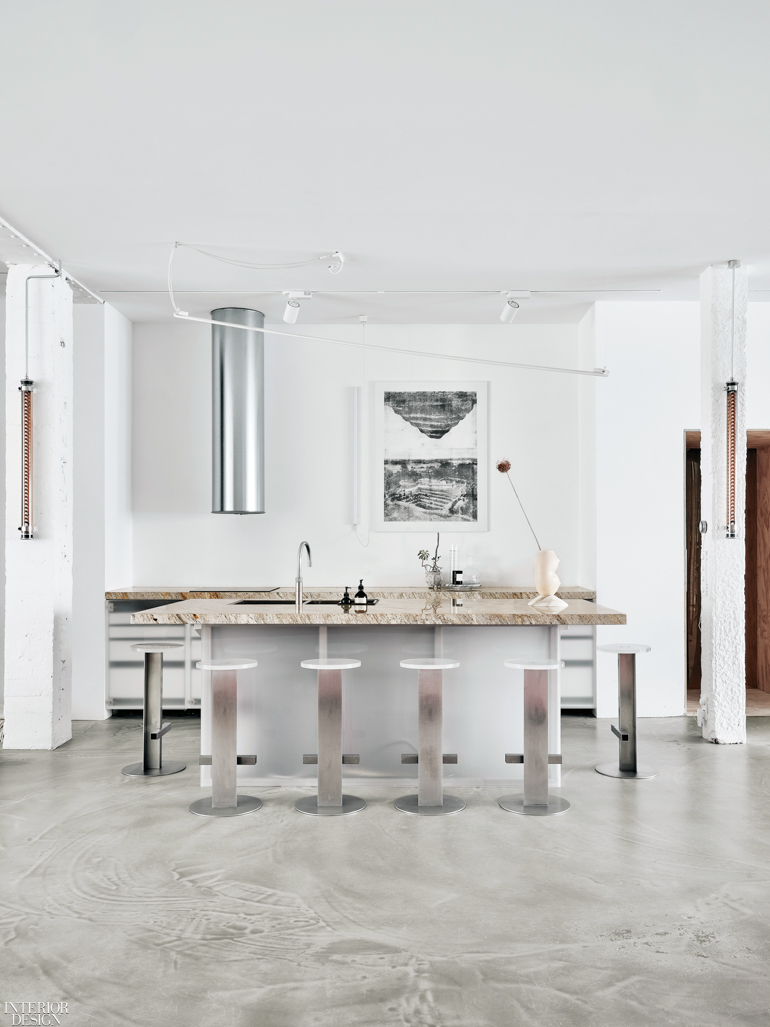 Designer Sabine Marcelis and her boyfriend, Paul Cournet, co-designed the kitchen, a simple wall-counter and opposing-island arrangement made distinctive by sleek materials (polished stainless steel, glossy acrylic, River Gold granite) and bold forms (cylindrical range hood, trumpet-valve bar stools, floating-slab countertops). It's their favorite part of the loft: "Everything happens in the kitchen—we seem to spend all our time there," Marcelis reports.
9. Frequent Collaborators dSpace Studio and Project Interiors Team Up to Design a Modernist Family Residence in Chicago
After raising their three children in a typical painted-clapboard house on a double lot in Chicago's Lakeview neighborhood, Stefanie Schenk and her husband, Jared, decided to demolish it and build a modernist structure that better reflected their style. They engaged architects Kevin Toukoumidis and Robert McFadden of dSpace Studio, who recommended Project Interiors for the interior design—their fourth collaboration. Walnut paneling complements a cotton velvet–upholstered banquette and a Warren Platner table in polished nickel.
10. Studio JeanCharlesTomas Transforms a 19th-Century Flat in Paris's Sixth Arrondissement
After years spent living in Lyon, a sixty-something couple decided to move back to Paris, their hometown. The pair eventually reached out to Studio JeanCharlesTomas for help. The interior designer was tasked with finding a two-bedroom flat in the Sixth Arrondissement—the only parameters given for the otherwise carte-blanche project. Seems Tomas had the magic touch: One month later, the clients purchased this classic 19th-century apartment at the designer's urging. In the breakfast nook, a pair of Apparatus Studio sconces in brass and porcelain flank an Alain Chevrette painting; the table and stool are Jean Prouvé designs.
Read next: 12 Living Spaces Bring the Outdoors In