15 Chic & Cheerful Breakfast Area Ideas
Just try to resist the coziness of these nooks, bars, and tables—designed for coffee, tea, and full-on breakfast fiends alike. Looking for inspiration? Peruse these high design breakfast area ideas to spark the right inspiration for your own space. From modern and contemporary kitchens to classic and cozy, these spaces make slow mornings at home even more special.
Editor's Note: This article was updated September 2023 to include even more cute and cozy kitchens.
Designers Create Stunning Breakfast Area Ideas, Nooks, & Benches Galore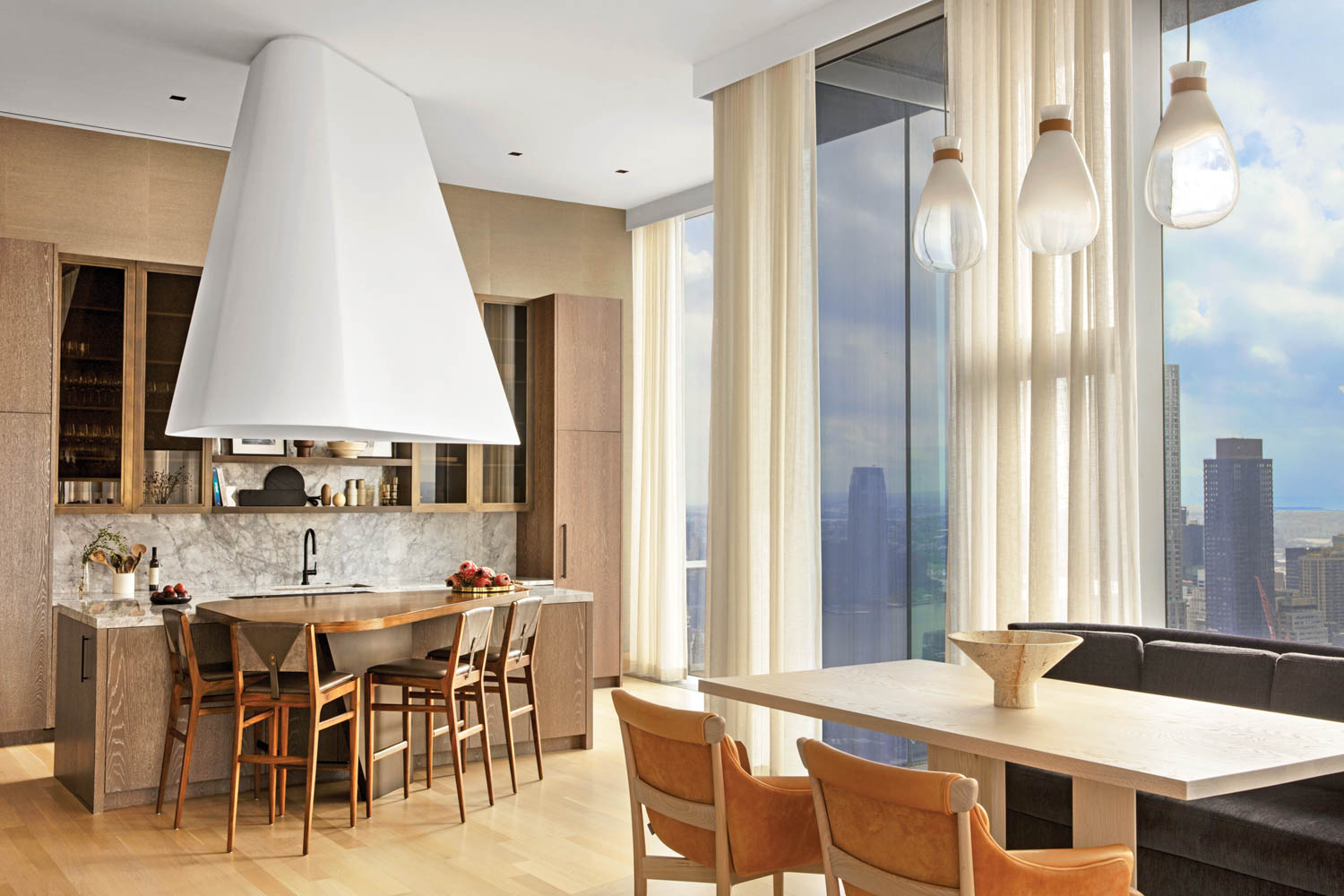 New York City skyline views add a touch of luxury to this sprawling penthouse by Meyer Davis. Enjoy a cup of coffee while taking in the cityscape. We won't tell if you also have dinner in the breakfast corner to take in the lights of the Big Apple. These breakfast area ideas perfectly blend the elegance of NYC with the comfort of home.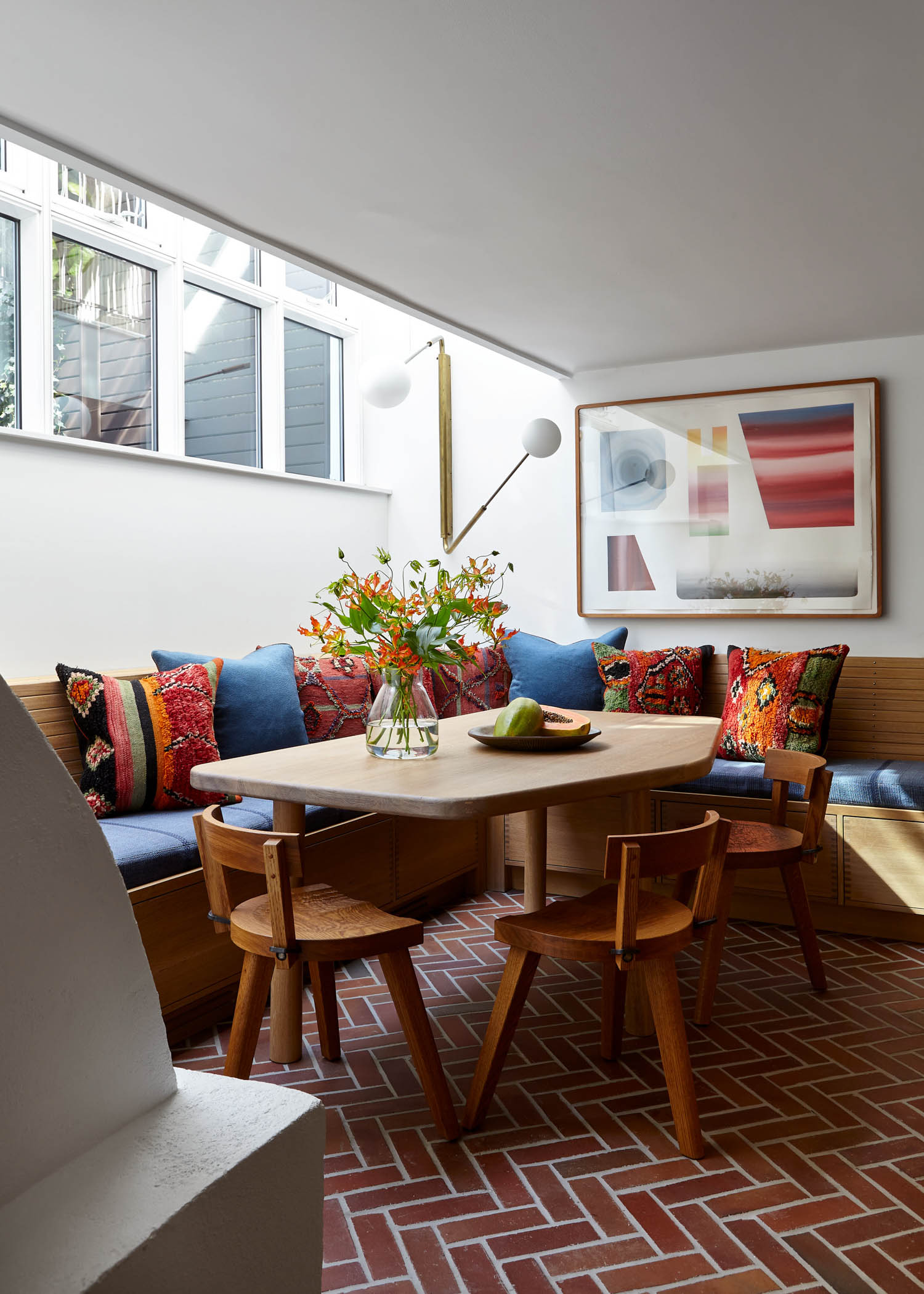 Originally built in 1828, this Federal-era property located in Manhattan's Greenwich Village features interior spaces transformed by Matt McKay—founder of McKay—for his longtime friends, a couple in their mid-30s. The 1960s-'70s folk music scene in Laurel Canyon, Los Angeles, was the main source of inspiration for this project that aims to foster connection and community through entertaining. The dining area features brick flooring from Clè Tile.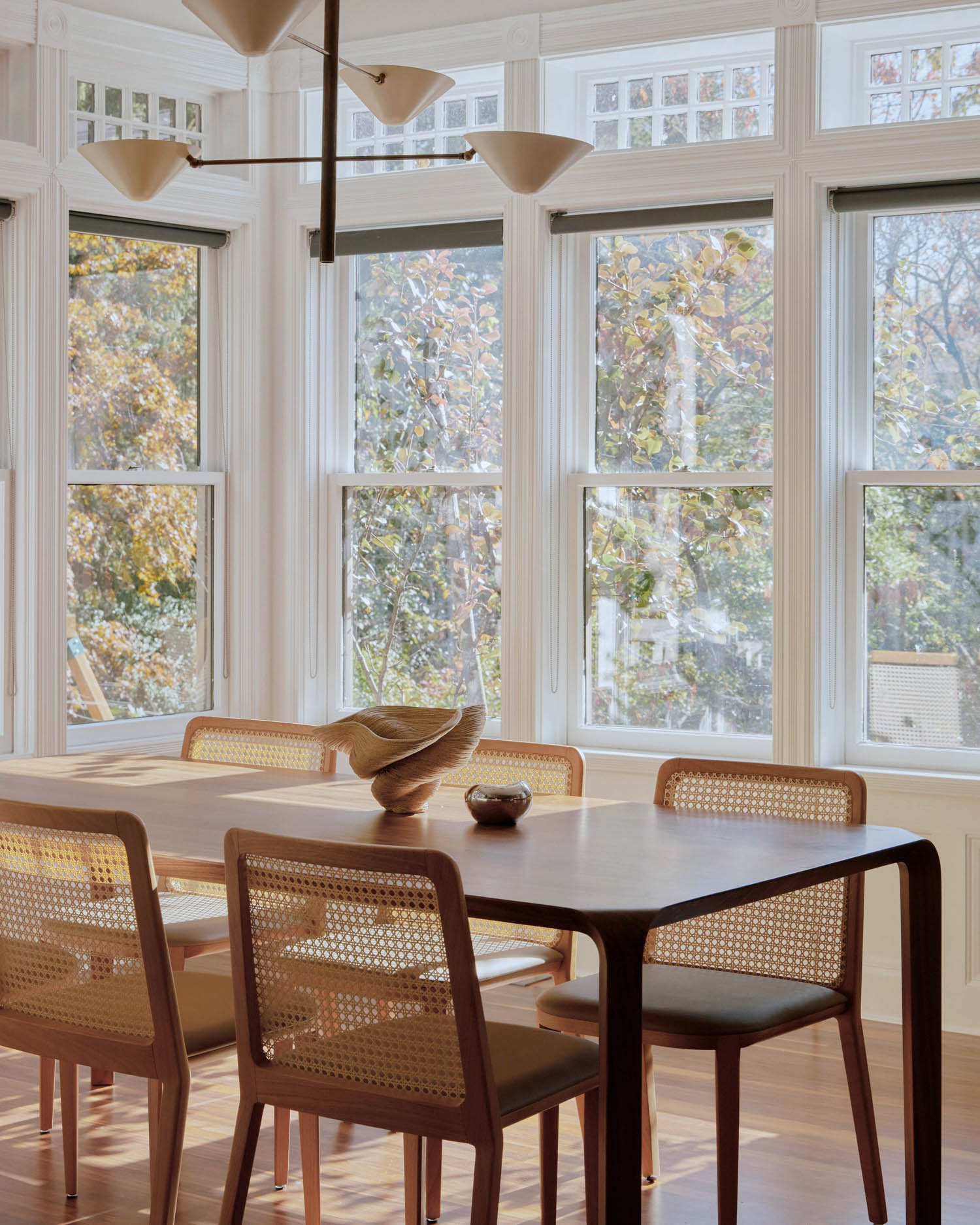 Far from the hustle and bustle of New York City yet close to a thriving community and fresh air, this Victorian home, originally built in 1888, needed a makeover to introduce more character into the interiors, with some bold touches. The redesign for an Emmy Award-winning producer includes a breakfast area with a custom table by Samuel Greg Crafted and chairs from 1st Dibs.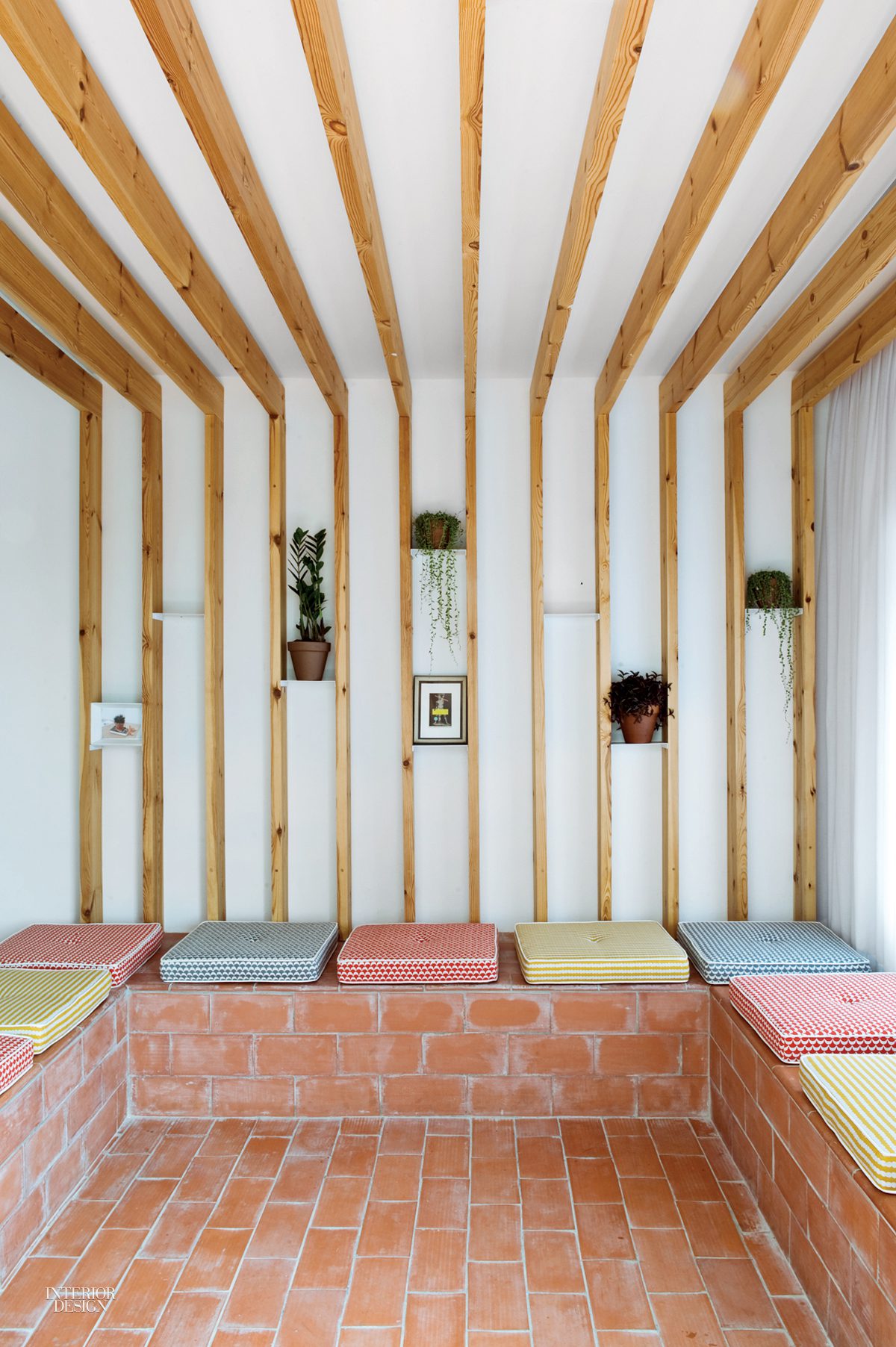 Colombo and Serboli Architecture transform this residential space with colorful accents. Taking the outside in drove CaSA's design as the public spaces—the kitchen, breakfast nook and living area—become virtually alfresco when a large window folds back. The clever integration of breakfast area ideas into the design invites relaxation and enjoyment of the surrounding views.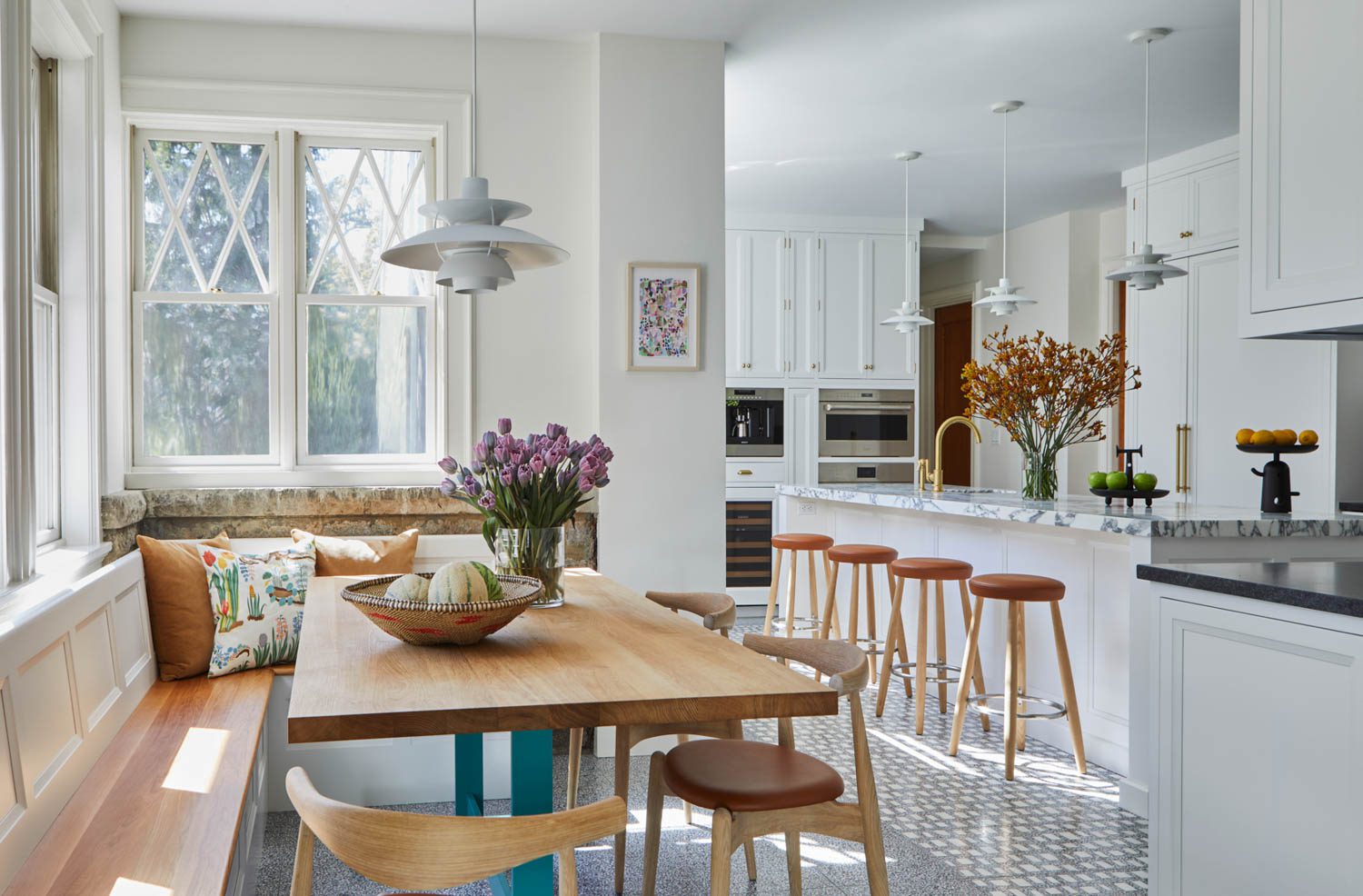 In this modern kitchen design by Dufner Heighes and Bilotta Kitchen, behold the multi-functioning mudroom. It functions as a hub for hanging coats, donning shoes, and storing kitchen gadgets; plus, the addition of window seats and a central table suits it to use as a breakfast nook, too.
Many people come to own a vacation home by renting for years and falling in love with a particular place. That's the way New York City residents Scott Glass and family became smitten with the East End of Long Island, particularly its most unspoiled enclaves. Glass sited a new seven-bedroom house in Amagansett, and let it step up to the natural topography of the land, exposing it to as much southern light as possible. The kitchen features radiant-heated bluestone floors and a quartzite backsplash.
The unassuming glass facade could easily pass as an office building. But the 1970s structure in Jardins, an upscale neighborhood in São Paulo, Brazil, that's rife with restaurants, galleries, and concept stores is actually a residential high-rise housing 30 window-wrapped apartments. Among them is a 4,100-square-foot aerie remodeled for a young family by local firm Pascali Semerdjian Arquitetos. Chairs by Luciana Martins and Gerson de Oliveira pull up to the breakfast room's Eero Saarinen table with custom top.
New York architect Michael K. Chen knows his way around a tight floor plate. Sliding, pivoting elements that maximize micro-apartments are his namesake studio's specialty. But Chen proves just as adept with more commodious spaces. To wit: a 2,800-square-foot Park Avenue prewar renovated for a young couple, Laura and Jason Schwalbe, and their two children. In the kitchen, the clients' favorite zone, glossy dimensional tiles bounce light, and an Enzo Mari Il Gorilla print livens the breakfast nook. The unique breakfast area ideas here reflect Chen's ability to blend functionality with artistic flair in every space.
It's one thing to live with art. But to live submerged in it—as do the owners of this Sag Harbor, New York, getaway by Groves & Co.—requires a whole other level of connoisseurship and commitment, not to mention a rather prolific collection. A 1970s Murano-glass pendant hangs above the kitchen's breakfast nook, with Eero Saarinen table serviced by Charles and Ray Eames chairs.
For a verdant site that slopes down to a marshy wetlands, O'Neill Rose Architects designed a structure that cantilevers out from high ground. An intimate eating nook is sheltered in cypress slats painted light azure and punched to admit sunlight. The arresting pop of blue serves well as a backdrop for the open-plan dining zone. A custom steel light fixture extends over the granite-top Eero Saarinen Tulip table.
The colors of Rick Amor's artwork hanging above the built-in banquette and custom table informed firm director Jonathan Richards's palette for his own kitchen by Richards Stanisich, with painted plaster walls, oak-veneered cabinetry, and a quartzite backsplash. These elements collectively contribute to the harmonious and stylish breakfast area ideas that define the space's unique character and ambiance.
The designers behind the Milanese collective Studio Paradisiartificiali keep their identities anonymous, and their project teams global. But their work always has a clear point of view. This 1,100-square-foot apartment in Milan is a prime example. It's a collaboration with the Mexican artist Guillermo Flores Orbeh that travels through time collecting influences and objects from mid-century Italy, the Memphis movement, and global jungles. In the kitchen, vintage Gio Ponti chairs for Cassina boast new cushions by Maisons du Monde, who also manufactured the pendants.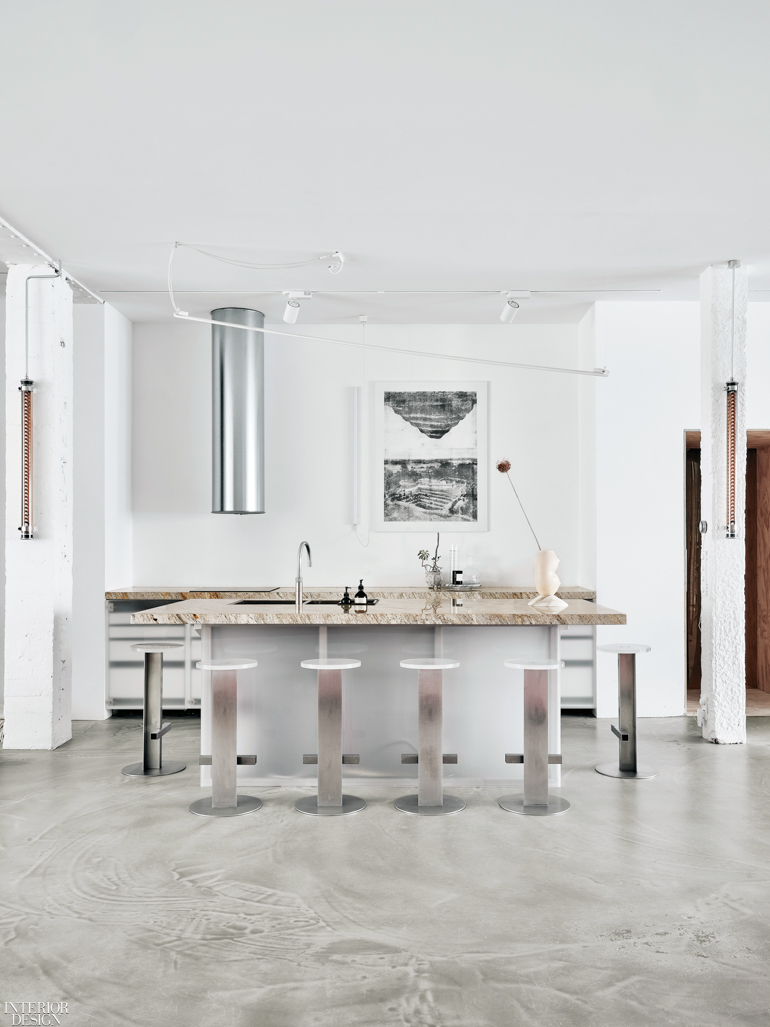 Designer Sabine Marcelis and her boyfriend, Paul Cournet, co-designed the kitchen, a simple wall-counter and opposing-island arrangement made distinctive by sleek materials (polished stainless steel, glossy acrylic, River Gold granite) and bold forms (cylindrical range hood, trumpet-valve bar stools, floating-slab countertops). It's their favorite part of the loft: "Everything happens in the kitchen—we seem to spend all our time there," Marcelis reports.
After raising their three children in a typical painted-clapboard house on a double lot in Chicago's Lakeview neighborhood, Stefanie Schenk and her husband, Jared, decided to demolish it and build a modernist structure that better reflected their style. They engaged architects Kevin Toukoumidis and Robert McFadden of dSpace Studio, who recommended Project Interiors for the interior design—their fourth collaboration. Walnut paneling complements a cotton velvet–upholstered banquette and a Warren Platner table in polished nickel. The renovation elegantly transforms the breakfast area into a stylish yet practical space, ideal for modern living.
After years spent living in Lyon, a sixty-something couple decided to move back to Paris, their hometown. The pair eventually reached out to Studio JeanCharlesTomas for help. The interior designer was tasked with finding a two-bedroom flat in the Sixth Arrondissement—the only parameters given for the otherwise carte-blanche project. Seems Tomas had the magic touch: One month later, the clients purchased this classic 19th-century apartment at the designer's urging. In the breakfast nook, a pair of Apparatus Studio sconces in brass and porcelain flank an Alain Chevrette painting; the table and stool are Jean Prouvé designs.
For more content related to breakfast area ideas, read the next article: 12 Living Spaces Bring the Outdoors In