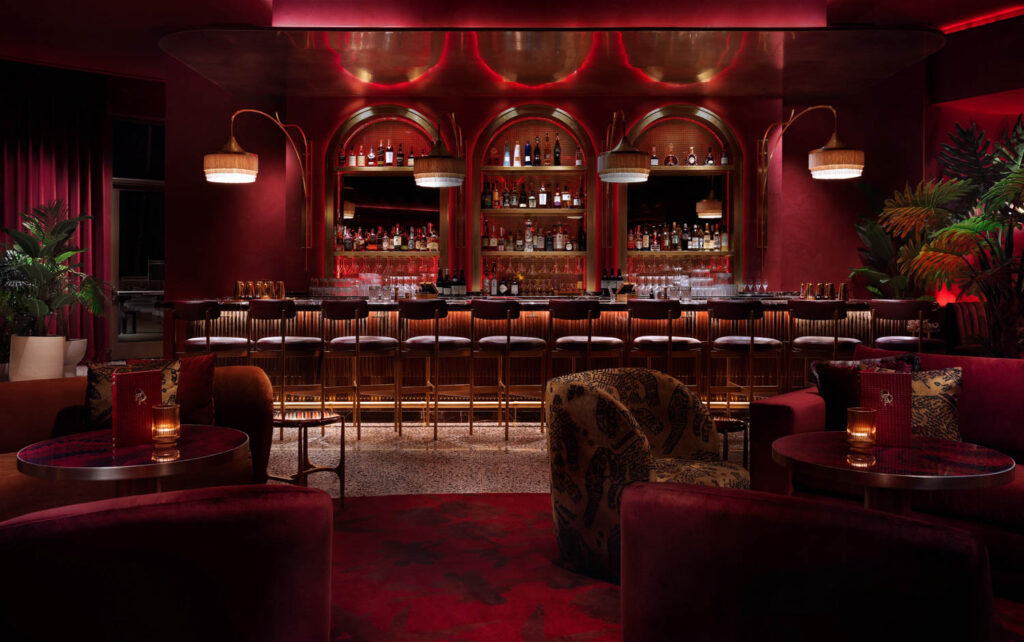 Dark and Moody: Inside Rouge Room in Las Vegas
Dim lighting, red velvet, and leafy palms set the mood in Rouge Room, a sultry Las Vegas cocktail lounge, which fully embodies its name. The exclusive locale in Red Rock Casino, Resort and Spa, seeks to transport visitors to another era, drawing on design elements and grandeur of the 1920s while serving French fare and bespoke drinks. To create a darkroom-core aesthetic modeled after bygone supper clubs, Avenue Interior Design set out to design a unique hospitality experience.
Tucked within a casino, the brief called for a space that transcended time of day with a heavy focus on programming. Outfitted with Murano glass chandeliers and tufted velvet booths, not to mention an adjacent pool deck and outdoor bar, Rouge Room offers guests a luxurious space to connect and unwind. "We worked extensively to give the interior and exterior experiences distinctive, yet unified, aesthetic through the use of lighting—a mix of custom fixtures by Barovier&Toso and Preciosa paired with pieces from Currey and Company—finishes and materials, and a wall of retractable windows that allowed the two experiences to merge," says Ashley Justman, cofounder and principal for Avenue Interior Design.
Rouge Room's Design Incorporates the Element of Surprise
Designed to to make each guest feel like a VIP, the entrance features gilded double doors draped in floor-to-ceiling velvet curtains that open into a tree-lined tunnel leading to the lounge. "The most surprising element of Rouge Room is the entry experience," asserts Justman. "The facade is small and intimate and melds a little into the surrounding casino corridor, but once you pass through the etched brass doors, you enter a foliage-filled hallway that transports you into the venue. It's a great element of suspense and intrigue."
Once inside, guests have access to two bars, including the main bar which serves as a focal point beneath a canopy embellished with chandeliers. Hand-painted murals on silk wall coverings add subtle textural details along with gold mirrored englomise panels, made by MJ Atelier. As for the Murano chandeliers, they're outfitted with color-changing lights, a fitting companion for live musical performances. "Pattern played an important part in creating distinct environments in this space with wall coverings by House of Hackney and Drop It Modern providing the backdrop in the restrooms," adds Justman.
Floor-to-ceiling windows open to the outdoor Rouge Cabana, featuring an expansive pool, eight airy cabanas, and lounge-style seating with custom fabrics that reference the deep red palette of the interior lounge. "Rouge Room is completing the missing piece in Summerlin [a community in Las Vegas]," said owner and restaurateur Nick Mathers. "Every great evening starts with just the right vibe. We wanted to encapsulate the perfect balance of old-world extravagance with contemporary touches, setting the stage for a special, unforgettable experience."
Red-Hued Interiors and Custom Details Add Intrigue to the Cocktail Lounge