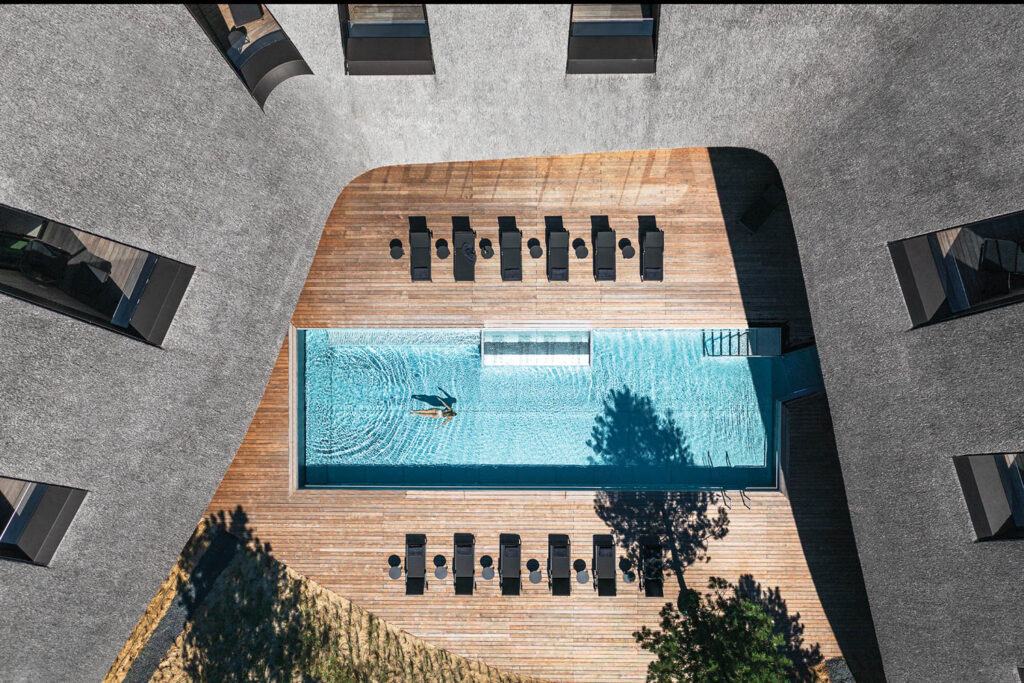 Ingenhoven Associates Fashions a Luxurious Yet Restrained Retreat Off the Coast of Germany
Lanserhof Sylt is not a typical spa. Situated on the windswept German island of Sylt, in the Wadden Sea, the resort promises to improve health through fasting, massage therapy, and medical treatments such as Cellgym infusions. Guests pay $8,000 a week to eat next to nothing—think wheatgrass shots and tiny portions of vegetable soup—and cleanse their bodies of harmful toxins. The Sylt retreat, which opened last summer, is Lanserhof's fifth location. Founded in 1984, with properties in Lans, Austria, and Tegernsee, Germany, the brand has built a devoted A-list following, Christoph Ingenhoven, founder and chairman of Ingenhoven Associates, among those who have submitted to the strict regime.
Based in Düsseldorf, Ingenhoven started his sustainability-minded practice in 1985, and has completed such projects as the mixed-use towers Marina One in Singapore and Lufthansa's headquarters in Frankfurt. He began visiting the original Lanserhof in Lans in the early aughts and took on the brand as a client a decade later, when it started expanding. Ingenhoven has since designed the properties in Tegernsee, London, and Sylt (as well as an extension in Lans), unifying them with a modern, pared-down aesthetic. "Christoph is a master of omission," observes Nils Behrens, Lanserhof's chief marketing officer. "His work complements our concept and leaves plenty of room for free thought, rest, and relaxation."
Knowing first-hand what the week-long experience is like, Ingenhoven's stays in Lans helped him empathize with future guests. He says that the first few days, when you experience withdrawal, are especially challenging. "They take away everything," he begins. "You get hangry, feel nervous, and have serious headaches, and are also cold, since you have no energy. You can get every service, but you won't get anything to eat." As an architect, Ingenhoven could offer guests warm, generous, soothing spaces in which to recover, with minimal noise and distraction.
Behind the Design of a Luxury Medical Spa
At the Lanserhof properties in Tegernsee and Sylt, there's no art or bright color, but a beige-and-white palette, wood floors, large windows, and a balcony in each of the generous guest rooms. They are tailored to their location. "Our approach is always to provide contemporary architecture with no compromise, but with a relationship to the vernacular," Ingenhoven says. Tegernsee, in the Bavarian Alps, evokes local monasteries with a square structure and courtyard. Lanserhof Sylt, in turn, reflects its setting in the Frisian archipelago.
The long, narrow landmass is the northernmost point in Germany, near Denmark. Like many Germans, Ingenhoven has visited Sylt since childhood—he compares Kampen, a popular beach destination on the island, to the Hamptons in New York. Under constant threat of erosion, Sylt has strict building codes that would normally prohibit the creation of a large new hotel atop the dunes. But the six-structure Lanserhof was effectively grandfathered in, because it occupies a former military complex dating to the 1930's, and the German government allowed construction on the existing footprints. The architect and the client worked closely with preservation and conservation officials throughout the process. "We could remove the hardscape but could barely touch the dune. It was a fight to get a square meter more to build on," Ingenhoven says. The volumes had to be compact, efficient, and sensitive to the surrounding nature reserve.
A Supersized Version of a Traditional German Structure 
The six thatched-roof buildings are spread across 12 acres. The main building, the largest at 175,000 square feet, is five levels with 55 guest rooms; then there's the diagnostic building with 13 guest rooms, three seaside villas, plus a listed former officers' club under renovation. For now, all the action is in the main building, which replaced an officers' accommodation block. In addition to guest rooms, it offers lounges, treatment rooms and medical offices, indoor and outdoor pools, a climbing wall, a sauna, and a steam room.
The design is a supersize version of the traditional Frisian house, found in coastal Germany and the Netherlands, which has a low vertical facade and a large overhanging thatched roof to protect against wind and rain. Ingenhoven subbed in triple-pane glass for the usual brick facade, gave the building an E shape to maximize views and sun exposure, and tucked upper floors within an enormous reed roof—at nearly 65,000 square feet, it's the largest thatched roof in Europe. The fine strands of reed let him and his team create soft, rounded forms that integrate into the landscape and mimic the shape and color of the dunes.
The Medical Spa Treats Guests to Sweeping Views of Nature
Inside, the building centers on a 50-foot-high circular staircase that winds from the basement parking garage to the fourth floor, helping visitors orient themselves. The white-painted steel and oak structure, framed by slatted oak paneling and exposed Nordic spruce ceiling beams, adds drama to the otherwise subdued interiors. On the ground floor, it leads to a lounge furnished with an expansive curved sofa, a generous firepit, Eames armchairs, chessboards, and bookshelves. Behrens notes that the concept conveys a sense of security and connection with the outdoors, which is important to the treatment. Upstairs, each guest room has a unique plan, due to the curved roof, and opens onto an enclosed balcony. "Traditionally, you would build a dormer window," Ingenhoven notes. "We turned it 180 degrees and cut out a balcony instead." There, guests can isolate themselves, soak up the restorative power of nature, and try to ignore their hunger.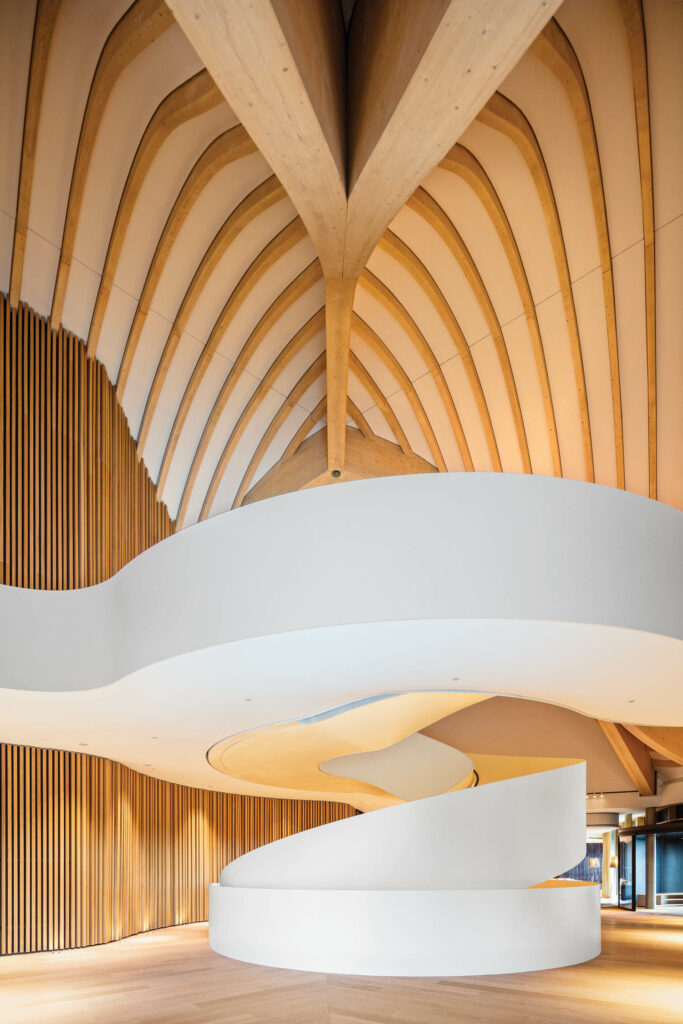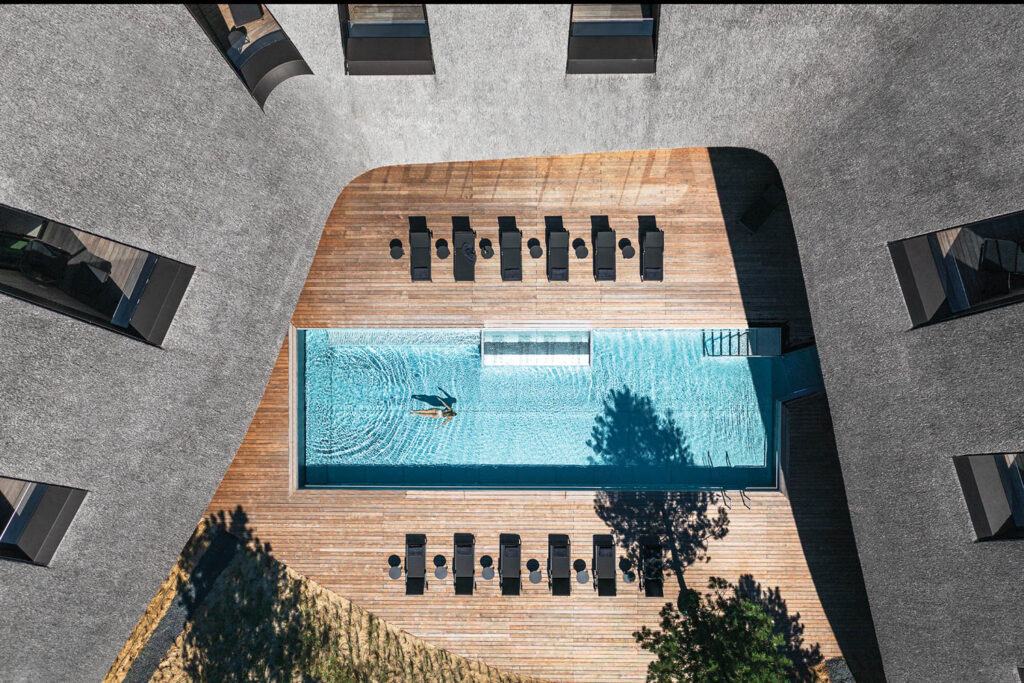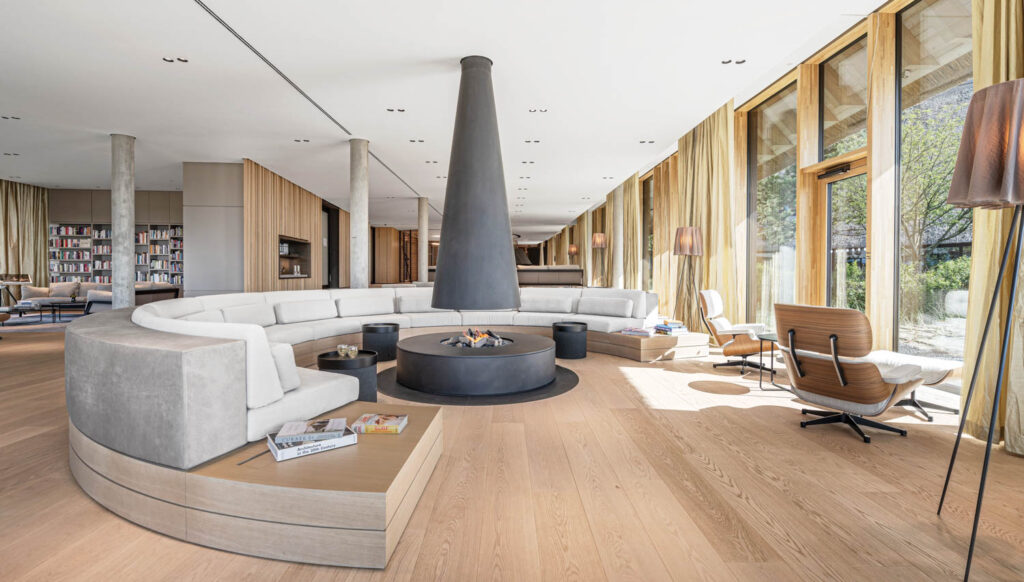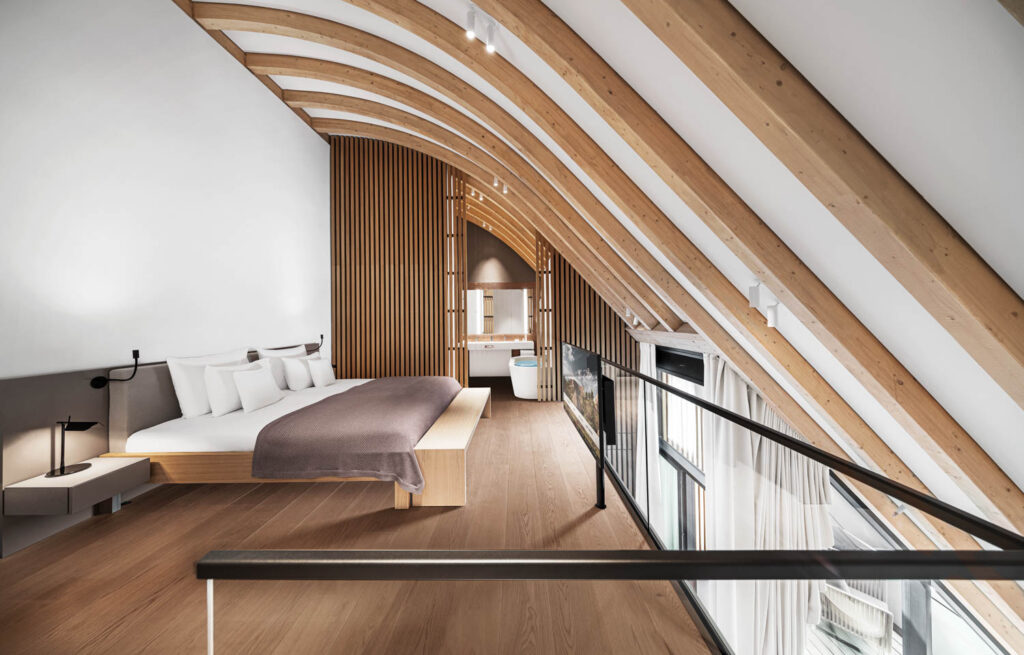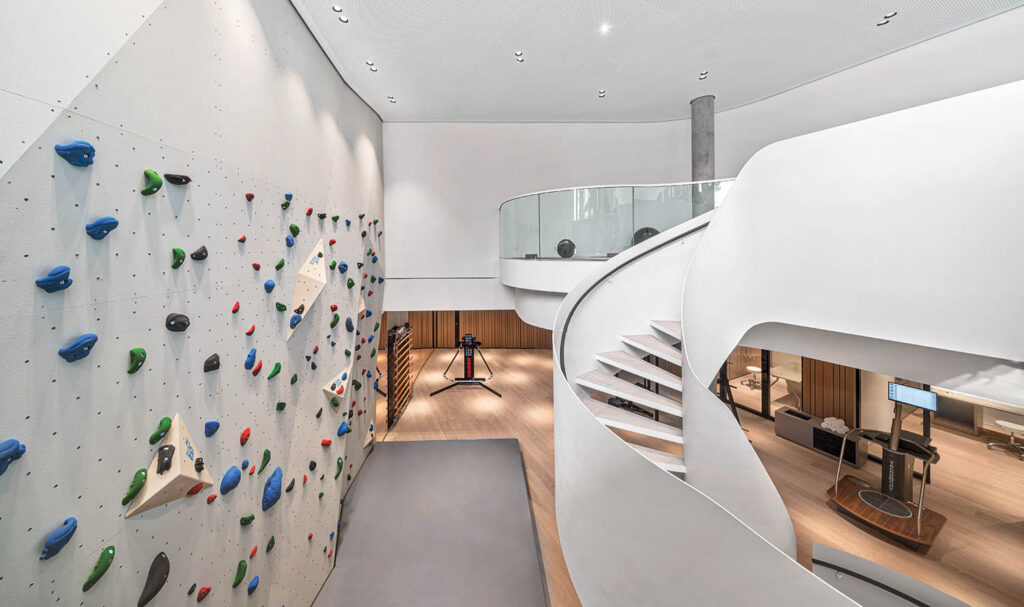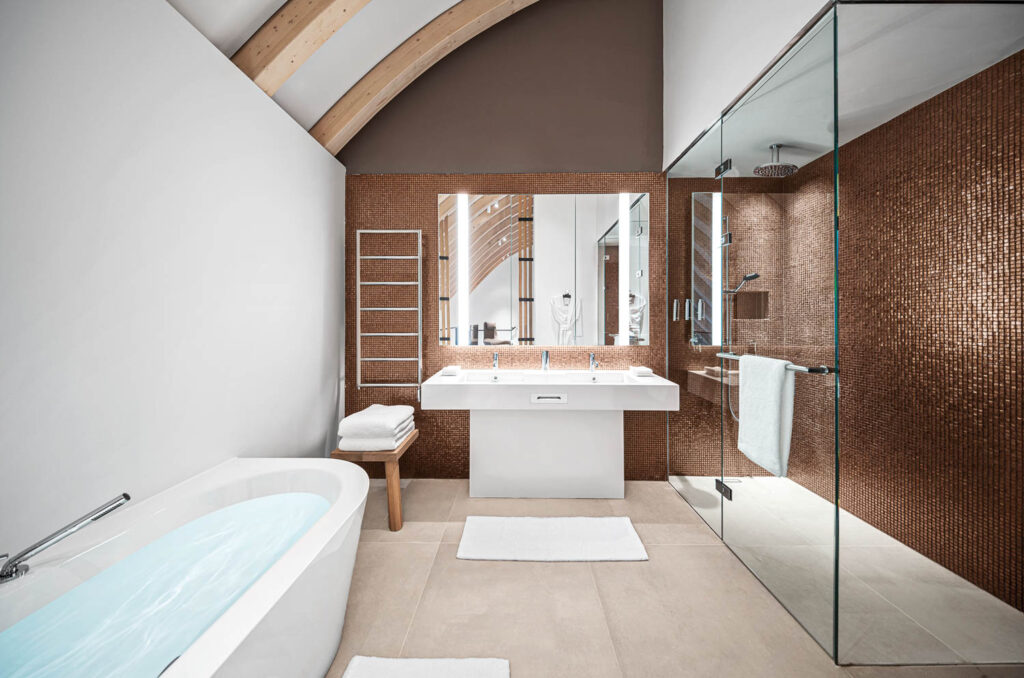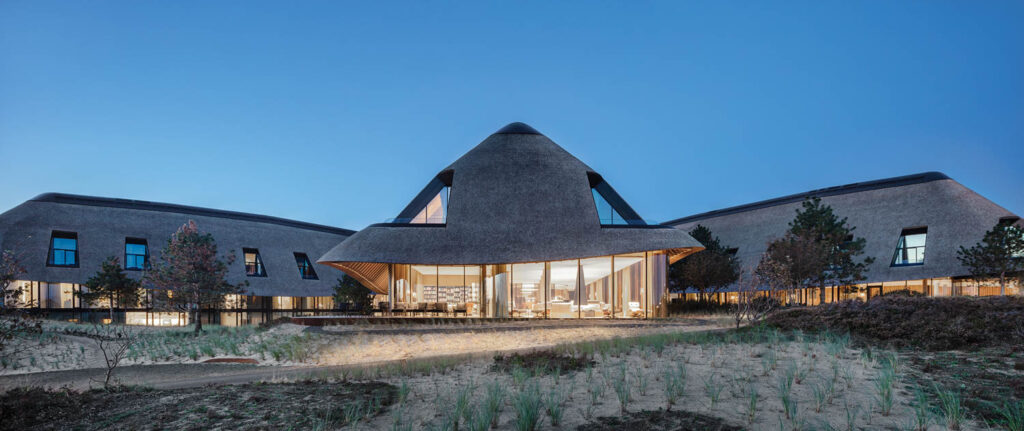 PROJECT TEAM
product sources
FROM FRONT
THROUGHOUT