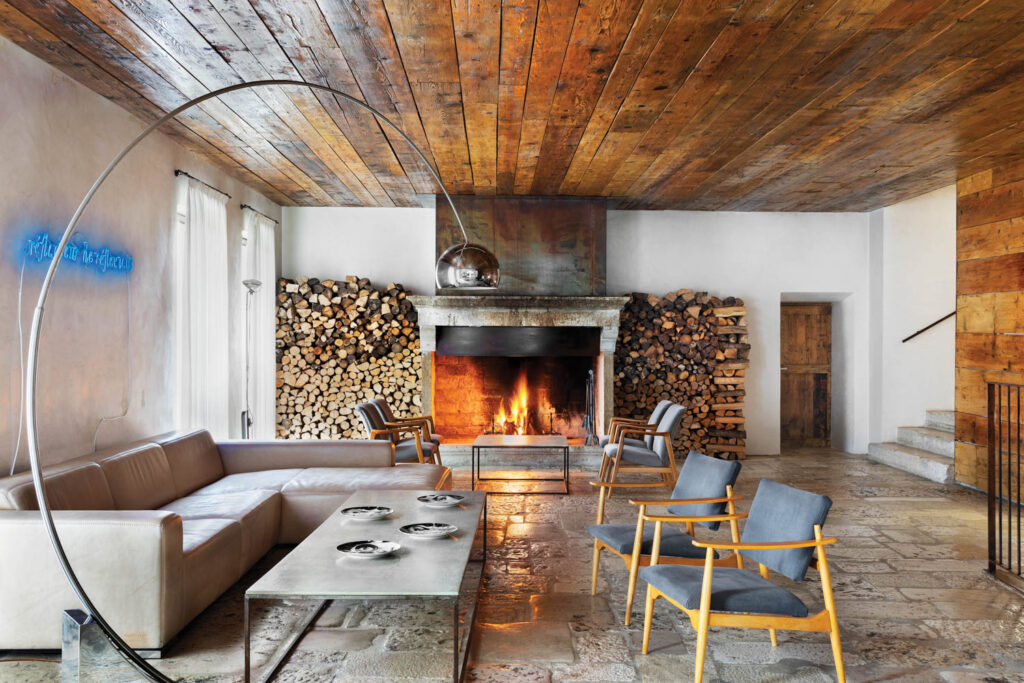 A 16th-Century Monastery Turned Hotel in Abruzzo, Italy
Despite its Adriatic Sea coastline and Apennine Mountains, the Abruzzo region in central Italy lies mainly off the beaten tourist path. The town of Castel di Sangro in the province of L'Aquila is the exception. A destination for gastronomes, aspiring chefs, and intrepid travelers, it exerts a siren call via the three-star Michelin restaurant Reale, housed within Casadonna, the 16th-century former Benedictine monastery that's now a hotel. The renovation and conversion of the 32,300-square-foot property into a 10-room getaway and culinary academy entailed intense client-architect collaboration. Brother-sister owners are acclaimed chef Niko Romito (who also helms Bulgari restaurants in Paris and Milan) and Cristiana Romito, a multilingual translator turned accredited sommelier and maître d'hôtel. The architect is Leonardo De Carlo of Pescara-based Studio Leonardo Project, who characterizes his style as "clean and minimal, with strong character." That translates here to "simplicity and synthesis," Niko Romito affirms. His sister adds: "Every detail creates a coherent, authentic whole."
Behind the Design of Casadonna, a New Hotel in Abruzzo 
The story starts in 2000 when i fratelli Romiti took over the trattoria started by their father in a nearby town. Wanting to expand in terms of space and the hospitality component, they purchased Casadonna in 2007 and moved Reale there in 2011. The hotel is the most recent addition. Per De Carlo, the project was driven by "the balance of materials: recovered wood, iron, glass, ancient stone, old ceramics, linen, and boiled wood." Reused marble sliced from salvaged blocks paves the entrance, restaurant, fireplace room, and tearoom. Walls are finished with cocciopesto, a compound of plaster and crushed brick. Glass, newly framed in thin iron profiles, abounds, while original wood planks form ceilings. Accenting the all-white envelope are colorful artworks and photography by the likes of Mario Giacomelli, Joseph Kosuth, and Ettore Spalletti.
The ground level is devoted to the restaurant, the kitchen, an indoor-outdoor event room created by a garden enclosure, and Niko Romito's laboratory. The second story, wrapping a terrace, houses reception plus guest accommodations. Floor three contains a breakfast room, lounge, shop, and winery. The remaining suites occupy the topmost floor. Below-grade, overtaking erstwhile stables, is Reale's 10,000-bottle wine cache. (The bilevel culinary institute is in a separate structure.)
Each of the six rooms and four suites is unique, featuring custom furnishings—comprising a collection the collaborators market under the label Imperfetto—complemented with classics by Achille and Pier Giacomo Castiglioni, Antonio Citterio, Arne Jacobsen, Vico Magistretti, Gio Ponti, and Eero Saarinen, most acquired by the proprietors.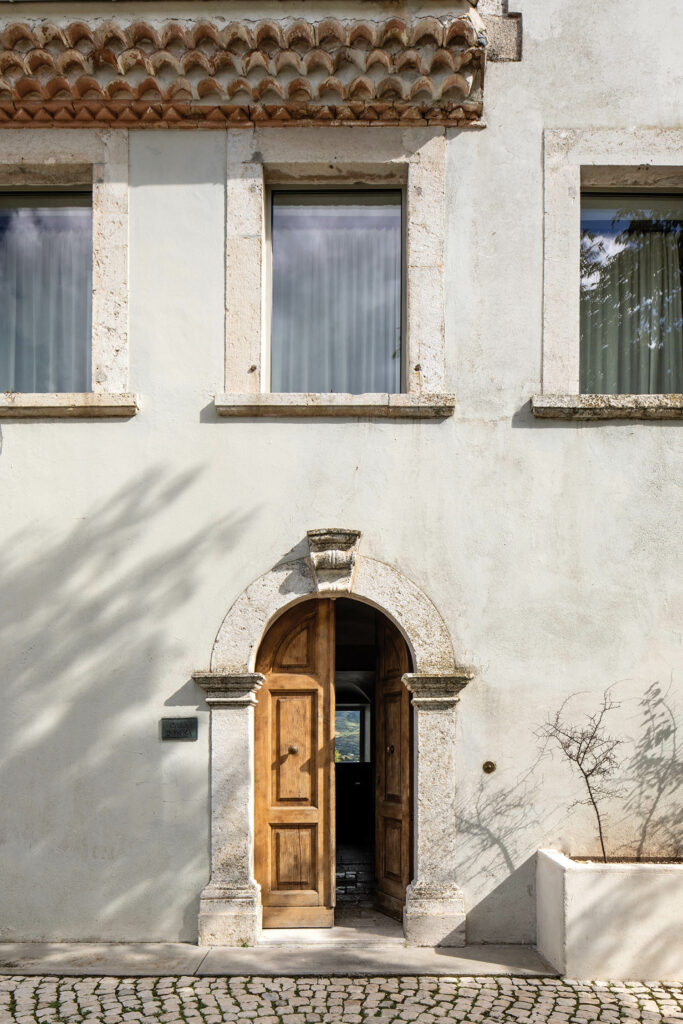 Hospitality doesn't end at the property's ancient walls. Casadonna's site includes a high-altitude vineyard producing primarily Pecorino (the white grape, not the cheese), an orchard, and rose and botanical gardens, and 10 beehives supply homegrown provisions. All paint an enticing scene encouraging us to—presto!—make reservations.
Explore Casadonna, Inside and Out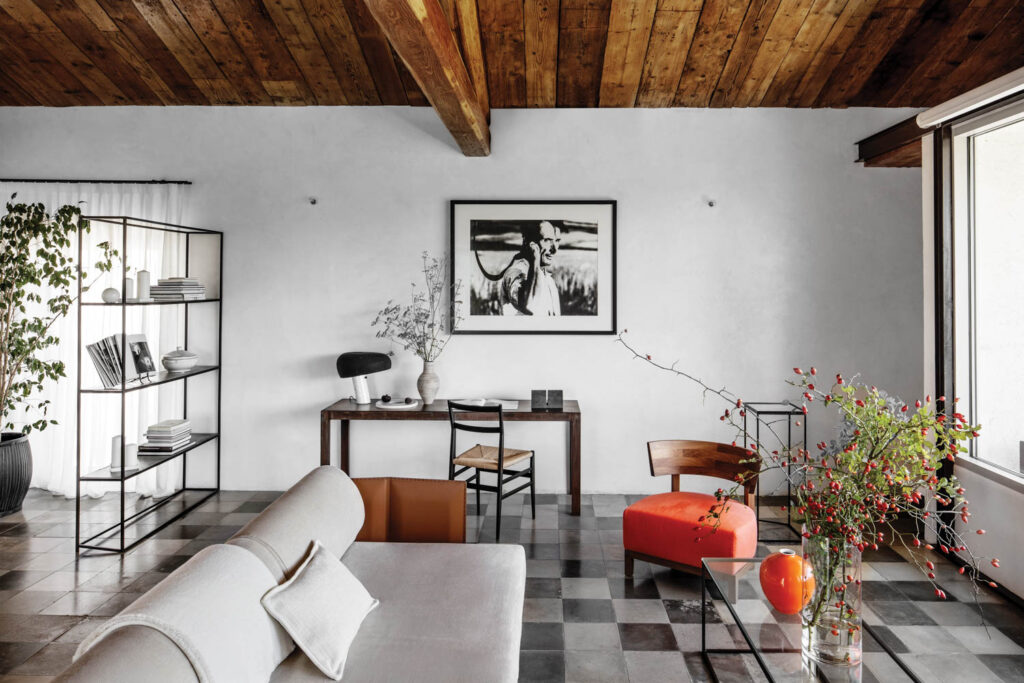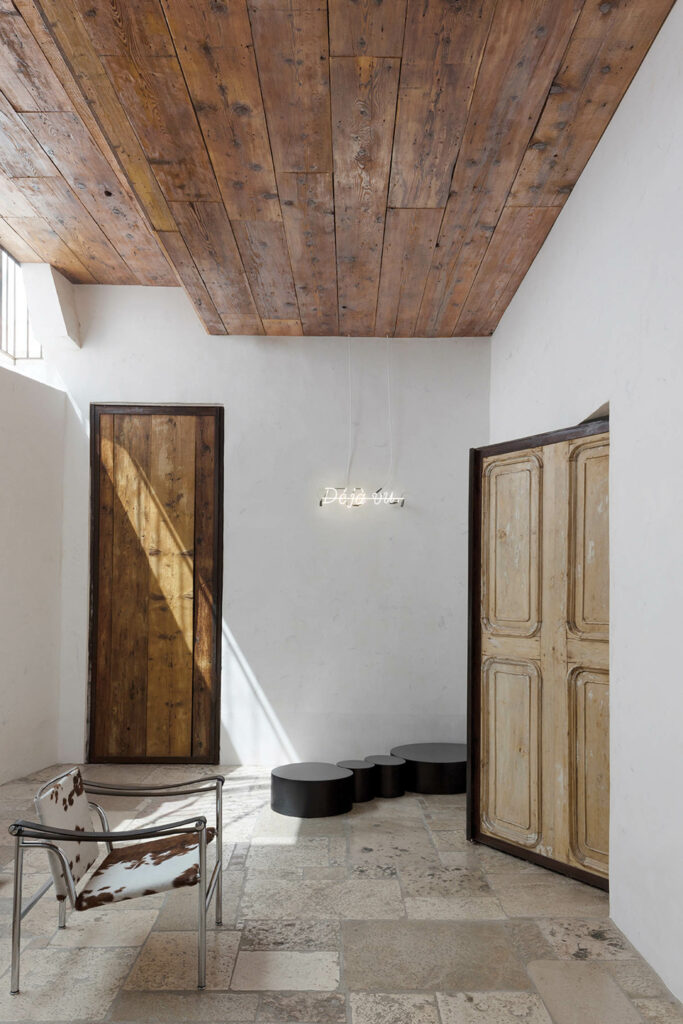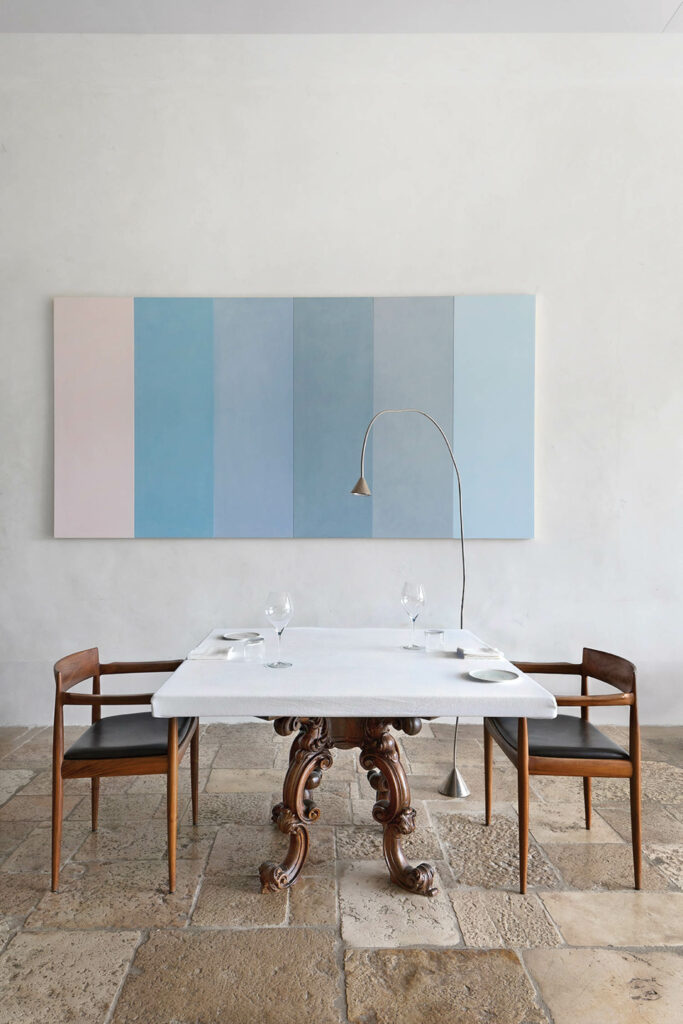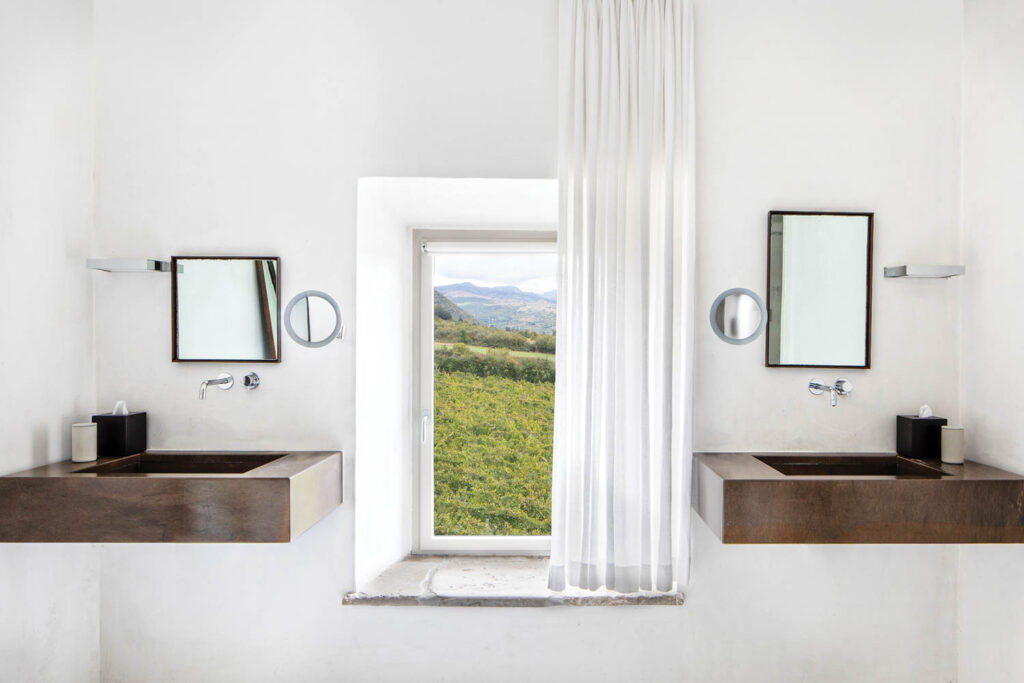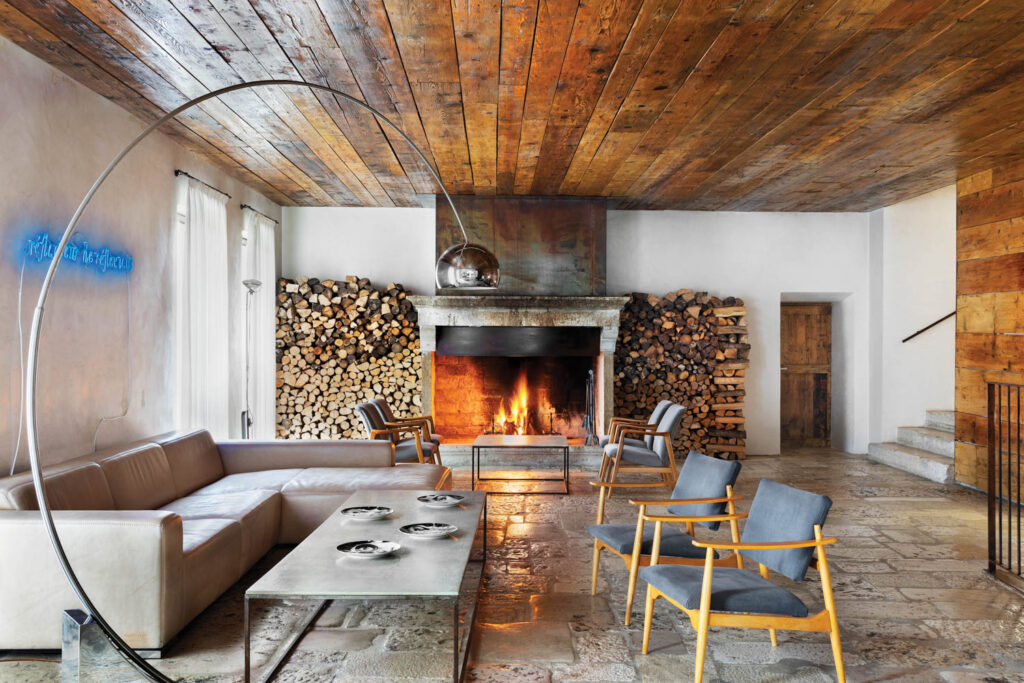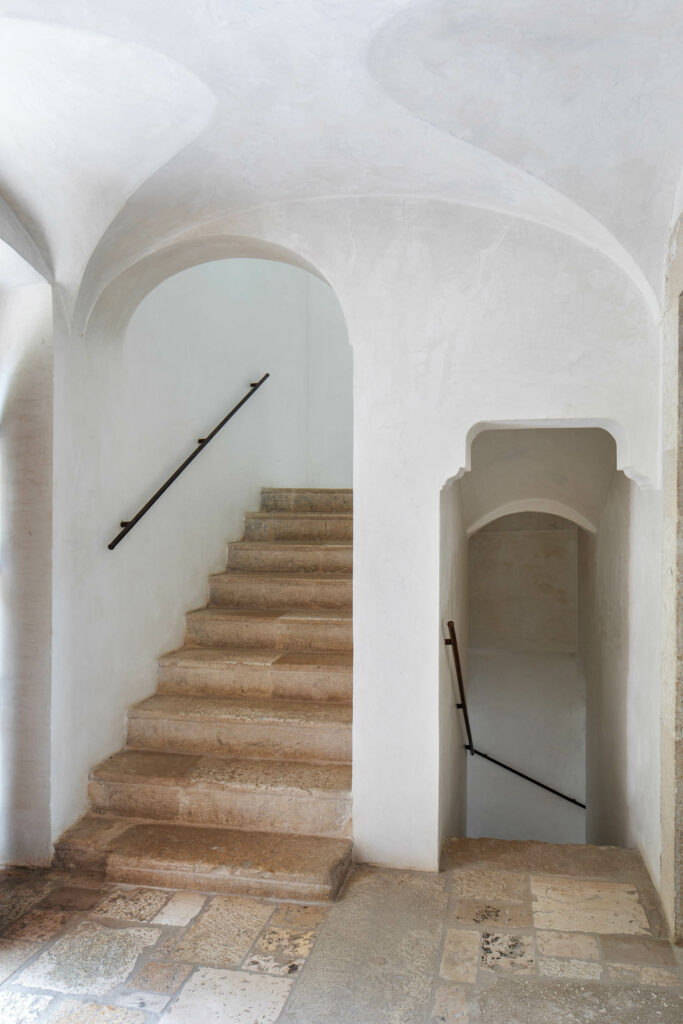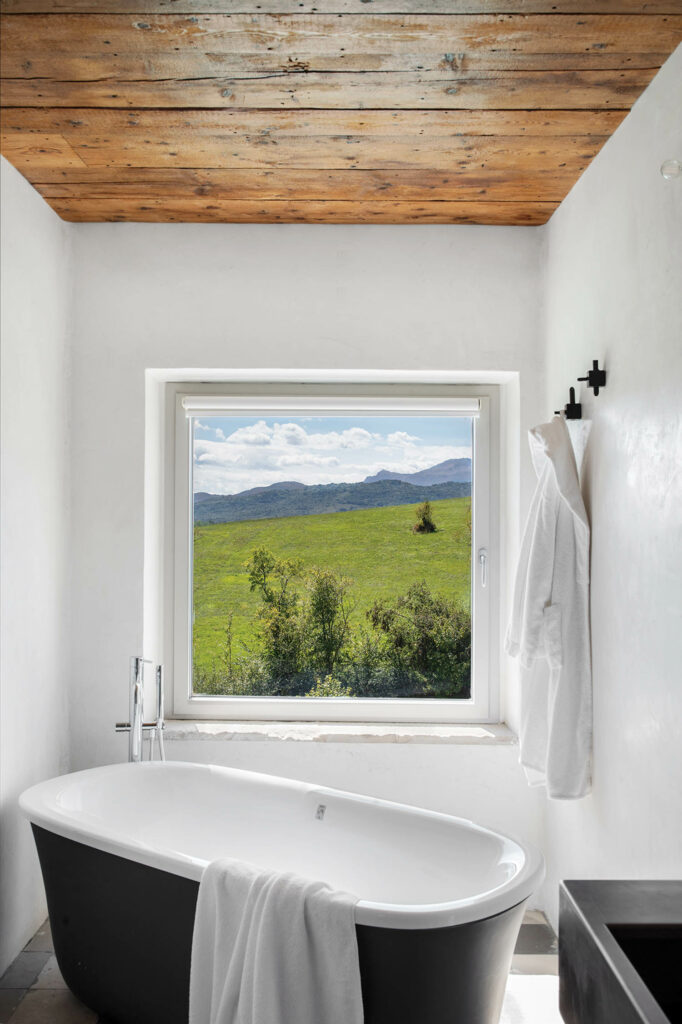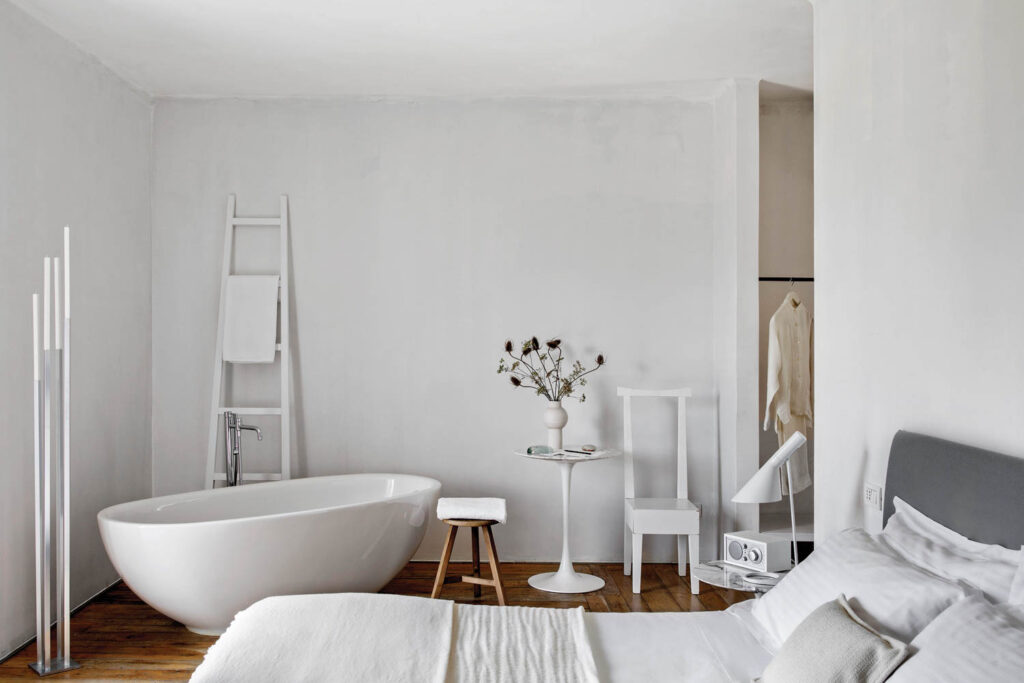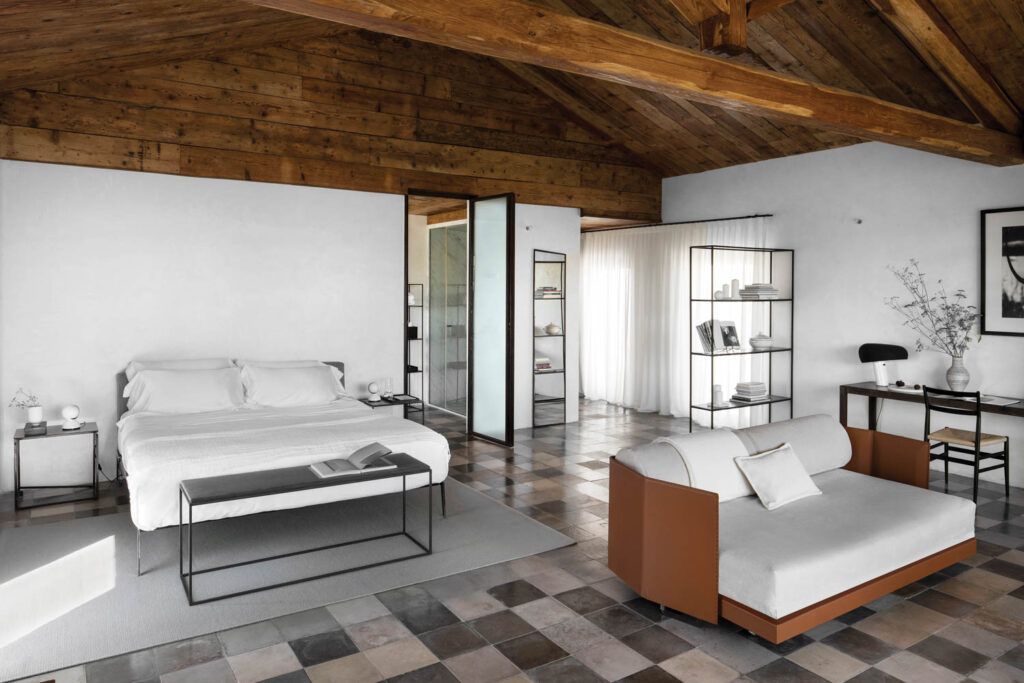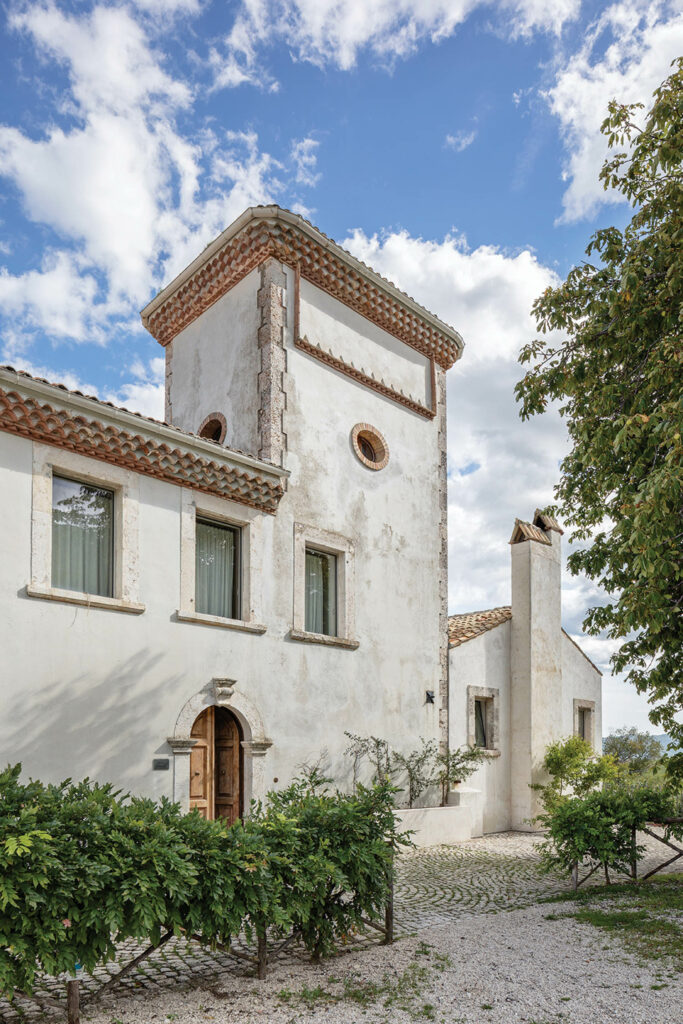 PRODUCT SOURCES
FROM FRONT
flexform: sofa, lounge (reale suite).
flexteam: bed.
artemide: bedside lamps.
cassina: chair (reale suite), lounge chairs (lounge), chair (hall).
flos: table lamp (reale suite), floor lamps (lounge).
imperfetto col­lection: bookshelf, tables, mirror, bench (reale suite), mirrors (poesia bathroom), coffee table (lounge), doors, sinks.
pallucco: floor lamp (restaurant).
knoll: side tables (poesia suite).
louis poulsen: lamp.
THROUGHOUT
cristina rubinetterie: bathroom fittings.
glass: bathtubs.