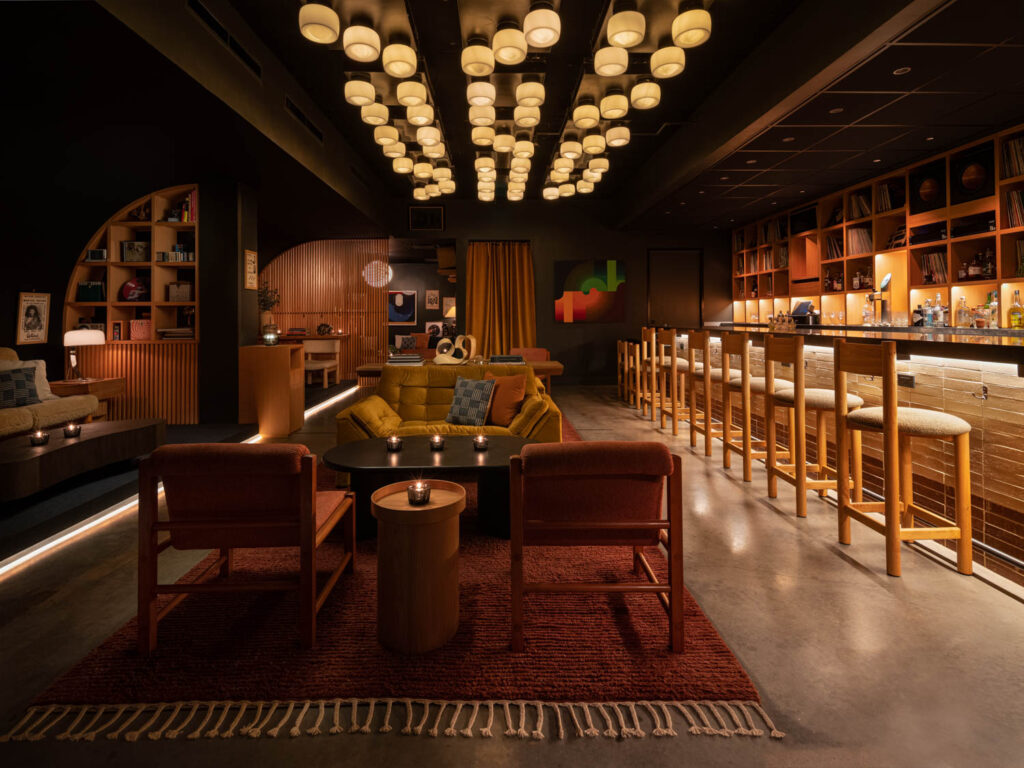 Turn Up the Volume: Rios Brings a Vinyl Listening Room to Austin
Austin is a long way from Tokyo. Some 6,5439 miles to be precise. Yet one look at the basement site in Hotel Magdalena (by INTERIOR DESIGN Hall of Famers Lake|Flato) and the connection between cities became obvious to Bunkhouse hotels and architect John Hallock, Rios studio director. Perfect for transformation to a vinyl listening room akin to a Japanese kissa, where folks can lounge for hours with a cocktail while a DJ spins records. Hallock should know. He traveled to Japan for "an architectural adventure," he recalls, during studies in China. "I loved finding basement bars and restaurants there, typically small scale and dimly lit."
Stateside, the 1,600-square-foot sub-grade venue was a storage space for equipment, ergo its new name Equipment Room. It required a complete clear-out. Fortunately, an access stair existed and was serviceable. Ditto the existing structural slab, which required just some refinishing. Building efforts were limited. Hallock needed only to create a lit-from-below raised platform with a curved back wall and ceiling for a cocoon-like seating enclave to lower the scale and face the bar.
Less Talking, More Listening in Equipment Room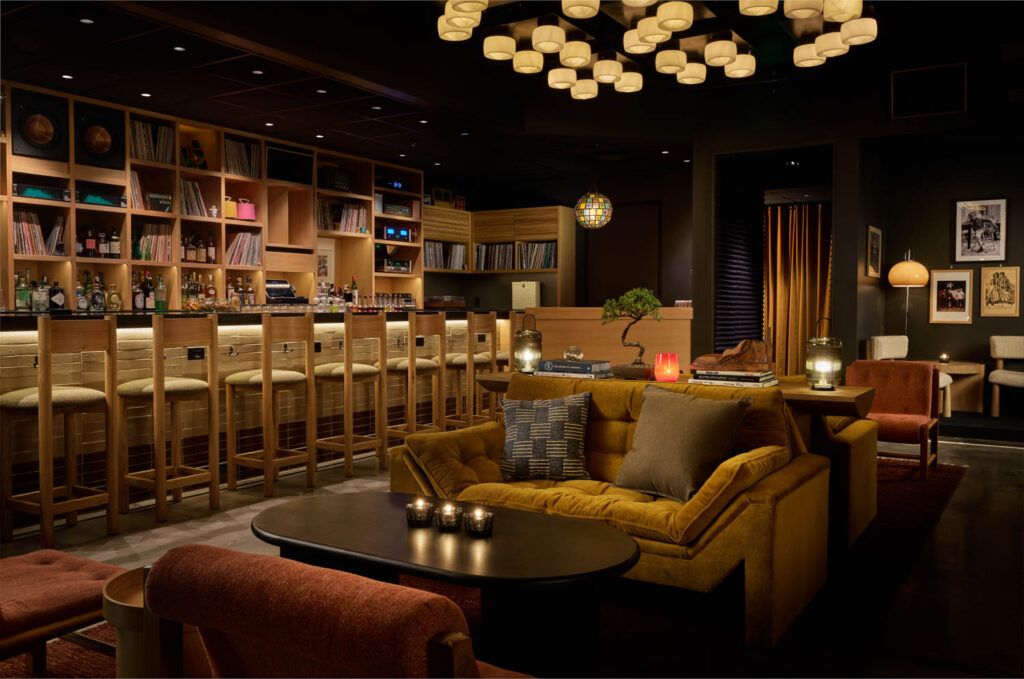 That bar is the focal point, and its zone was the focus of much of Hallock's energy. The bar itself has a dark gray solid surface top, and House of Leon stools provide seating. Meanwhile, the back bar is an elaborate, 30-foot-long expanse of hemlock millwork displaying not only beverage bottles, but some of Equipment Room's audio equipment dictating the grid, and its entire collection of some 1,200 albums, covering myriad genres and curated by local record shop Breakaway. But the real audio scene occurs at the DJ's stand, also of hemlock and situated at a right angle to the bar's end.
Vintage Furniture Offers a '70s Vibe
For furnishings, the Rios and Bunkhouse teams mixed it up. Salvaged and vintage pieces, including tufted settees and Miroslav Navratil bucket chairs, stand with newer items, the seating upholstered in velvets of dusty moss or rose, retro with a '70s vibe. A tambour screen marks a VIP seating nook, anchored by a curvilinear sofa and shag rug, for 10 to 12 while the overall seating capacity is 44 attending on a strictly reservation basis. This intimate zone was specially created to enclose a Stephen White sculptural pendant that Bunkhouse had in its copious cache of elements, including some of the posters adorning the space with homage to musicians who inspired the concept. Ditto photographs for inspiration, most of them sourced from Modern Rocks Gallery in Austin. How about Prince, Dolly Parton, Willie Nelson, and David Bowie to name a few.
Overall, lighting constitutes another standout. The central installation, reminiscent of a grid for record storage, consists of vintage elements found at the massive Texas Round Top Antiques Fair, but originally from an event venue in France. Wrought iron-framed stained-glass pendants add pops of color. Stained glass also comes into play at Equipment Room's first encounter. The entry portal, its new steel structure, frames two panels. Part is commissioned, part salvaged pieces. Some might say it sets up a spiritual tone. All would undoubtedly attest that an Equipment Room evening is experiential.
Step Inside Austin's Equipment Room Music Lounge