Rocky Mountain High: Colorado's LEED Platinum Walking Mountain Science Center
On track to become the first LEED Platinum-certified school in Colorado, the town of Avon's Walking Mountains Science Center provides extracurricular programs for 3,000 students from the Eagle County School District and nearby private schools, kindergarten through the 12th grade.
The campus will soon be home to its first two buildings: the Mountain Discovery Center, a 6,000-square-foot exhibition hall, and the Field Studies Base Camp, a 1,700-square-foot staging area for overnight programs. Slifer Designs, approached to contribute interiors services, and Zehren and Associates, an architecture firm that worked for a reduced fee, conceived both structures as contemporary interpretations of the agrarian architecture that would have characterized the site shortly after the Vail Valley was settled in the 1880's.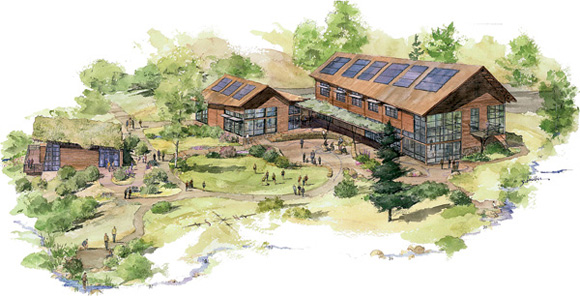 Many interior elements come straight from the sustainability primer, among them no-VOC paint, bamboo cabinets and surfacing, rubber-cork wainscoting, wool carpet, and cork floor tile. Where flooring is concrete, it's polished, tinted, and sandblasted with animal footprints and watershed maps. "What's so cool," Slifer Designs project manager Kim Toms says, "is that children will learn about the environment just by walking around."