They've Got Rhythm: Los Angeles' Cherokee Studios Mixed-Use Lofts
Residents of the mixed-use Lofts at Cherokee Studios, Los Angeles, may sense music in the air.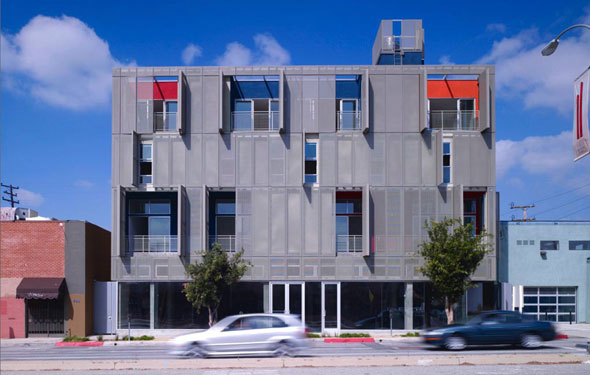 First off, the Hollywood site used to be home to that Cherokee Studios, the one where Frank Sinatra and the Dave Matthews Band recorded. Second, there's the option of turning a room in each of the 12 apartments into a recording studio. Third, Pugh + Scarpa Architects gave the facade of the five-story, 32,000-square-foot new building a jazzy syncopation with the help of individually operable screens of perforated aluminum.
Crooners and rockers aside, what Cherokee is first and foremost is environmentally conscious. No green stone has been left unturned. The aforementioned screens provide shade while allowing breezes to pass through. There's a green roof, a photovoltaic panel system, and an electric-car charging port for each of the apartments. Inside the units, which range from 1,000 to 2,000 square feet, all paint and finishes are zero-VOC, appliances are Energy Star-rated, toilets are low-flow, and woods are certified by the Forest Stewardship Council. Plus, the dark walnut paneling from Sinatra's studio has reappeared in the lobby. Sounds like Pugh + Scarpa is going platinum, LEED Platinum.