Vote Now for THE DESIGN PRIZE 2019 Social Impact Winner!
There's no way around it — the world is facing a myriad of problems. Plastics pollute our oceans, lack of access to safe drinking water and improved sanitation threatens communities with disease and deprivation, and systemic social inequity leaves marginalized populations vulnerable to the worst of kinds of acts. They're all tall orders to fix, but hope isn't lost. There are people working tirelessly to address these concerns and it happens that many of them are designers.
These designers have dedicated huge amounts of time, energy, and passion into tackling global problems like the aforementioned, and now their community has an opportunity to applaud their efforts. THE DESIGN PRIZE 2019 Social Impact category invites designers and creatives worldwide to vote for one of three nominated projects that improve the public realm. Voters can cast their votes between now and March 24 for their favorite project here.
Read on for descriptions of this year's nominees.
This project has seen a lot of press and with good reason. The Ocean Cleanup project aims to completely eradicate the five ocean garbage patches that plague our biggest bodies of water, killing marine life and poisoning the food chain millions of people depend on for sustenance. Cleaning up the trash has proved difficult and expensive using just boats and nets, but the Ocean Cleanup project estimates that their passive system could decimate the Great Pacific garbage patch in just five years and at a fraction of the cost of older technologies. The system uses natural oceanic forces to catch and concentrate trash, but a few kinks still need to be worked out. The team is positive, however, that success is imminent.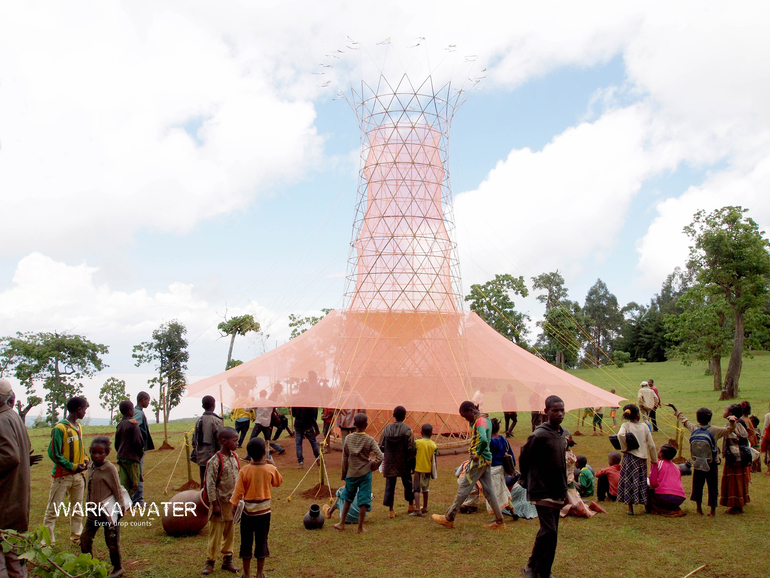 Lack of potable water is a huge concern for people around the globe. Water.org, founded by Matt Damon and Gary White, estimates that 844 million (1 in 9) people live without access to safe drinking water, while an estimated 2.3 billion (1 in 3) people live without access to a toilet. The water crisis disproportionately affects women and takes a huge economic toll on communities. That's where Warka Water comes in. This biomimetic invention looked to insects and plants that can harvest water from the air and replicated their abilities. A vertical structure made of bamboo and hemp rope holds up a netting made of polyester cables and polyester mesh, which captures water vapor. If placed in particularly humid or foggy environs, the Warka Water tower can capture as much as 80 liters (20 gallons) of water a day. The towers can be constructed by hand and also serve as community education gathering places.
Forensic Architecture by the Center for Research Architecture at the Goldsmiths University of London
Forensic Architecture is a multi-disciplinary and independent research group that investigates cases of state violence and violations of human rights around the world. Lead by architect Eyal Weizman, Forensic Architecture employees architects, scholars, artists, filmmakers, software developers, investigative journalists, archaeologists, lawyers, and scientists to flush out the truth. They use cutting-edge technologies like liar scanning, photogrammetry, ground-penetrating radar, and digital models to place a crime in as true-to-life context as possible. They have worked with international prosecutors, human rights organizations, and political and environmental justice groups to right wrongs and inform history.
Now in its third year, THE DESIGN PRIZE is an annual international award that celebrates design excellence. Curated by Designboom and presented during Milan Design Week, the award recognizes the extraordinary achievements and little sparks of beauty and delight that have emerged over the last 12 months. Ten categories comprise the award, of which social impact is one, and a top tier jury presides over nine of the selections. This year the jury includes luminaries Neri & Hu, Kazuyo Sejima, Stefano Boeri, Dominique Perrault, Tomas Saraceno, Studio Drift, and Bjarke Ingles.
Under the patronage of the City of Milan, THE DESIGN PRIZE is energized by Edison, and presented in partnership with Triennale Milano, where this year's award ceremony will take place.