10 Questions With… AB+AC Architects
AB+AC Architects are a young husband-and-wife architecture and design studio that crosses cultures like few others. The "AB," Arianna Bavuso, hails from Milan, while the "AC," Andre Chedid, is Lebanese-American (and formerly part of Beirut's biggest rock band Mashrou'Leila, alongside fellow architect Carl Gerges). The couple now live in Lisbon, having studied and worked across the globe from Beijing to Copenhagen, and are rapidly gaining awards and notice for their considered approach. (To wit: a warm yet minimal HQ for a Lisbon non-profit.) In addition to their own studio work, Bavuso researches how design affects the nervous system, publishing and teaching widely. She also founded The Beauty Equation Project to share her insights on how aesthetics influence to our health and well-being. We asked the duo to tell us about their upcoming gigs, design point of view, and more.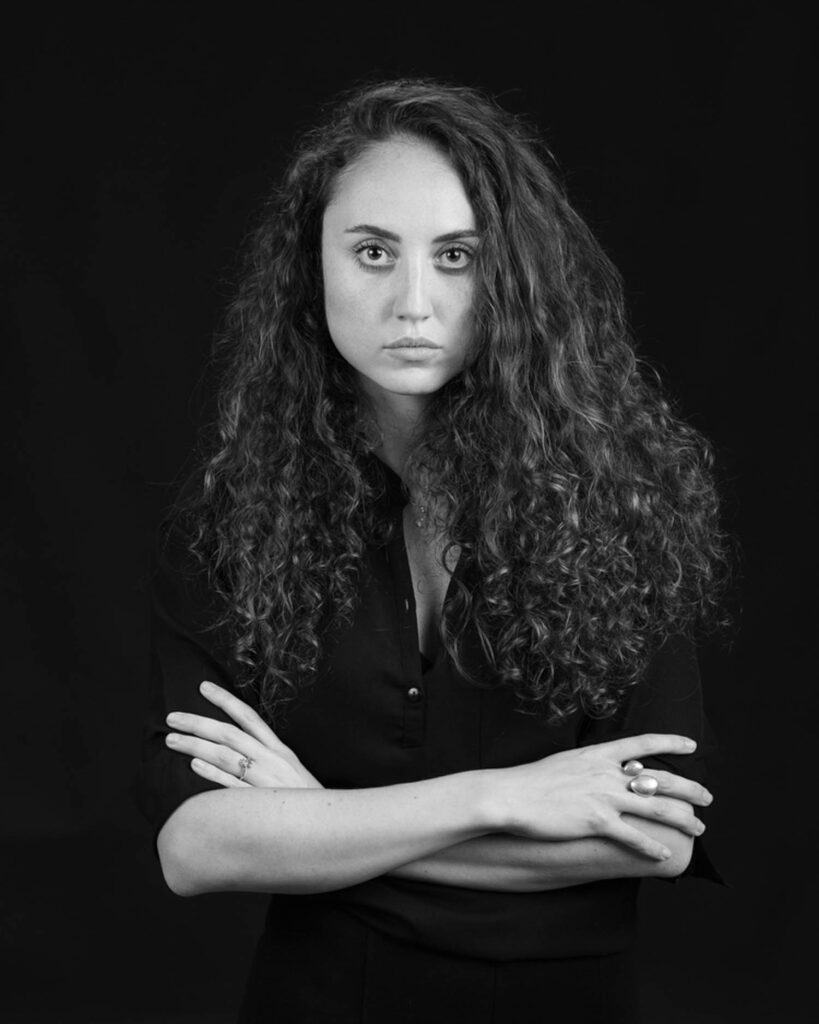 Interior Design: Arianna, you research and teach on the burgeoning topic of neuro-architecture, can you give us an overview?
Arianna Bavuso: It stemmed from a personal curiosity that I developed years ago when I lived in Mathare, Nairobi, researching strategic solutions for the vast number of informal settlements there. At the time, being a young architect coming from the privileged side of the world, it made me dream of trying to use my skills to improve the world. I used to wonder, what if I could find ways to design spaces that inspire happy thoughts? Fast forward to 2018 and I found myself designing thousands of square meters a day in Beijing, China, a country where fast-paced building culture is the standard and my role as architect was to relentlessly produce better, bigger spaces day in and day out. The coronavirus pressed the pause button on our behalf. This gave me the chance to reassess my values and I found myself researching how to bring happiness into our cities through thoughtful design. I think that the fields of healthcare, fitness, cosmetics, wellness, and fashion have educated us on how to achieve both outer and inner beauty. But most of us know very little about how everyday spaces influence our well-being, let alone the possibility of a universal form of beauty in architecture, something that transcends the concept of individual taste in favor of spaces that have the power to strengthen our immune system.
In a course I designed for Gritnova, we educate architects, builders, and aesthetic enthusiasts on understanding brain stimulations and their repercussions as the foundation of a user-centered type of design. Our intention is to capitalize on this knowledge to create buildings that promote holistic reciprocities and promote a healthier way of living. Through a mix of curated lectures and on-site exercises, students investigate what a city, an office, a school, a hospital, or most importantly, a house, should be like in order to make us feel certain desired emotions. In turn, this design approach has the potential to contribute to the overall mental and psychological well-being of the future inhabitants.
ID: What are some examples of ways in which beauty influences the nervous system?
AB: Neuroarchitecture is a new-found discipline that intends to bridge neuroscientific discoveries on the human brain with a type of architecture that engages all the senses, provoking positive responses and stimulating happier memories. Biologists and neuroscientists are demonstrating that there is something substantive (electrical and chemical) about the pleasure that we call beauty. Our perception of beauty activates the same section of the nervous system that monitors bodily functions that we do not consciously control, like our breathing and heartbeat. When a visual pattern triggers the sensation of beauty or harmony or awe, the autonomic nervous system enters into pleasure mode (parasympathetic). Now hormones such as endorphins are produced by the central nervous system and the pituitary gland, reducing pain, boosting a sense of wonder, and resulting in happiness. In this circumstance, crucial functions occur, such as cellular repair: the immune system is ready for action and the body is able to defend and mend itself. In the long term, visual patterns that provoke a parasympathetic response (meaning, beautiful spaces) are vehicles for stronger immunity, a feeling of well-being and even longevity.
In addition, the geography of the spaces where we live and work and play—their built characteristics and materials, access to natural light, clean air and vegetation, proximity to social and cultural hubs, connectivity to the city network—all together have tremendous implications for our health. If I had to prioritize a space to invest my resources in a way that this could be beneficial for my health, then I would undoubtfully think of the home as the first place that must be designed to fulfill a whole range of physical, social, and emotional needs.
ID: You just completed an interior design office project in Lisbon, can you take us through the concept?
AC: The approach was unique because we had to transform an existing apartment into an office for a landscape architecture studio without making architectural alterations. We then gave ourselves another challenge by making sure what we designed could be flexible enough to be re-used anywhere else. Based on that, we developed a modular furniture system of desk modules, library modules, storage modules, and low seating modules, all made from the same material (3-ply pine panels with a natural finish) that could all be assembled and disassembled without the use of glue or screws. 
The entire production process of the modular collection was made by CNC milling machines in order to create several micro-details on each of the elements. The finishing coat is done by hand by local craftsmen. This allowed for everything to be created off-site, in a controlled environment, immensely reducing any material waste, and avoiding potential time delays due to the ongoing supply chain crisis.
As a result, the entire assembly of the office was completed on site within one day. We also designed custom objects like pen holders, vases, and containers for office stationery all using the same natural pine. It was a fun commission! We followed our passion for Japanese design philosophy with its emphasis on minimalism and a preference for simple, quiet, and uncluttered spaces.
ID: Tell us about your Red Sea Cultural Landmark, a conceptual combination of land art with mediation space.
AB: We recently proposed a meditation space located in Saudi Arabia along the Red Sea coastline that would serve as a catalyst for culture and tourism alike. The intention was to deploy architecture as a form of contemporary land art. The Cultural Landmark itself is a monumental portal made of concrete mixed with local earth connecting the Red Sea to the inland territory.
Visitors can access the center on foot via land, or they can reach it via sea. The man-made architecture of this meditation space, with its roof punctured by a constellation of skylights, integrates harmoniously with the land. Ultimately, the architecture of the volumes is meant to stimulate the senses and soothe our minds.
ID: You are now designing a high-end apartment building in Praca das Flores, Lisbon, which has been ranked as one of the coolest streets in the world. Tell us about the challenge of building a new architecture within such a historical context.
Andre Chedid: Since we moved back to Europe our job has been to work closely with the city hall and urban planning departments—a very different story than construction in Asia! This particular project is challenging because the plot overlooks a protected heritage square inhabited by rare species of trees and, over the decades, this urban garden really entered into the hearts of the locals. Different from Nordic cities like Copenhagen, where Arianna used to take part in public presentations in which citizens were invited to give their input, for Lisbon it will be one of the first times architects have to persuade local residents that the future project will integrate extremely well within the urban fabric of this precious square. This happened as a consequence of a previous project designed by a very well-known and respected architect, which was stopped by the citizens because they considered it too contemporary for that area.
We knew we had to tread carefully and navigate the line between wanting to create a project that on one side stands as a landmark of its time, yet is contextual to its surroundings, respectful of the garden's identity, takes the will of the residents into consideration, abides by the city hall's constraints, and of course satisfies the demands of the client. As a result, we surveyed and redrew all the facades at the edge of the square, studying their proportions and visual rhythms, creating a catalogue of traditional elements—such as the ashlar corner, the frieze, the architrave, the stone window portals, and the railings—and incorporating them in the design of the new main facade. The twist? The historical-looking façade will be puzzled into pre-casted modules manufactured off-site and assembled in site in a relatively short time span. At AB+AC we are very keen on interpreting traditional craftsmanship by using contemporary construction methods and innovative techniques.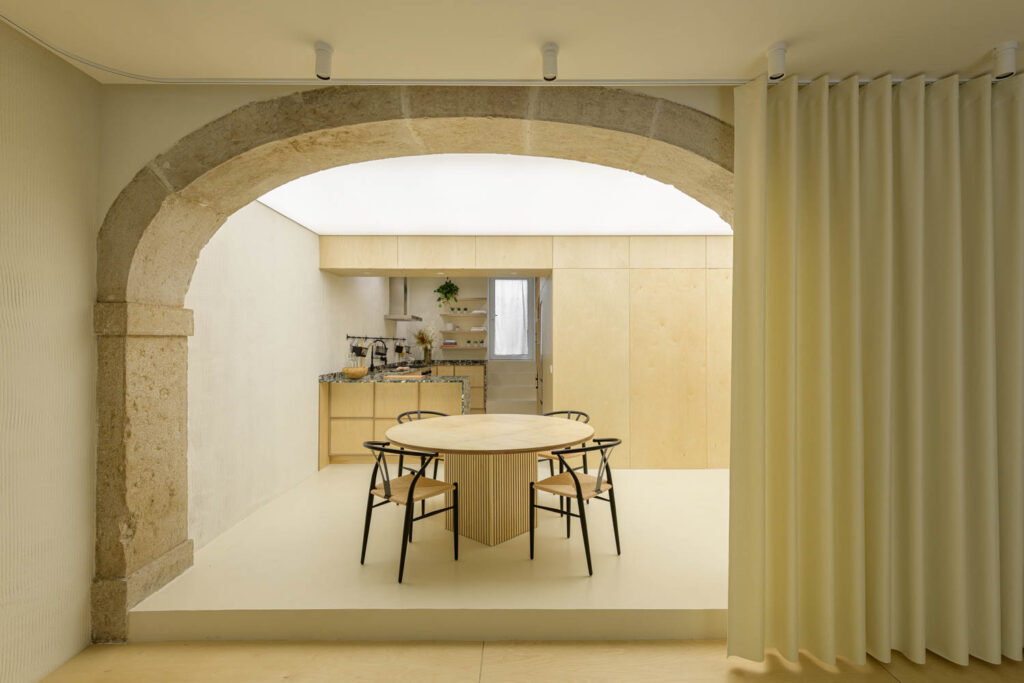 ID What is a major project you worked on before opening your practice and what did it teach you?
AC: In 2018, as a project architect at Vector Architects in Beijing, I had the chance to design a hotel in Jingdezhen that was part renovation and part new construction. The masterplan was developed by David Chipperfield, and Dong Gong, principal at Vector Architects, was commissioned to design this particular site. As with every project, the initial instinct you get from the first site visit usually has a lasting impact. Dong Gong was able to capture the essence of those instincts and translate them into beautiful hand sketches which would drive the entire design. Over the next year and a half, we developed the design through countless physical models, sketches, and design iterations. During this intense creative process, not only did I learn to lead a talented team of architects and interns, but I also learnt a lot from Dong Gong. The care that was put into every detail, the respect for the natural site conditions, and the countless and seemingly minor modifications that in the end make the difference between a good project and a great one. I remember always discussing the "different nuances" that came as a result of certain design choices, whether it was related to a technical issue that needed to be resolved, or an emotion that we wanted the user to experience in a certain space.
Now, four years later, the project is almost completed, and as I follow the progress via social media since I cannot enter China due to the pandemic, it is so satisfying to see how those countless hours discussing the texture and color of the concrete, or the exact distance the building should be from the existing trees, translate into a true feeling of harmony between what is existing, what was envisioned, and what was ultimately physically created. It is this trinity which Arianna and I try to incorporate in each of our projects.
ID: Andre, you left Mashrou' Leila in 2013 with the plan of moving to Portugal and starting on a new professional path. Looking back do you think it was a good choice, and how do you see the next 10 years evolving there?
AC: Leaving Mashrou' Leila was not an easy choice to make: It meant leaving behind my best friends and fellow musicians with whom I had shared an amazing journey, and also temporarily leaving behind my city, Beirut. However, I knew that I wanted to start my career as an architect, and that would require my full dedication especially since I was moving to a new country with no contacts and without knowing the language. On my first trip to Lisbon one year prior, I had felt something on a visceral level, and I also saw what huge potential the city had to offer. I began exploring the city on foot, looking for properties that were abandoned, and figuring out how I could convince investors back home that this was going to be the next place to be. Eventually, they decided to invest in the properties I selected and hired me as an architect to give them a second life. Fast forward nine years, and Portugal is now attracting people from around the globe from digital nomads in search of the perfect live-work balance, to real estate tycoons, luxury hotel chains, and tech startups. It's an exciting time, and I believe the next decade will be a very vibrant period for Portugal, however it will require a high level of collaboration between residents, architects, urban planners, and government leaders to develop the city in a steady and sustainable way for both locals and expats.
ID: For young architects dreaming of opening their own studio, what would be your advice?
AB: I am more the dreamer of the duo, so I would say inform yourself but ultimately follow your instinct, we hold all the answers within us. And most importantly, enjoy the process. I feel blessed for having found my passions at a very early stage in life, and although I can fall easily in the trap of getting extremely focused and working endlessly, I never feel that I am tired of it. Perhaps my advice would be, find a path that you are madly in love with and cultivate it with dedication for the rest of your life.
ID: Andre, what would your tips be?
AC: I am more pragmatic. Firstly, I would say talk to your peers and people in the industry in order to understand the real-life challenges you will be up against. Secondly, keep in mind that opening your own studio requires a lot more than being a great designer, so learn as much as you can about all aspects of the business, from finance and management to marketing and client relations, and if you don't have the time for all that, then find a partner with complementary skills. Thirdly, make sure you understand that progress is not linear or directly proportional to the number of hours of work you put in. There will be periods where you feel nothing is progressing; this is normal, you must keep up the energy and enthusiasm, and follow through to the end. Lastly, become a good listener, towards yourself and others.
ID: And finally, what is your design point of view, distilled?
As humans, we spend all our lives surrounded by buildings and spaces in one way or another. So, let's dedicate our time and energy to making our cities beautiful again. After all, architecture is not passive. Where you live today can define who you will become tomorrow.