Interior Design Hosts 10th Annual HiP Awards at THE MART
Interior Design's 10th annual HiP Awards, honoring top products and people in the commercial design industry, heralded in the start of NeoCon 2023 with a lively ceremony at THE MART June 11. Hosted by Editor in Chief Cindy Allen, the event gathered 300 designers, manufacturers, and creatives—including First NeoCon attendees—who mingled with cocktails in hand near the steps at Marshall's Landing, awaiting the reveal of the evening's winners.
"Are you ready?" Allen asked the crowd, which erupted in excitement. "Hip, hip, hooray!" First up: Product winners. From a sinuous sofa designed by Patricia Urquiola for Andreu World, which won a HiP Award for Environmental Impact, to biophilic accents by Mizetto, which took an award home for Planters (and another for Workplace Stools), the 2023 HiP Awards spotlighted innovation in many forms. Energy remained high throughout the ceremony as Allen encouraged attendees to "cause a ruckus" when celebrating their peers, which many did, maintaining a steady stream of applause.
After announcing Product winners, Allen turned to standout people in the industry, honoring 13 design luminaries with HiP Awards in their respective categories. From Rising Stars to Leaders in various areas such as Workplace and Education design as well as Furniture and Flooring, Allen offered insights into each HiP Award winner's creative prowess, touching on their early interests in art and design and career milestones. Amy Gath, VP of marketing and strategy for Formica—which designed the 2023 award—won HiP Leader for Materials. As for Lifetime of HiPness winners, Guy Geier, managing partner at FXCollaborative, won for designers, while Joel Berman, president of his namesake firm, won in the manufacturer category. "This guy is quirky and amazing" Allen said of Berman. "And he believes that in the glass, there's a message of hope."
The buzz was palpable throughout the evening. "I have no words," said HiP Rising Star for Workplace Alexandria Davis, senior associate at IA Interior Architects. "It means a lot." As the reception began, HiP for Greater Good winner Jennifer Graham, managing principal at Perkins&Will, made her way toward Davis, offering a heartfelt congrats. "I'm so thrilled to be here," added Graham. "The energy is fantastic."
Spirits remained high throughout the evening as attendees talked with friends and colleagues. "It's such a privilege and an honor to be at this event and be recognized along with all my peers," said HiP Leader for Furniture, Matthew Negron, president of Dauphin Americas. "This is a great event; it's really about community."
Take a look at the winner's gallery, and catch a glimpse of event highlights below.
Highlights from Interior Design's 2023 HiP Awards Ceremony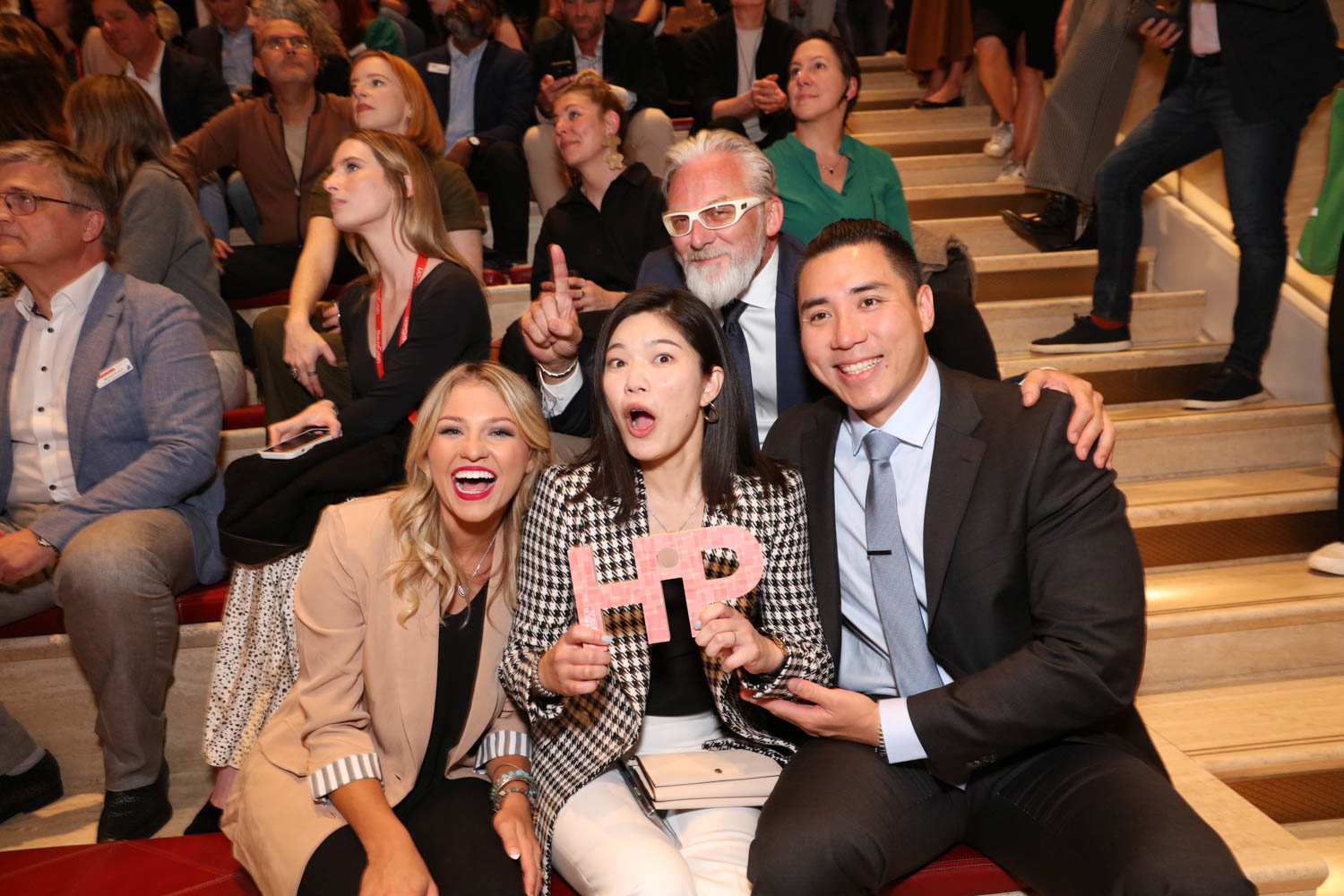 The HiP Awards ceremony also was live-streamed on DesignTV by SANDOW. In case you missed it, be sure to check out the replay here.
A special thank you to our sponsors: Formica, THE MART, and Material Bank.