Artist Simon Heijdens Tracks Weather with Ink and Liquid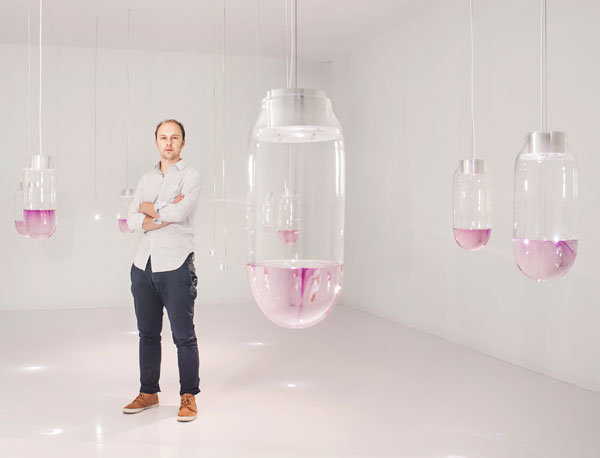 Artist Simon Heijdens with his Phare No. 1-9 during Design Miami 2013. Photo by Charles Emerson.




"50% science, 50% coincidence," is how braniac

Simon Heijdens

describes

Phare No. 1-9

, his latest project and a highlight of this year's

Design Miami

fair. Champagne maker

Perrier-Jouët

charged Heijdens with reinterpreting Art Nouveau, the era when the distiller began producing wine. "Perrier-Jouet asked me not to look at Art Nouveau for what it stands for but what was happening in the period," says the designer when discussing historical influences including Jules Chéret's lithographs and the cinema of the Lumière Brothers.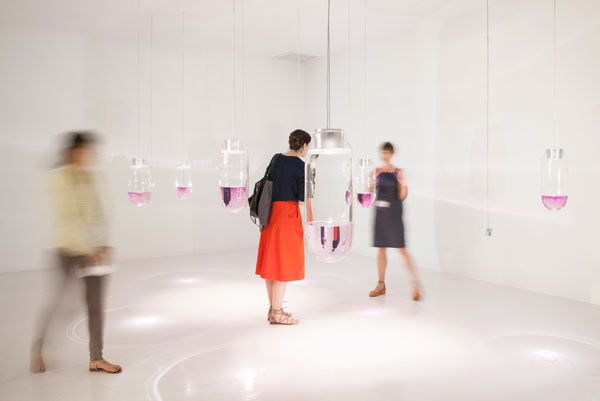 Phare No. 1-9 by Simon Heijdens. Photography by Charles Emerson.











The Dutchman's white box installation included nine hand-blown glass vessels suspended from the ceiling and filled with transparent liquid. An outdoor sensor measuring the wind and weather patterns sent signals through a computer connected to the vessels. Those signals triggered a reaction to light-sensitive dye, resulting in rippling fuchsia scribbles that were projected on the floor. Heijdens developed the proprietary software that's merged the organic with avant-garde technology to produce the 3-D drawings, which appear and dissolve in a continuous cycle. "Water is something I have a strong interest in as a substance and what it does with light. I'm interested in physical materials that have a narrative quality," he explains.

A graduate of the Design Academy Eindhoven and now based in London, Heijden's interventions keep him in perpetual motion. A site-specific project in Houston is slated for the Baylor University Medical Center in 2014 while

Lightweeds

will be on display at

The Museum of Modern Art

in New York starting February 14, 2014.







Phare No. 1-9 by Simon Heijdens. Photography by Charles Emerson.