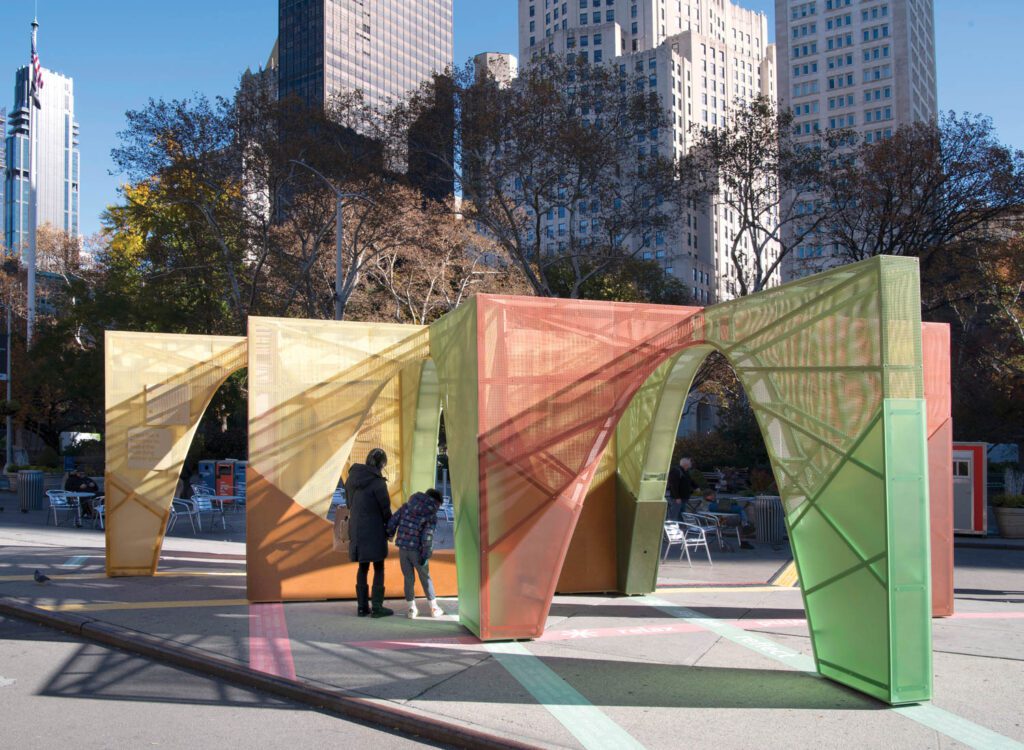 Atelier Cho Thompson's Installation in Flatiron Plaza Takes on a Double Meaning
When Atelier Cho Thompson began designing Interwoven, the winning submission for last winter's annual Flatiron Plaza Holiday Design Competition, the studio had just endured 18 difficult pandemic months. So the idea of connection was crucial to co-principals Ming Thompson and Christina Cho Yoo's concept, which is a celebration of the power of coming together in a public space—specifically one in the shadow of Daniel Burnham's landmarked triangular Flatiron Building that lends the surrounding district its name.
The installation's title has a double meaning. It not only describes the 450-square-foot form—an assemblage of crisscrossing powder-coated steel arcs and panels of colorful polypropylene netting and resin, which assumes distinctly different shapes depending on the viewing angle—but also refers to the fabric of city life. "We were inspired by America's woven tapestry of cultures," Thompson says. Visitors to the structure, which stood from November through January, were rewarded for coming together: When two or more people passed through it simultaneously, a synchrony of LEDs and original music played. "It's a magical and unexpected effect," Cho Yoo adds.
There was more wizardry inside the little pavilion, which also won an NYCxDesign Award in the exhibition/installation category. A bench of post-industrial recycled cork offered visitors a moment of repose, while a wall of papers on a grid, backlit by more LEDs, allowed them to share written responses to the prompt "I dream of a world where together we can. . ." If your answer would've been to see Interwoven, as 2 million passersby did during its Manhattan run, there's hope: Atelier Cho Thompson is relocating it to a New Haven, Connecticut, skate park in the spring.