8 Highlights from Design Week Lagos 2023
Nothing prepares anyone for Lagos, Nigeria in October: The heat, and traffic, are overwhelming yet the city offers moments to find ease. Design Week Lagos is one such event, offering visual therapy to its many viewers. The four-day event (held October 19-22) featured strong works from designers across the country, and beyond. Curated by Charles O. Job under the theme "Africa Design, The future," this year's show unwrapped a new wave of discussions, including talks by 35 industry thought leaders across Africa. Tosin Oshinowo delivered a lecture on alternative urbanism, Malik Afegbua moderated a panel on the intersection of AI and design, and O. Job took the audience on an innovative ride. Meanwhile, installations and exhibitions on display celebrated forward-looking, and sustainable designs, fueling passionate conversations among those on site.
Explore Highlights From Design Week Lagos 2023
"Ulo Oma" by Myles Igwe
Designer Myles Igwe knows how to take risks, at times creating seemingly impossible forms from mundane materials. At Design Week Lagos, the designer exhibited Ulo Oma, a chair that translates his undying love for culture and exploring local circularity. "The women selling grains at the market rely on empty tins instead of measuring cups, and I found it truly inspiring to see the longstanding tradition of resourcefulness in our local culture, where materials are ingeniously repurposed in various ways," Igwe said. The design concept is bold, made from the flattening of used food tins, Ulo Oma takes the description of what a raw project really looks like, envisioning the necessity of sustainability in the design world.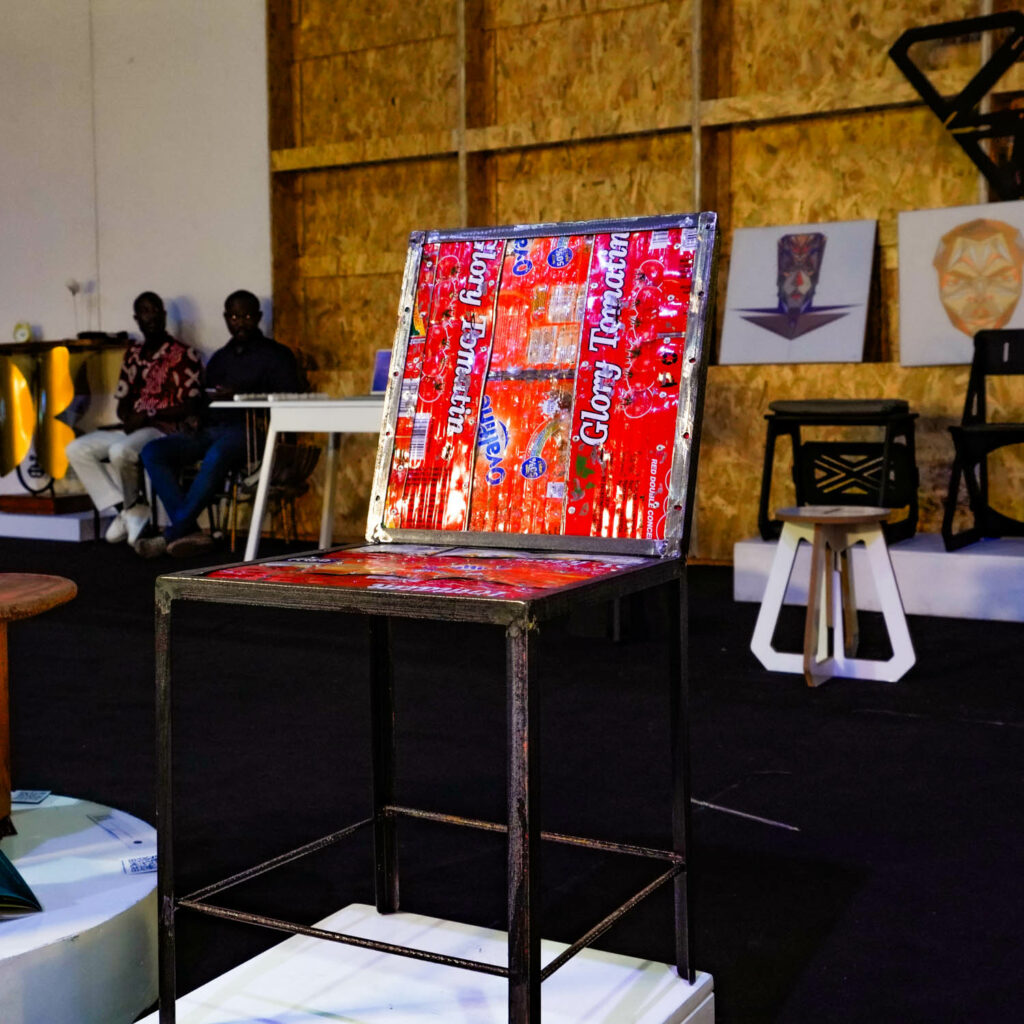 "Amahle" by Zonna
Zonna's tufted furnishings and accents served as a showstopper with their contrasting white and brown colors, detailing a snake-like construction. The collection titled Amahle included a rug, chair, and mirror, all tufted in soft cotton yarns and handcrafted by the designer. The inspiration comes from the designer's fascination with abstract shapes which further inspired her experimentations with tufting techniques. The designs are minimalistic and soothing to whatever space they find themselves in.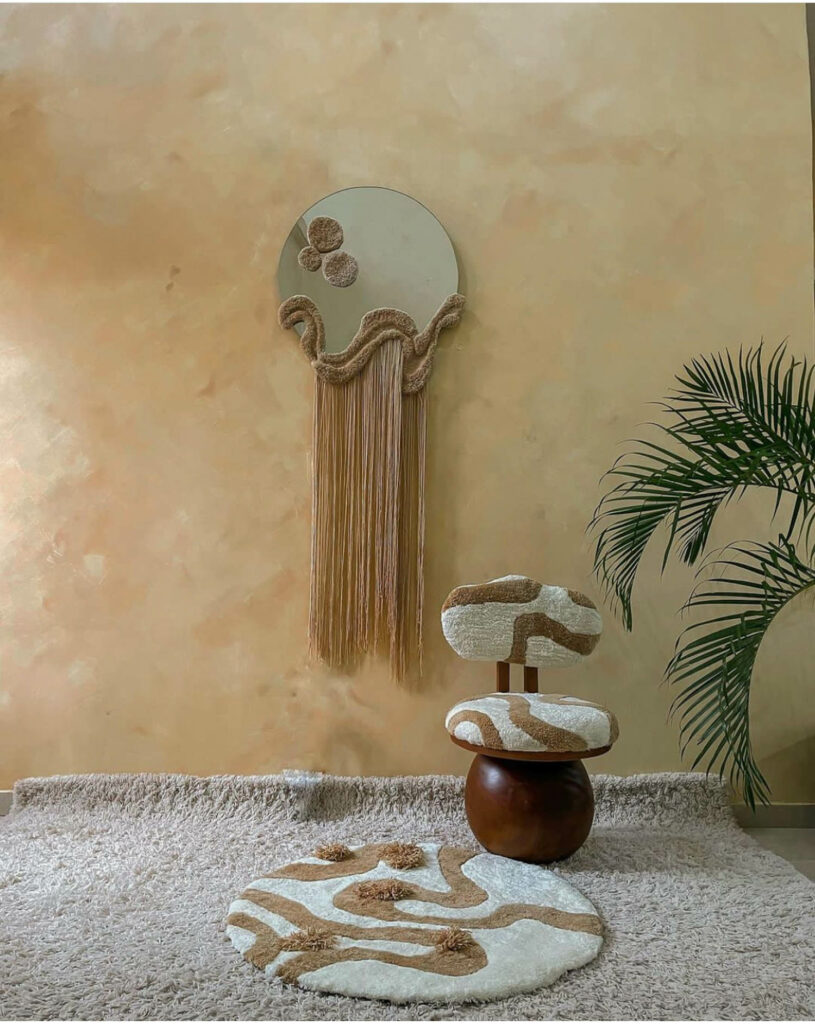 Lagos Light Series by Hot Wire Extensions
After a month-long residency by the Hot Wire Extensions at the 16/16 space at Victoria Island, Lagos—supported by Switzerland-based Pro Helvetia—it felt natural for Fabio Hendry, the founder of Hot Wire Extensions, to make a project with his resident fellows: Godwin Musa and Linus Sammy. The project became "Lagos Light Series," two handbag-shaped bulb lamps made from the mixture of sand and plastic.
B1 Bench by Temitope El-shabazz
Temitope El-shabazz thinks of his designs as art. He doesn't want to define the functionality; he's giving collectors the power to do so. The B1 bench seems to reflect this conscious decision, especially with its multi-functional appearance that offers possibilities as a sitting bench, a console, or a plant stand. Carefully perfected in varied colors with a size measurement of 60×24 cm, El-shabazz says: "I wanted to spark a conversation I knew existed. I was interested in creating something different from what was already known as normal." Mission accomplished.
Variant Present Flat Face Furniture by Deoye Bammeke
Witnessing the work of an architect-turned-project designer and illustrator seems to be one of the unexpected highlights of Design Week Lagos. The Flat Face Furniture series features a set of furniture pieces that are similar in design but have varied functionality. Here, Deoye Bammeke seeks inspiration from his long-time mentor's obsession with Italian furniture designers. He wanted to create contemporary furniture with the no nails woodworking technique, so he spent two years severing wood dimension and creating furniture that could be dismembered at ease complete with unique patterns and geometrical carvings. "I didn't want them to be basic, the colors were already black—just leaving them that way, black and flat, wouldn't be interesting," he said.
Limpetia Orb Light, Sailors Mirror by Franuel Eco Furniture Studio
In the west wing of the exhibit room, a lamp hanging from the pitch-black wood board grabs viewers' attention. Called the Limpetia Orb Light and designed by Frances Oboro of the Franuel Eco Furniture studio, the designer utilizes the biomimicry concept, creating a web-like lamp. "I had come across a bulb wrapped in cobwebs and why it didn't make sense at first, I felt it was very important to make a design from that inspiration," she said. The 51cm lamp is made from tiny strings of jute fiber, woven into a cobweb-like orb. But that's not the only thing in exhibit, a nautical Sailors Mirror wrapped in jute fibers also is on display.
Vivano x Color Sense x Literior Nigeria Installation
The scent of paint first welcomed viewers at the Vivano x Color Sense x Literior Nigeria installation at Design Week Lagos. Then came the striking room design, shaped openly like a triangular pyramid with aesthetic lightning. The installation featured an illusion wall in multi-colors (Color Sense), a room space decorated with artificial plants (Vivano), a room filled with Literior Nigeria's latest light collections.
Teal Culture Installation
A curated boutique manifested itself in the form of an installation by Teal Culture Nigeria, which doubles as a showroom for Teal Harmony Designs, a Lagos-based interior design studio. At Design Week Lagos, the mother company exhibited works by standout West African product designers and artists, including the recreated headpiece of an ile ife queen, which was perfectly crafted by the Cameroonian artist Djakou Kassi Nathalie, as well as the line patterned art of Saheed Olokun. Also featured was a design booth by Ekoro Ekanem and Folakemi Oloye.