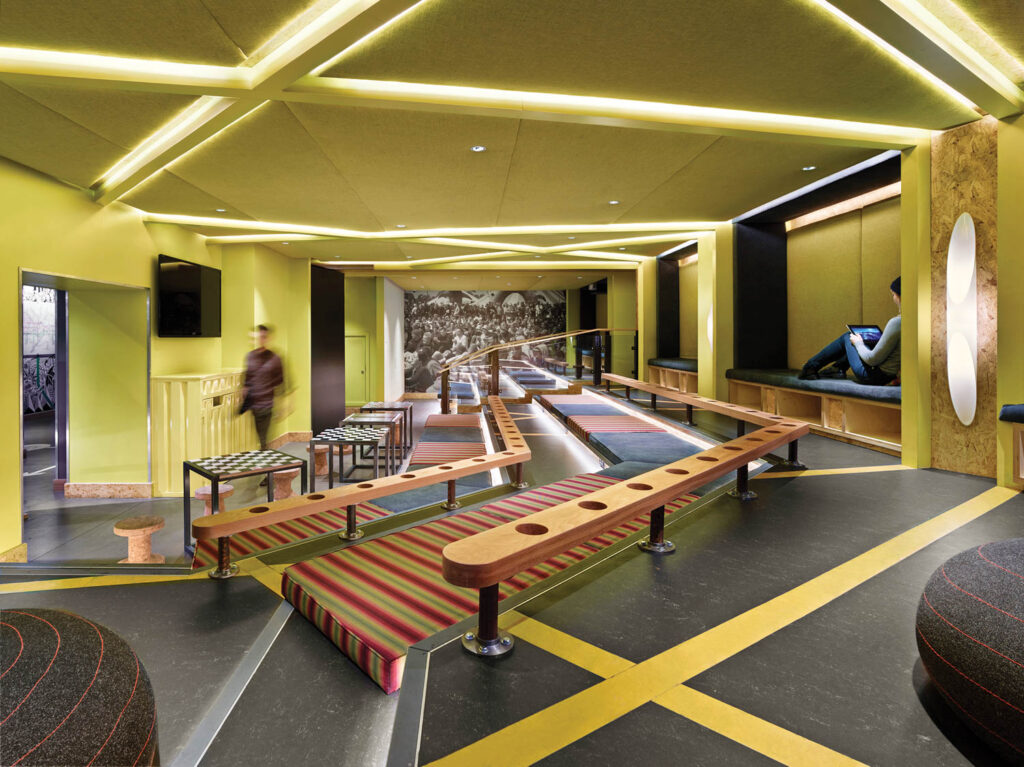 What Keeps Hospitality Spaces Hot? Ask DesignAgency Founders
From the day of DesignAgency's inception 25 years ago, hospitality has been baked into the Toronto-based firm's DNA or, at least, that of its three founders, Allen Chan, Matt Davis, and Anwar Mekhayech. Friends and all, at the time, recent graduates—the first two in landscape design from the University of Toronto, the third in engineering from the University of Western Ontario—the trio joined forces to work on a project of Mekhayech's devising. The son of a successful restaurateur, he hoped to open his own place someday. So he enlisted Chan and Davis for a competition to design and run a student bistro in U of T's Grad House, a new building by Morphosis Architects. They won, and sPaHa, an unpretentious yet attention-grabbing restaurant, bar, and lounge was born—and the fledgling firm along with it.
It was an auspicious time to launch a hospitality-focused multidisciplinary practice—interior design, architectural conceptualization, strategic branding, and visual communications are all on the buffet—as the boutique-hotel movement expanded. Toronto was no hospitality-design desert—hello, Yabu Pushelberg—but DA brought a fresh, youthful energy to the scene, culminating with the 2012 introduction of two international boldface brand names, Momofuku restaurant and the Soho House members' club, to the city. The firm established its own international reputation as creative directors for Generator Hostels, a European chain that, as Mekhayech says, "was a mix of boutique hotel and budget hostel that launched a segment in the market, from both a design and a travel point of view." That long-term relationship led DA to open an office in Barcelona, Spain, which has since been joined by studios in Los Angeles and Washington. A dazzling spectrum of clients, from Ritz-Carlton and St. Regis to NeueHouse and Motto by Hilton, has kept the hospitality quotient of the founders' business elevated. We talked to them about some of the highlights.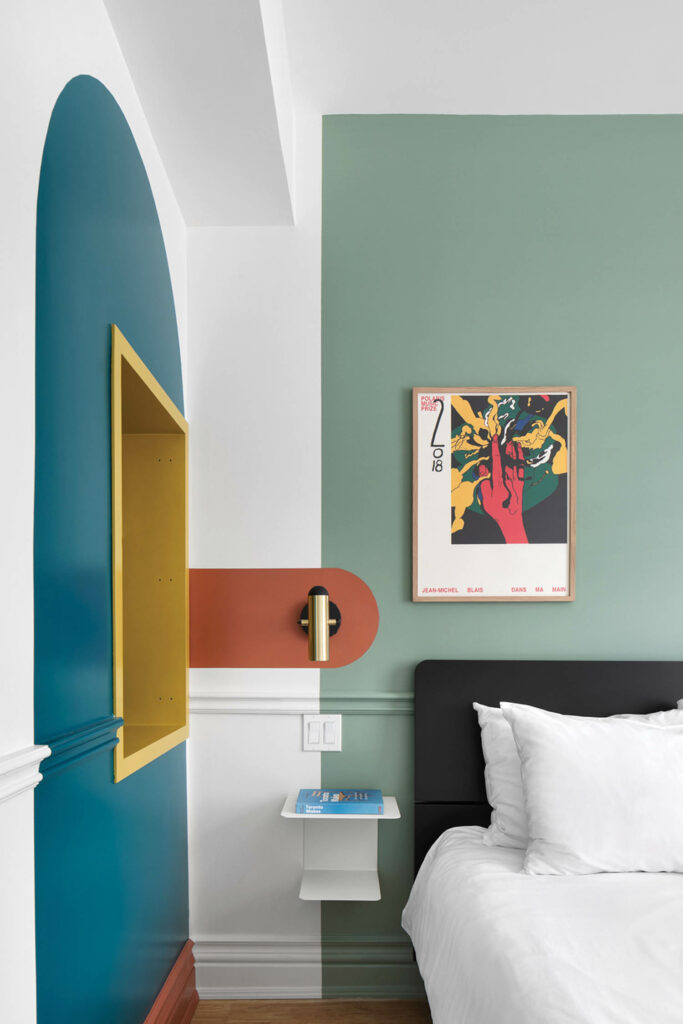 DesignAgency Cofounders Share Career Highlights and Industry Insights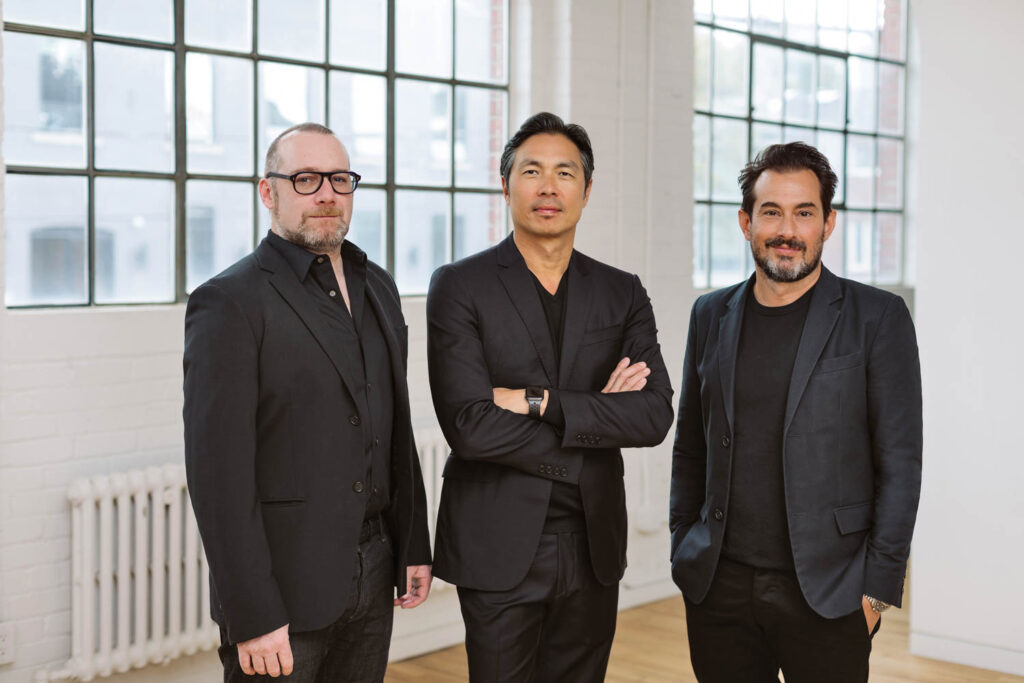 INTERIOR DESIGN: DesignAgency started 25 years ago with the sPaHa student bistro. How did the hospitality practice evolve from there?
Matt Davis: It was a long road to get to the hotels. We did a lot of restaurants, bars, nightclubs, and entertainment-based venues, slowly building up to bigger, more notable projects. The next step was into multiunit residential—larger buildings with amenity spaces. About a decade in, we started getting our first hotel breaks, lobbies first, then guest rooms.
Allen Chan: When we launched, food and beverage was where hospitality design was at; it wasn't such a huge thing for hotels. That began to change as the boutique hotels came online and lifestyle magazines started focusing on them.
ID: Is that when you began working with Generator, the European hostel brand?
MD: Yes, it gave us a chance to rethink everything about what hospitality was in the new market space, looking at it as a millennial brand, asking how people are traveling today, what the experience is, how to activate lobbies and food-and-beverage areas, so guest rooms are more like crash pads where you don't spend too much time because you're out in the lobby and those other spaces. Working as Generator's creative directors in nine countries across Europe helped leverage us into the hotel world because the industry saw what we could achieve with a budget in a sector that hadn't been design focused.
ID: During your second decade, you helped bring Momofuku and Soho House to Toronto, but you also got your first ground-up lifestyle hotel project. Tell us about it.
AC: That was the Dalmar, a 209-room, 25-story property that opened in 2019 in Fort Lauderdale, not on the beach but downtown, so it has a modern urban arts-district vibe along with the classic indoor-outdoor style of a Floridian resort. It was exciting to be able to look at the master plan and do all the programming—where to put a restaurant, a coffee shop, and so on. We worked with the architect, Sol-Arch, on the skin of the building, too, as well as doing all the creative services, really getting into the property's entire branding portion—how to tell its story, how to weave it into the interior design. It was a passion project that took almost five years.
ID: A more recent ground-up project is the Drake Hotel. What was DA's role there?
Anwar Mekhayech: Drake is a hospitality group centered in Toronto, where it opened its first boutique hotel around 2004. The group came to us about five years ago to work with local architect Diamond Schmitt on adding a five-story modern wing that would provide 32 more guest rooms and a penthouse suite, a new lobby experience, and a jewel-box bar that sits right on Queen Street West. It was more of a maximalist project, layered and strong on arts programming because Drake has an exceptional curator. It opened in 2022, a very successful project, I think, from a creative point of view and also for the city.
ID: How about your collaboration with the NeueHouse chainlet of private workspace and social clubs?
AM: That's been a great relationship for the past five years, where merging hospitality, culture, and shared working environments was a mantra. We designed the rooftop restaurant at the Hollywood location, then transformed the 11th floor of the New York flagship, by Rockwell Group, into a premium workspace, followed by the build out of another L.A. location in the famous Bradbury Building downtown. Also in L.A., we recently finished the Venice Beach club house, which has a strong art program. Over the past 25 years, working and curating with gallerists and artists has really ramped up for us and will continue to be a strong component of our projects.
ID: You've also dipped a toe into an emerging luxury-retreat category that offers psilocybin and other induced experiences.
MD: We worked on a startup, Dimensions Algonquin Highlands, a 40-acre, 15-cabin property in Ontario where guests can go on a curated psychedelic-assisted spiritual journey—all within the Canadian legal framework, of course! New therapies and technologies are leading influences on luxury wellness design, and psychedelics are definitely one of the trends.