Gallery FUMI Celebrates 15th Anniversary With a Stellar Show
Pioneering collectible design platform Gallery FUMI is commemorating its 15th anniversary with a group exhibition highlighting the experimental spirit of its illustrious roster of designers. Noted historian Libby Sellers guest curated the showcase around the themes of adaption, regeneration, and transformation, as these concepts relate to material experimentation and a renewed use of tried and true handicrafts.
"There's a dynamic between the inner and outer form: revealing the growth patterns of an object or material," says Sellers. "For this project, I decided to reference biologist D'Arcy Wentworth Thompson (1860-1948), specifically his 1917 book On Growth + Form, which explores ways that living forms morph into mathematically harmonious shapes.
On view at the platform's Mayfair, London flagship through September 30, the exhibition—titled after this book—incorporates newly commissioned works by 16 talents the platform has fostered over the years. Helping to cultivate their careers and push them to continuously experiment with material and process, founders Valerio Capo and Sam Pratt have shaped Gallery FUMI around the promotion of their groundbreaking output. Most of them operate out of small studios to master and eventually riff on age-old artisanal traditions. In doing so they've left a mark on the ever-evolving collectible design industry and creative field all together. It's undeniable that wunderkind polymaths like Max Lamb and vanguard duos such as Glithero have played their part in utilizing design as a critical medium, one that can be used to question the conventions of materiality, aesthetics, function, and behavior.
A fixture at major fairs Design Miami; PAD London; and New York's Salon Art + Design, Gallery FUMI has ensured that this explorative approach remains an important facet of the ever-evolving collectible design industry. Incorporating everything from live-edge cast bronze furniture to trompe l'oeil wall sculptures made from thousands of upcycled fiber strands, the "Growth + Form" exhibit pays tribute to this ongoing mandate. Here are a few emphatically unconventional chair and table concepts that demonstrate how experimentation can be applied in functional applications.
8 Highlights from Gallery Fumi's "Growth + Form" Exhibition 
Volumetric Chair 7 Bronze Designed by Voukenas Petrides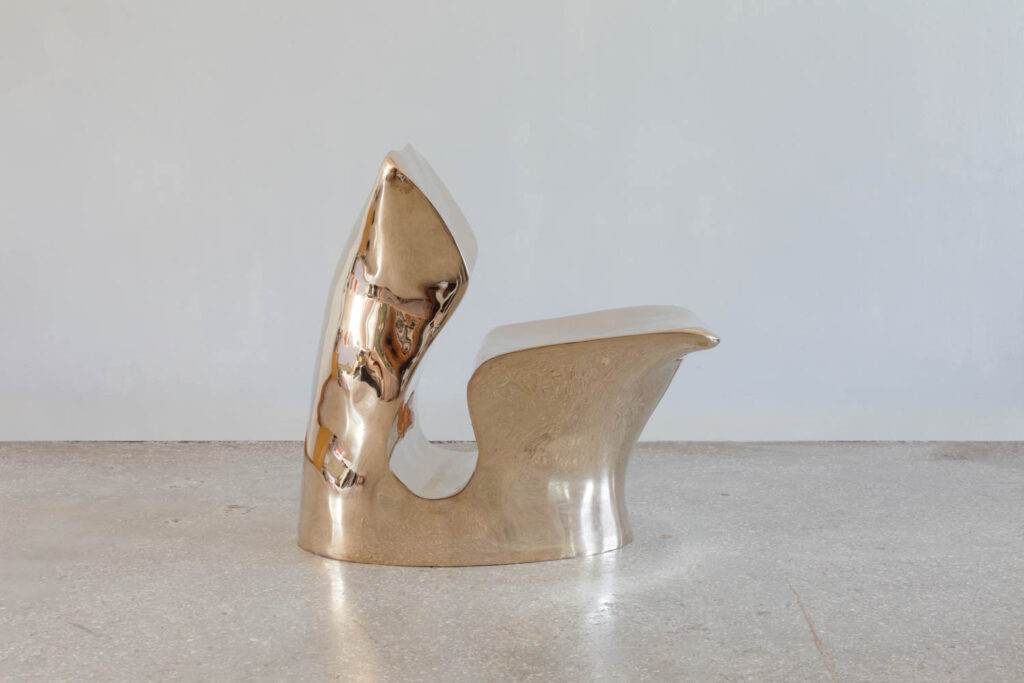 In an attempt to push the limits of gravity and balance, New York and Athens-based studio Voukenas Petrides—the collaborative force of furniture designer Andreas Voukenas and architect Steven Petrides—craft mono-materials into organically-sculptural furnishings. Building on their ongoing exploration of casting bronze at normally unachievable scale, Volumetric Chair 7 seems to uproot from the ground but is carefully hewn with an ergonomic seat and back. Meticulously polished, the weighty settee shimmers in light while offering a seemingly innate level of comfort.
Incomplete Copies Series Designed by Study O Portable 
Dutch, Japanese design duo Study O Portable often utilizes objects as a way of deciphering the relationship between the ever-evolving cultural landscape and environments that have been carefully programmed or "designed." This conceptual framework manifests in sculptural furnishings that riff on commonly perceived material compositions and the iconography of ubiquitous products. Formed out of aluminum, wood, foam, and cotton jacquard, the Incomplete Copies Series plays on the common proportions of furniture, softness, and comfort. The exaggerated, larger-than-life, bent-tube objects ask the user to think differently about the way we sit.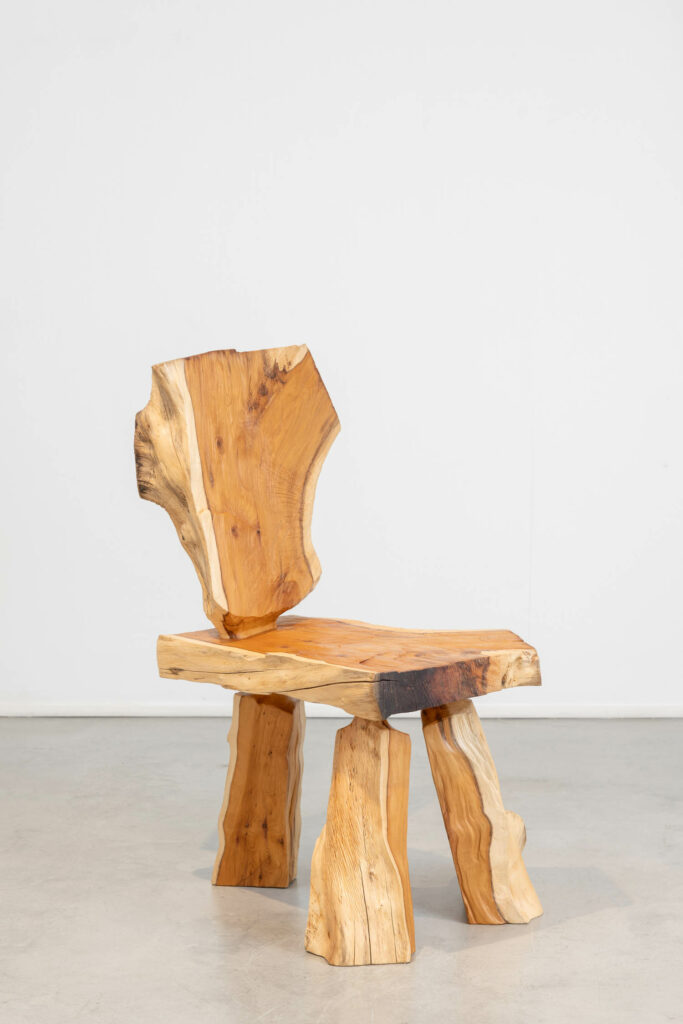 Split Yew Chair Designed by Max Lamb
The Split Yew Chair stems from British designer Max Lamb's career-defining exploration of materials and different modes of craft-based and industrial manufacturing. Adopting an almost primordial approach, Lamb imbued the chair with function simply by virtue of the natural formation of the material itself. Its seat and back are simply achieved by the splitting of a log and the perpendicular assembly of its two parts. Its legs result from a similar process. Polished in linseed oil as a minimal form of protection, the natural solid wood is maintained in the rawest form possible. The designer has iterated on this approach many times before.
Futuro Socchiuso / Future Ajar Designed by Sam Orlando Miller
British sculptor Sam Orlando Miller looks to harness the iridescence of materials like mirrored glass and silver in innately pared-back forms. For him, focusing on materiality and form is a way of honoring ancient craft traditions. In addition to that, Orlando Miller draws influence from Renaissance Italian painters like Piero della Francesca and the era's fascination with naturalism. Somehow, this all distills in the designer's poetically-composed furnishings that alternate between prismatic geometry and organic massing. The two low-lying Futuro Socchiuso / Future Ajar side tables stem from the former.
Pebble Chair Designed by Francesco Perini
Suspended in mid air, or so it might seem, Italian designer Francesco Perini's Pebble Chair forms around the careful interlocking of three stone forms—hewn from combined planks of carefully sourced oak wood, meticulously finished for a soft touch. Seemingly effortless in its assembly, the organic and monomaterial designs derive from the talent's intensive observations of the natural world but also his love of probing what's widely understood and real and what's not. Perini's appreciation for the natural elements of earth, air, and water renders in his mastery of materials and techniques specific to his adoptive Florence.
Comfy Bench Designed by Leora Honeyman
Research-based designer Leora Honeyman believes in the power of objects in containing and communicating cultural meaning. Mixing and matching her expertise in various age-old craft traditions permits the polymath to experiment with pattern, form, and different visual motifs. The ability to bring together seemingly disparate materials and processes allows her to push beyond traditional applications. Formed as a half-capsule dome, the textural Comfy Bench is emblazoned in a rich texture and unique, slightly faded, coloration.
Pitkä-Kotka Designed by Kustaa Saksi
With her Pitkä-Kotka chair, Finnish talent Kustaa Saksi pays tribute to her cultural heritage and the unique natural setting of her home country. The design is rendered in a woven polyester tapestry abstractly depicting the scenes of a rocky coastline and jagged pine trees that can withstand harsh climatic conditions. Responding to changing conditions, the plants adapt with a level of resiliency we can all learn from. This detailed textile is framed in a cubic oak chair form.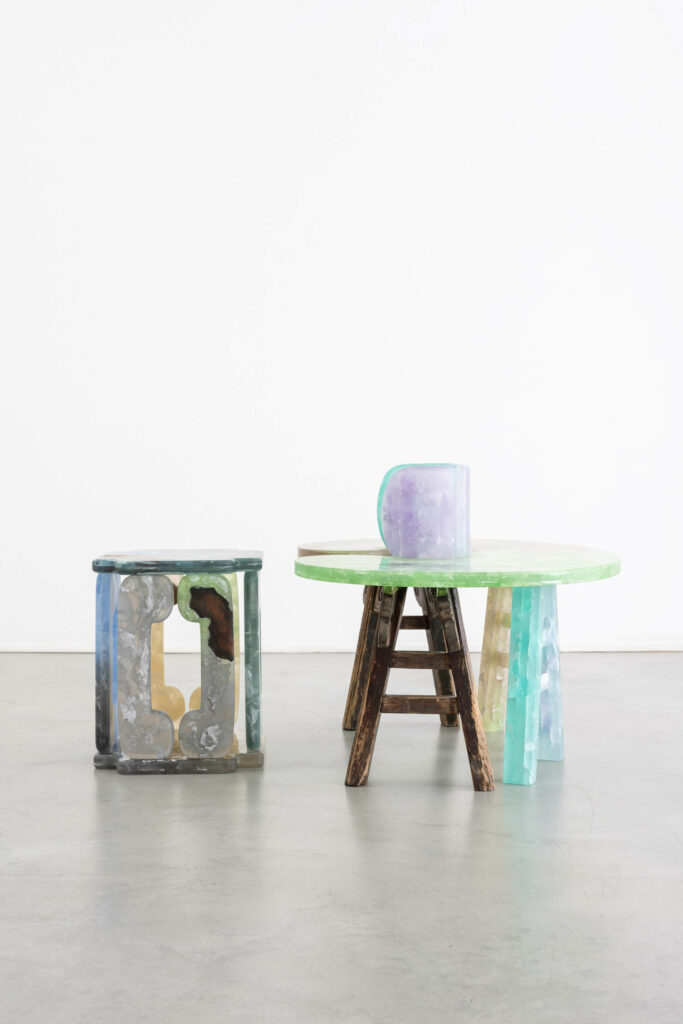 Dialogue Designed by Jie Wu
Formed around the contrast of repurposed antique furnishings and newly cast resin elements, Jie Wu's Dialogue table reveals her preoccupation with blending natural and man-made materials. These explorations stem from her need to better understand the conditions of the anthropocene era. Wu's proposition is more optimistic than most, however. For her, it's important to expand our understanding of sustainability and value synthetics as equally viable components that, if taken care of correctly, can be harnessed and repurposed in a continuous loop.