Jennifer Post to Design Interiors for Louis Kahn House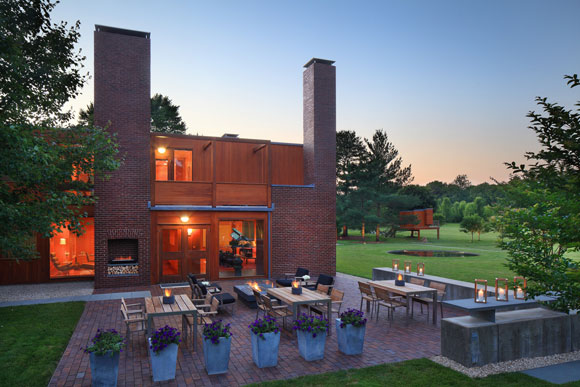 Louis Kahn's 1970's Korman House in Fort Washington, Pennsylvania. Photo by Barry Halkin.

The owners of the Korman House, a home designed by the late architect Louis Kahn, have selected Jennifer Post of the recently launched

Jennifer Post ONE

design firm to design new interiors for the more than 40-year-old home. Located on 80 acres in Fort Washington, just outside of Philadelphia, the six-bedroom, nine-bath house contains design flourishes like a two-story, glass-walled living room that aligns well with Post's modern design aesthetic.
The house's owner, Larry Korman, whose father commissioned Kahn to build the home in the early 1970's (it was Kahn's final residential project before he died in 1974), is actively involved in the project, however, he has given Post full creative control. He discovered her work while skimming her recent monograph,


Jennifer Post: Pure Space


and thought she would be the right designer to instill new life into the sprawling home. Besides the gutting and rebuilding of the master bathroom, no other architectural changes will be made.



Louis Kahn's 1970's Korman House in Fort Washington, Pennsylvania. Photo by Matt Wargo.



Currently, the home contains wood floors, a millwork kitchen, and red brick fireplaces. "It's very masculine," Post says. "That was a challenge for me, since right now all of the walls are painted everything but white. My goal is to take some of that harshness, like the rough brick, and use organic and textural materials to soften it up."
Post plans to lighten the home using a palette of whites, yellows, and a deep, cashmere grey. "It will be very tailored and sophisticated, but won't be over the top," she says. "Everything will be understated and refined."
Jennifer Post ONE is a branch of Jennifer Post Design, an architectural firm based out of New York City. Jennifer Post ONE specializes in interiors-only design consultancy for homeowners.
The Korman House project is schedule to be completed by mid-2014.