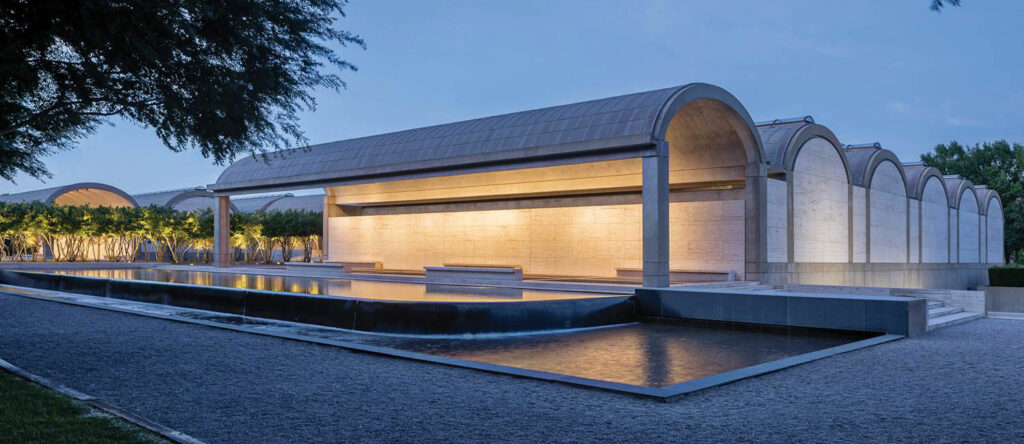 The Kimbell Art Museum Celebrates Its Golden Anniversary With Rare Works by Louis I. Kahn
It was 1966 when Kimbell Art Foundation director Richard F. Brown began interviewing architects to construct a museum in Fort Worth, Texas, to house the collection of Kay and Velma Kimbell. On the roster were Marcel Breuer, Gordon Bunshaft, and Ludwig Mies van der Rohe. But the commission ultimately went to Louis I. Kahn, whose work emphasized natural light, a vital component to Brown's vision for the institution. Kahn responded with a distinct form composed of cycloid concrete barrel vaults rimmed with narrow plexiglass skylights.
Completed in 1972, just two years before Kahn's untimely death, today the Kimbell Art Museum is widely recognized as one of the most significant works of modern architecture. To celebrate its golden anniversary, the Kimbell has acquired three of Kahn's rare pastels from 1951, while he was visiting the Temple of Apollo in Greece, an experience that allowed him to break through the International Style and infuse antiquity into his architecture, which manifested in his design of the Texas museum. They're on view in "The Kimbell at 50," the year-long exhibition highlighting its outstanding acquisitions and exhibitions across the decades.