Kind of Blue: Flooring Inspired by Sea and Sky

Water and sky inspired the palette for this roundup of rugs, carpet and tile.


1. Breeze hand-tufted rug in wool-linen by

Helen Yardley Studio

.

2. Astronomie collection carpet in nylon in Roadside Attractions in Orange Moose, Oscar Worthy in Extravagant Settings, and Roadside Attractions in Little A Le Inn by

Bentley Prince Street

.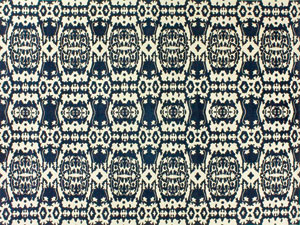 3. Margao rug in linen in 795 by

Niba Rug Collections

.

4. Contemporary Byron rug in bamboo silk in BB-01 Bluestone by

Loloi Rugs

.

5. Squaredance 1 hand-knotted rug in wool and silk in China Blue by

Reuber Henning

.

6. Sultry hand-knotted rug in silk, wool, and hemp by

Rug Art International­.


7. Ziggy flat-weave rug in natural cotton in light blue and dark blue?by

Madeline Weinrib.