Philadelphia U Design Students Gain Hands-On Textile Experience
They traveled by car, bus, train. Some had arrived the night before; others shuffled in, bleary-eyed, straight from the station or the airport. Some 30 students from

Philadelphia University

came to the SoHo offices of the textile manufacturer of

Weitzner Limited

and

Pollack

early one morning last week to get a taste of the "real" design world. They were there to begin a three-month collaborative program between school and company, one that will culminate—as its creators hope—in a series of new and innovative textile designs. And yes, the happy winner's project may be fast-tracked into production. The semester-long course, combining class work in Philadelphia with in-studio presentations and talks in New York, comes at a crucial time for the Weitzner and Pollack teams. The brands themselves are a collaborative partnership of sorts, having emerged only ten months ago. Last week's opening day events had the young crowd from Philadelphia traversing the city from the Pollack headquarters in Greenwich Village, up to Weitzner's midtown office, and then on to the firm's combined east-side showroom in the

D&D Building

.

The students came from a variety of backgrounds both personal and educational. "Philadelphia has made its curriculum all about working with other departments," says Lori Weitzner, founder of Weitzner Limited, adding that the mixed group in the spring program includes both graduate and undergraduate students, in fields as diverse as fashion, industrial design, interior design, and business. For many of them, the tour was an eye-opener: faced with row upon row of sumptuous fabric in the vast Pollack storeroom, one student whispered to another, "I feel like I'm about to faint." Student Megan Monroe had been looking forward to the morning's tour since the program was first announced last semester. "I really didn't know we were actually going to be working this closely [with Pollack and Weitzner principals]," she says.

And the tour was only the beginning of a closer collaboration. Monroe and her classmates will form into interdisciplinary teams to develop textile concepts in three major categories (material innovation, molecular design, and interactive design) side-by-side with their professional mentors. The initiative is the brainchild of

Hitoshi Ujiie

, professor of textiles at

Philadelphia University's College of Design, Engineering & Commerce

and Weitzner. During a brief car ride to Philadelphia last year, the two friends brainstormed ideas about an academic-professional partnership: "I had said to [Ujie] that I wanted to do more smart projects," says Weitzner. "…and students would be great because they're good at working with materials and ideas." This is a first in a series of videos and articles that track the Philadelphia University students progress during the design course competition.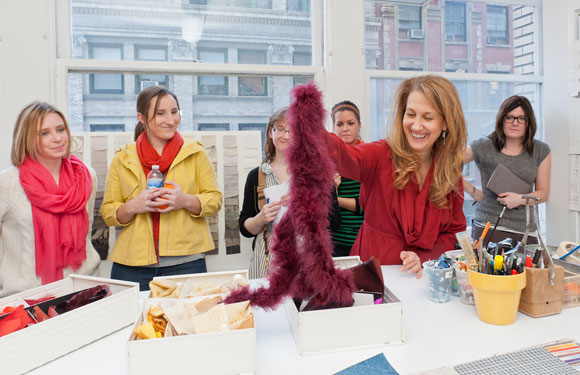 Students engaged in conversation with Lori Weitzner at her midtown Manhattan studio








Photo by Hitoshi Ujiie.