Principals Roundtable: The Impact of the Affordable Care Act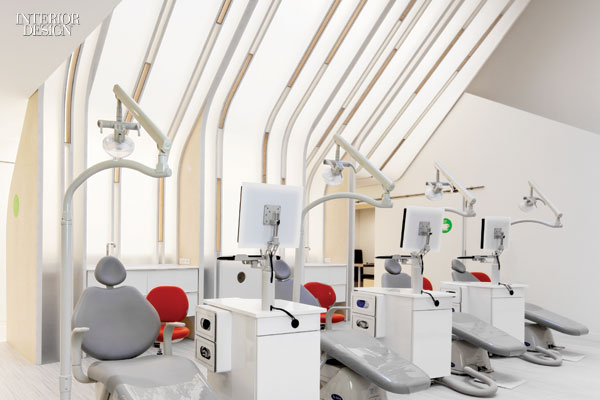 > See members of Interior Design's Health Care and Wellness Advisory Council and read its mission statement.
With the long-awaited implementation of the Affordable Care Act, designers are focused on a new (heavy) conversation surrounding "patient-centered care" and the impact of retail design on healthcare projects. When Interior Design gathered 26 members of the design community earlier this month during NeoCon for its biannual Healthcare and Wellness Design Advisory council meeting, moderated by president emeritus Mark Strauss, the debate was heated. Should insurance and the bottom line drive the future of care, or should design imperatives follow the omniscient needs of humans life? In other words, should healthcare be on a different playing field than consumerism? Here's the discussion breakdown.
#1 Has the Affordable Care Act created a new playing field for designers?
The conversation began with a fiery discourse debating whether the increase in demands for care has created a "crises." More people seeking care means more facilities that need to be designed and built—and more quickly than ever before. Yet these facilities are following new models. Jane Rohde of JSR Associates predicted that in 20 years 50 percent of larger hospitals will be gone, replaced with fewer, bigger conglomerates that branch out into smaller, increasingly multifunctional facilities with more extensive networks. "The joining of groups together is happening at an extraordinary pace," agreed Clare Ardizzone of Loebl Schlossman & Hackl.
Designers know better than anyone that these new multifunctional facilities come at a price, and it's difficult to do it all within budget, especially in smaller, rural communities. But lower budgets do not mean lower standards for care, especially considering the Affordable Care Act's HCAHPS (Hospital Consumer Assessment of Healthcare Providers and Systems) survey distributed to a random sampling of adult patients between 48 hours and six weeks after care. The HCAHPS is the first national, standardized, publicly reported survey of patients' perspectives on hospital care, and the Affordable Care Act includes HCAHPS among the measures to be used to calculate value-based incentive payments in the Hospital Value-Based Purchasing program, beginning with discharges in October 2012.
Essentially, for the first time, "A certain level of care must be met to get reimbursed," explained Haley Driscoll of Francis Cauffman. For designers, this means that standards of care are being driven by something new: insurance and the bottom line. And it's cheaper for healthcare providers to keep people out of hospitals and the high price of urgent care, largely by investing in preventative care and more facilities for ambulatory care. "We don't want people in hospitals, basically," said Tama Duffy Day of Gensler. "If they are there, we've failed."
The Affordable Care Act's shift towards a consumer-driven (or as some prefer to call it, "person-centered") healthcare market has some designers enraged. "I would prefer to see healthcare driven by people, not insurance," said Betsy Brawley of Design Concepts. Yet the change is undeniable, and the impact of retail-type design on the market's new spaces seemed equally powerful. All eyes on the bottom line explains why providers are investing in smaller facilities. "The preventative piece is where companies are putting money—the retail piece—because it costs less than urgent care. [They're investing in] retail and education, because it is cheaper than if [patients] actually get the disease," reiterated Aneetha McLellan of HDR Architecture. Rohde agreed that providers don't want to be in the pricey longterm care business anymore, so more transitional spaces are resulting in a "retail model with a wraparound component extending to senior care and cancer," she said.
#2 How are the design conversations going at these new, hybrid monster facilities?
Big institutions understand that consumers have choices and they need to up the bar, designers report. Yet in urban settings, amid the rush towards multifunctional care centers, they don't always seem to understand how the real-estate market works. One designer remembered a maligned floor plan placing a pain management center right alongside a pediatrics unit, two sets of patients that require drastically different care and targeted design.
Donald Cremers of HOK said, "Clients want the simplest, most cleanable design, and projects are driven by the client." Often, this means no carpet, whereas Cremers saw carpet covering hundreds of thousands of square feet prior to the dawn of the Affordable Care Act. The conversation followed Cremers' observation to question the effects of cleaning on interiors. "They're not cleaning, they're disinfecting," said Driscoll, citing the negative impact of Clorox wipes on surfaces as well as on the environment. This means that designers must meet high standards of durability when specifying materials, otherwise rapidly deteriorating interiors will catch up to providers on the HCAHPS discharge survey, noted Cremers.
The struggle of communicating proper cleaning practices to the right people in facilities was felt by the entire roundtable. Just because top-level providers care and understand the requirements does not mean a sense of accountability trickles down to the cleaning staff. "The facilities person and infection control should be our best friends," said Lauren Andrysiak of VOA. Designers recognized the need to instill accountability and a sense of caring to staff at all levels, but agreed that this wouldn't happen overnight. "No one has explained to them that they have a role in infection control," said Rohde. "Many of them haven't even heard of things like touch-point cleaning." The unique post-occupancy demands of healthcare projects was something the council discussed at length in 2013.
#3 What does "caring" for patients really mean in this new marketplace?
The idea of "caring" returned the conversation once again to the notion that healthcare facilities today are not only "care centers" but "profit centers"—much more so even than they used to be. Sometimes it's written in their budget that staffers are to spend, say, 45 minutes daily cleaning a particular space when maybe it requires twice that to achieve the proper practices.
Louise McDonald of Herman Miller identified a need to "start the tone at the top" in terms of management, and to approach cleaning practices as "human centered," especially in settings where housekeeping is far down on the client's list of priorities. "Post-occupancy evaluations are an important part of the process and can be used to bring [facilities] information forward," noted Andrysiak. "But that's late in the process." Surveys, even prior to the adoption of HCAHPS as a nationally standardized, publicly-reported standard, have long been a part of the process, but now they have increased meaning and the heft of dollars hinging on their results.
Brawley cited the Planetree model as a successful interpretation of patient-centered care from nebulous guidelines to flesh and blood practices. Planetree recently joined forces with the Picker Institute to develop a new Patient-Centered Care Improvement Guide, in which compassionate interactions (for example, a warm towel distributed to patients when their room is cleaned) are given significance as going above and beyond the minimum standards of care.
Unquestionably, it takes a commitment to change in order to successfully implement the new "retail" or patient-centered approach to healthcare. It's a cultural and social agreement, and one that necessitates the mission of current and future conversations like this roundtable itself.
Thank you to our sponsors:
Bella Dura | Herman Miller Healthcare | Humanscale | Interface | Mannington Commercial | Rocky Mountain Hardware | Shaw Contract Group | Sherwin-Williams | Sunbrella Contract Fabrics | Trevira