Seating: Blasts from the Past
Classic designs from across the eras get a new lease on life.
Designer: Arne Vodder from Erik Jørgensen
Product: AV72
Recap: With a swooping profile and welcoming cushions, the 1975 lounge embodies Vodder's belief that good design was equal parts comfort and beauty. His first furnishing with a full metal frame, the chair is being revived in supersoft leather on a matte-steel base.
Designer: Poul Kjærholm from Carl Hansen & Søn
Product: PK1
Recap: The curvaceous seat was the first dining chair Kjærholm ever designed, in 1955. The update unites stainless steel and another of the Dane's favorite materials: handwoven wicker, in this case crafted from the stem of the climbing palm.
Slight tweaks to the dimensions better accommodate today's physiques.
Designer: Verner Panton from Verpan
Product: Series 430
Recap: With its lozengelike circular seat, oblong backrest, stiletto-thin legs, and precise lines, the padded chair is as appealing to gaze upon as it is to use. When introduced in 1967, the multi-purpose stacker stayed in production only briefly, so few exist. It's now available with a white- or black-painted stainless-steel frame and fully upholstered options, these luscious neutrals included.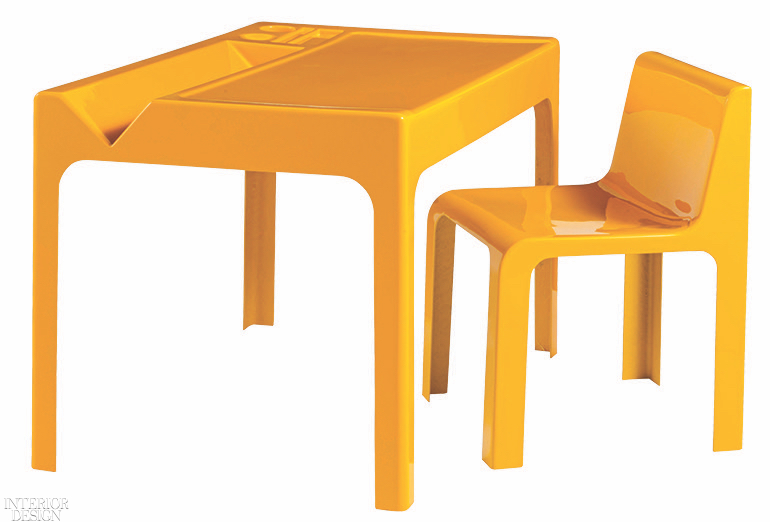 Designer: Marc Berthier from Roche Bobois
Product: Ozoo
Recap: Back in 1968, the supercool desk and chair set drew attention for its boldness, originality, and cutting-edge technology (each is crafted from a single piece of plastic). The fun twosome is being rereleased on its 50th anniversary in the five original colors. A glossy gel coating tops off the polyester resin and fiberglass structures.
Designers: Charlotte Perriand, Le Corbusier, and Pierre Jeanneret from Cassina
Product: LC3 Exemplaire Personnel
Recap: Nine decades later, the 1928 protoype is finally being put into production, featuring a dual feather-stuffed leather seat (in natural brown or gray) with light blue or green tubular frame. Each model is offered in a limited and numbered edition of 100, and all are marked with the trio's signatures.
Designer: Arne Jacobsen from Fritz Hansen
Product: Pot
Recap: Not only did he design Copenhagen's SAS Royal Hotel, but the Danish icon also furnished it with his creations—including this 1959 lounge, whose encircling seat perches on a steel frame with slender legs. The chair gets a new dark-brown powder-coated base and three fresh color options: deep blue, warm orange, and pale pink. The classic shape, however, stays the same.
> See more from the Spring Market Tabloid 2018 issue of Interior Design