Treefrog Veneer Snags Duo IIDA Fashion Remix Awards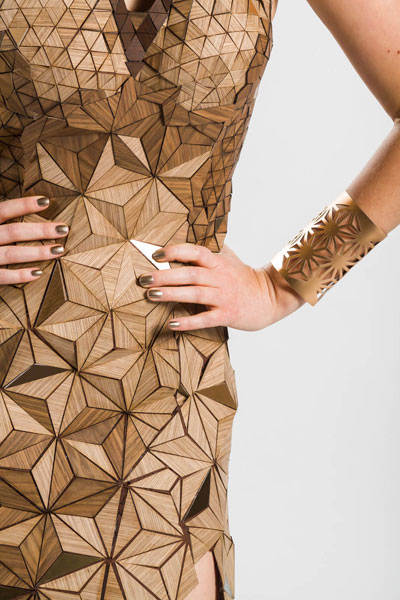 Photo by Preston Norris.



A spectacular gown made of

Treefrog wood veneer

and

Chemetal

metal laminate won two awards at

IIDA Fashion Remix

in Salt Lake City. Twenty teams of randomly paired interior design firms and product manufactures competed in the architectural design fashion show, an IIDA Intermountain Chapter event.

The challenge: creating a one-of-a-kind ensemble using using products familiar to design professionals everywhere. The winner of "Best in Show" and "People's Choice":

EDA Architects

.

Created by a team of four designers—Nelson Hansen, Jessica Sluder, Rachel Bergeson, Amanda Jones—from EDA Architects and Megan Fisher, a Treefrog/Chemetal Rep from Midwest Floor Coverings, the winning gown took just under 400 hours (sleep? Who needs it?) to create.

"We were excited to use natural, raw materials especially after researching Chemetal/Treefrog," says Rachel Bergeson, Interior Designer. "The veneers are harvested from rapidly renewable trees and then recreated to imitate many different beautiful and exotic species. We found these themes of biomimicry and imitation appealing as starting points for our design inspiration."

Using hard materials to design a formfitting dress was not an easy task. The team laser cut the wood and used a water jet to cut the metal laminates into small repeating patterns which were then adhered in a fashion that imitated fabric and provided malleability.

The gown is currently on display at EDA's headquarters in Salt Lake City, and may be touring local universities and other companies soon.

A portion of IIDA Fashion Remix proceeds benefit the Cystic Fibrosis Foundation.



Photo by Brian Roller.