Behind-the-Scenes of a Virtual Office and More in the Metaverse
Michael Beneville opened his studio in the Flatiron district of New York City a decade ago. The renovated two-floor office has 20-foot-high ceilings, custom furniture, and a wall of arched windows that look out onto 19th Street. Beneville and his team haven't been inside the studio together on a regular basis for months—at least not physically. The employees of the small creative studio, known for its design work on immersive experiences like Las Vegas's mega–entertainment complex AREA15, are scattered across the country due to the pandemic, but they regularly gather in a virtual replica of the studio for meetings, sitting around a digital table, their avatars carrying digital cups of coffee.
The virtual office looks a lot like its physical counterpart. It's rendered in a flat style with all the defining architectural elements—the windows, the hardwood floors, the modern staircase. "It's basically a one-to-one representation of itself," says Beneville as he guides me through the airy layout over a Zoom call. Still, the space is lacking in many of the textures and idiosyncratic details that give a physical office its atmosphere. There are no random Post-it notes tacked onto computer screens, no coffee rings stained onto surfaces, no scuffs on the floor or coats draped over chairs. The trade-off is that employees can access this office from anywhere, so long as they have an internet connection.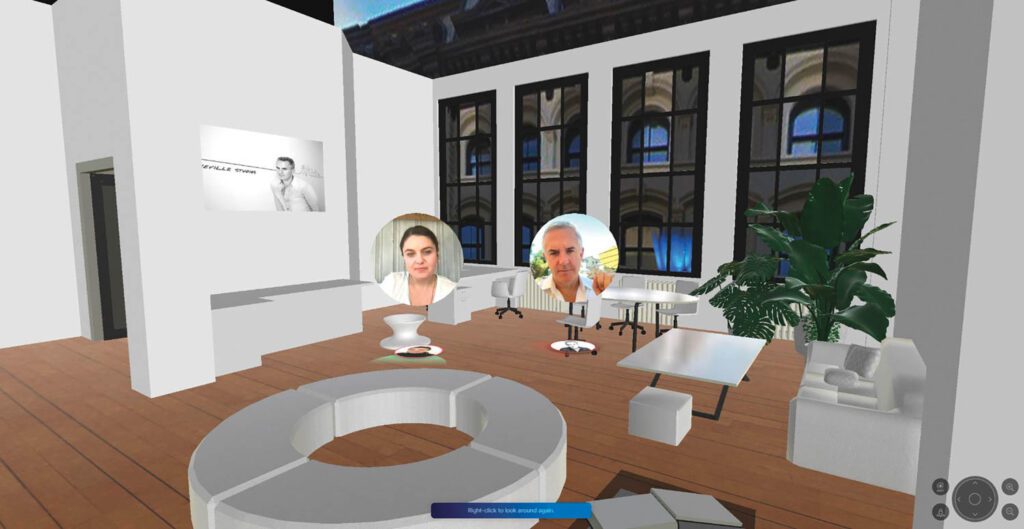 Beneville and his team built this digital version of their workspace on a platform called Vatom Spatial Web, a piece of software Beneville and his partner Eric Pulier created for building 3-D virtual worlds that people can inhabit in avatar form and navigate as if they were in a physical environment. Through Vatom Spatial Web, Beneville is creating his own little slice of the metaverse, an inhabitable form of the internet that is powered by blockchain technology and accessible through web browsers, VR, and AR headsets.
Visit Metropolis to read the full story.
---
The Metaverse Architecture + Design Awards celebrates the designers and architects dreaming up projects, products and spaces for the virtual realm. Learn more about the MAD Awards, and dive into stories that explore the industry's new frontier.