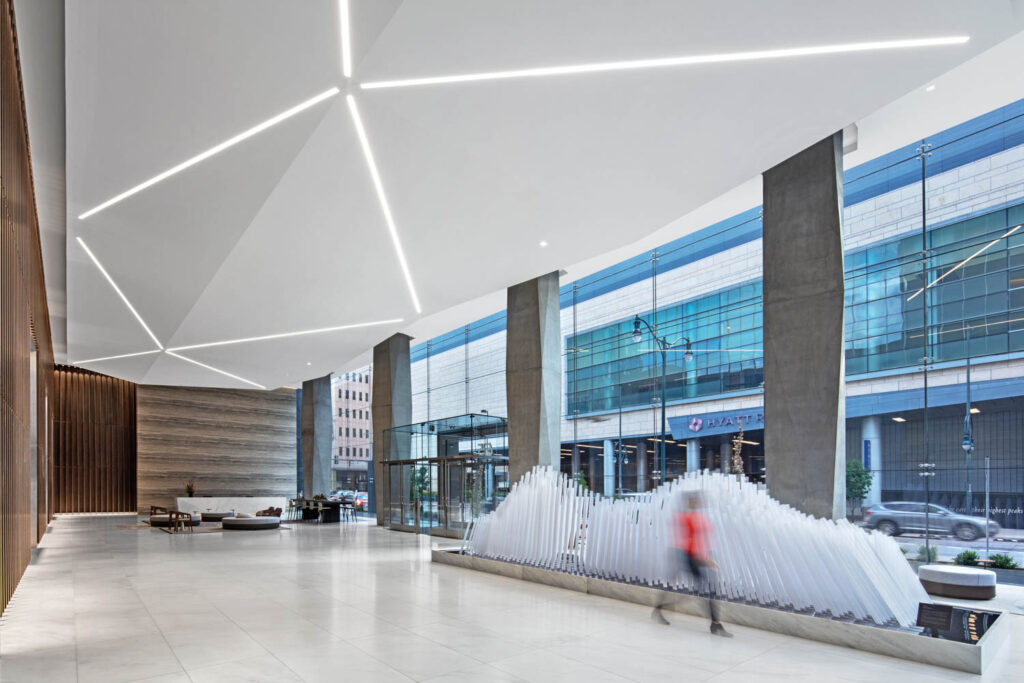 Gensler and MaRS Design a Community-Minded Office Building in Denver
Hospitality-inspired workplaces have been popular for years. We can all remember when lounges with ping-pong tables and kombucha and beer on tap started making their way into the corporate interiors of tech companies and other sectors. But the trend hasn't fully extended to the office building itself. Lobbies can be drab and lack seating; shared gyms can feel like an afterthought. But a developer in Denver is upending that model: Patrinely Group believes the commercial real estate market demands a more elegant, considered approach. In 2015, it hired Gensler to design Block 162, a 30-story tower that would attract high-end tenants with a distinctive lobby and an amenity floor. Later, Patrinely brought on MaRS to collaborate on the common areas, which include a fitness center, coworking spaces, meeting rooms, and a terrace. The firms shared an interest in creating a unified aesthetic that spoke to the location and brought people together.
How the Design of Block 162 Revitalizes Its Surroundings
Block 162 occupies what was previously an empty lot between the Colorado Convention Center and the 16th Street Mall, a pedestrian corridor. The site was sure to get foot traffic, and architect Raffael Scasserra, principal and design director at Gensler Houston, hoped to draw passersby inside. "We saw an opportunity to invigorate the street, invite people into the lobby, and turn it into a community space for the neigh­borhood," Scasserra says. "The building itself should also have a sense of community." He began by considering the local context, taking inspiration from the Rocky Mountains and the city's outdoor-oriented culture.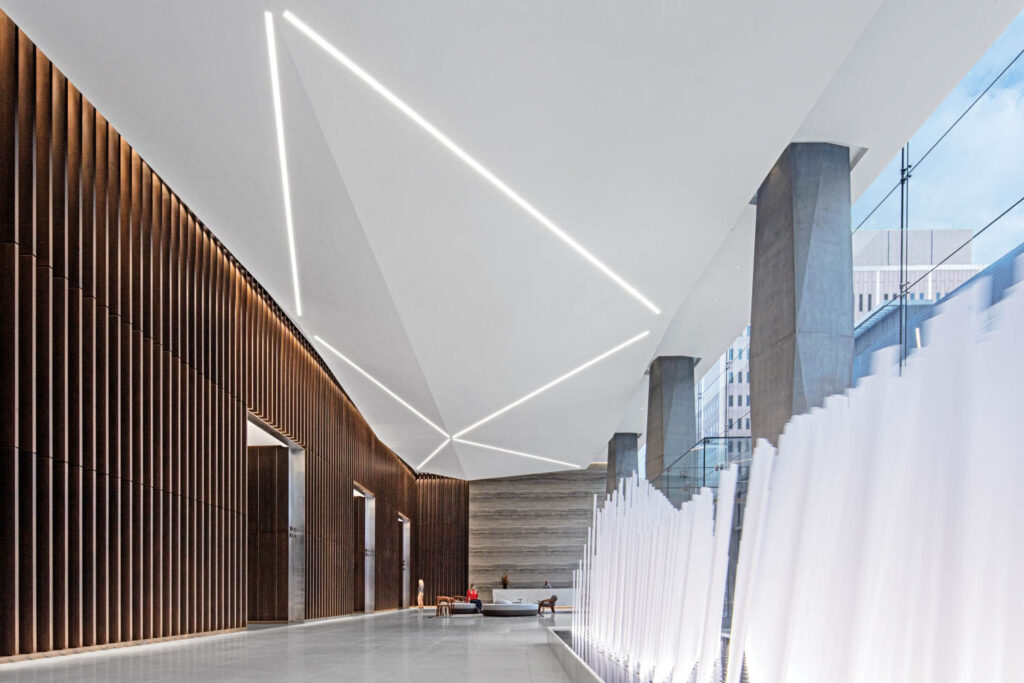 Architectural Accents Capture the Rocky Mountain Spirit
Block 162's exterior architecture evokes an eroding rock face, with a crevice in the top corner that splits the glass building in two. The 8,500-square-foot lobby continues the mountain theme. Faceted exposed-concrete columns and an angled gypsum ceiling crisscrossed with recessed linear LEDs bring a rugged note to the sleek marble-floored space. "It's a place where the user can pause, reflect, and enjoy their surroundings," says Scasserra. "It's a hospitality-type environment that welcomes people in." The main attraction is Cedar Point Reeds, a 30- foot-long kinetic sculpture by New York's Breakfast Studio, conceived in collaboration with MaRS partners in charge Kelie Mayfield and Erick Ragni.
Mayfield and Ragni both studied art history in college and have curated artwork for many clients since founding their Houston-based firm in 2010. "We think of art and architecture holistically," Ragni says. "Each project starts with a narrative, and the art responds to it." For Block 162, the narrative was based on early site visits, when they explored the River North Arts District, walked through downtown after a snowstorm, and snapped photos of shimmering icicles on a fence.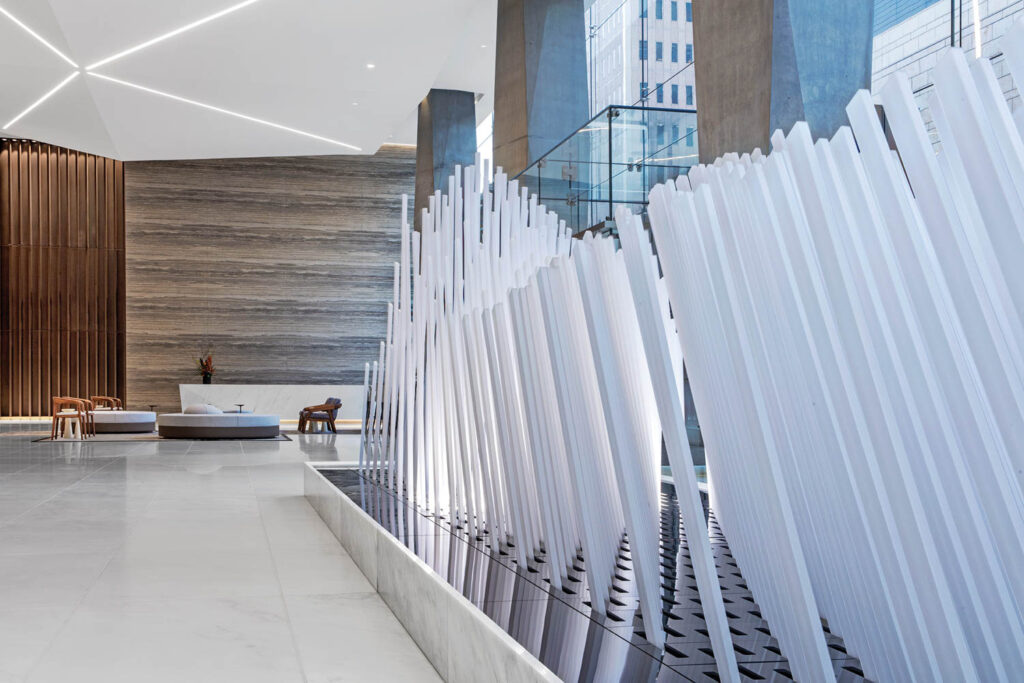 Block 162 Explores the Intersection of Art and Architecture
The pair sees the latter echoed in the Breakfast sculpture's glowing acrylic rods, though viewers also compare it to blowing wheat fields; the piece moves based on current wind speeds in eastern Colorado and responds to people nearby as well. David Haltom, senior vice president at Patrinely, says it's been a hit with the neighborhood: "We see nose prints on the glass." While engaging pedestrians and animating the cavernous lobby, Cedar Point Reeds also establishes the building's emphasis on art.
MaRS commissioned multiple contemporary artworks, mostly by local talent, for the 12,400-square-foot amenity deck that occupies much of the building's 11th floor. There's a long, lenticular mural by Frank T. Martinez backdropping the coworking area; stained book pages in Pam Fortner's mixed-media works hanging in the lounge; and a trippy graffiti-esque mural by Anna Charney in the gym. "We reinterpreted the street art we saw in the RiNo District in a sophisticated way," Mayfield notes.
The amenity space also reflects Denver's laid-back culture. "We tried to make it approachable to reflect how people here interact," Ragni says. He and Mayfield selected materials and furnishings that lend a warm residential feel, like wood-look floor tiles, a leather-wrapped coffee table, and a fireplace framed in panels of brushed bronze and fumed eucalyptus. Though MaRS began the design in 2019, the result anticipated the COVID-era mood. Mayfield has noticed that employees today want to gather in a safe, sophisticated environment with some of the comforts of home. "It's not about providing kitschy things. People want experiences that create community," she says, akin to having coffee in a neighbor's kitchen.
Block 162 was ahead of other post-pandemic trends, too, like the desire for smaller workplaces. The amenities are open to anyone who works in the building, and tenants can reserve them for town hall meetings, cocktail parties, or conferences. (All the furniture is modular and can be broken down and moved easily.) Companies don't need private function rooms and can lease fewer square feet upstairs. Gensler also prioritized access to fresh air: The lounge, gym, and coworking area all have operable glass walls that open onto a large terrace. "The building plays off the outdoors culture and connects inside and outside," Scasserra explains. There's even an alfresco conference room with views of the mountains.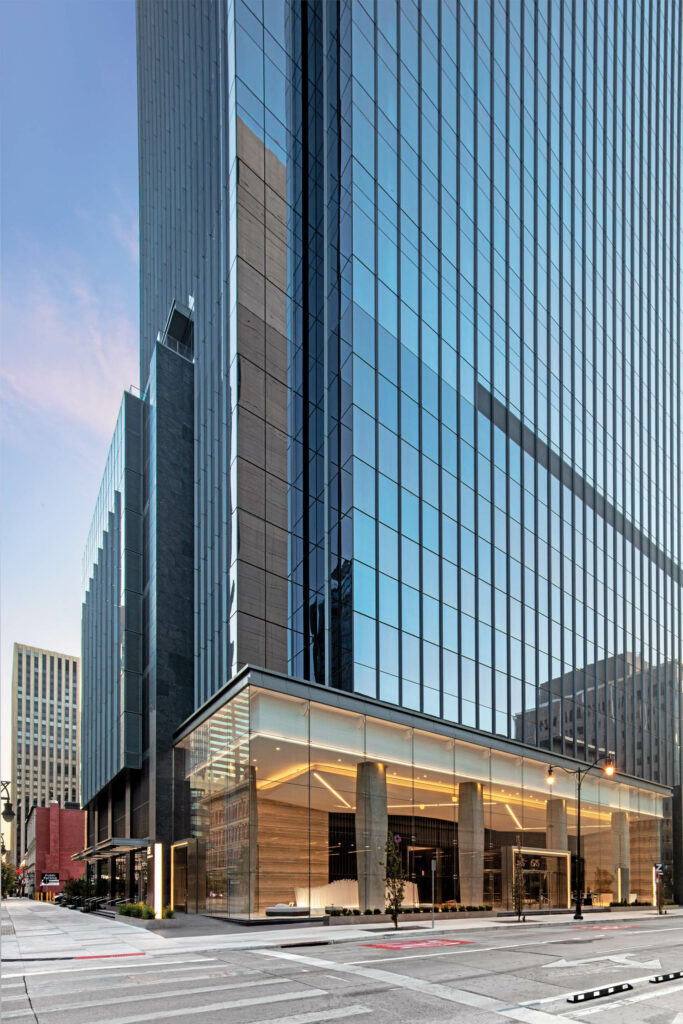 Halton says that though the tenants come from multiple industries, many see their company culture reflected in the building's design. "It's authentically of a place—not cartoonishly of a place," he observes. "It brings in the local flavor without elk heads on the wall." And like any good host, Block 162 makes everyone feel at home.
---
Inside the Office Tower Designed by Gensler and MaRS
---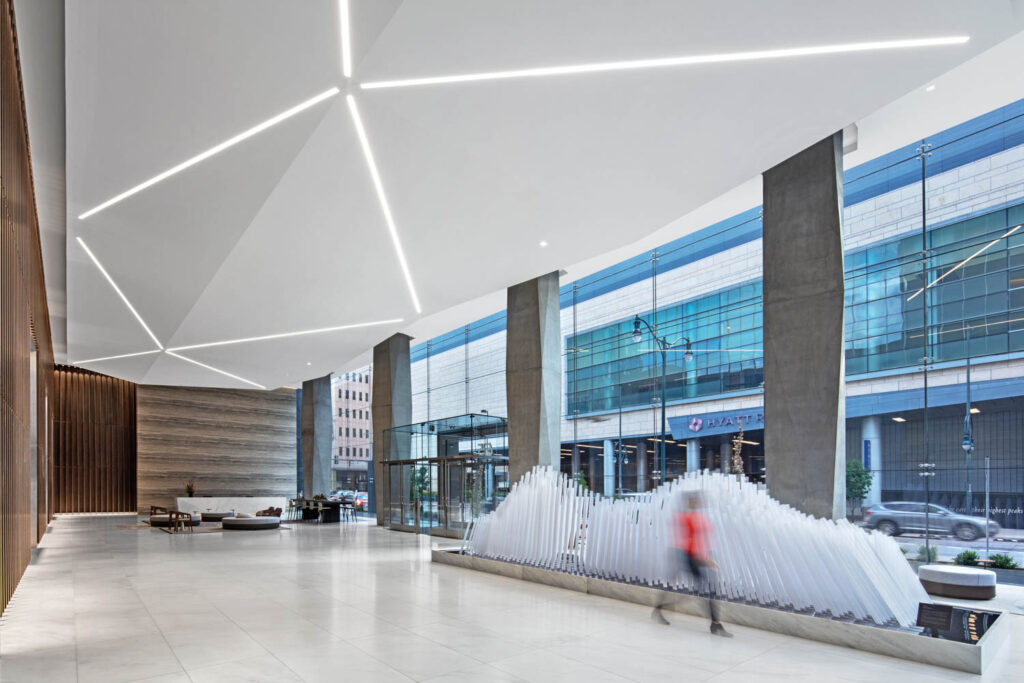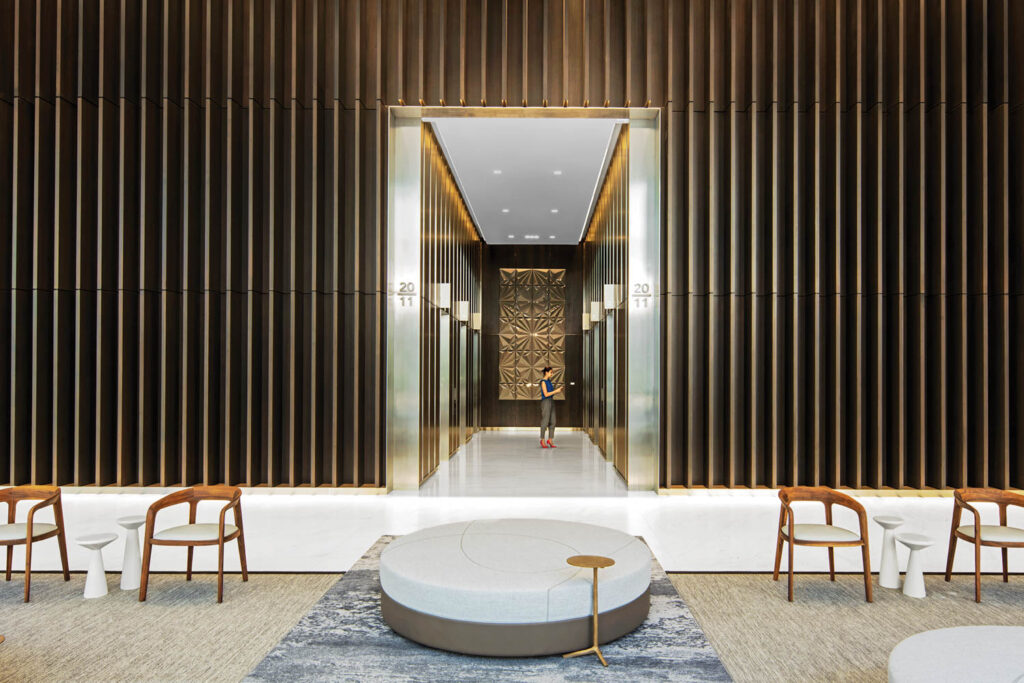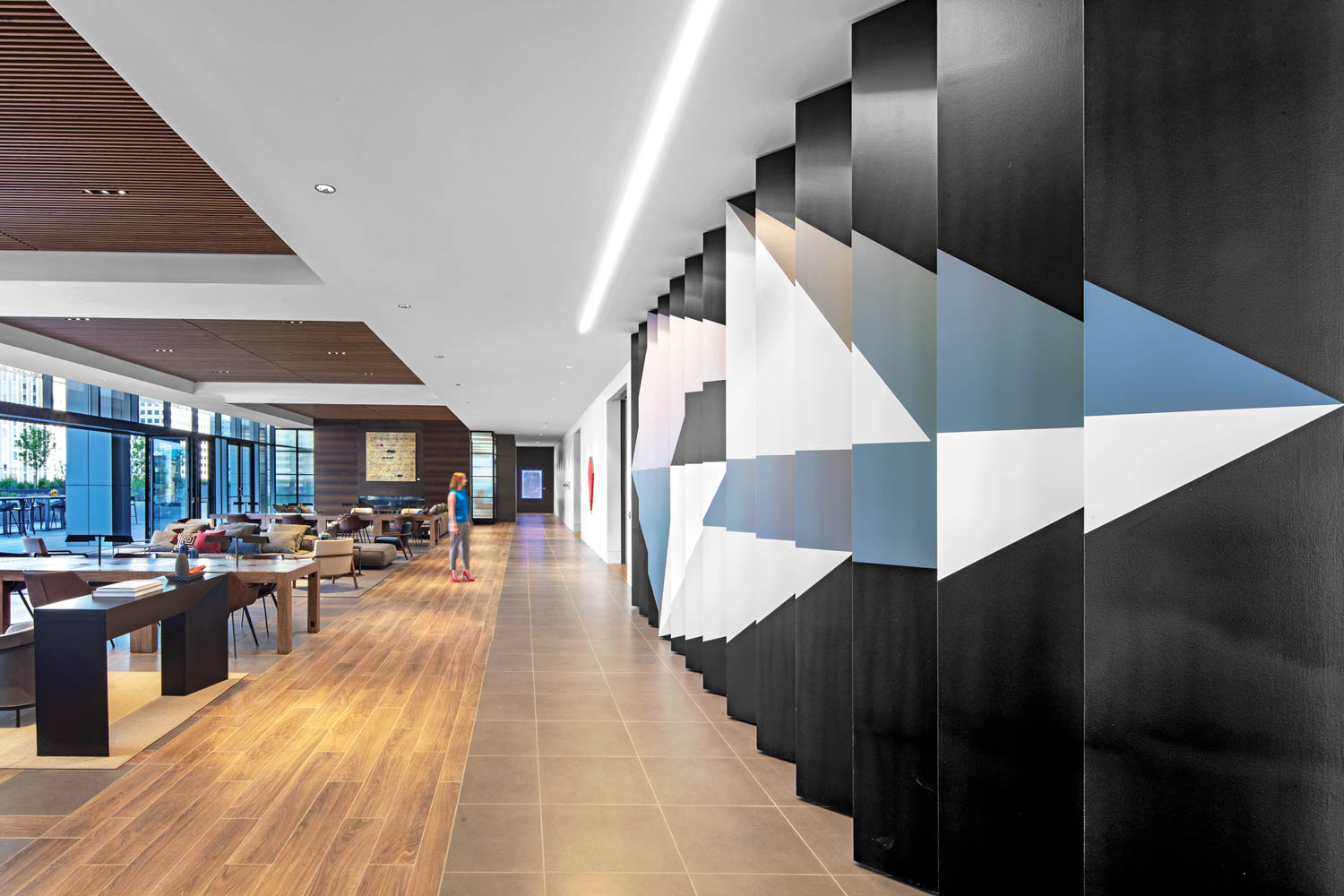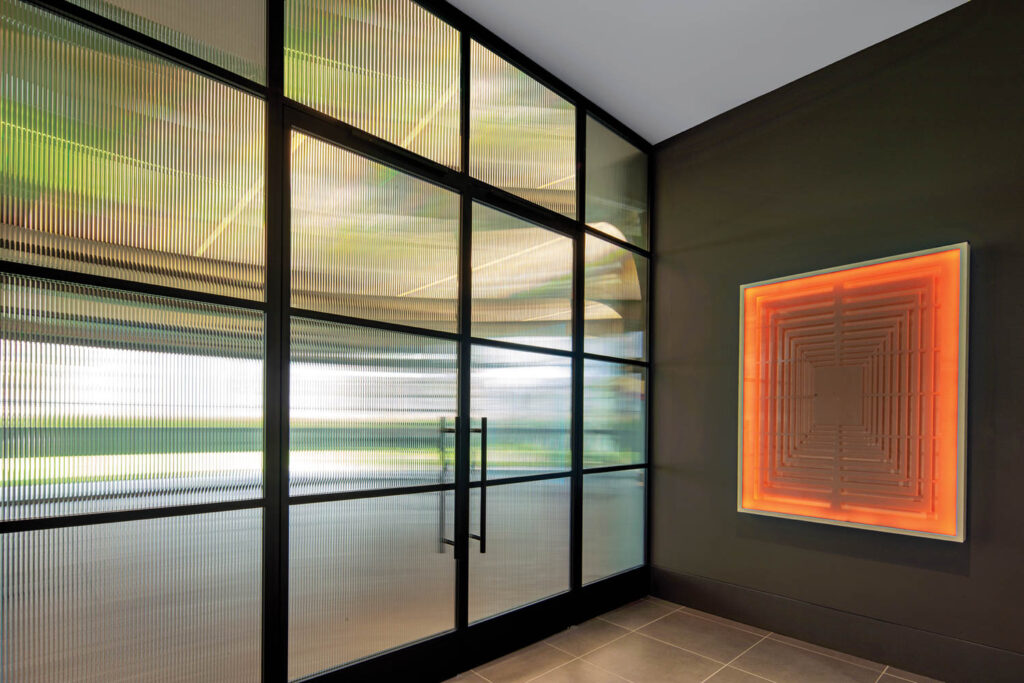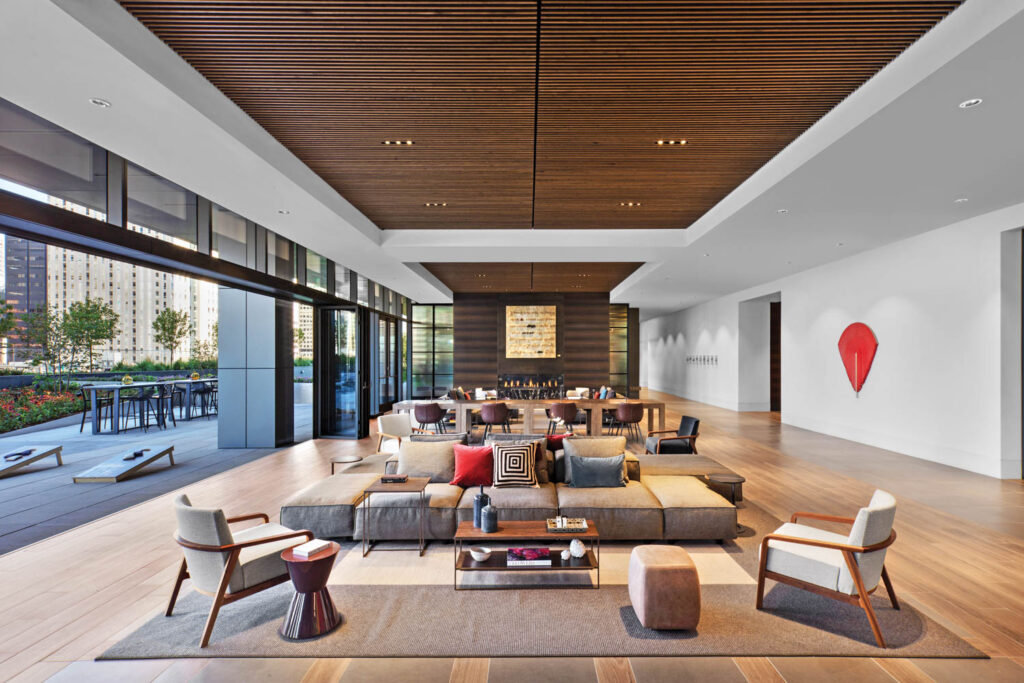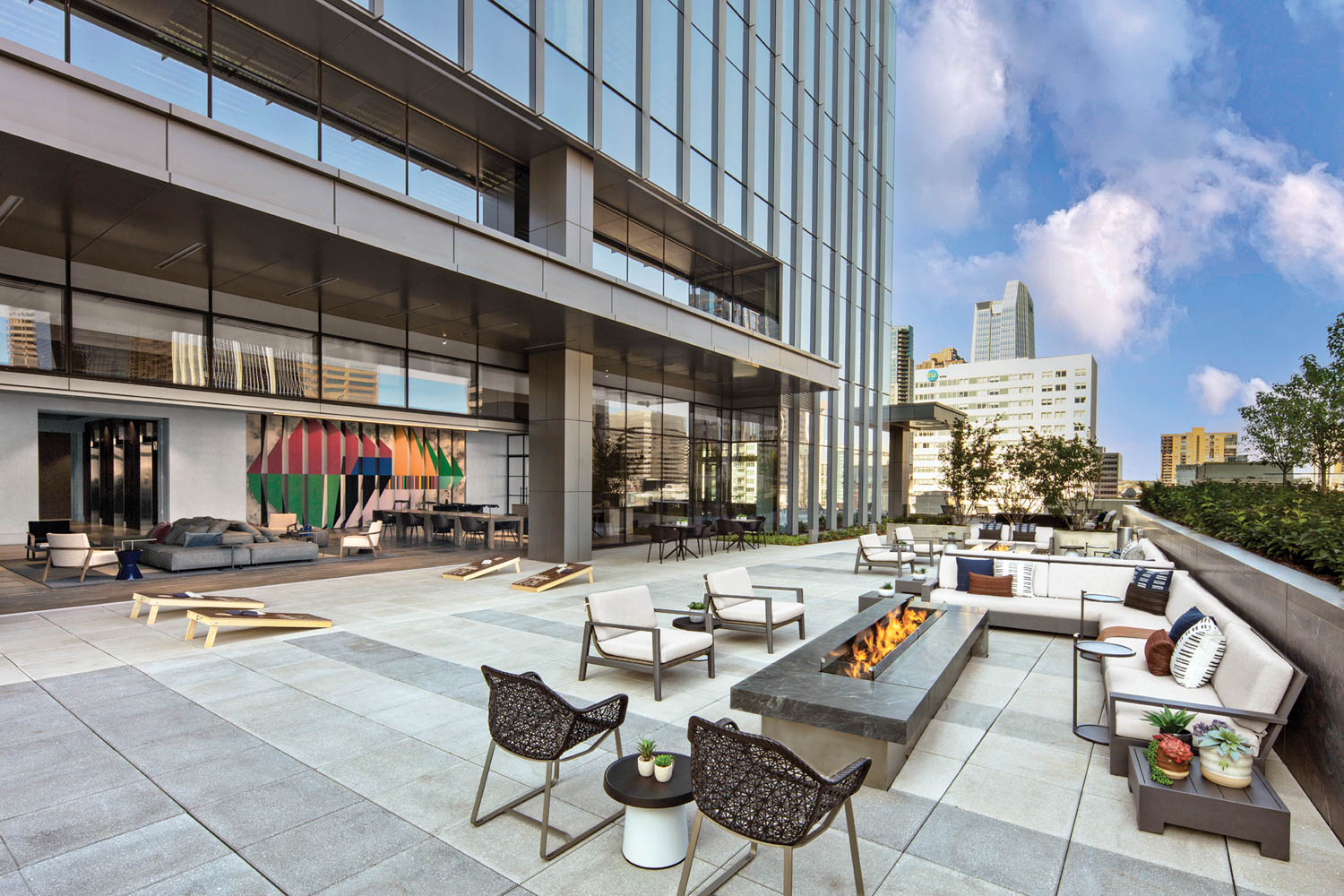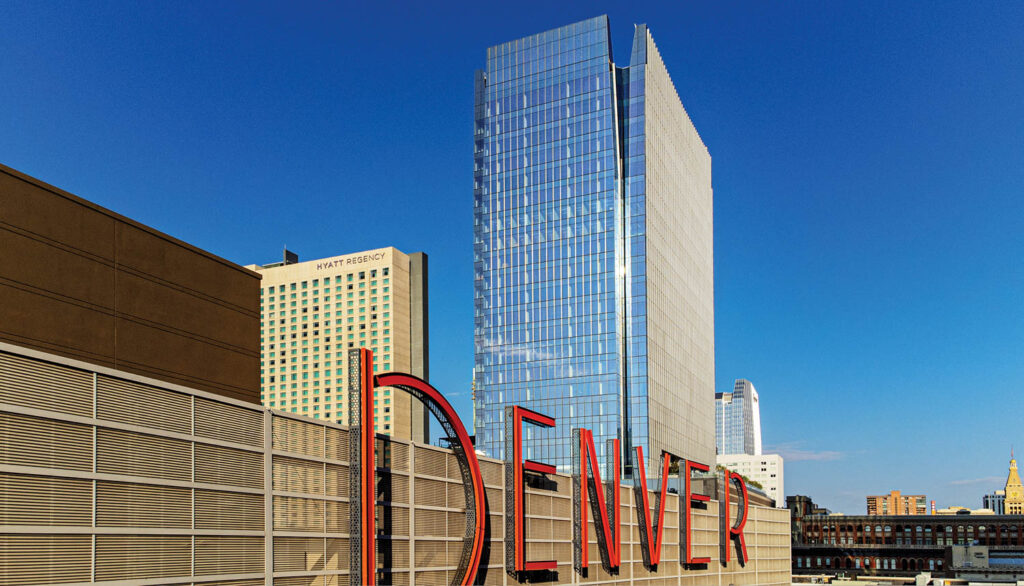 PROJECT TEAM
PRODUCT SOURCES
FROM FRONT
THROUGHOUT