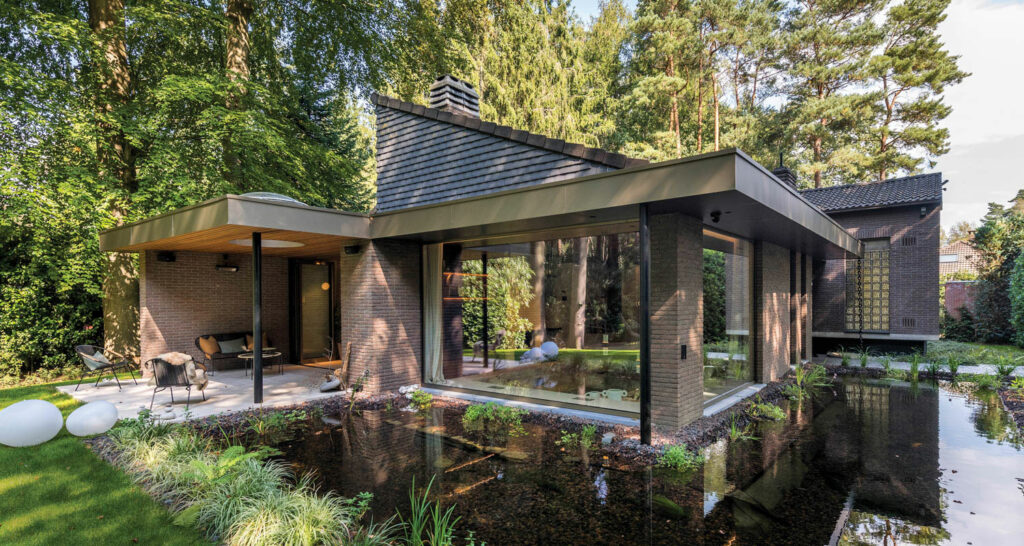 A Trio of Retro Homes Gets a Modern Reboot
In Belgium and Brazil, a trio of retro period pieces that encapsulate their time and place get a modern-day reboot.
After having lived on a boat for many years, a couple with two children opted to become landlubbers, purchasing a quirky 1978-built house on a tranquil lot in Brasschaat, Belgium. Designed by its original owner, a technical draftsman, the property had many selling points, including a leafy, forestlike site and a retro-cool conversation pit with built-in '70's-era light switches. It also had some less savory period flourishes: too-small windows that made the interior feel cramped, an overabundance of brown finishes, and dated wall-to-wall carpeting. . .in the bathroom. "We kept the original identity of the house by preserving the conversation pit, the cedar ceiling and concrete floor, the interior doors, and even the toilet-control panel," Ten Architects founder Elke van Goel recalls. To lighten things up a bit, though, she whitewashed the walls, replaced the tiny windows with more expansive glazing, swapped out rotting awnings for new versions, and otherwise improved the indoor/outdoor flow and connection to surrounding greenery.
A highlight of the redesign is a new outdoor water feature, an L-shape pond that wraps the glassed-in living area, so when the homeowners relax in their sunken conversation pit, they feel like they're on a boat.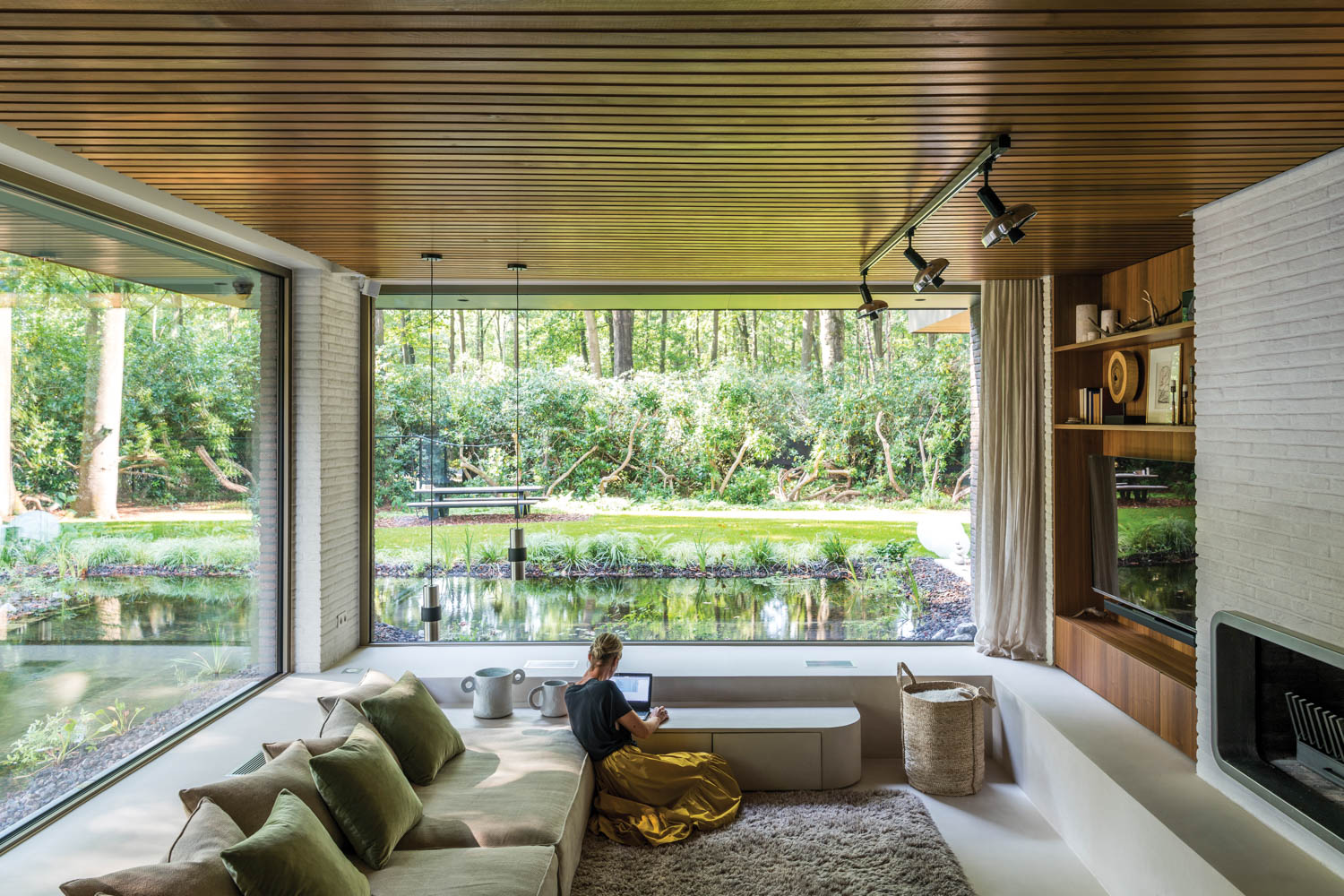 João Batista Vilanova Artigas
A São Paolo residence epitomizes the famed architect's innovations in concrete construction and his efforts to create a sui generis Brazilian modernism that departed from European norms. Designed in 1974 for a former student, the iconic building boasts complex interior volumes, unorthodox floor ramps, a Brutalist sense of materiality, and a symbiotic relationship with its surroundings that were pioneering indeed.
Though the house remains privately owned by the original family, this fall it moonlighted as a public-facing gallery during Aberto/02, a cultural happening that forges connections between art and architecture. The exhibition, conceived by Brazilian-born, London-based art advisor Filipe Assis in collaboration with furniture designer Claudia Moreira Salles and curator Kiki Mazzuchelli, showcased some 130 artworks throughout Vilanova Artigas's daring structure, which was restored for the occasion. The exposed-concrete walls, double-height spaces, and stained-glass window formed a dynamic foil for paintings, sculptures, and furniture by the likes of Alighiero Boetti, Humberto Campana, Leda Catunda, and Ernesto Neto. In one room, for instance, a 2002 oil on canvas by Adriana Varejão dialogued with Ivens Machado's freestanding concrete-based sculptures from 1983 that have an almost furniturelike presence.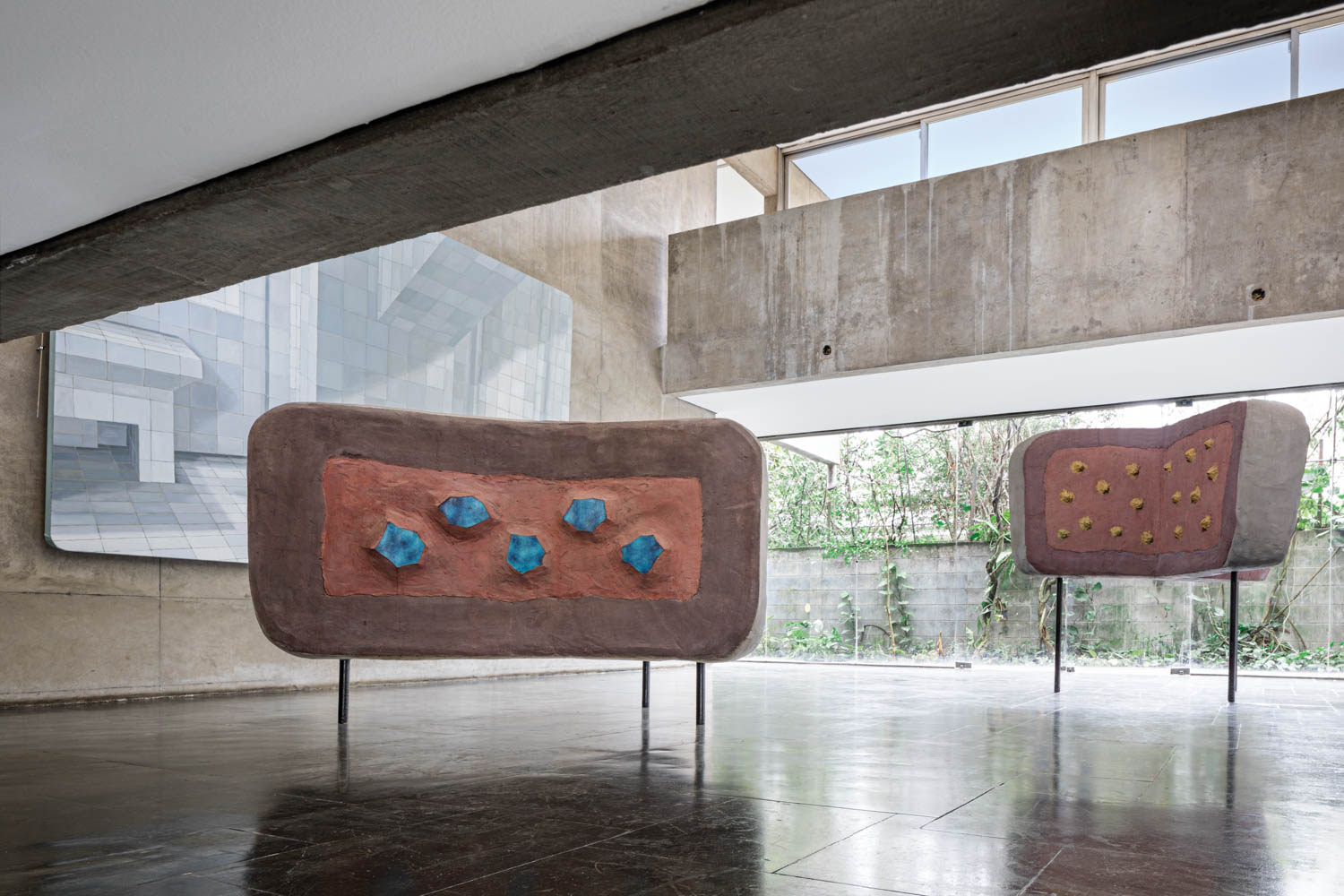 Fronton Architecture
Louis-Herman De Koninck, one of Belgium's most influential modernist architects, had to lobby hard in 1936 to get the building permit approved for this two-story villa. At the time, most houses in the seaside resort of Knokke were thatched or red tile–capped cottages, and he was proposing a rather anachronistic flat-roofed concept in the so-called "style pacquebot," with rounded corners, porthole windows, and streamlined roof railings evocative of ocean liners. Luckily, he prevailed, and the resulting structure has since achieved landmark status.
Though the building had been modified over the decades, the original glass-block ceiling, terrazzo floors, and pastel bath tiles were still intact when real-estate investor Hubert Bonnet purchased the protected monument for use as a vacation and rental property. He hired Brussels-based Fronton Architecture to restore it, starting with pouring a new floor slab. "We found termite damage, and it turned out the house was built on top of a dune—there was barely any foundation," firm project manager Alain Delogne recalls. Other interventions included scraping off layers of paint to uncover the original orange window frames, rebuilding the roof terrace with original tiles, and installing De Koninck's iconic Cubex kitchen cabinets, a '30's design that's still in production.
Bonnet, an art collector, commissioned Bauhaus-inspired rugs and furnished the house with classic pieces by Alvar Aalto, Poul Kjaerholm Serge Mouille, and Charlotte Perriand. Also featured are highlights from his portfolio of minimalist and conceptual art, including a Sol LeWitt tattooed on the dining room walls.