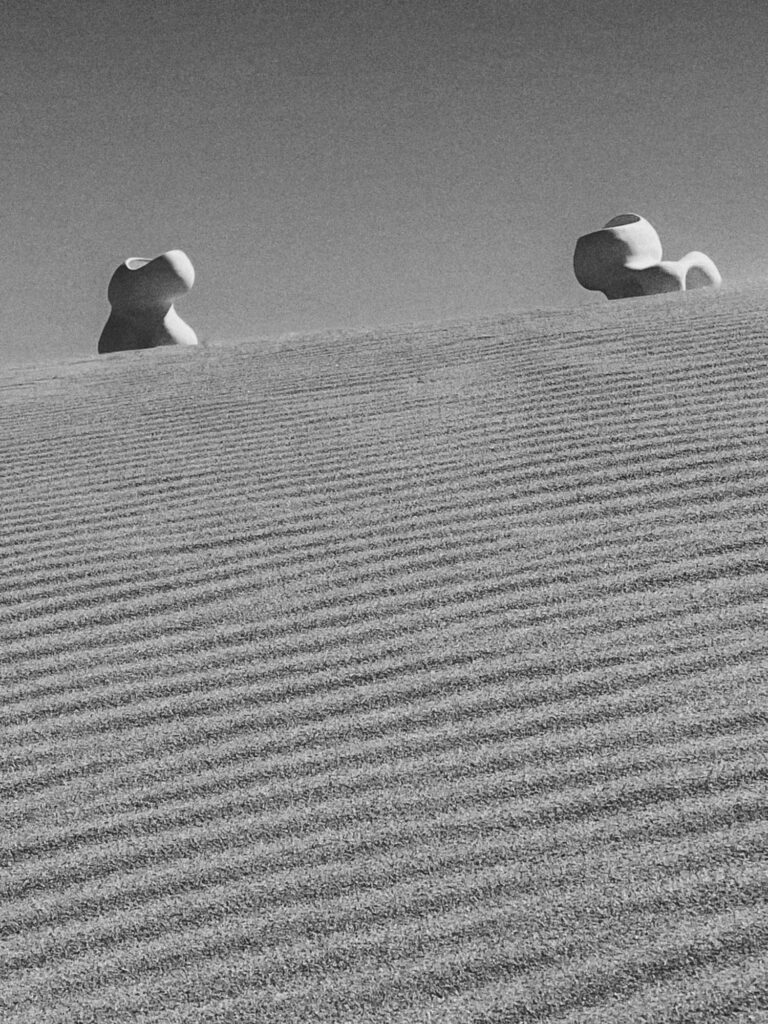 10 Questions With… Katharina Kaminski and Rodrigo García
The sculptor and model Katharina Kaminski created her light sculptures, which also function as candle holders, during a life-changing discovery. The Uruguay- and Paris-based ceramicist received her genetic test results that confirm she was born intersex while working on a series of bulbous bodily forms. In the meantime, Kaminski continued to hand-pour clay for her sculptures at a foundry in France's perfume capital Grasse. "I try to follow the clay with an authentic clear energetic intention that transforms itself as the work begins to come alive—I feel the clay, I feel myself, and creation happens," she tells Interior Design.
The series, aptly titled Luminous Beings, came out of a collaboration with Kaminski's life partner and Amen Candles founder Rodrigo García to bring the element of light into her work. "The series has empowered me to tap into my truth, to connect with a vision of self that is not adopted from others, but one that is mine and more compassionate with myself," she adds. Referencing the body in gentle poetic ways, the light sculptures "opened a new chapter in my life," Kaminski says. In the last year, they've been on view at Design Miami/ fair, Bergdorf Goodman, and Dover Street Market in Paris.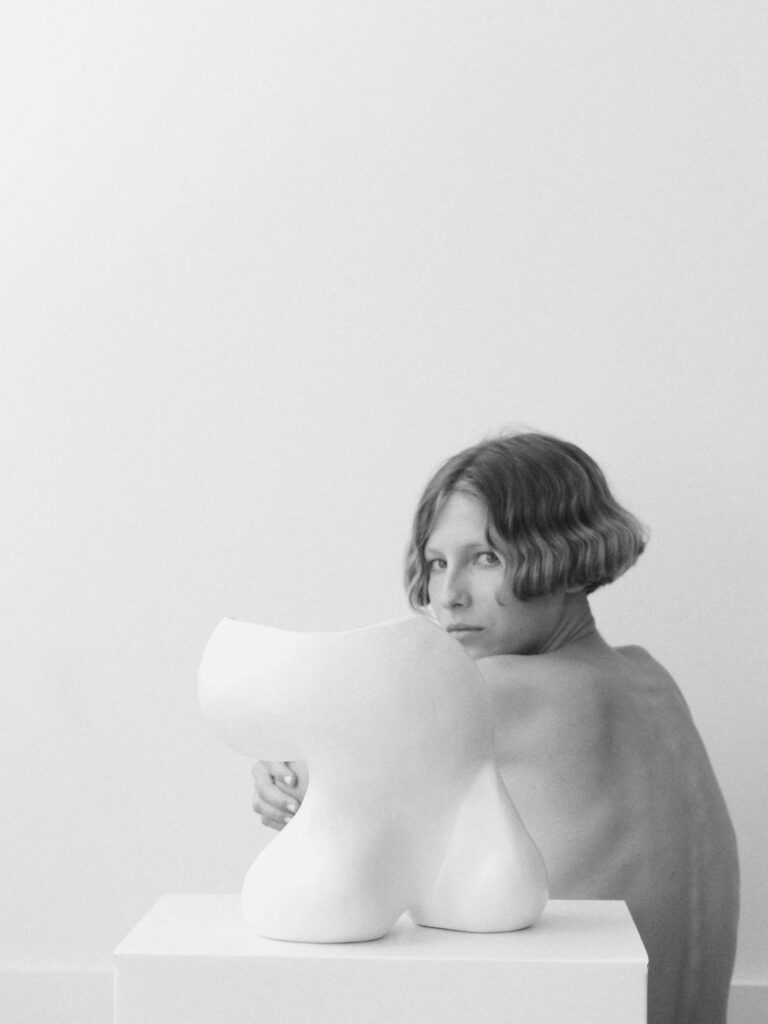 "They encourage forward thinking, authenticity, innocence, pride, a sensuality much rooted in the earth and a high directed spirit," Kaminski adds. "They brought to surface a version of myself that was deep inside and hopefully they can inspire others on their journey." While the artist is currently working on large versions of the series as well as experimenting with bronze, marble, and stone, Amen Candles is expanding the light sculptures and their Luz candles in July with new scents, such as eucalyptus, vetiver and ginger, in addition to existing rose and sandalwood. In the fall, new sculptural forms will be added to the series, as well.
Interior Design talked to Kaminski and García about activating sculptures with scents and light, as well as creating with a mission to stand up for an under-represented community in the design world.
Interior Design: Could you talk about the journey of your personal and professional unities? How do both relationships feed each other?
Katharina Kaminski: When we first met we would always connect through dreams, goals and visions, and as a couple those got intersected to create a life together. Creating together is a big part of our relationship. We understand each other beyond words and our qualities complement each other very well. We have that creative chemistry—and to me, that's a huge turn on!
Rodrigo García: The answer to the question in one word would be: organic. For example, the very initial spark idea of light sculptures started by us having outdoor dinners in nature and seeing that classic candles would turn off by the wind, and it was just an idea. Then Katharina started creating a concept which became a challenge of making the empty space the soul of the sculpture instead of the classical approach of the external form. Like holes in Lucio Fontana's paintings or silence in music compositions, Katharina dominated the empty space. The empty space becomes alive with inner light, becomes a luminous being.
ID: A candle and design object tap into different sensual experiences, smelling and seeing respectively. What type of connections do you see between scents and a design aesthetic?
RG: It is not about a scent, a visual aesthetic or a sound, it is about the feeling that those stimulus generate on us. Whether by smelling a scented candle or by contemplating the light of a light sculpture, the idea is bring us to now, to be present. That is my philosophy of design, it is about designing experiences, instead of just products of design.
It is about bringing harmony, calm, and being present in the moment. I feel candles' fire light brings us peace. And specially with scent, when we are smelling an aroma, we are not thinking of something else. Luminous Beings connects this in a synesthetic new experience of sculpture, which is the visual art that operates in three dimensions, into a new dimension of light sculptures with scents—they become a fourth dimension experienced when the observer lights the scented candle. Changing at every instant with the observer's perspective, they become Luminous Beings. It is a meditative experience of time, light, and space, and of course, fragrance.
ID: Intersex community has been underrepresented in the art and design world. Has this been changing? Could you talk about your experience?
KK: Intersex community has been underrepresented in not just the art and design world—it has been underrepresented, stigmatized and forbidden subject by parents, doctors and the whole system. I am optimistic that we are in a much more open-minded place as society and it is generally more welcome to talk about it. In my experience, I still feel not everyone is comfortable with this topic but I feel happy that I can help a little by opening the conversation on intersexuality and that many people are happy to learn about it. Many are surprised to first find about a condition present in same percentage of humans as redheads that they never heard about before.
Silence creates taboo, taboo creates trauma and nobody deserves none of that! Expressing, sharing, coming together can be very healing. I dream of a future where kids that are born intersex are not stigmatized and parents are properly educated, guided, and supported.
ID: How does modeling and the fashion world inspire your design practice? Do you find yourself connecting the two worlds?
KK: I feel that connection of worlds in this context would be me, Katharina Kaminski, my spiritual path and the balance of energies that both professions give me. Modeling has been the greatest university of life for me. I find it very enriching and exciting to have a profession that requires me to be open to unexpected adventures and meet new creative people all the time. I find inspiration and growth in all the people, places, and new situations along the journey. In modeling I have learned to embody an energy, to use my physicality to express something, which connects with being a sculptor who models clay. The big difference with modeling and making art is that modeling jobs choose me, while I get to choose myself when I create. I find that very powerful because I get to explore the depths of being myself as it comes and express myself more profoundly. It's a journey that feels more natural to my most authentic self. At this point of my life, I feel very grateful to be able to explore both facets of mine and evolve in them and through each other.
ID: Your forms defy any gender connotation while paying homage to bodily curves. How do you balance this duality of capturing an alternative corporeality?
KK: The balance of the duality is my inner process and an alternative corporeality was an unconscious seek for new perspectives and to celebrate the infinite human experience. The only way to capture this is to be in that meditative creative space that allows my truth to be expressed. That is the beauty of art to me.
ID: Luminous Beings is about the immaterial through the material experiences of scents and sculpture. Could you talk about encapsulating ephemerality through sculpture?
KK: I see my creative process as a physical manifestation of whats going on inside me, that takes form in space, translating what I can not express in no other way than with art.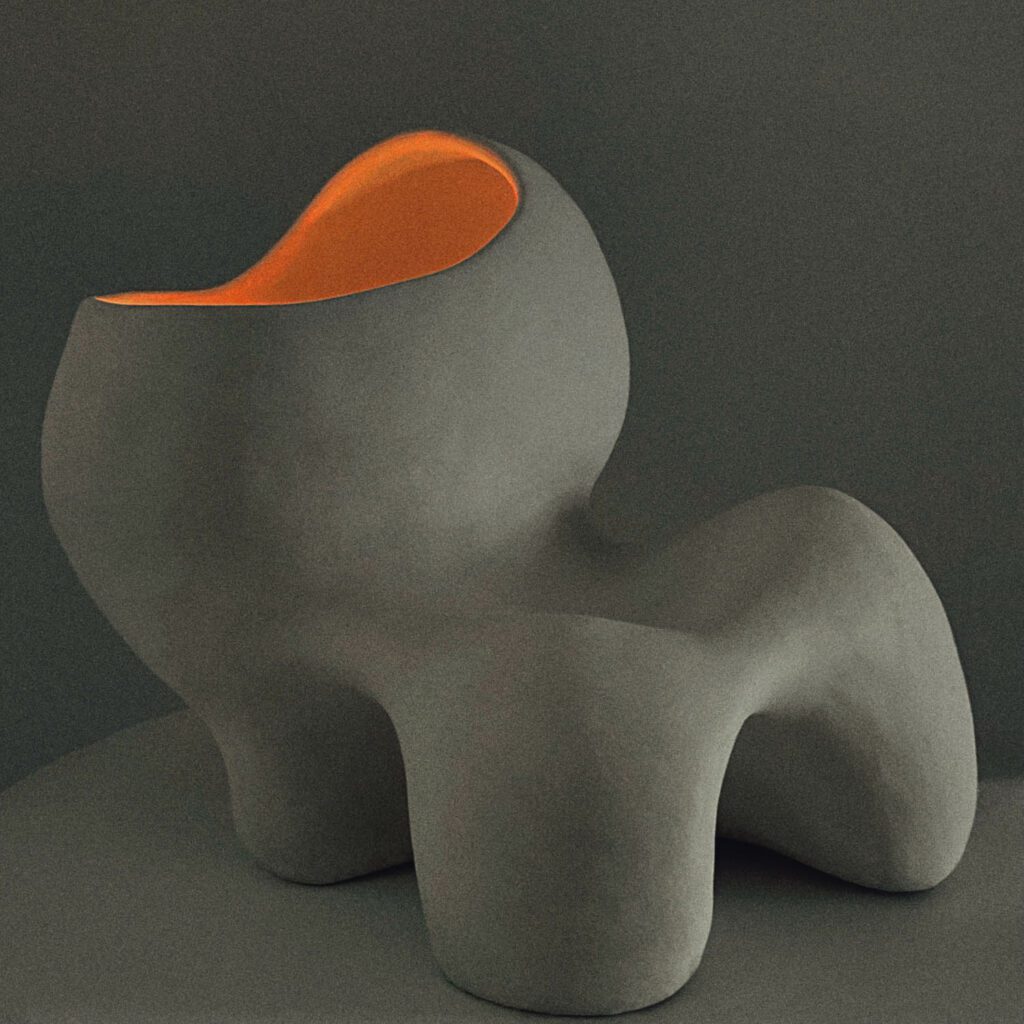 ID: The light sculptures are also about discovery. They invite the viewer to look inside their hollow parts and notice different curves. What do you think about crafting this ritual for viewer through your work?
KK: If you look around you will never find angles in nature: in nature everything is curved. Angles are men-made and so is the binary norm. Not everyone is born in this norm, nature is infinite. I hope curves inspire for a world with more openness, understanding, harmony and love.
A luminous being for me means someone that enlightens you with their presence. The collection of lit clay sculptures embodies a universe free of limits, where life is celebrated for its infinite unique forms of expression.
ID: What about the element of light? The sculptures gain a new depth with light stemming from their bellies. How critical was the presence of light in your design?
KK: I love the challenge of shaping the way the light comes out of my sculptures, specially a candle light which is the element of fire—it has life and it moves, giving the light a form. I personally love the ritual of turning the candle light on in the sculpture. I invite the observer to become a participant of the creative process when lighting the fire and changing the form of the light with each perspective.
ID: Could you talk about your studio life in Uruguay?
KK: In Uruguay is where I have my studio and where I am creating everyday, being in nature helps me to be peaceful to create with intention. When I am in Paris, it's more a balance of modeling work, creating and planning where the work is going to be shared—the more "yang" part of being an artist. But the truth is, I travel with my tools everywhere and I create from anywhere. I have lots of experience in the nomad life.
RG: Both of us spending a long time in nature in Uruguay allow us to connect with nature and express that in our philosophy of design. My philosophy of design is to think always more than sustainable design, to think on how nature would do it on every aspect of it from the scents—[to make] the eucalyptus scent just like eucalyptus is in nature—or when it comes to packing, we wouldn't use a plastic styrofoam packaging, so lets look for a biodegradable mushrooms mycelium packaging. Being in Uruguay also helps to remain authentic, and instead of being influenced by trends or what others are doing, it allows to create unique and authentic design with purpose.
ID: How about Paris? After the isolation of Uruguay, does the city's chaos and energy inspire you?
RG: Paris is great for launching and sharing new collections to our community of creative friends, feel the feedback, and share our purpose. Since the beginning of Amen Candles in 2020, I love to launch new concepts at Dover Street Parfums Market because there is a great community of designers and creatives that are very open minded to share the purpose behind our concepts. For example, when we were about to launch our mushrooms packaging some buyers would say we need to add a gold or a ribbon on it, while at DSPM we had carte blanche to creativity. Same goes for sharing our Luminous Beings collaboration with Katharina and to be speaking about intersex awareness and celebrating the infinite human experience, Paris is now the right moment and right place to share our purpose, to start a conversation, which is our intention, is not about product, but is about objects of design that begin conversations.