15 Café Interior Design Standouts
Whether you're searching for a space to work, read, or have a tête-à-tête, look no further. From modern and graphic spots apropos for trendy coffee fiends to cozy shops perfect for book and espresso lovers alike, these cafés each bring something different to the table. Explore the latest in cafe interior design in these picks.
Editor's Note: This article was updated October, 2023, to include even more cafés serving up hot designs.
15 Cozy and Modern Café Interior Designs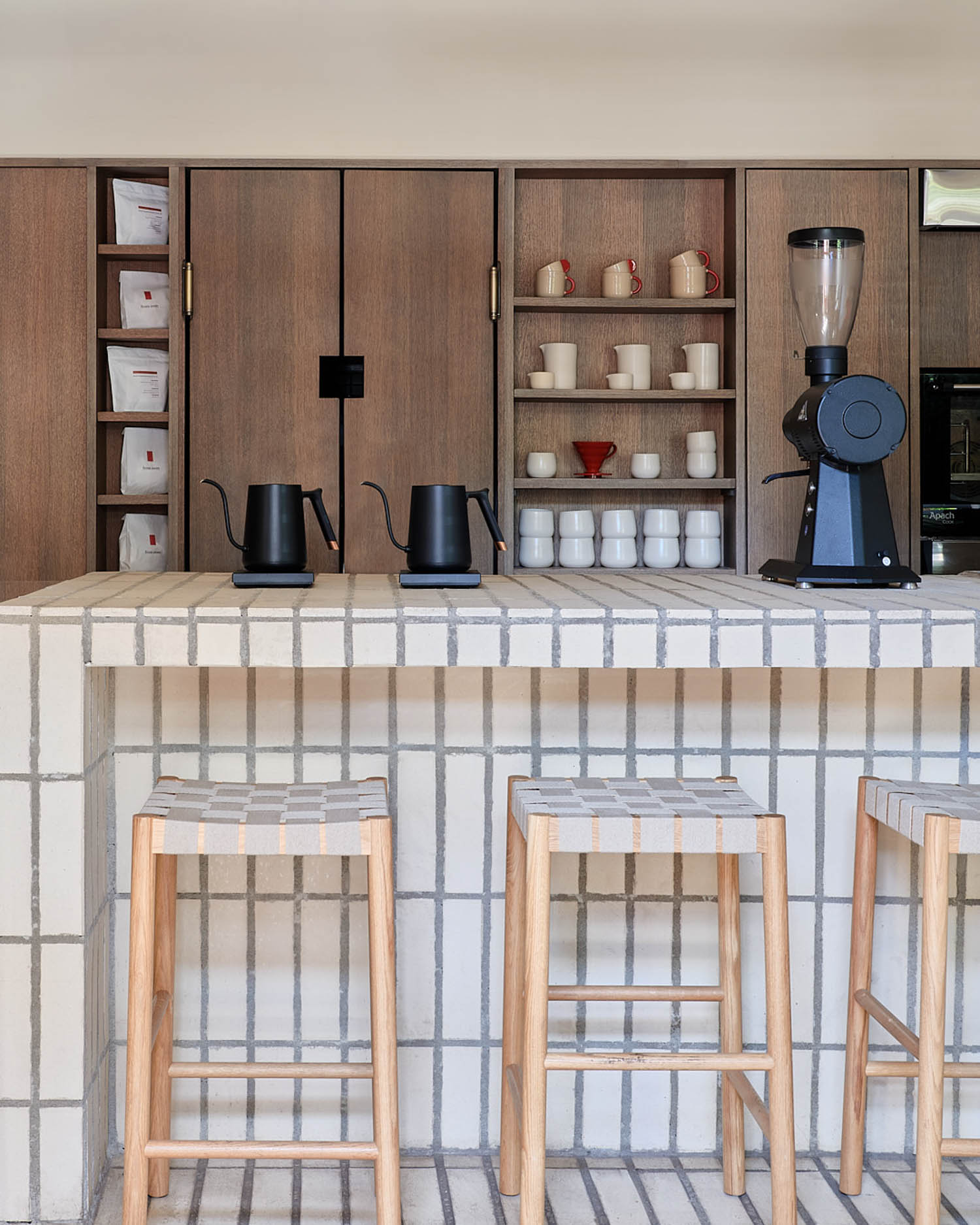 Inspired by a classic coffee machine, this coffee shop design by NAAW employs a rich and creamy palette from the entrance to the countertop. For the specialty coffee shop, a classic La Marzocco coffee machine wasn't just an essential piece of culinary equipment: it was the inspiration behind the entire design. When ABR Group asked the New Architects of Almaty Workshop (NAAW) team to brew up the look of the small café, they looked to the machine's red exterior for the signature front door and accents, including the logo and brand identity. Read more about this coffee machine-inspired café.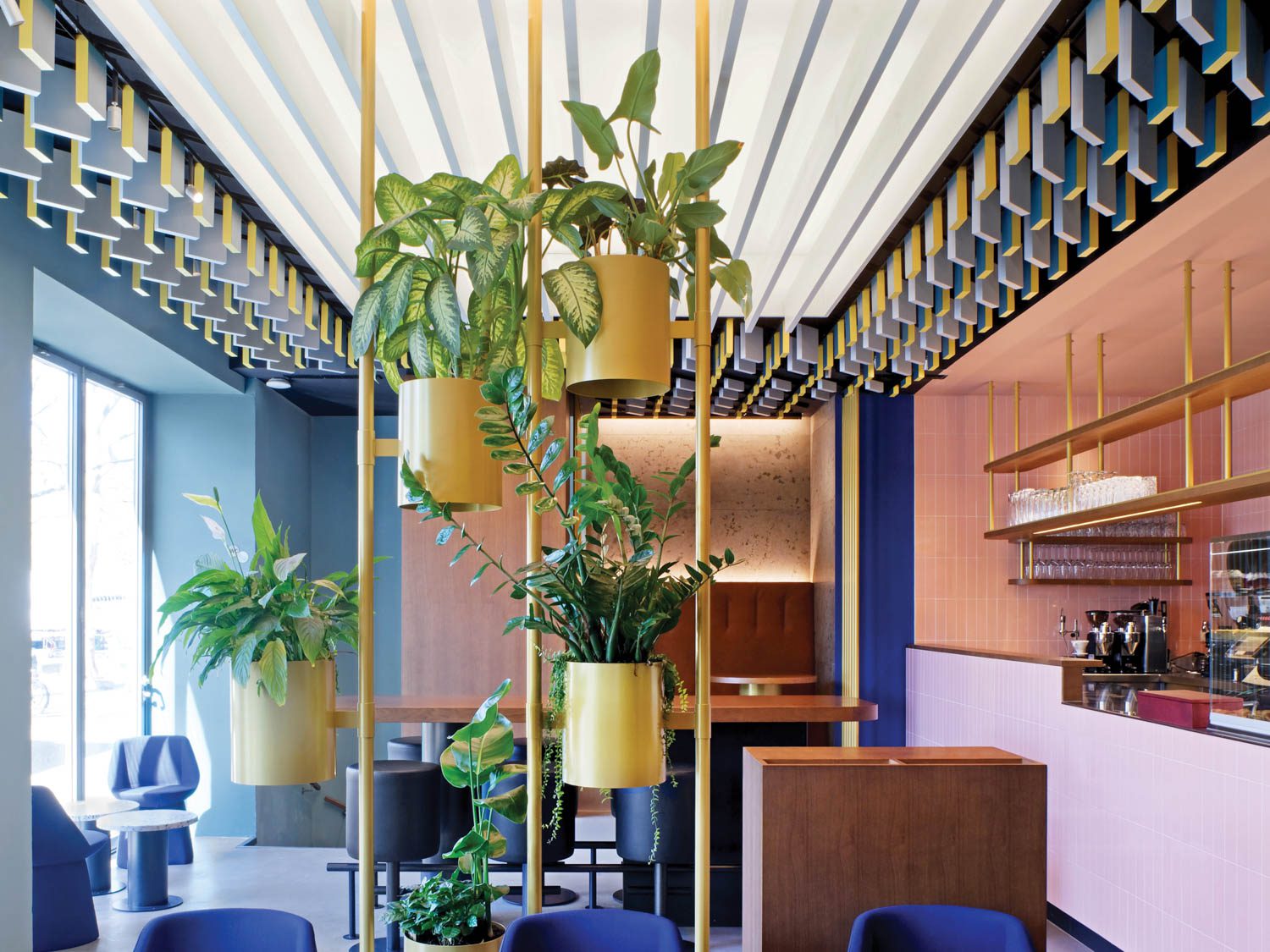 Through the storefront's glazing, passersby can catch glimpses of the rhythmic ceiling, a geometric landscape of gray, yellow, and teal cubes. At once a solution that's chic, lightweight, and budget-friendly, the ceiling cubes are actually printed and folded Forex boxes. The vibrant energy continues to the wall-color palette, a mix of lavender, peach, and royal blue, the latter reappearing on the café's upholstered lounge chairs, placed in arrangements that suggest rooms within a room. Read more about this vibrant coffee shop primed for the Gen Z audience.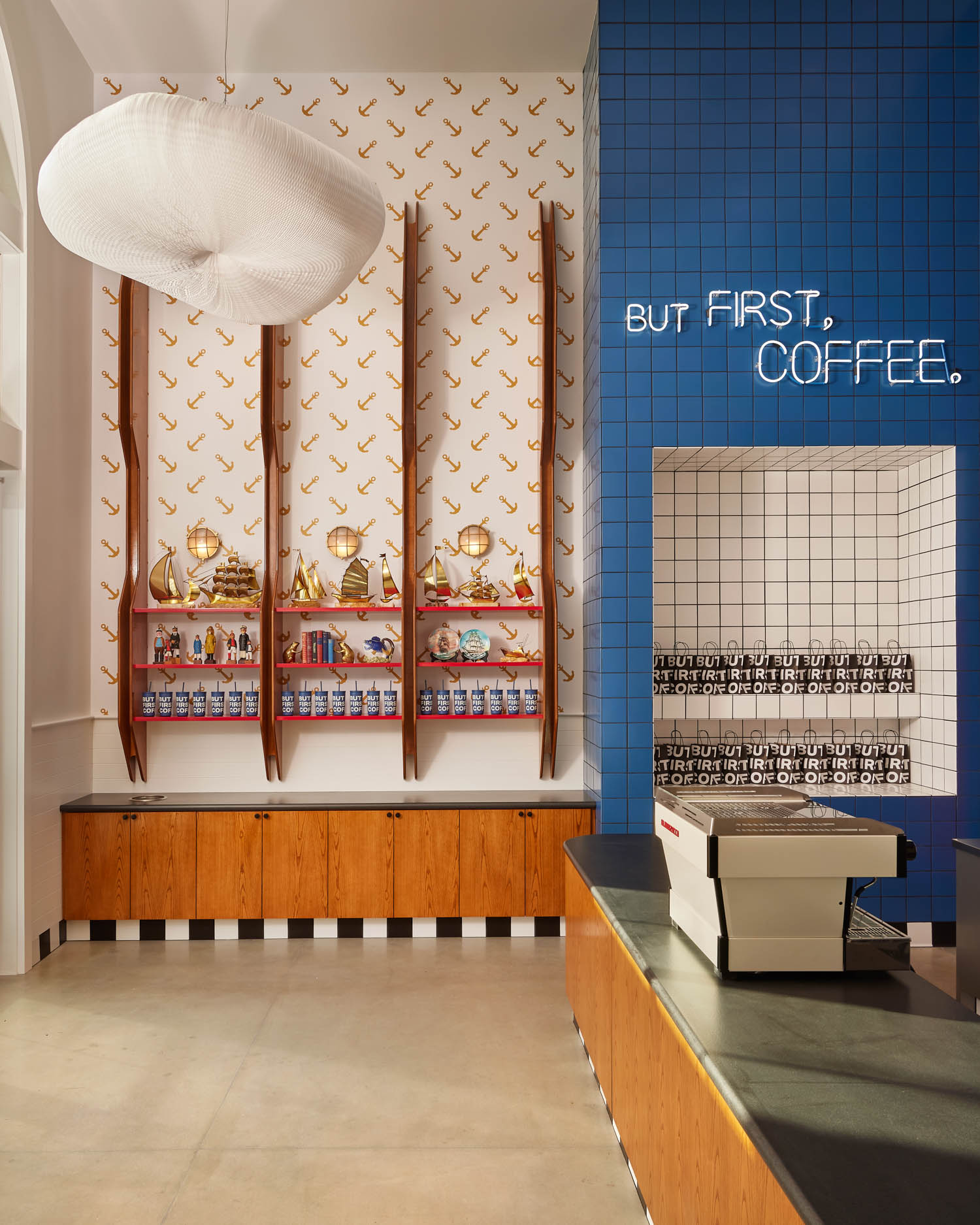 The 1,000-square-foot storefront pairs expansive vertical space with intuitive programming and an Americana palette. Shamelessly nautical, cheeky, and punctuated with precise craftsmanship, Alfred Coffee's newest location in Marina Del Rey, which opened in January 2023, plays up its waterside location. Read more about this sea-worthy coffee shop.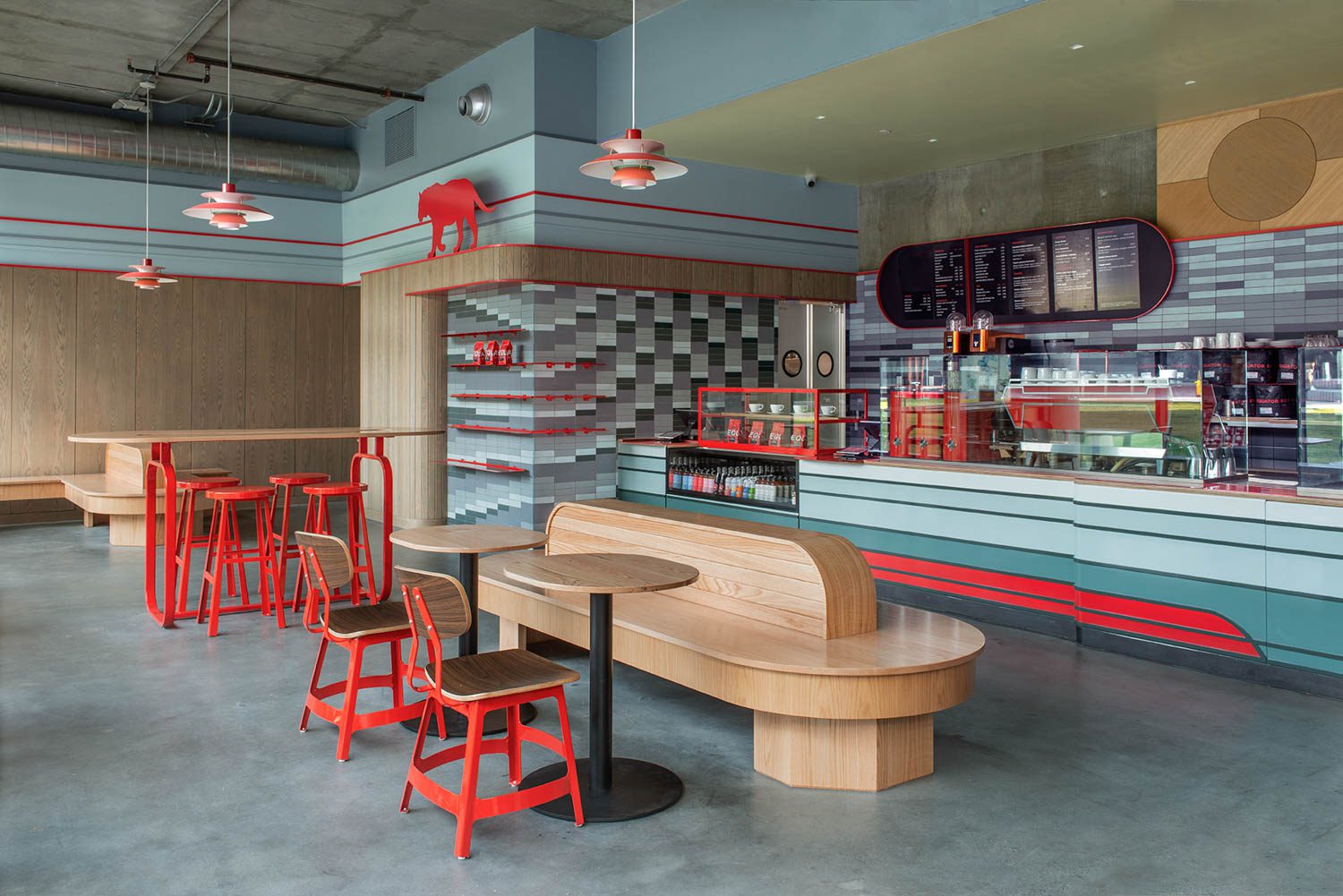 Futurism, the early 20th-century Italian art movement celebrating dynamism and energy, inspired Kellie Patry when asked to conceptualize a new location for the female-founded coffee shop, Equator Coffees, a prime example of third-wave coffee. With bold colors and graphic accents, the Los Angeles location caters to its audience—film aficionados and an array of other creatives can appreciate the 1,400-square-foot shop located within Culver City's Ivy Station, a five-acre complex comprising HBO's new 240,000-square-foot headquarters, residential, retail, and hotel The Shay. Read more about "espresso futurism" and this bold café design.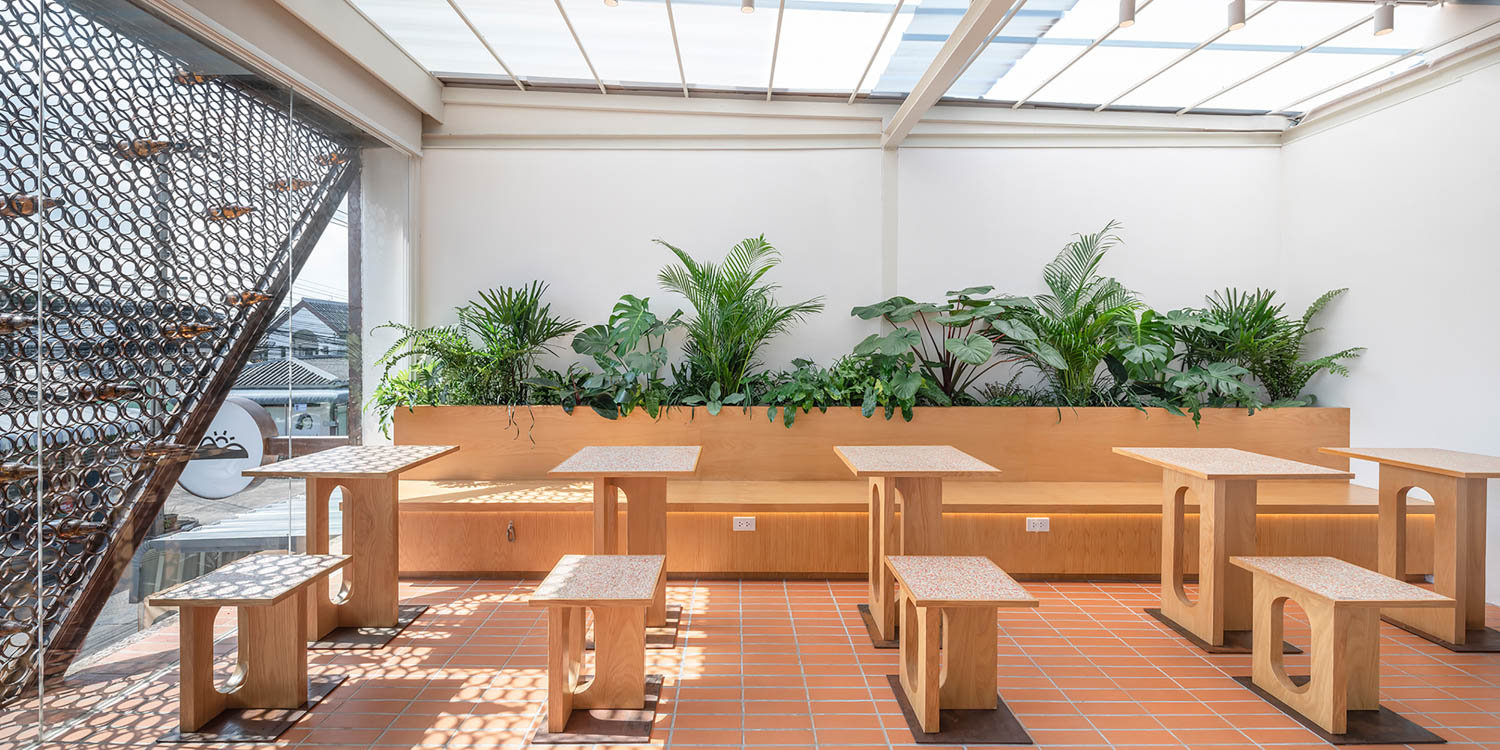 A community gathering space and premier example of sustainable design, this two-story coffee shop in Bangkok was forged from local upcycled materials. Milk cartons mixed with plywood, known as re-board, were utilized for the door, ceiling, and furnishings. Additionally, 600 beer bottles frame its facade. Read more about this sustainable café design.
Materials, furniture, and plants from Colombia honor the origin of Devoción's brews. LOT Architecture infused Devoción with traditional motifs and vignettes that evoke casual street scenes. Handmade cement tile flooring in traditional patterns sets the mood, with intriguing geometric shapes continuing upward through the perforated brick-lined walls. Read more about this Colombian-inspired Brooklyn café.
7. The Pistachio Walls at Gard'Ann by Kissmiklos Look Good Enough to Eat
Originally belonging to a chocolate factory in Kaposvár, Hungary, the old counters were a pastel green that inspired the renovation's color scheme. Even the ceiling received coats of paint in the color, along with white stripes. Pastel pops in the restroom hallway painted a candy pink. The cozy coffee shop's sugary sweet design evokes the sweet treats offered within. Read more about this pastel coffee shop design.
A colorful café splashed with lemon-yellow accents, glowing neon twists, and curved edges to soften the space was dreamed up by the designers of this Moscow coffee shop. With just over 2,100 square feet to cover and an exterior renovation in order, the cafe's owners, the Karavaev Brothers, needed a team who could pack a visual punch into a space that still streamlined food service. V12 Architects were up to the task. Read more about this bright café with a colorful design.
The dominating palette for this Bryant Park café derives from the seafoam color of the fiberglass grating typically used for platforms on oil rigs, and utilized here for the first time as part of City of Saints Coffee Roasters' company-wide rebranding effort. A centrally located counter, its quartzite top in a coordinating minty green, organizes guests circulating through the tidy 900 square feet in an orderly looped choreography, and a built-in banquette encourages conversation. Read more about the idea behind this modern coffee shop.
10. Colicci by Mizzi Studio Integrates Hospitality into a Stratford City Mall
This coffee kiosk is anything but cookie cutter. A lustrous jigsaw of 542 copper fragments forms the kiosk's sculptural canopy, beckoning visitors at the busy Westfield mall. Read more about this and other international coffee shop ideas.
The Beijing cafe's peacock-blue walls and white acrylic installation were inspired by streams of water. Guests can enjoy bar seating with outdoor views or snuggle up in the ocean-blue banquette seating. Read more about this blue cafe's interior design.
12. Jensen Architects Brings a Shot of Life Back into an Oakland Automobile Showroom for Blue Bottle Coffee
Constructed by architect James Placheck in 1920 for the notorious car salesman, the W.C. Morse building had long served as a showroom for automobiles. As Michelle Ott, production artist for Blue Bottle Coffee, passed it, the storefront lacked the luster of years passed—but the ceramic tile and marble façade had the distinct sheen of potential. Above, the vinyl curtain separates a servicing workspace for the company's tech department. Read more about how designers converted a former automobile showroom into the offices of a modern coffee company.
Ghislaine Viñas created three distinct zones within this former meat locker-turned-coffee shop.  François Chambard designed the powder-coated steel and maple bar. An intimate archway greets guests at the entrance. The largest zone is filled with café seating and embraces the industrial nature of the space. The third zone is the coffee bar proper, with a canopy appearing to lower the ceiling. Read more about this industrial modern cafe interior design.
This Los Angeles hot spot is both clean and whimsical. The Sasquatch logo cut-out on the wall is the main event, but other features are also worthy of note. Serpentine benches of milky terrazzo segue seamlessly into beech millwork and a solid surfacing pastry case. A custom powder-coated espresso machine conveys the attention to detail. Read more about this playful coffee shop idea.
15. GB Space Gets Mood Lighting Right for PH Coffee in Beijing
Nodding to ancient Italian architecture, a latticed metal ceiling evokes the Renaissance. Archways and graphic flooring visually divide the "zones" of the store. Read more about the look of this café that conjures the aura of ancient classic architecture.
Want more coffee shop design ideas? Check out the latest in cafe and coffee shop interior design here.
Related Posts:
Cafe Interior Design Ideas, 10 International Coffee Shops, This Café by Roar Has Us Seeing Shades of Gray, A Best of Year Award-Winning Coffee Shop in Vancouver, Canada, Sunny Accents Brighten This Cute Café, A University Coffee Shop Turns to Geometry