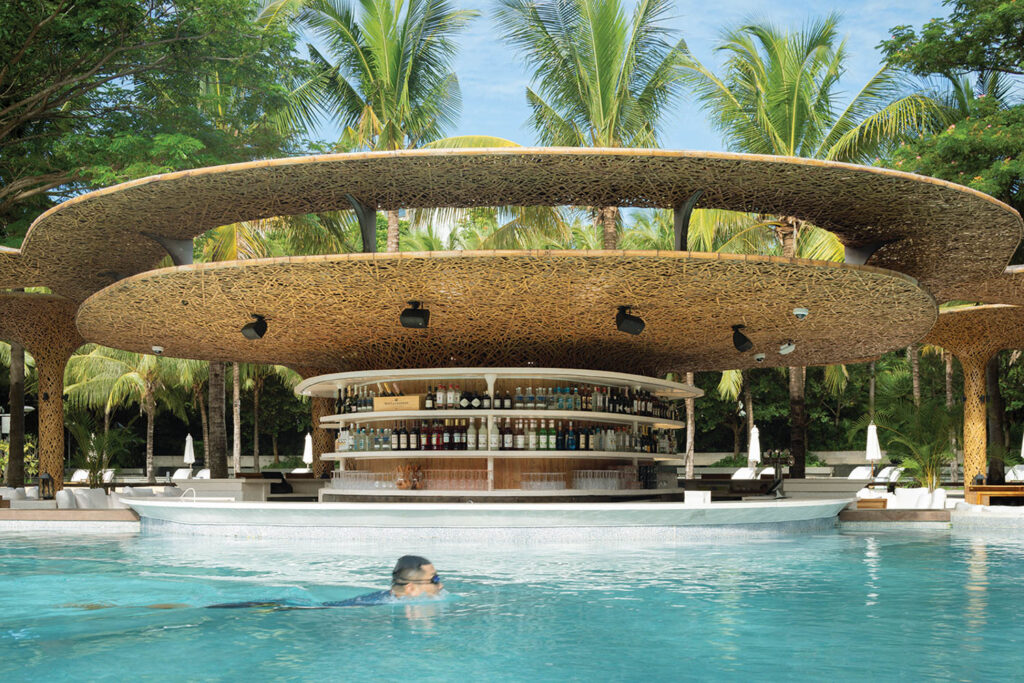 14 Delectable Hotel Bars and Restaurants Around the Globe
Nestled within chic hospitality locales around the world, hotel bars and restaurants are veritable design jewels—for guests and visitors alike. These culinary havens invite sensory explorations into local culture through curated cuisine, rich colors and scents, and layered material palettes, each as distinct as their surroundings. From opulent hotel restaurants that evoke old-world elegance to airy bars and lounges with ocean views, these must-see eateries are designed to transcend mere functionality, elevating the guest experience to an art form.
Chef's Kiss: Hotel Bars and Restaurants Worth The Journey 
Kona Villa is the Peak of Chic in Kailua-Kona, Hawaii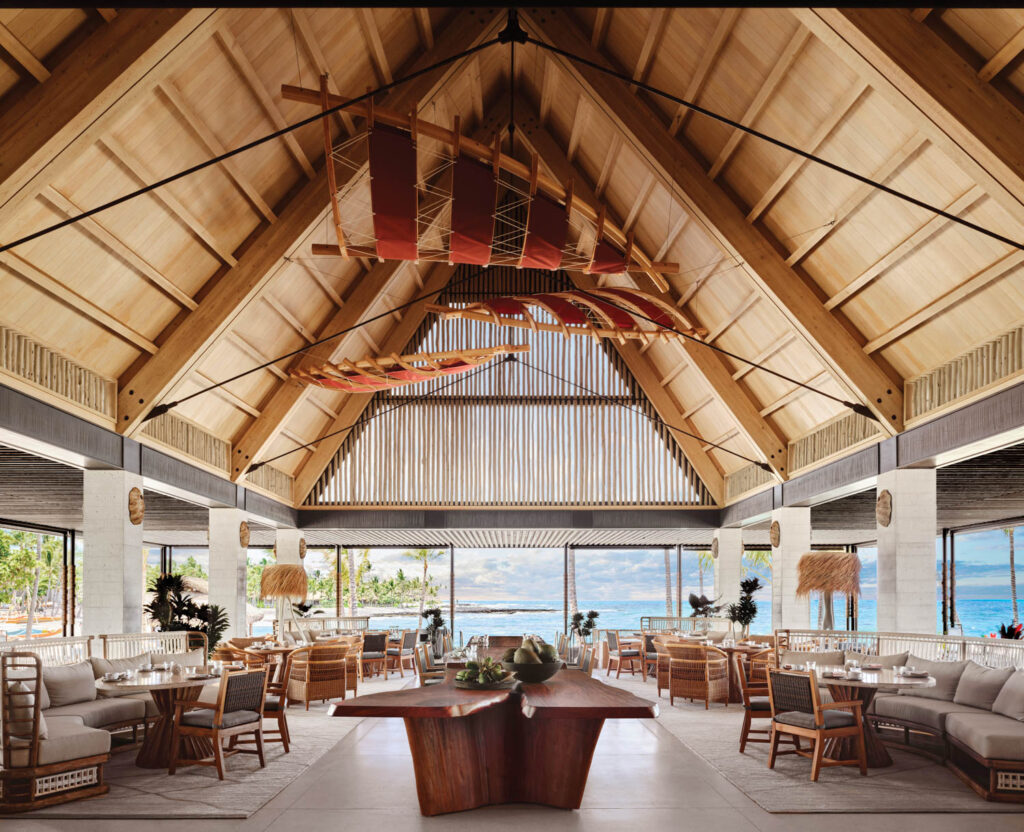 In 2011, a tsunami destroyed the beloved Hawaiian resort Kona Village. For five decades, the Big Island hideaway was known for its paradisal location on Kahuwai Bay and a relaxed, convivial vibe; families returned year after year. Frequent collaborators Greg Warner, cofounder/partner at Walker Warner Architects, and Nicole Hollis, creative director and principal of the eponymous interior design studio, had the formidable task of formulating the next iteration of the property: Kona Village, A Rosewood Resort. "We felt we had a responsibility to honor the memories of the old Kona Village, but also look at it with a new vision for future guests," Hollis recalls. The main restaurant features an installation of traditional canoe sails by local artist Kaili Chun, which hangs over a live-edge mahogany table. Read more about this hotel restaurant design.
Moinard Bétaille Polishes Up the Hotel Cala di Volpe in Sardinia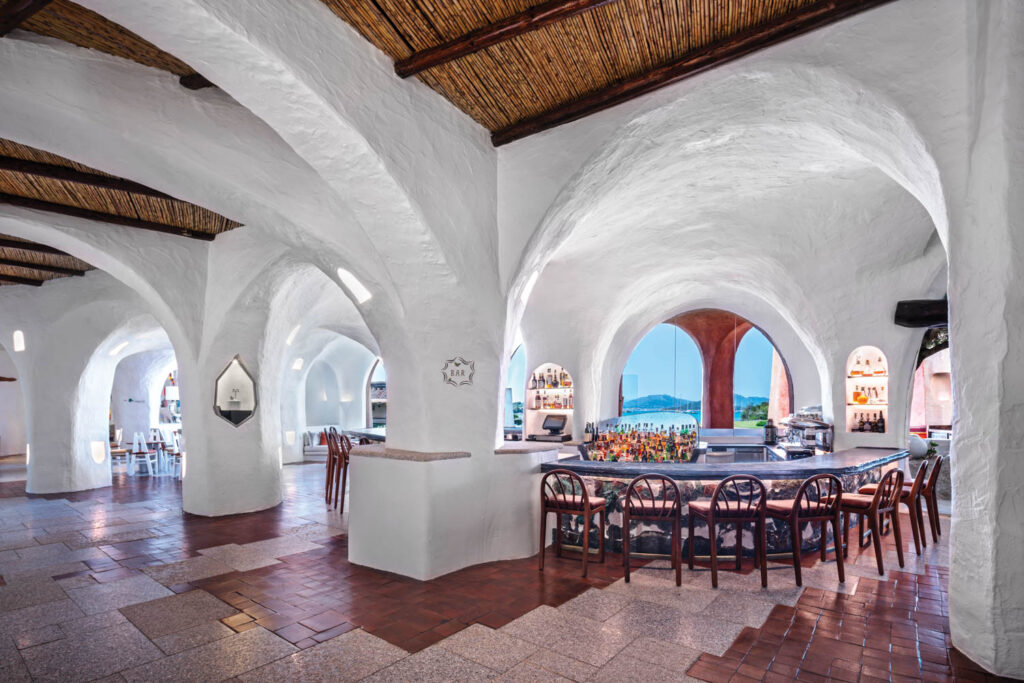 "Nobody does it better," sings Carly Simon in her 1977 theme from The Spy Who Loved Me. She means the movie's protagonist James Bond, of course, but let's extend her compliment to Qatar's Sovereign Wealth Fund, which, about a decade ago, purchased Hotel Cala di Volpe in Porto Cervo, Italy, the groovy Sardinian beachfront bolt-hole where Bond sheltered in the film. The name translates as Fox Cove Hotel and it remains a hospitality landmark thanks to its cameo, according to Claire Bétaille, co-partner with founder Bruno Moinard of Moinard Bétaille. "We believe it is still in everyone's mind, because generally we conceive architecture as a story, just like a movie." As for the hotel bar, it's elevated and extended for better views of the Mediterranean. Read more about this star-studded hotel bar and lounge.
Color Saturates the Interiors of Schwan Locke, a Hotel in Munich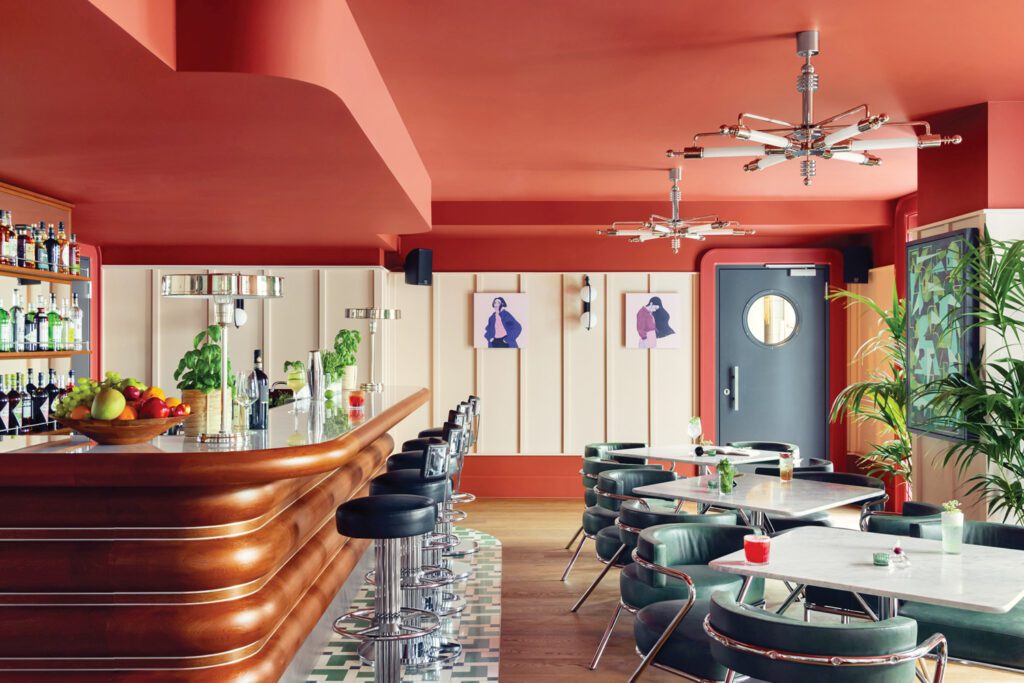 Starting with an almost completed apartment building, the 151-room hotel designed by Fettle freely reinterprets Munich's early 20th–century Deutscher Werkbund movement, paying homage to its ethos of combining mass production with traditional craft through the joinery details of the café counter and lounge bar as well as the many pieces of custom furniture, light fixtures, and art. Read more about this hotel design.
Swim Up to This Poolside Hotel Lounge With a Full Bar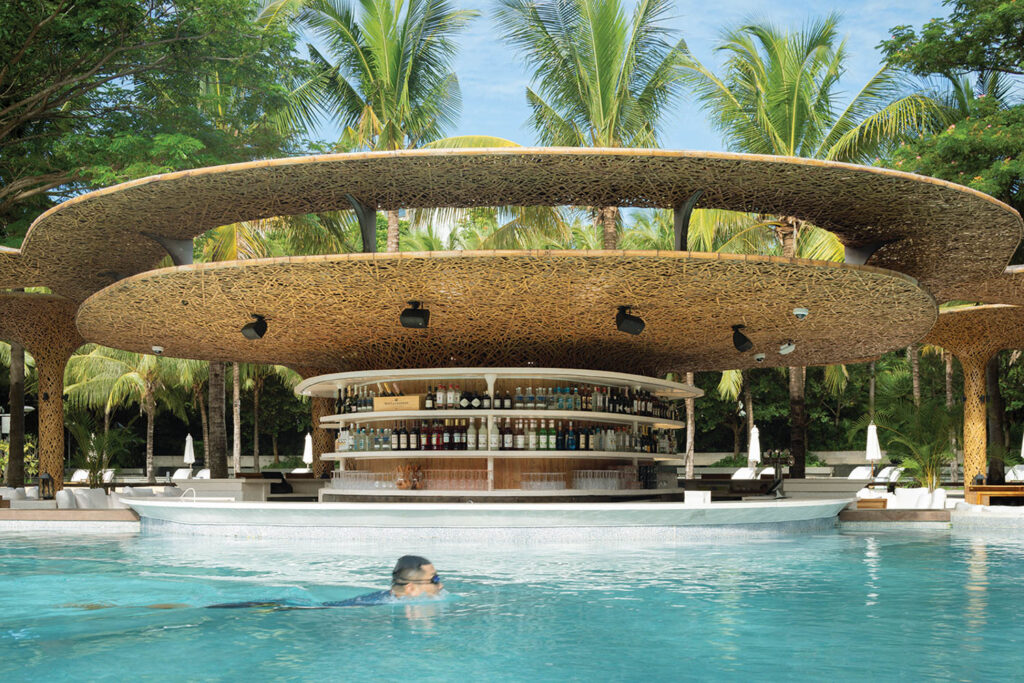 At the first property in China by Marriott's edgy-sophisticated sub-brand, a poolside lounge (with full bar) sited to nestle among existing trees is sheltered by a series of woven-bamboo canopies that act as sunshades by day and dramatic light reflectors during nighttime festivities. But the Beach Club at the Sanya Edition, Marriott, designed by Various Associates, has even more surprises in store. Explore the hotel bar and lounge design.
Blue Hues Add Ambiance in This Portuguese Hotel Bar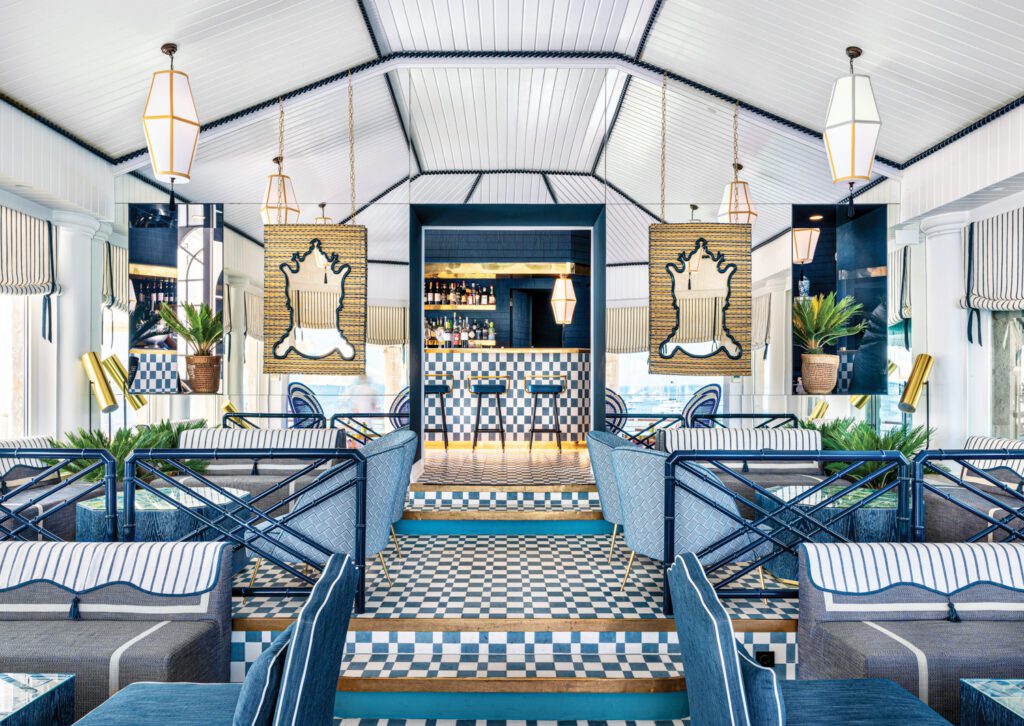 Hotel Albatroz has been centuries in the making, starting out in the early 1900s as a grand residence. More recently, the 51-key hotel unveiled its latest renovation, and it's by Gracinha Viterbo, the firm partner and creative director and Graca's daughter. "I have recollections of coming here with my mother when I was very young," she says, "which has helped me bridge the project's past and present." Nodding to the country's noted azulejo tile, designers outfitted the bar in Bert & May ceramic tile, Farrow & Ball paint, and custom furnishings, including a pair of wicker-surround hanging mirrors. Read more about this hotel bar and restaurant design.
This Hotel Bar in St. Barth Leans into Retro Charm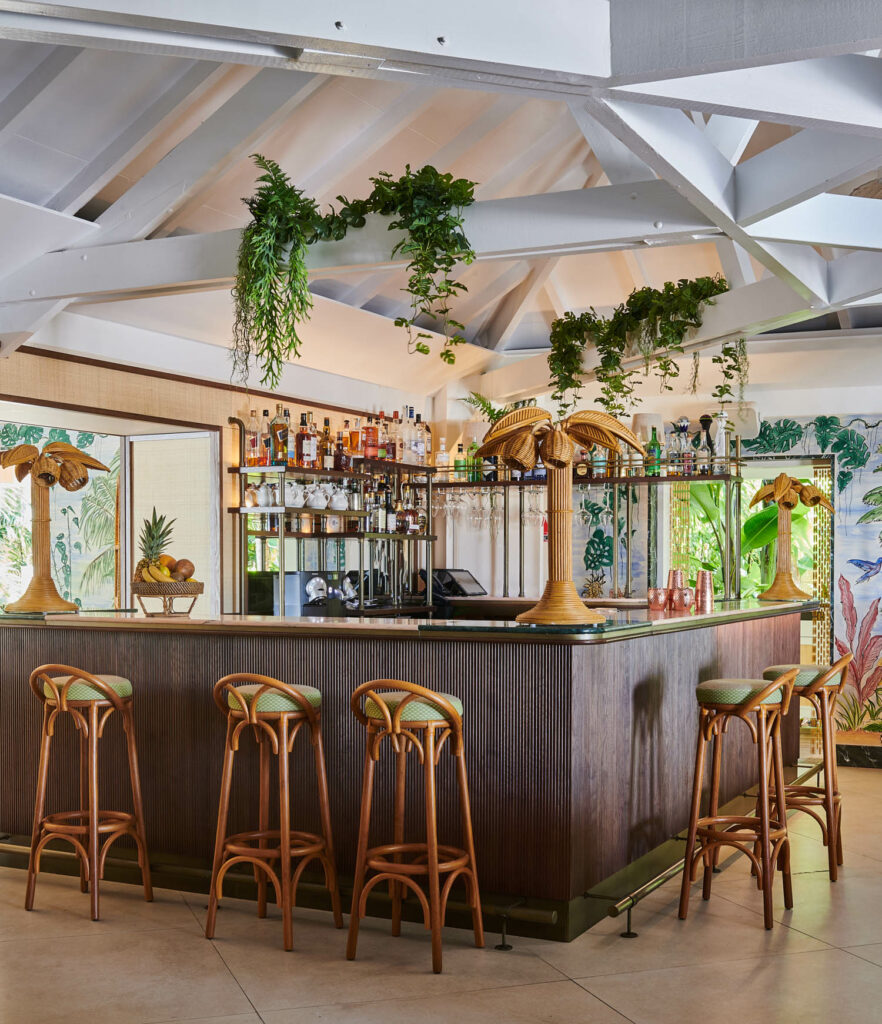 Tropical St. Barth, a 24-key boutique hotel designed by Oscar Lucien Ono, is exactly as its name suggests—a space that reminds guests they are on holiday the second they step inside. With its maximalist decor and retro palette, the hotel features hand-painted murals that reference the surrounding palms. Not to mention plenty of indoor-outdoor spaces, such as shaded patios and a pool deck outfitted with pink loungers that seem straight out of the 1950s. Pastel hues meld with rattan accents and greenery, as evident in this tropical hotel bar with a wood-framed canopy, evoking the feeling of dining outdoors. Read more about this hotel bar and restaurant design.
Gondolas Inform the Design of the Boatyard Hotel in Suzhou, China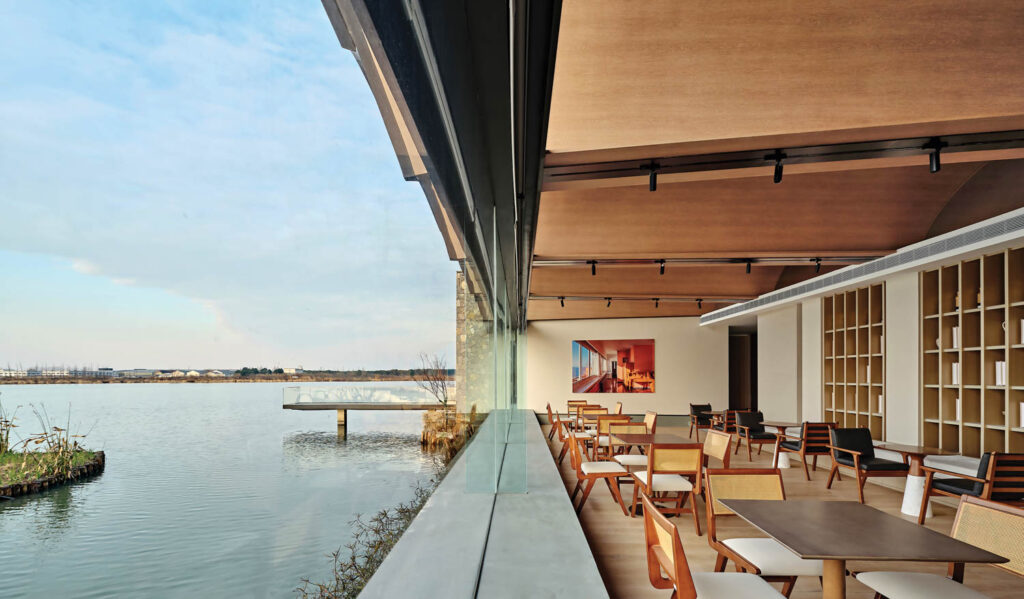 For centuries, wupeng boats, traditional wood gondolas shaded by curved canvas or bamboo-mat awnings, have pop­ulated the rivers and canals of Jiangnan, a seaboard region in northeastern China famed for its picturesque water towns. Located on the outskirts of one of them—the ancient and culturally important city of Suzhou—the new Boatyard Hotel by GOA draws on the wupeng's distinctive silhouette, which is echoed by the two-story building's showstopping roofline, an undulating sea of conical vaults that suggests a flotilla of the dark-canopied craft jostling for position at a wharf. The hotel café is even slightly sunken so that seated guests feel on a level with the lake. Read more about this hotel restaurant design.
An Oscar Wilde-Inspired Hotel Nods to One of His Classics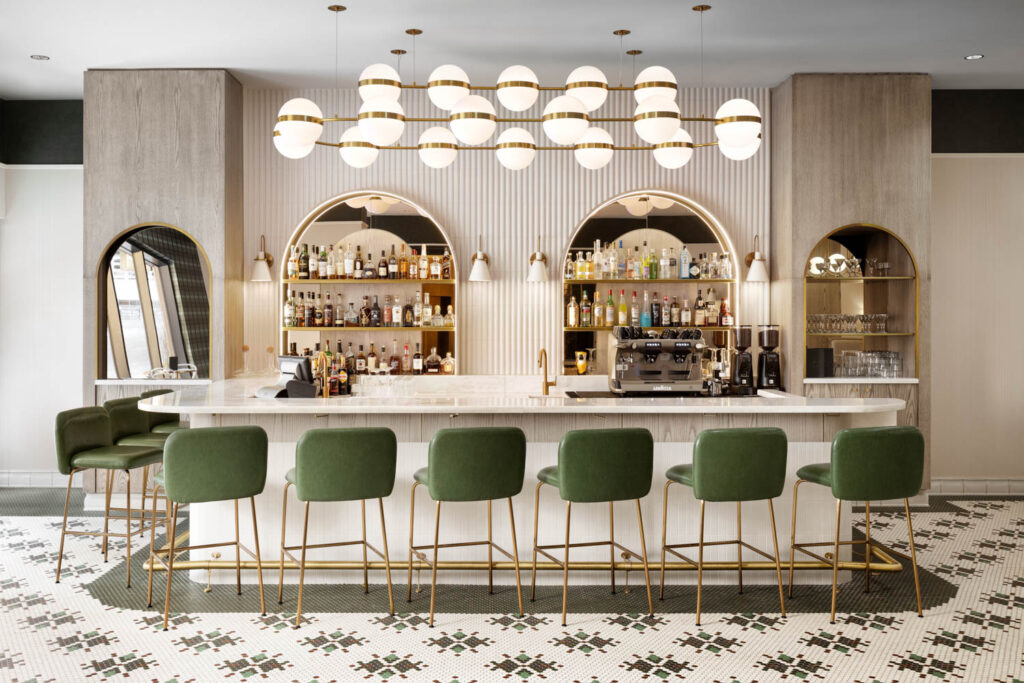 This boutique hotel is a literature lover's dream. CHIL Interior Design turns Oscar Wilde's The Picture of Dorian Gray into a hotel in Calgary, Canada that invites visitors to step into the story. Aptly named, The Dorian is part of Marriott's Autograph Collection and features Victorian elements a la the novel's era, as well as bold colors, patterns, and textures. Inside the lobby bar, The Prologue, mosaic flooring adds dimension. Read more about this dreamy hotel bar design.
Inside a Hotel Restaurant With Quarry Views in China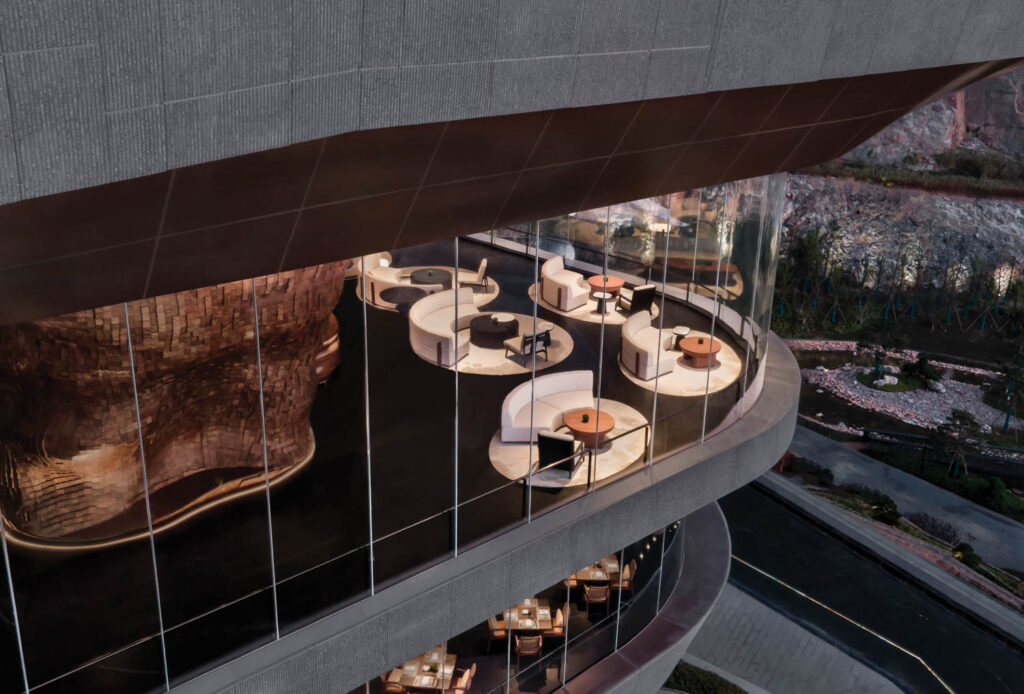 Industrial progress can leave deep scars across our landscapes, some of which take a long time to heal. At Tangshan Mountain, once a misty paradise of vegetation and wildlife close to the eastern Chinese city of Nanjing, near Shanghai, mining for ores deep into the hillside destroyed the local ecology and resulted in a man-made chasm devoid of life. Abandoned for a century, the quarry has recently been revitalized in an unexpected way: through the creation of the Banyan Tree Nanjing Garden Expo, a luxury hotel with interiors by Cheng Chung Design. The restaurant's lounge offers guests panoramic views of the quarry. Read more about this hotel bar and restaurant.
Joali Being, a Maldives Resort, Takes Self-Care to the Next Level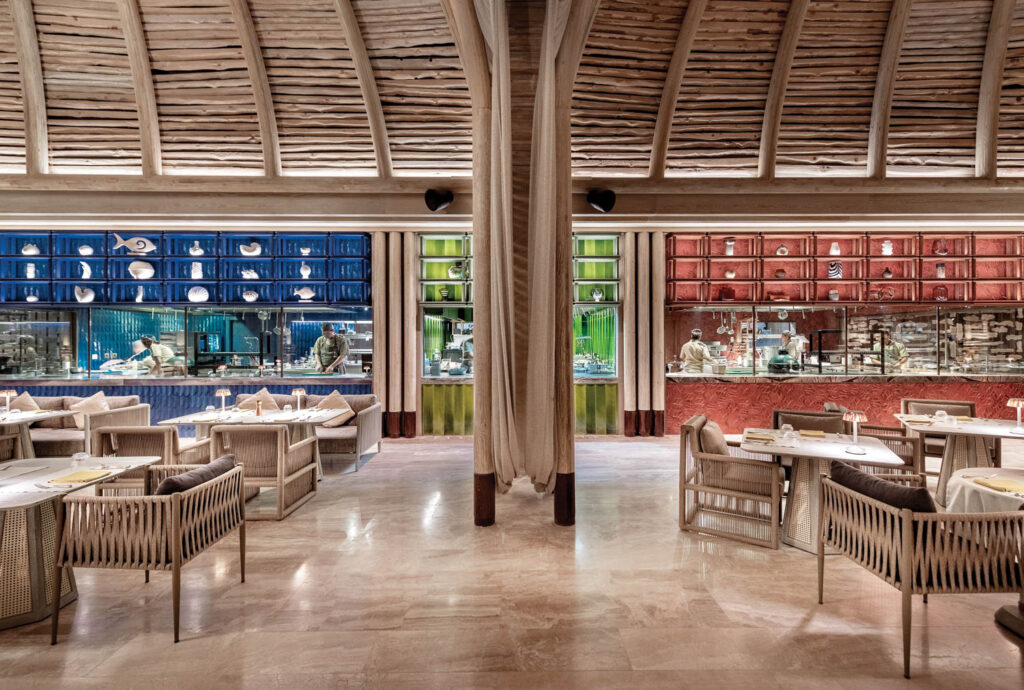 Self-care is big business, as evidenced by a surge in health-conscious travel. Catering to that phenomenon is Joali Being, billed as the world's first dedicated private-island wellness resort. Located on Bodufushi Island, the retreat is the sister property of the more art-focused Joali Maldives, both conceived by Turkish entrepreneur Esin Güral Argat. There's no bottle-popping of Dom Pérignon here; the resort is largely alcohol-free, barring select biodynamic wines. Instead, the property defines indulgence as the luxury to focus on the self in a slow-paced and mindful environment: Practice breathwork on the over-water meditation deck, play instruments set between palm trees, make a custom tincture with the resident herb­ologist. Read more about this Maldives resort design.
Art Deco Meets Modernist Influences in a Zurich Hotel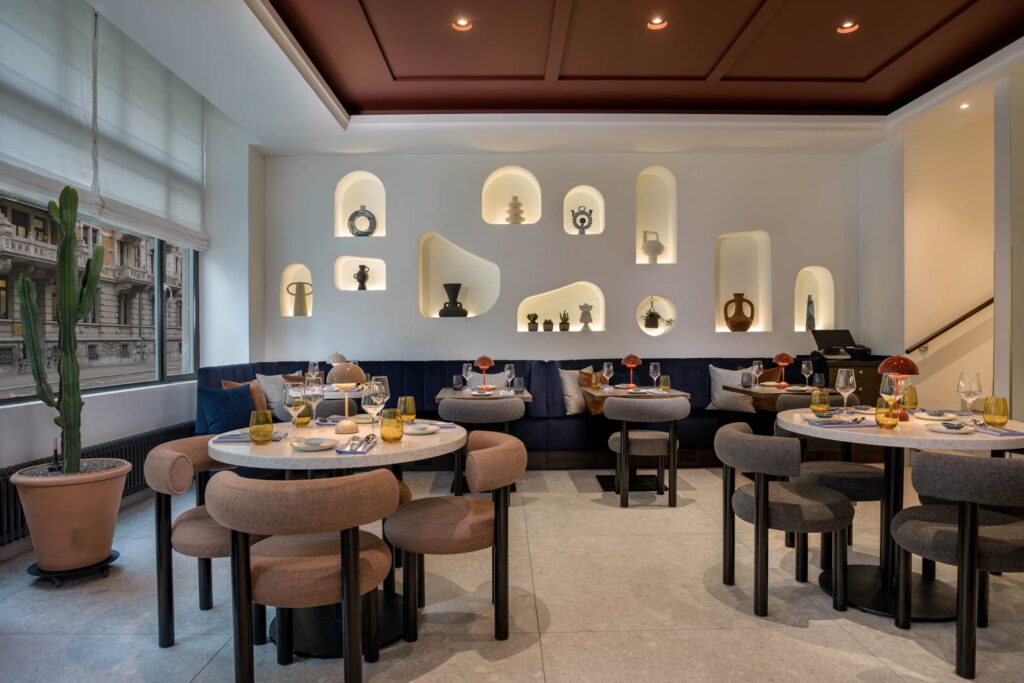 Since 1935, the Neues Schloss Privat Hotel Zurich has charmed guests with its rational-yet-rounded façade, an expert blend of Art Deco and Modernism. Today, thanks to a rethink by the city's Carbone Interior Design, the interiors live up to the building's motto: "A place that brings together what usually doesn't combine." A member of the Marriott Autograph Collection, the 57-key hotel mixes a jewel-tone palette of velvety textures with walls in natural plaster. Rooms contrast shadow—bathroom walls in deep purple, dark oak details—and natural light. And the new restaurant, Castellan's, ties it all together, serving Mediterranean cuisine among banquettes that lap the walls like waves, just steps from Lake Zurich itself. Read more about this hotel restaurant design.
A Must-See Bucolic Restaurant in Ukraine's Emily Hotel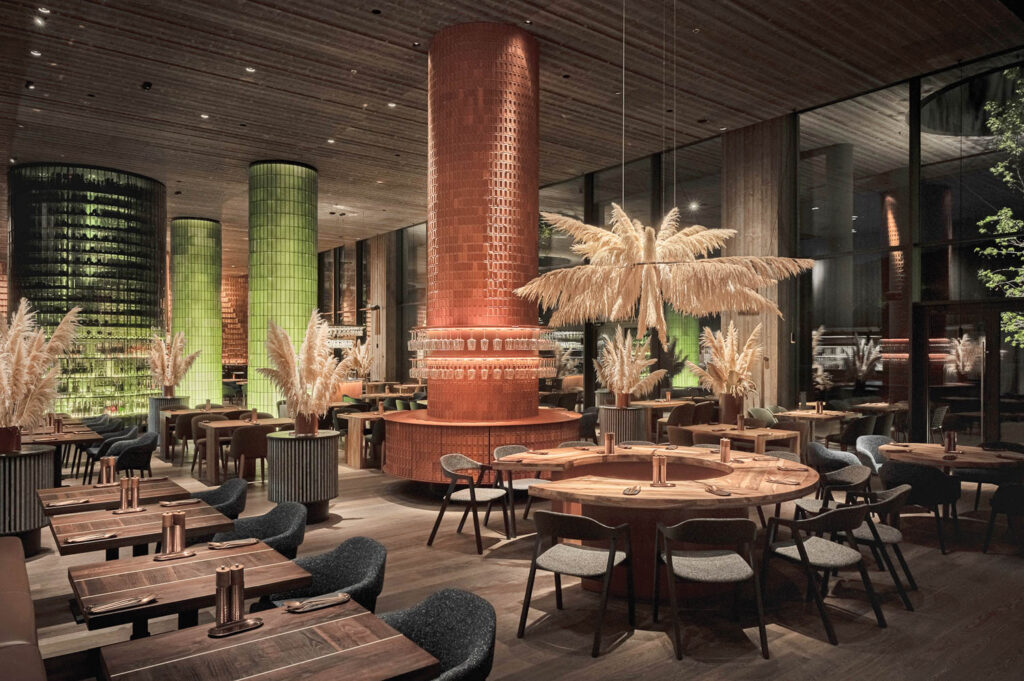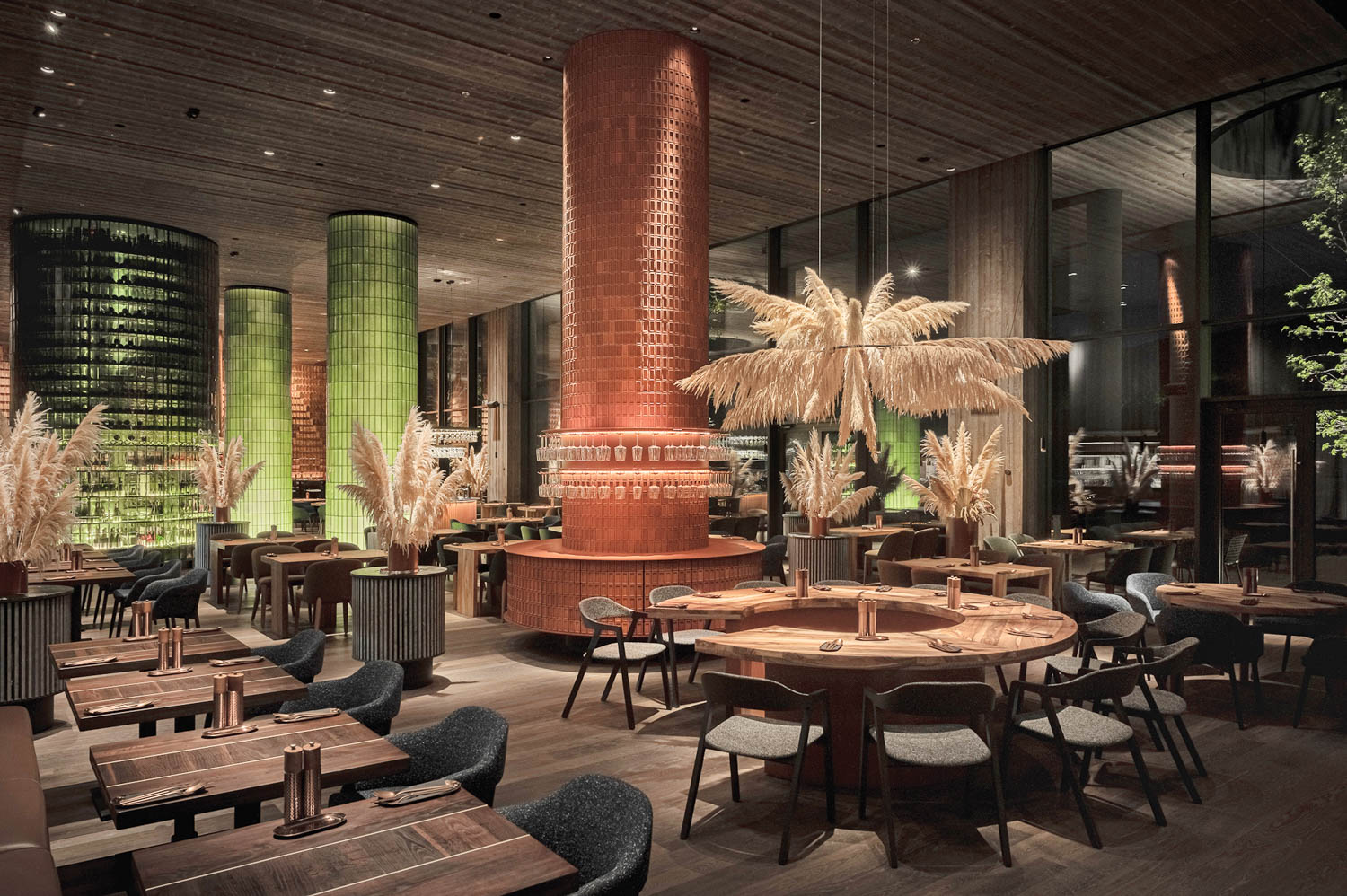 The Emily Hotel by Kyiv-based YOD Group, located near Lviv, a city in the western part of the country that has been spared the worst of the war, greets guests with a soaring gesture of strength in the form of a dried sycamore tree—roots, trunk, branches, and all—suspended overhead in the five-story lobby. The spectacular installation is prelude to more nature-inspired wonders in Terra, the hotel's 12,400-square-foot restaurant, where YOD evokes the region's bucolic scenery, including green mountains dotted with shepherds' fires and peaceful lakes fringed with rustling reeds. Read more about this nature-inspired restaurant.
The Georgian Hotel Exudes Glamour in Santa Monica, California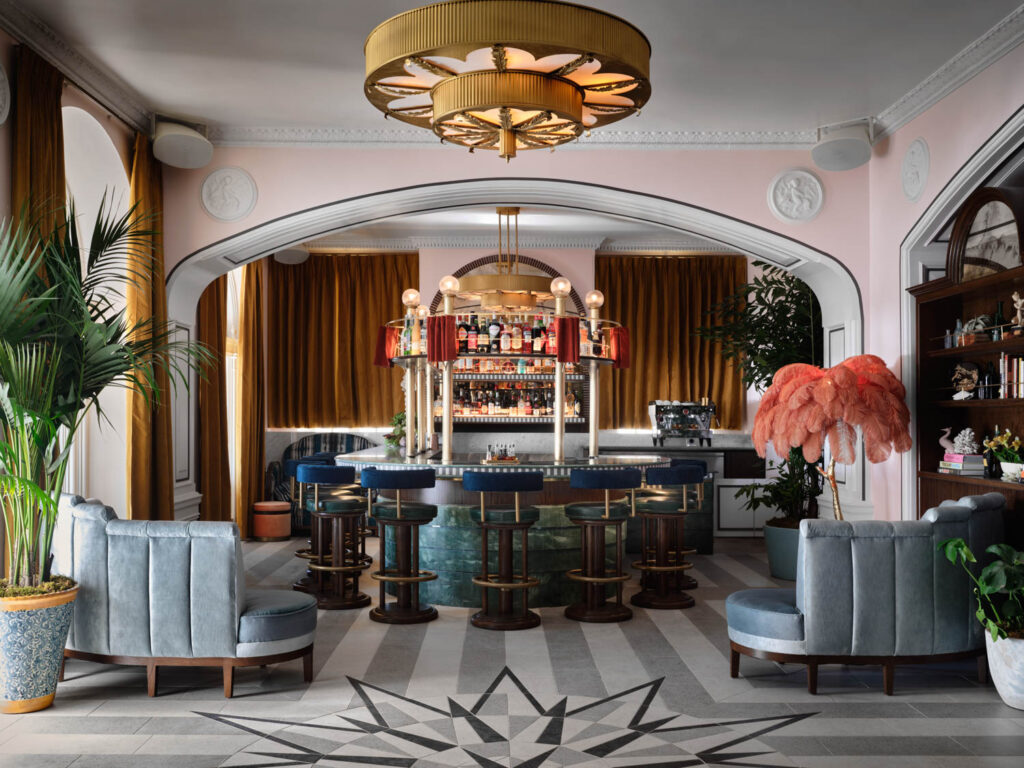 And, scene: After a sensitive renovation by BLVD Hospitality and Fettle, a storied coastal property from 1933 marries Old Hollywood charm, global élan, and SoCal cool via such cinematic mise-en-scène as custom art deco chandeliers, original decorative reliefs, exaggerated furniture profiles, and exuberant stone flooring. Did we mention the transporting Pacific Ocean views visible from the hotel bar and restaurant? Read more about this must-see dining locale.
Studio Shoo Designs a Winter Wonderland in Western Siberia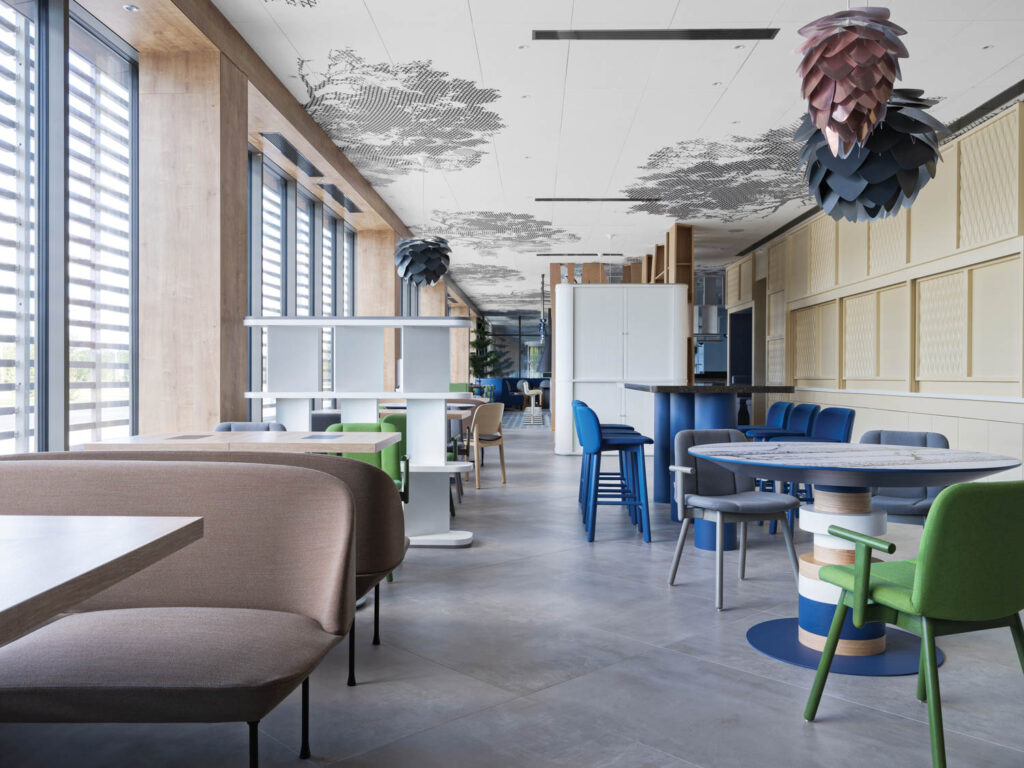 Contemporary geopolitics renders travel to Russia verboten. But that has not meant the nation's hospitality designers have ceased creative output. Witness Studio Shoo's most recent hotel, in Kogalym, Western Siberia. The 123-key property for Ibis Styles—a French brand of no-frills budget destinations owned by Accor—was slated to open to the public last year but, for obvious reasons, never did. The Russian Ibis is more fanciful than the firm's typical designs, with an icy palette evoking hues of snow and sky. Read more about this hotel restaurant.