15 Simple Spaces for Relaxing
Whether it's a niche for napping in the office, a lounge for winding down, or a peaceful spa, these spaces provide the rest needed to prevent burnout.
1. Dreamy Valencia Office by Clap Studio
Cushioned built-ins and particleboard "coffee houses" encourage moments of down time.
2. Google's Swoon-Worthy NYC Office by Interior Architects
Hammocks hang beneath the gym's skylight.
3. Unbot Office by Prism Design Consulting
Rope netting surrounds the mezzanine level "tree house," where after heads-down work employees can indulge in feet-up relaxation.
4. Google's London Office by Allford Hall Monaghan Morris
Felt-upholstered booths in a quiet room have cushions that can be reconfigured.
5. Portable Office by Enorme Studio
Unfinished plywood workstations in the office are balanced by soft floor pillows for break time.
6. Uber EMEA's Amsterdam Office by Assembly Design Studio and CannonDesign
Niches away from desk areas are lined in unfinished oak.
7. L-Shaped House by B.L.U.E. Architecture Studio
B.L.U.E. carved out a compact two-floor space for a family of six next to a Hutong wall in the historical center of Beijing, with an exterior corridor that runs the length of the residence.
8. Stuyvesant Square Duplex by AM/MOR Architecture
White-oak veneer surrounds the study's built-in daybed.
9. 1930's Belgian House by B-Architecten
A cowhide rug softens the concrete floor of the guesthouse.
10. Tokyo Pod Hotel by Schemata Architects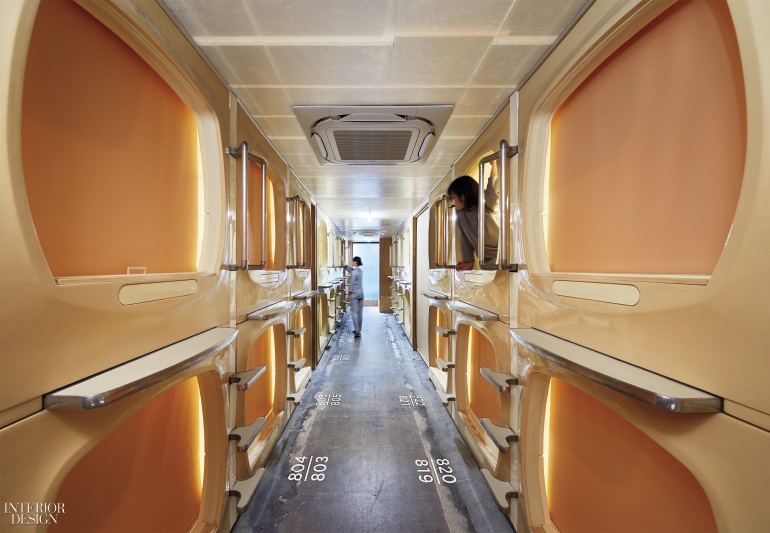 PVC steps lead to the 168 sleeping capsules.
11. Hi-Lo Hotel by Jessica Helgerson Interior Design
Low, curved sofas and a swinging settee define the laid-back lounge.
12. Mia Yoga by Crosby Studios
Dubbed Instagram's favorite designer by the New York Times, Harry Nuriev uses color to establish the mood of a space, like this calming mint green.
13. Modern Danish Design by Bodil Kjær
Carl Hansen & Søn reproduced the Swing Sofa as part of the Indoor-Outdoor series.
14. Redwood Canyon Glampsites by BraytonHughes Design Studios and Ray Parks & Associates
The Ventana Big Sur bath house features teak walls and heated floors.
15. Relax Táboritská Hotel by Lenka Míková Architect
Porcelain tile clads a guest room hot tub.