15 Relaxation Rooms Designed to Create Calm
Whether it's a niche for napping in the office, a lounge for winding down, or a peaceful spa, these relaxation rooms provide the rest needed to prevent burnout. From the warm glow of natural light to a seamless connection to the outdoors, and a color palette that evokes feelings of tranquility, when it comes to designing spaces that invite visitors to exhale, relaxation rooms offer a dance of comfort and style. Layouts often speak to flexibility—a yoga session here, a meditation nook there—and furnishings range from minimalist custom pieces to plush, cozy seating. Tech has its place too. Smart lighting, sound systems, and climate control create ideal conditions to soothe frenzied nervous systems while considered acoustics prioritize peace and quiet. The perfect recipe for inducing a state of calm.
Editor's note: This story was originally published February 8, 2019, and has been updated to include the most recent selection of relaxation rooms. 
Exhale in These Restorative Relaxation Rooms
1. Among Oaxaca Hotels, Casa TO Stands Out With its Cocooning Atmosphere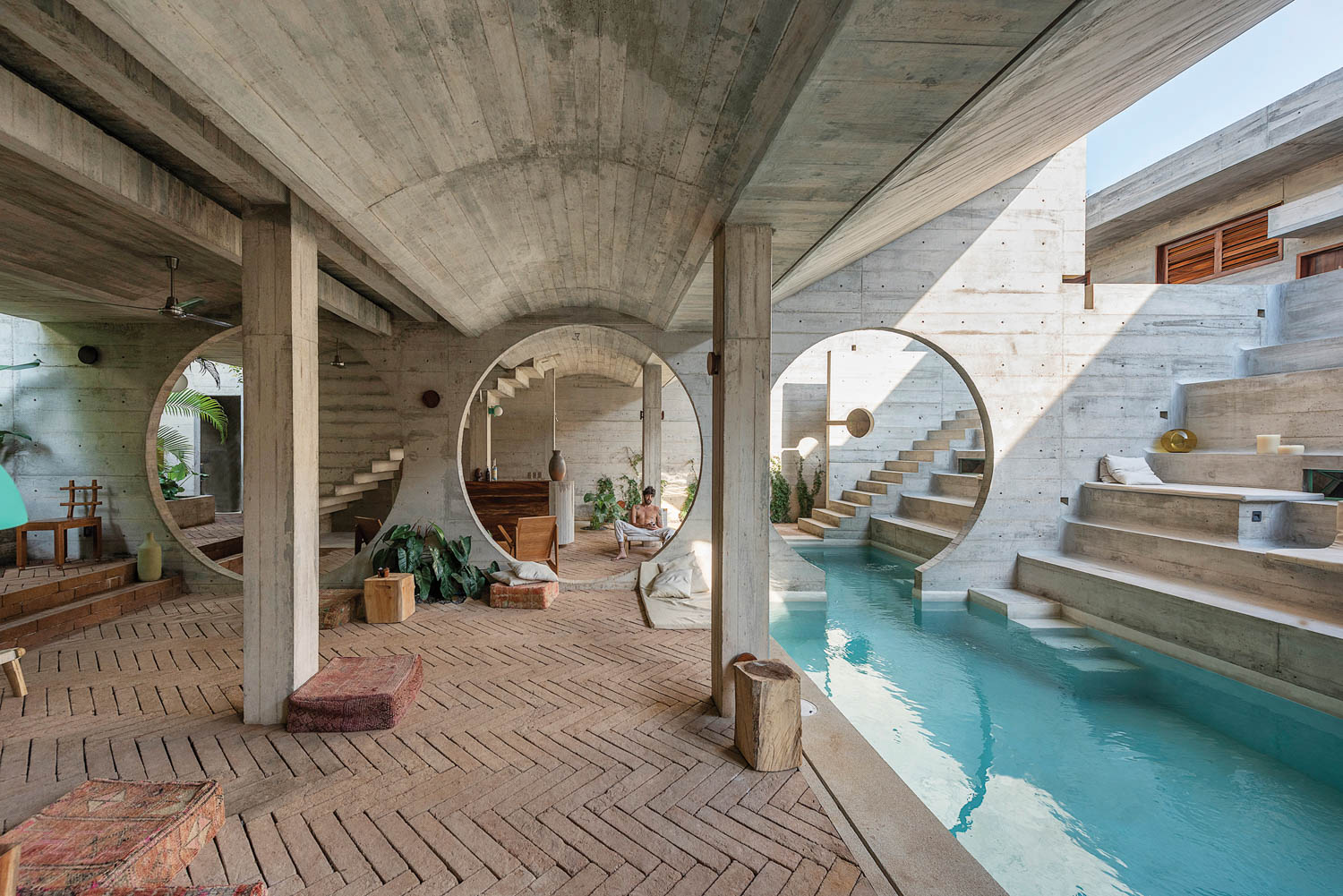 Hidden away down a quiet side street in La Punta Zicatela, Casa TO is a zen­like hotel inspired by the ancient temples of surrounding Oaxaca. Designed by French architect Ludwig Godefroy, the 10,000-square-foot property on Mexico's southern Pacific coast provides a tranquil retreat for the surfers and tourists who flock to the area for its stunning beaches and laid-back lifestyle. Casa TO is located just minutes from the ocean, but unlike other Oaxaca hotels, Godefroy claims some guests feel so comfortable there they rarely venture outside. Read more about this relaxing hotel.
2. Unwind in this Updated Sedona Spa Surrounded by Red Rock
The Arizona desert town of Sedona is sometimes referred to as the New Age Capital. It's a longtime mecca for yogis and spiritual seekers, thanks in part to its otherworldly landscape of striated red-rock formations. That's why Enchantment Group, the Scottsdale-based resort-management company, decided to open Mii amo—one of the country's first destination spas—there in 2001, and why Gluckman Tang Architects decided to put its concept for the project entirely in the service of one goal: highlighting Sedona's beauty. Read more about this spa interior design.
3. A Tattoo Parlor, But Make It Relaxing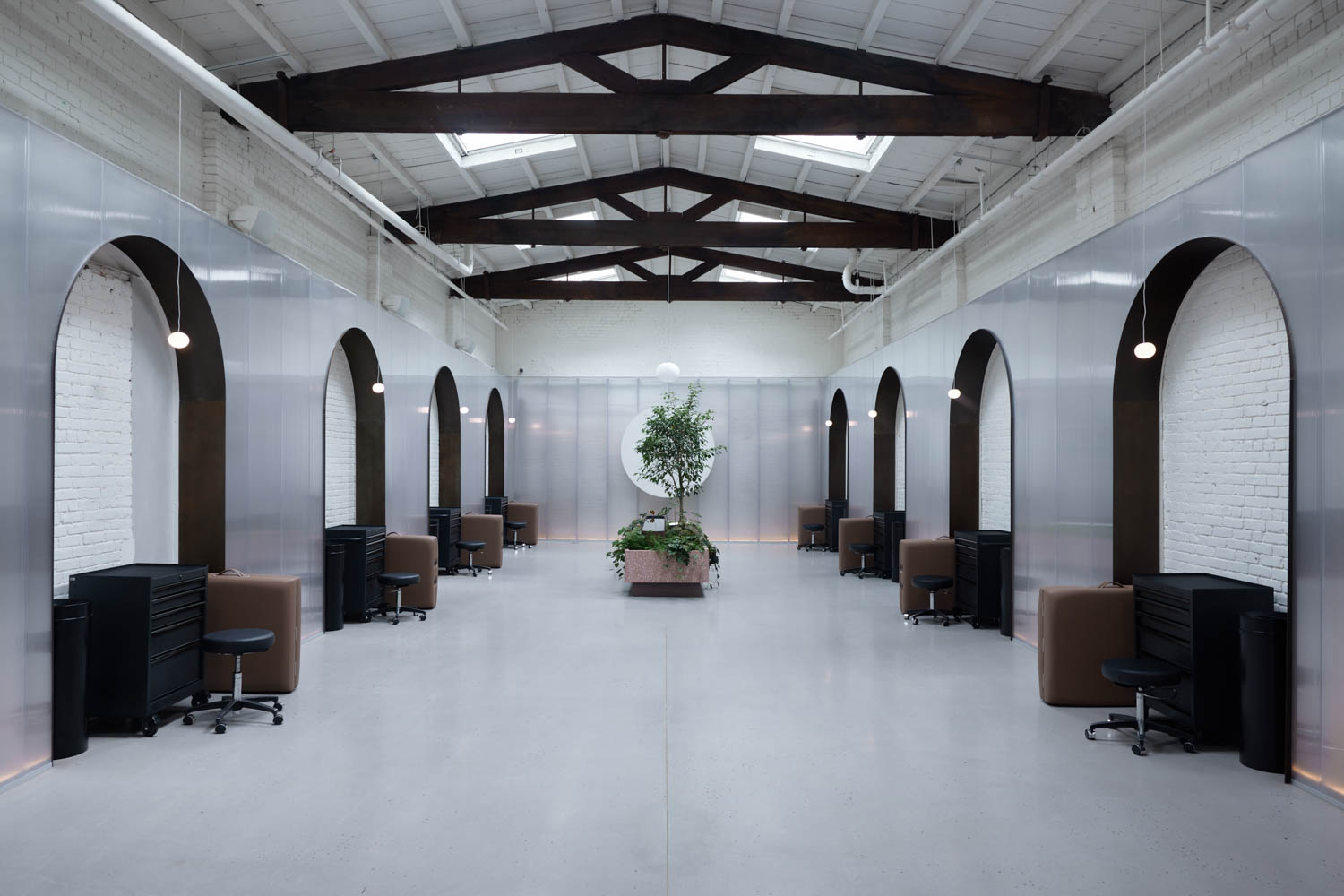 Atelier Eva Grand Street Studio puts a spin on the standard tattoo parlor—the time-honored downtown institutions that are almost always overflowing with memorabilia. Launched by artist-to-the-stars Eva Karabudak, the latest Williamsburg studio makes good use of a repurposed hardware storehouse, championing a zen, muted, and minimalist aesthetic. Who said that getting yourself bedecked in symbolic imagery can't also feel like a day at the spa? Read more about this simple and chic space.
4. AB+AC Architects Designs an Experiential Center for Healing Arts in Lisbon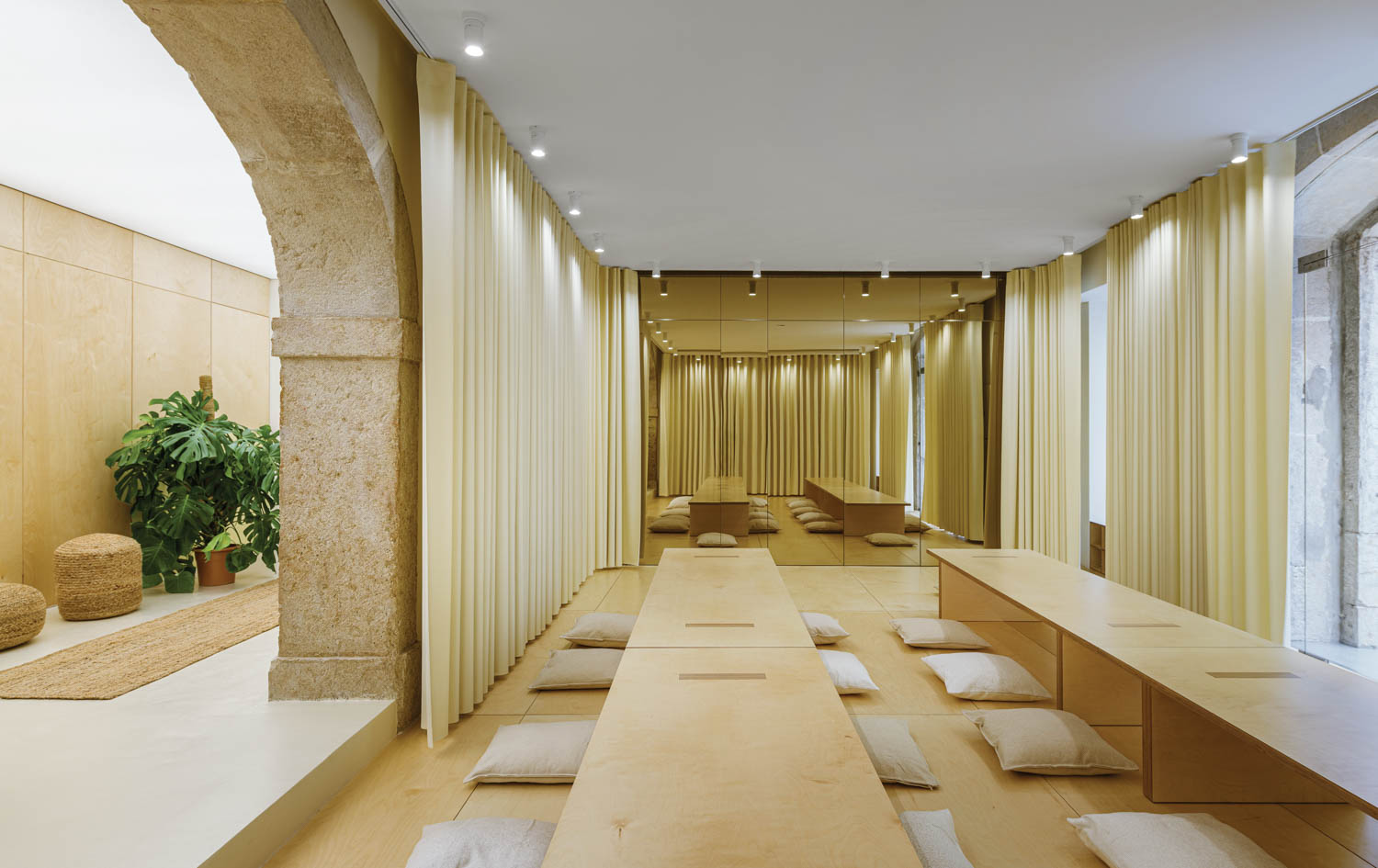 To the pantheon of architects successfully partnered in both life and business, add newcomers Arianna Bavuso and Andre Chedid. Youthful globetrotters born in Milan and Beirut, respectively, they worked for such firms as Büro Ole Scheeren and Vector Architects in Beijing and Gehl Architects in Copenhagen before opening AB+AC Architects, their own Lisbon, Port­ugal, studio in 2020. The couple's first major project there—a commission from the nonprofit Open Hearts Lisboa for an experiential center to promote innovation and self-healing through the arts—was truly synergistic. Read more about this healing interior design.
5. Inside an Innovation and Tranquil Office for Filmmakers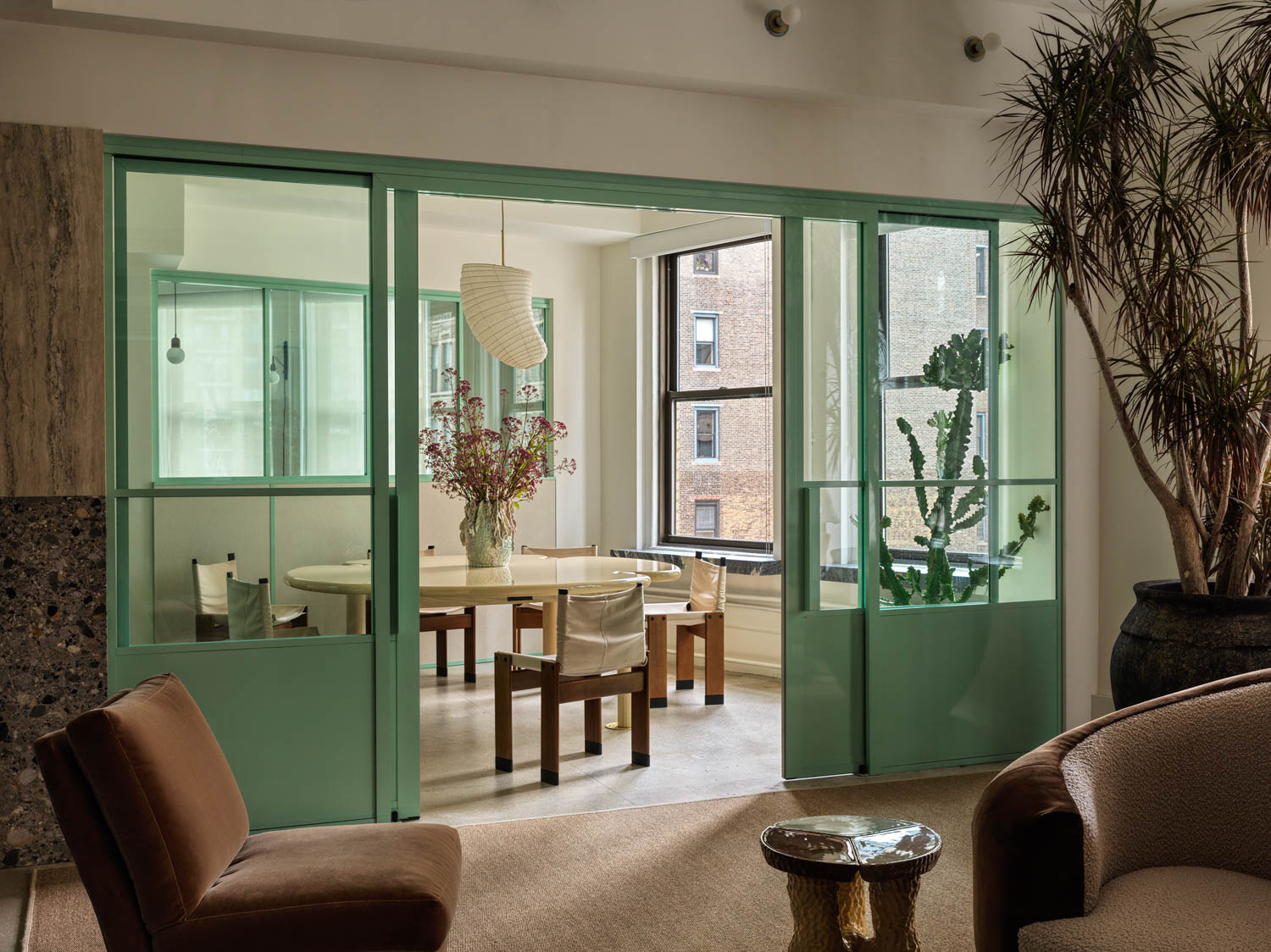 When it comes to post-pandemic workplaces, in-office movie theaters are a rare find. But for Sandbox Films, which recently unveiled its new digs in Manhattan's Flatiron District, a 22-seat screening room is far more than an office amenity—it's essential to the work done day in and out by the company's creatives. With this in mind, the designers at Civilian ensured the space stood out, aesthetically and functionally with plush furnishings and airy meeting spaces. Read more about this office design.
6. Google's Swoon-Worthy NYC Office by IA Interior Architects
In view of the High Line park and the Hudson River, an easy arm's length from the foodie mecca of Chelsea Market, and a stone's throw from the meatpacking district's mayhem, sits Google's New York office. With space split between two Chelsea landmarks, National Biscuit Company buildings from 1898 and 1913, and revamped by Interior Architects, the search engine's sales team enjoys impressive digs that are nevertheless decidedly understated. The goal here was to play against type by celebrating the low-tech and the local. Read more about this office design.
7. Clap Studio's Aster-Inspired Clinic Wows in Valencia, Spain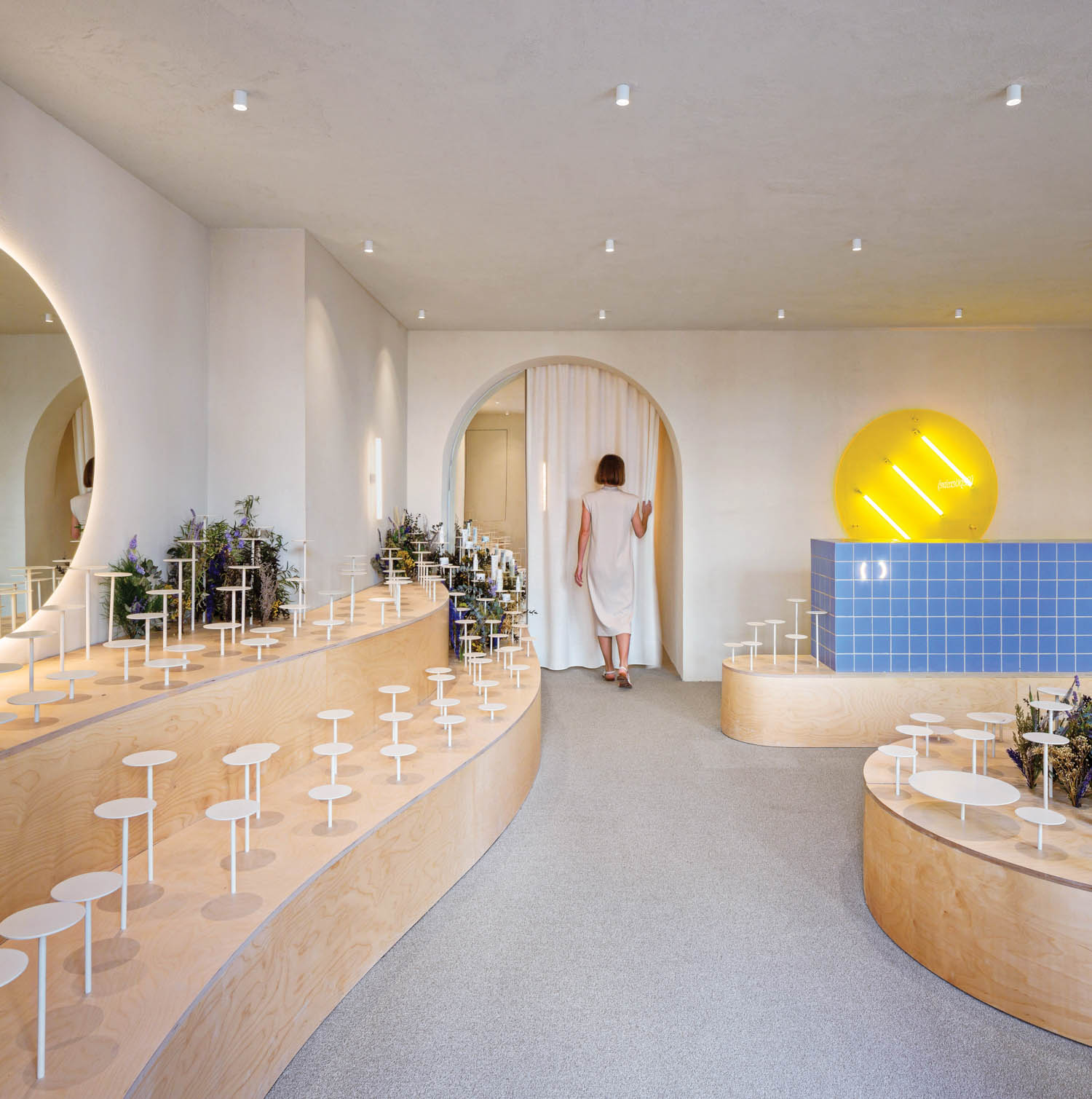 Since its founding in 2017, Spanish firm Clap Studio has accumulated international awards for its playful interiors. A recent project, Septiembre, a 1,300-square-foot dermatological clinic in Valencia, shows why. Inspired by the name, which is the Spanish word for September, the aster became a centerpiece of the concept, as the perennial blooms that same month. "Everything revolves around relaxation," Clap cofounder and creative director Jordi Iranzo says. Read more about this relaxing interior design.
8. Get Cozy in This L-Shaped House by B.L.U.E. Architecture Studio
B.L.U.E. carved out a compact two-floor space for a family of six next to a Hutong wall in the historical center of Beijing, with an exterior corridor that runs the length of the residence. With plenty of natural light and inventive storage, this home invites exploration, creating a minimalist yet warm environment to unwind in. Read more about home design.
9. Experience Tranquility at Alba Thermal Springs & Spa in Australia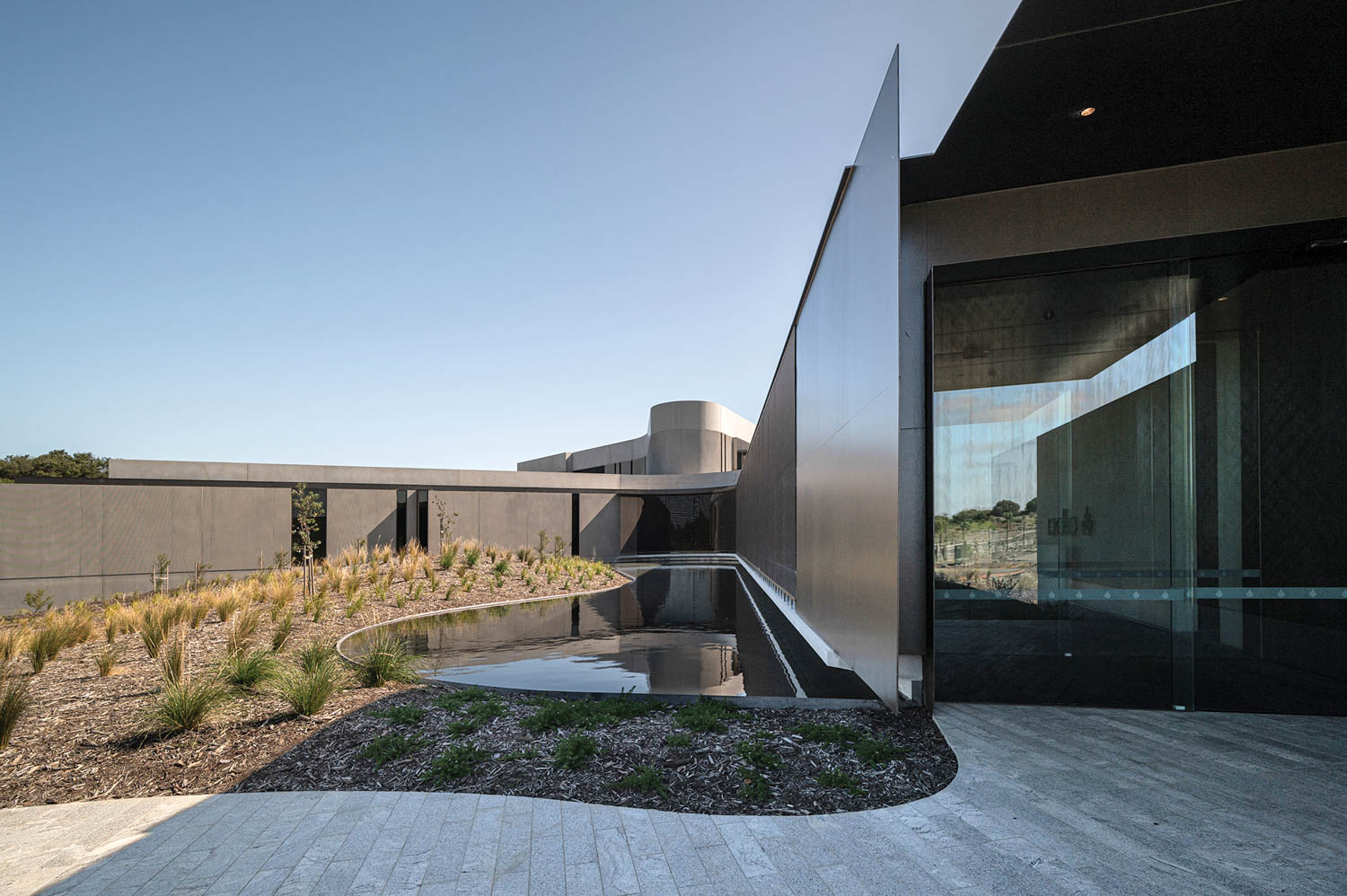 The Mornington Peninsula, a 280-square-mile enclave about one hour's drive southeast of Melbourne, Australia, has long been the city's coastal getaway. Fringed with sandy beaches, rocky shorelines, and rugged cliffs, the semirural landscape blends rolling hills with natural bushland—an ideal setting for the wineries, restaurants, hotels, resorts, and health and wellness properties that dot the area. Among the most recent additions to the latter, the Alba Thermal Springs & Spa by Australian firm Hayball is distinguished by both its sensitive design and its use of 100 percent geothermal water—only the second such facility on the peninsula to do so. Read more about this luxurious spa design.
10. This Bushwick Oasis Brings Nature to an Urban Setting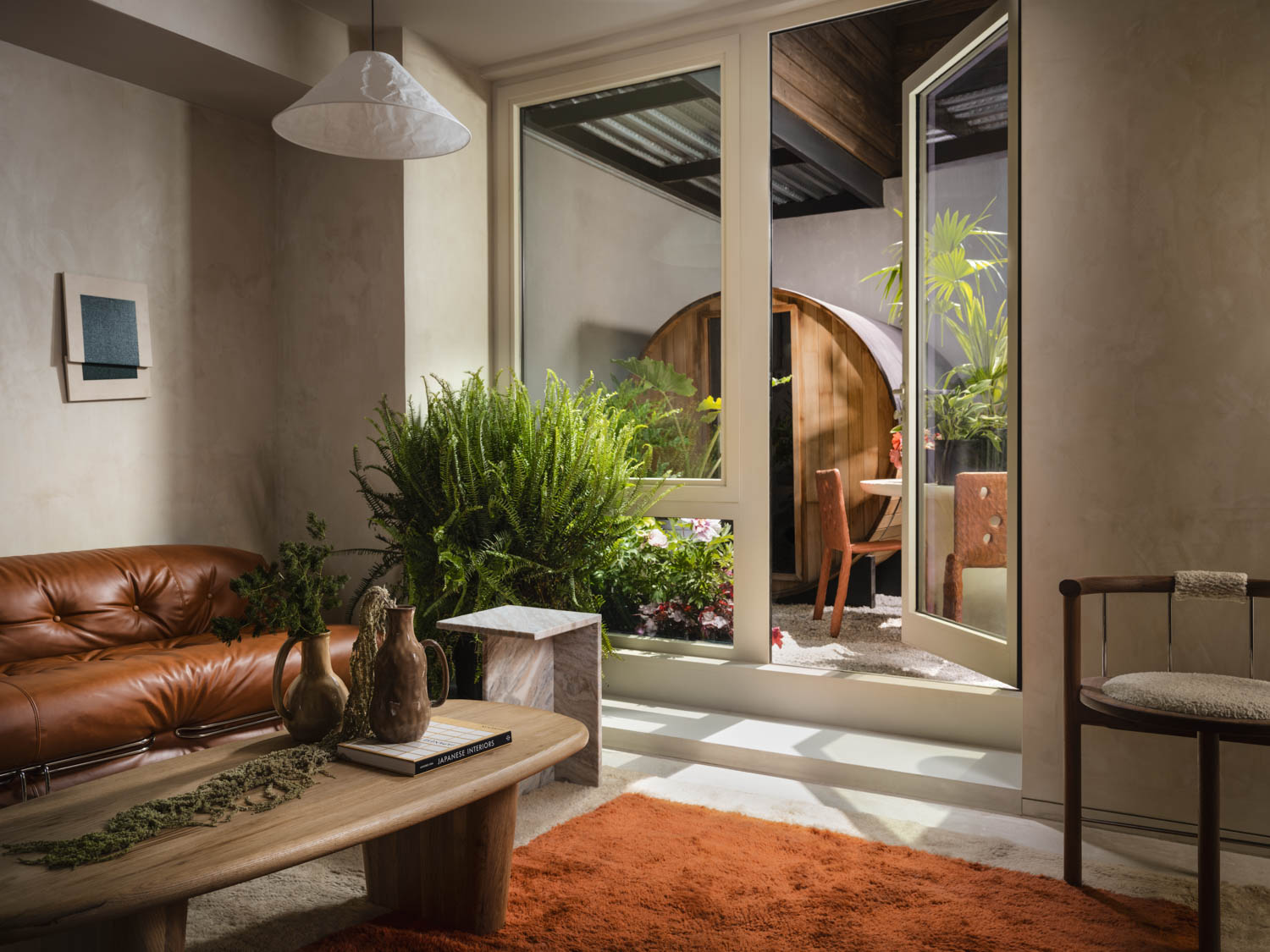 Traversing through Bushwick's industrial labyrinth of dive bars, graffitied warehouses, and uber hip coffee shops, one needs a moment of refuge. That was the goal for an artistic couple when they tapped Hira Sabuhi to revamp their 1,600-square-foot garden duplex in 2021. Sabuhi, an architect who honed her skills at heavyweight firms like SOM and Rockwell Group, had recently launched her eponymous studio during the fall of 2020. "I was looking to create with more intent," the designer muses. Read more about this meditative Brooklyn home.
11. Schemata Architects Makes Over Tokyo Pod Hotel With Finnish Touches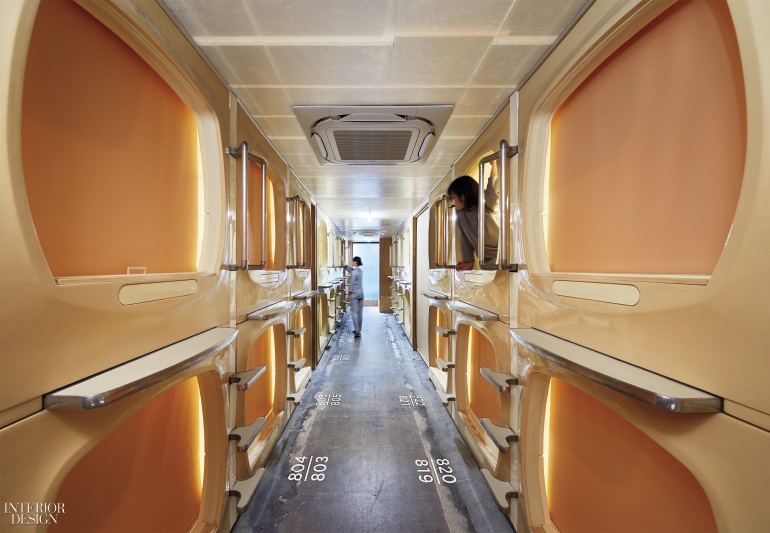 A worn-out hotel on a busy street in Tokyo might not sound like the ideal bones for a contemporary conversion. But in the hands of owner Keisuke Yui and Schemata Architects president Jo Nagasaka, the old building has been given a new lease on life. Now known as °C, pronounced doh-see, Japanese for degrees, this one-time salaryman stopover has been reinvented as a stylish drop-in sauna with sleeping pods for those who wish to stay the night. Read more about hotel design.
12. Art and Nature Take Center Stage in This Aspen Residence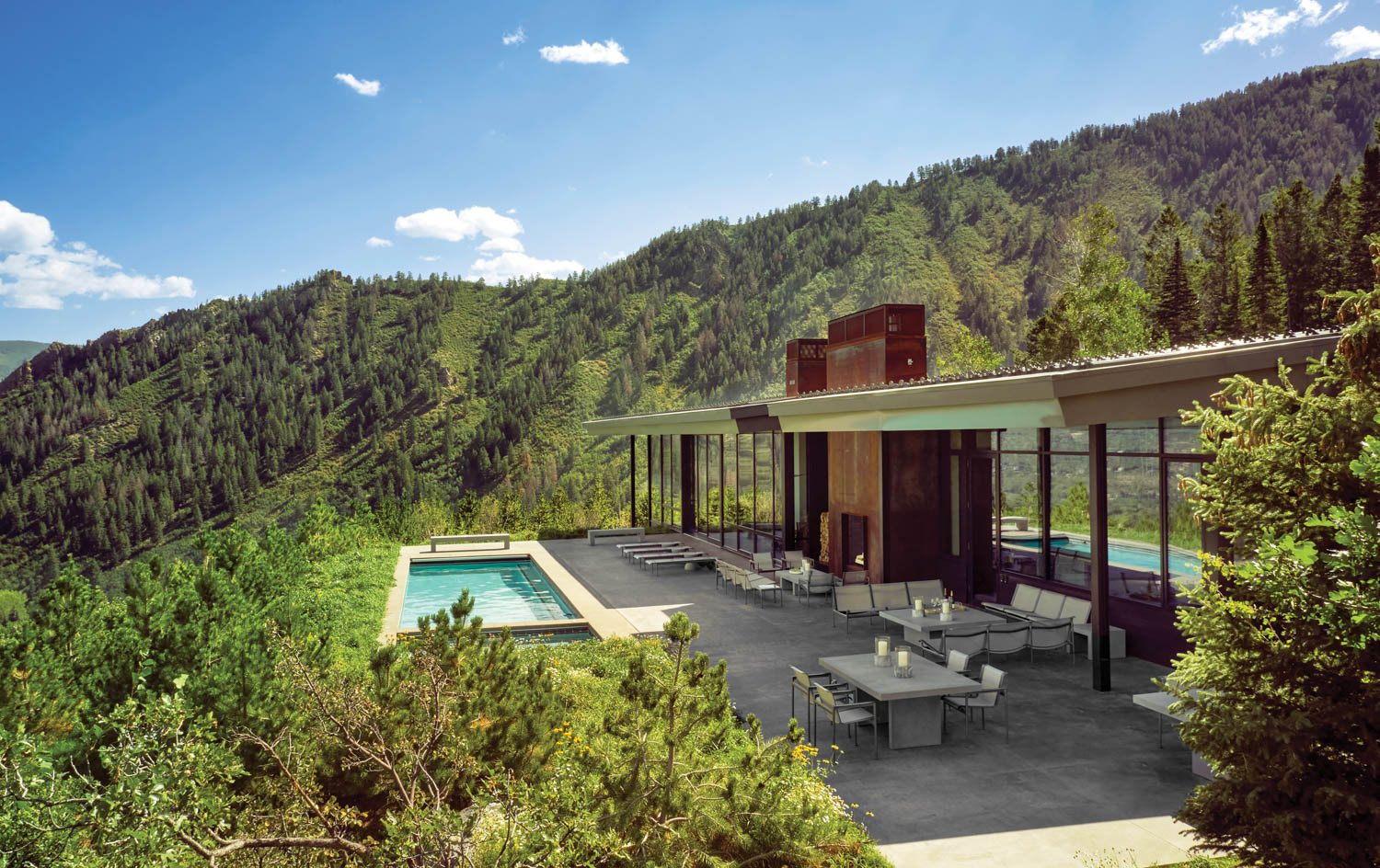 CCY Architects does not typically design a long entry sequence for houses in Aspen, Colorado, which gets over 12 feet of snow a year. But for a mountainside residence overlooking the Roaring Fork Vall­ey, the firm built a 90-foot path between the parking area and the front door. The isolated 6-acre site straddles an aspen grove and forests of evergreens and Gambel oaks. The clients envisioned a modern house that would honor the setting and display their collection, including works by Alexander Calder, Sol LeWitt, and Robert Rauschenberg. Read more about this relaxing home.
13. Rattan Offers a Meditative Focal Point in This Yoga Studio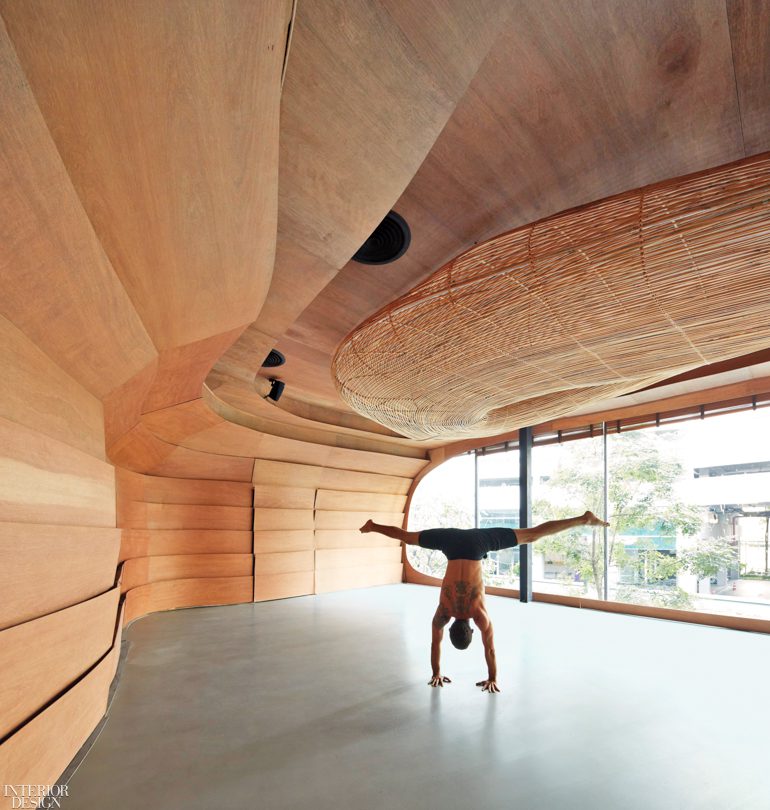 The Vikasa Yoga Retreat sits on a hillside on the Thai island of Ko Samui, a cluster of gabled bungalows rising on stilts above lush greenery, overlooking a turquoise sea. But when Vikasa's founder Kosta Miachin decided to open a studio in the capital of Bangkok, one of Asia's most dynamic urban centers, he knew he couldn't simply transport the retreat's rustic aesthetic to the heart of the metropolis. The facility would have to be both meditative and modern, its peaceful interior also a reflection of the vivid pulse of the city outside. Read more about this yoga studio design.
14. Subtle Neutrals Make Accents Pop in This São Paulo Apartment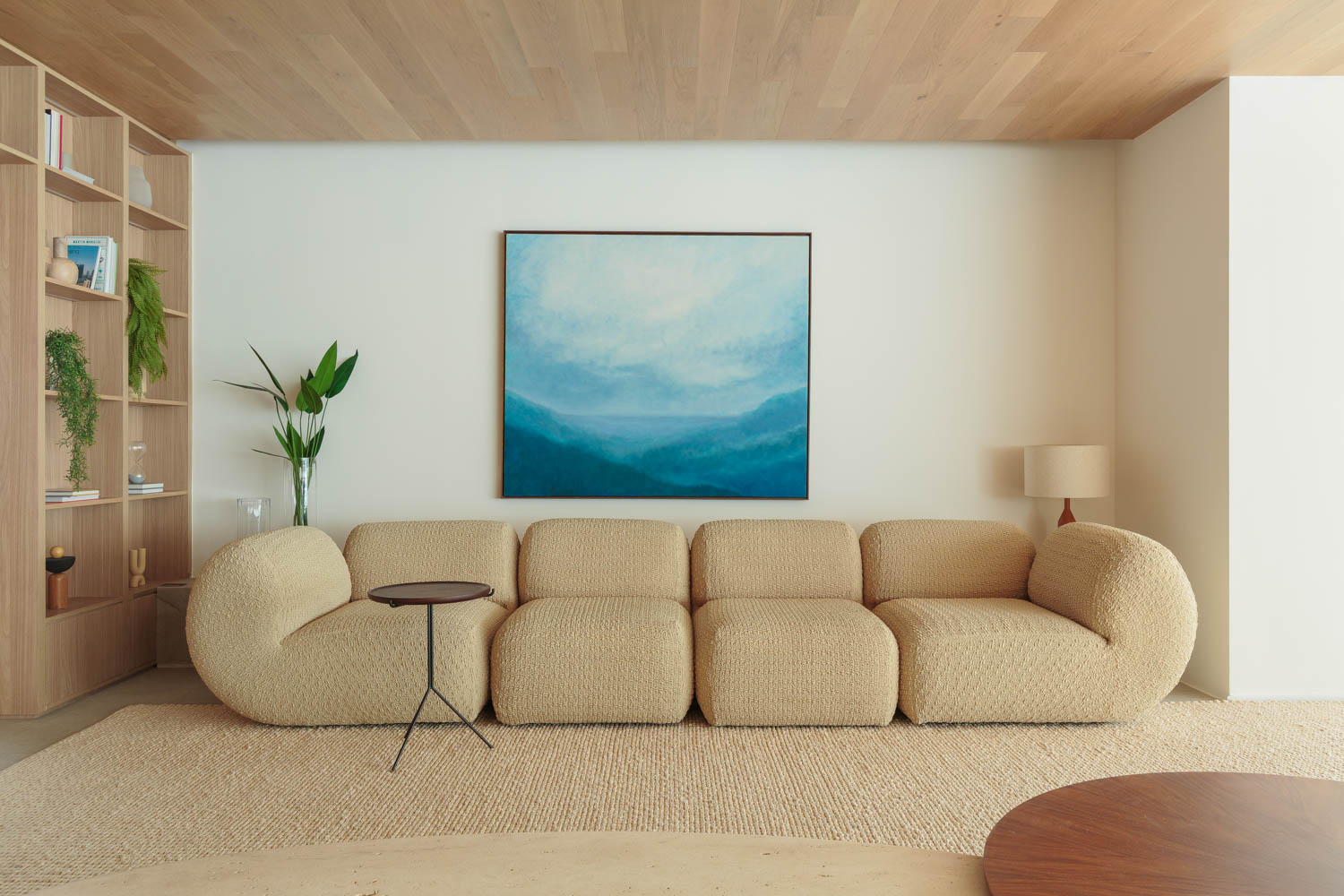 Pure lines, wood surfaces, and green vegetation form the material palette for this minimalist apartment in São Paulo, Brazil. With interiors by ARCHITECTS OFFICE, the home, which is part of the upscale Casa Alto de Pinheiros residential complex developed by Even, offers a warm and welcoming environment for a family of four. "The high standard of the development was one of the premises in the choice of materials, furnishings…" share the designers, "shaping the final mood board of this project." Read more about this relaxation room.
15. Workshop/APD Envision an Outdoorsy, Inviting Hospitality Destination in Cape Cod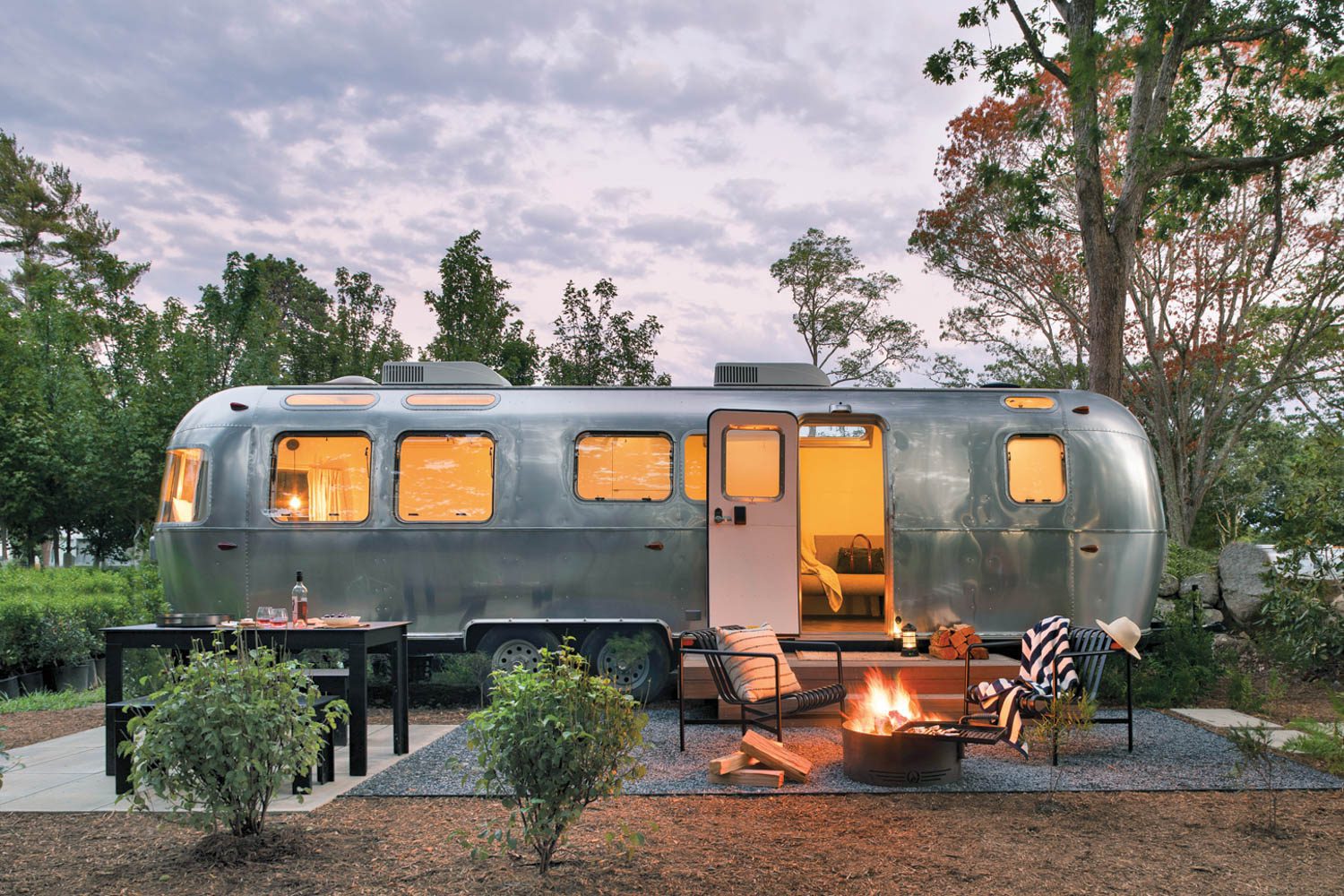 For the East Coast debut of the California-based hospitality brand known for upscale yet outdoorsy retreats near such national parks as Yosemite, rather than go the obvious route to conceive a sense of place for the New England property, Workshop/APD went in a different, though no less locally inspired, direction. "The Cape was an early laboratory for mid-century architecture," says Kotchen, whose firm oversaw the master plan of the 14-acre site, which hosts 88 customized Airstreams, 10 luxury canvas tents, and 10 cabins, plus the 8,100-square-foot clubhouse. Read more about outdoorsy design.