20 Homes With Striking Indoor-Outdoor Living Spaces
Indoor-outdoor living spaces top the wishlists of many homeowners—and for good reason. Who doesn't want to maximize space to entertain and relax surrounded by sweeping views and lush landscapes? Curated indoor outdoor spaces also expand possibilities around how people interact with their homes, establishing a more harmonious connection with nature. Think: Large windows, sliding glass doors, and open-plan layouts that invite in ample natural light as well as greenery, city scapes, and picturesque sunsets. Whether it's a modern country house, a chic city apartment, or a luxurious beachfront villa, these homes showcase the many ways indoor-outdoor living transcends architectural boundaries.
Editor's note: This story was originally published July 21, 2021, and has been updated to reflect the most recent selection of indoor outdoor living spaces. 
Must-See Indoor Outdoor Living Spaces for Every Season
1. This Tropical Modernist Miami Home is at One With its Surroundings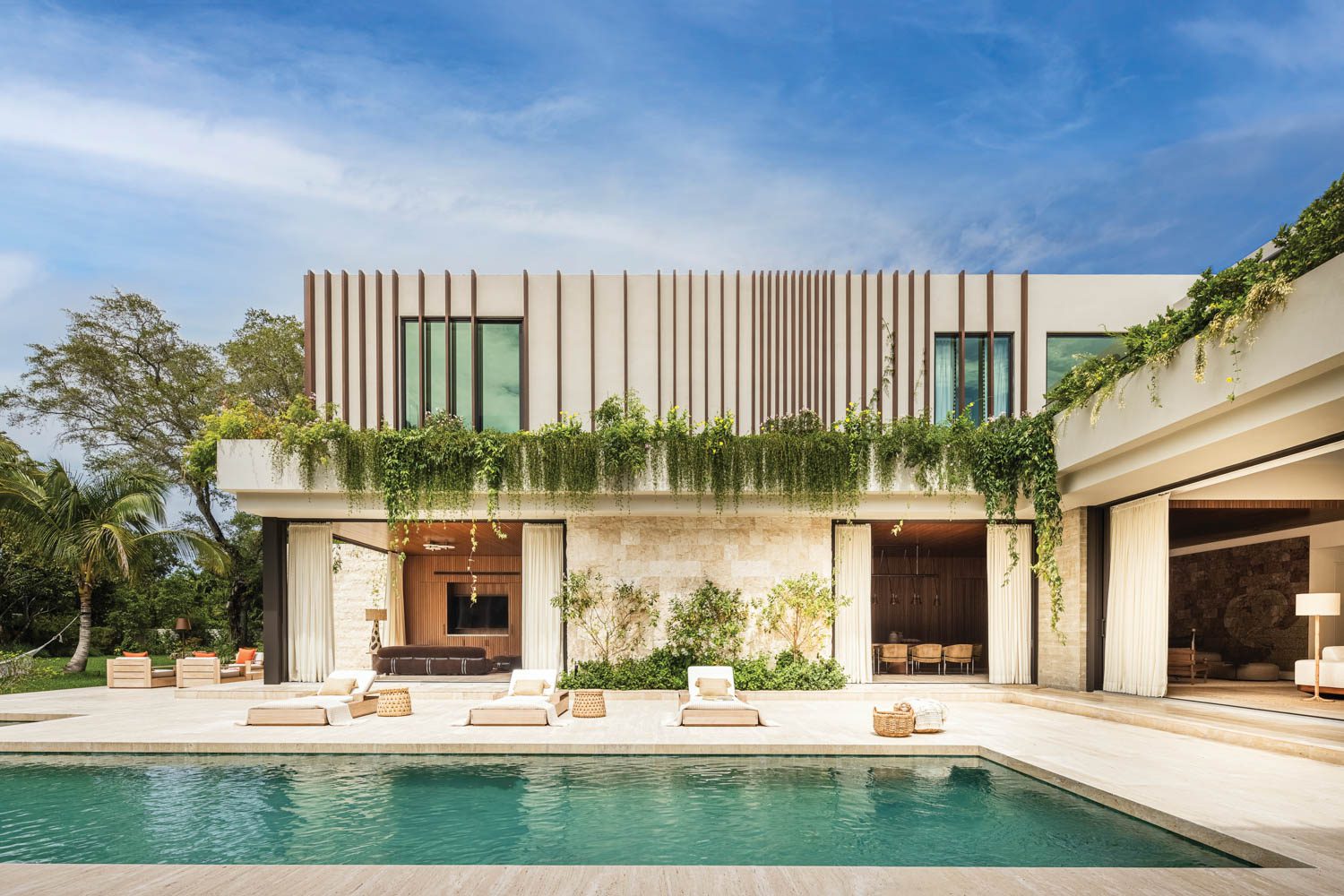 "This house is surprising for Miami," admits Max Strang, founding principal of Strang Design. While the city's name typically conjures up visions of South Beach residences packed on prime palm-tree-lined waterfront properties, he and firm partners Alexandra Mangimelli and Elizabeth Starr created something altogether different for a family relocating from Brazil. On an estate-sized oak grove just 20 minutes from downtown, the project accurately reflects the couple's heritage in everything from the layout and materials to the landscaping and furnishings. Read more about this eco-friendly home.
2. Daniel Joseph Chenin Crafts a Cinematic Desert Dwelling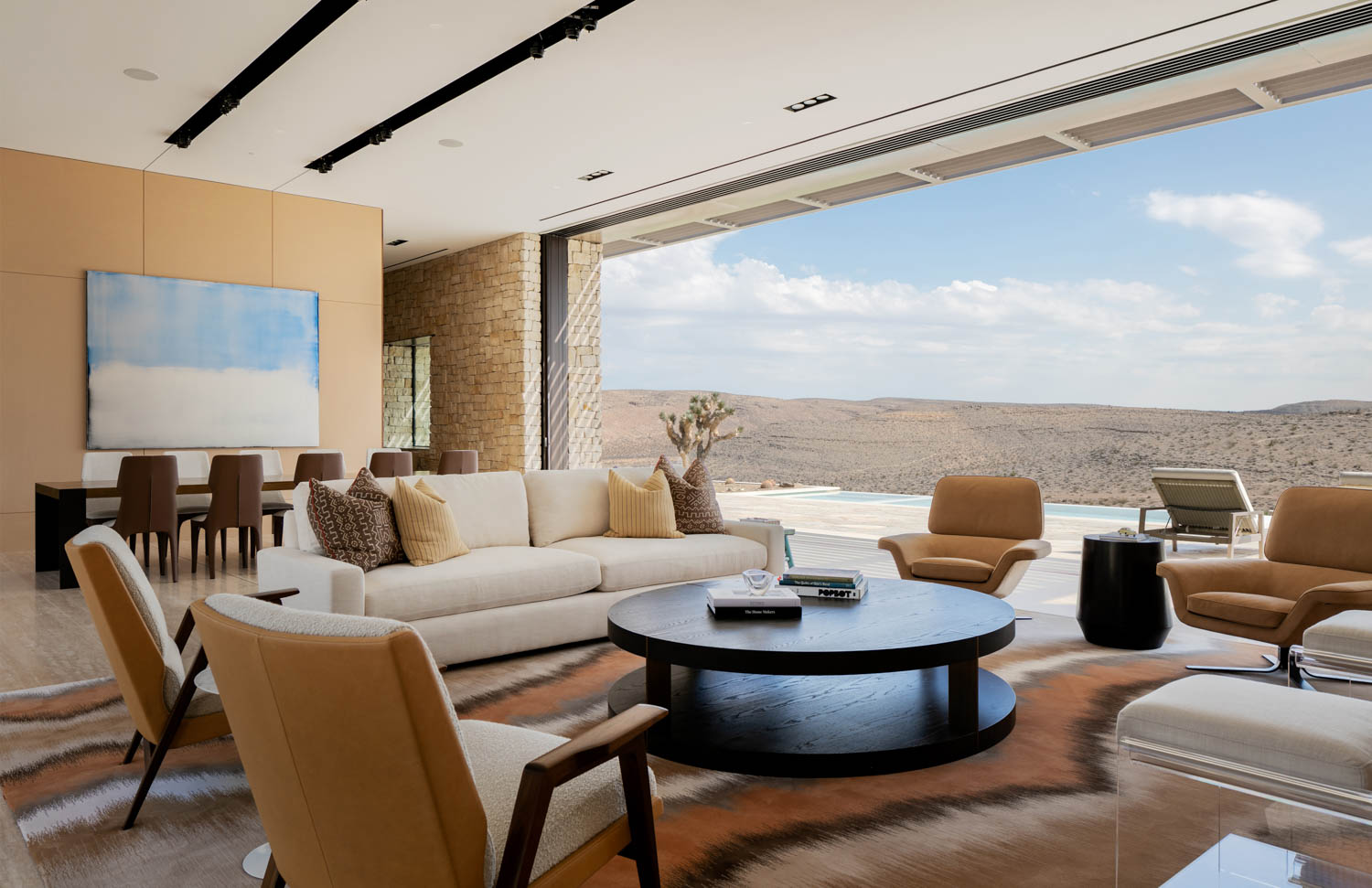 Daniel Joseph Chenin's artistic process begins with a storyboard—sketching scenography and drafting plot points in a narrative informed by time, space, and nature. Chenin's architectural choreography makes his eponymous firm as singular as its projects, among them, a residential oasis the Mojave Desert called Fort 137. Chenin sets the scene: "Las Vegas is a very young city compared to New York or Los Angeles. It's a watering hole evolved from a spring." The project, he continues, pays homage to the isolated frontier of nascent Vegas, its vernacular inspired by early settlements of stacked rock structures and the adobe-clad outpost known as the "Old Mormon Fort," Vegas's first permanent dwelling. Read more about this desert dwelling.
3. A São Paulo Abode by FCstudio Prioritizes Outdoor Living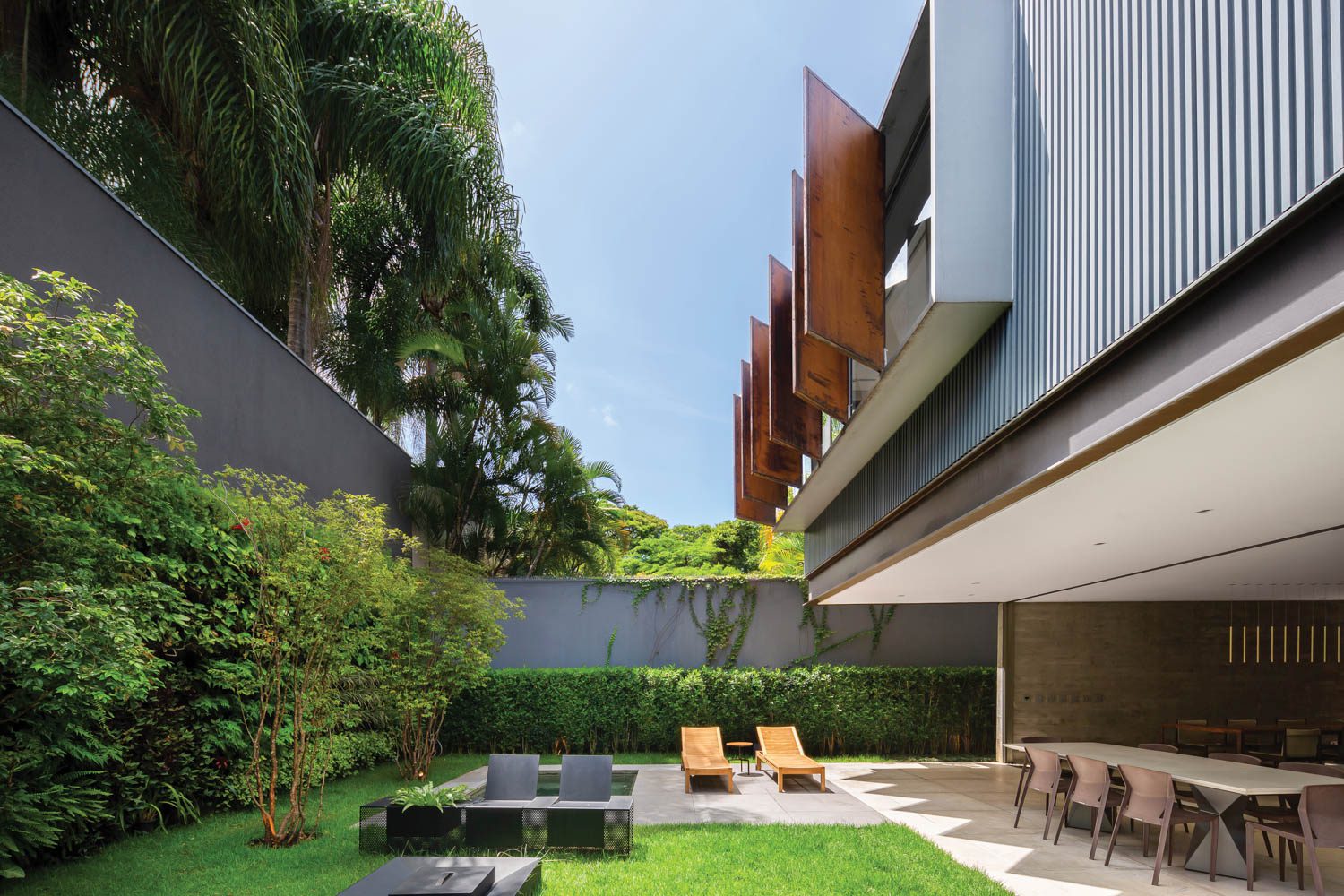 If you live in São Paulo, a city with a subtropical climate, you want as much outdoor living space as possible. Which is exactly why Casa Bento was commissioned. Its owners, a fortysomething couple who also work together, were frustrated by the limitations of their previous residence. A traditional house with conventional rooms, there was no flow between the various domestic spaces, much less with the surrounding garden. The couple, who have two young daughters, now 10 and 6 years old, dreamed of a home where they could indulge their love of entertaining family and friends—indoors and out. Read more about this home design.
4. A Tiny Concrete Structure Offers Writer Residencies in Scotland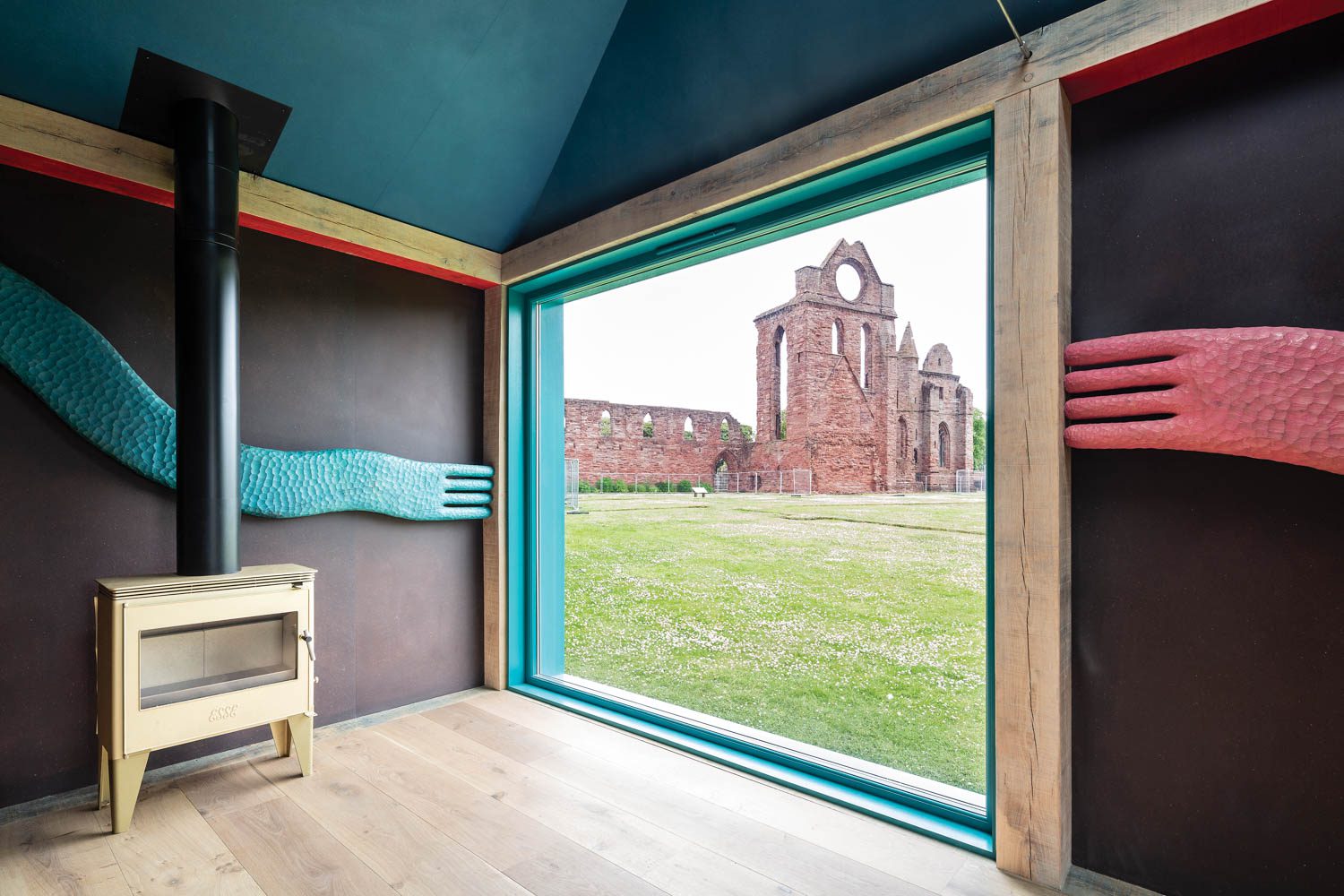 Bobby Niven is an artist's artist. A sculptor who's had solo shows throughout the U.K. and Canada, he also devotes part of his practice to the Bothy Project, a network of simple shelters he's designed across Scotland, each a unique response to the surrounding landscape and an invitation to artists to retreat in them off-grid. So, when it came time to commemorate the 700th anniversary of the Declaration of Arbroath, a document listed by UNESCO on the Memory of the World register that essentially called for freedom from English claims of sovereignty over Scotland, with a small building devoted to creativity on the grounds of the 12th-century Arbroath Abbey, Niven was selected for the commission. His work beautifully intertwines with the concept of indoor outdoor living spaces, merging art with the environment. Read more about this tiny house retreat.
5. Thomas Melhorn Designs a Florida Home Inspired by Wabi-Sabi Philosophy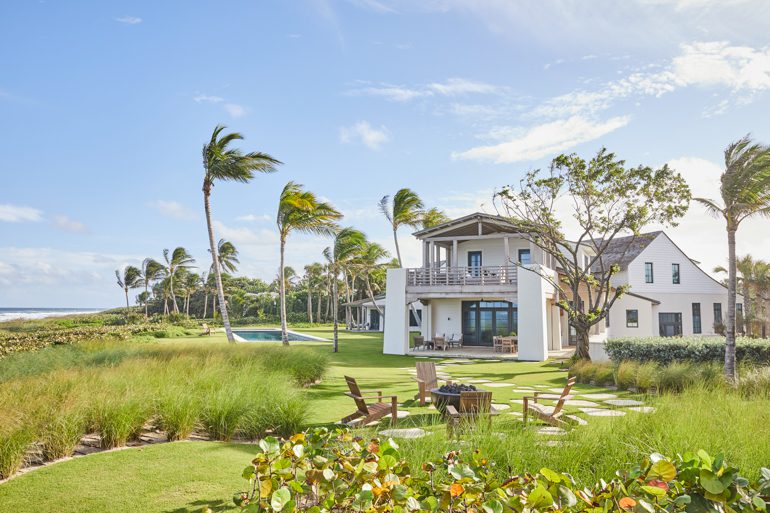 "The architecture of this house came from the spirit of place; the setting drove the look and personality," confesses Christian Thomas, principal architect at Thomas Melhorn. "The gentle curve in the roof was in response to the shape of the dunes from years of ocean breezes, the materials were carefully curated to [reflect those] that would be found on or nearby the site, and the shape of the structure was in response to the light and views." Read more about this beach home.
6. An Equine-Friendly Oasis in the Andes Mountains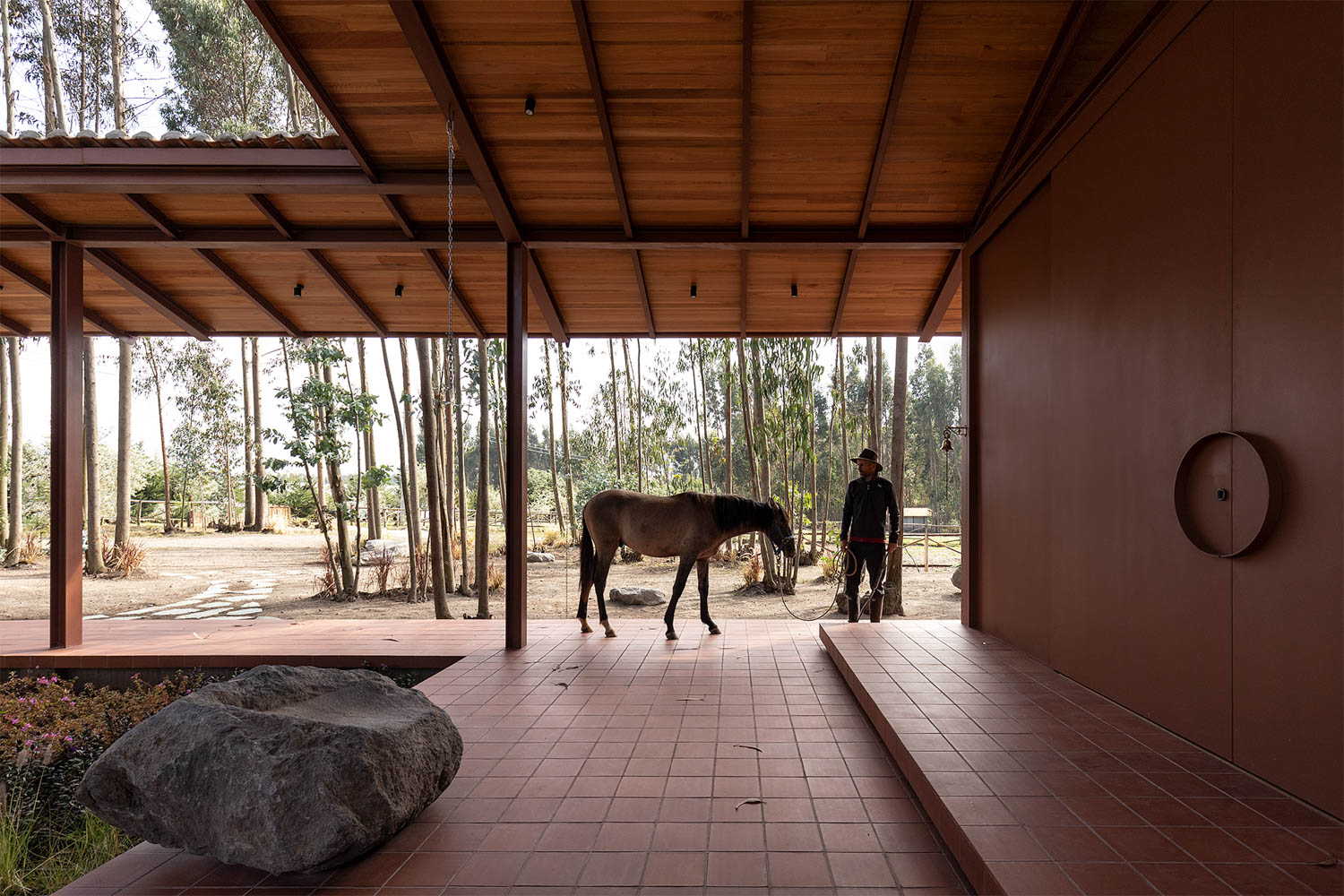 Tucked in a rural town in the province of Cotopaxi, Ecuador, this ranch home blends seamlessly into its surroundings. Rather than focus on the design of the house or stables specifically, the brief tasked local firm, Gabriel Rivera Arquitectos, to study the space between the two structures, transforming an empty lot into one that fosters connection. Known as El Picadero, the home is located in a rural area fueled by agriculture, mainly cattle raising, in the Andes Mountains. While the locale features a striking landscape, its proximity to Cotopaxi and Illinizas—a pair of volcanic mountains—presented challenges for the design team, including a cold climate, sandy soil, and Andean vegetation. Read more about this mountain home.
7. At Home With Cini Boeri in Sardinia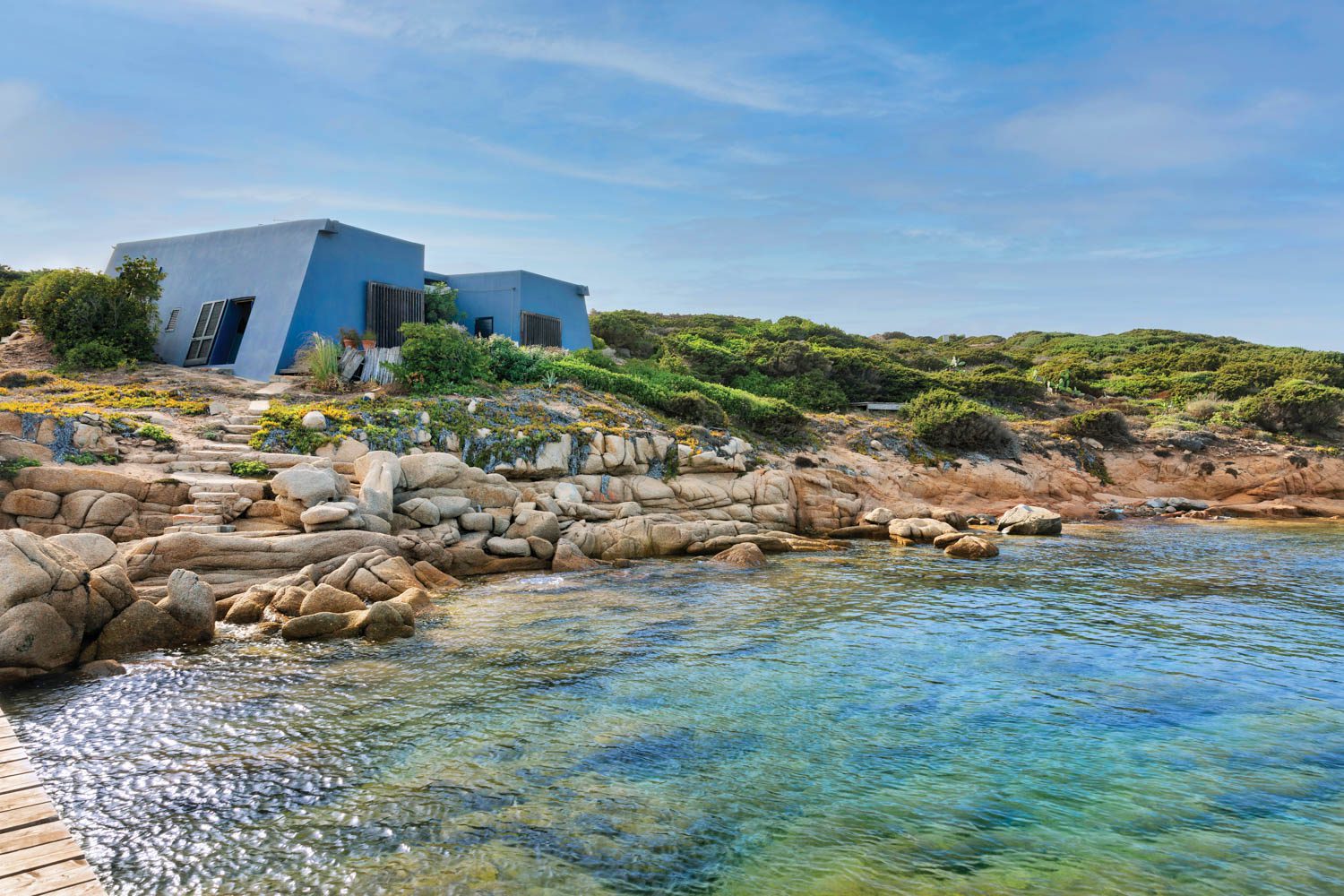 Not so long ago, in Italy, women architects were few and far between. In fact, when Cini Boeri graduated from the Politecnico di Milano in 1951, she was one of only three. Through the course of her career, starting as an intern for Gio Ponti, then collaborating with Marco Zanuso before establishing Cini Boeri Architetti in Milan in 1963, she rose to be Italy's first prominent postwar female architect and designer. Two seminal architectural projects were vacation houses for her family located on La Maddalena, an island off Sardinia in the Tyrrhenian Sea. Read more about these striking homes.
8. Serenity Prevails in This House Surrounded by Nature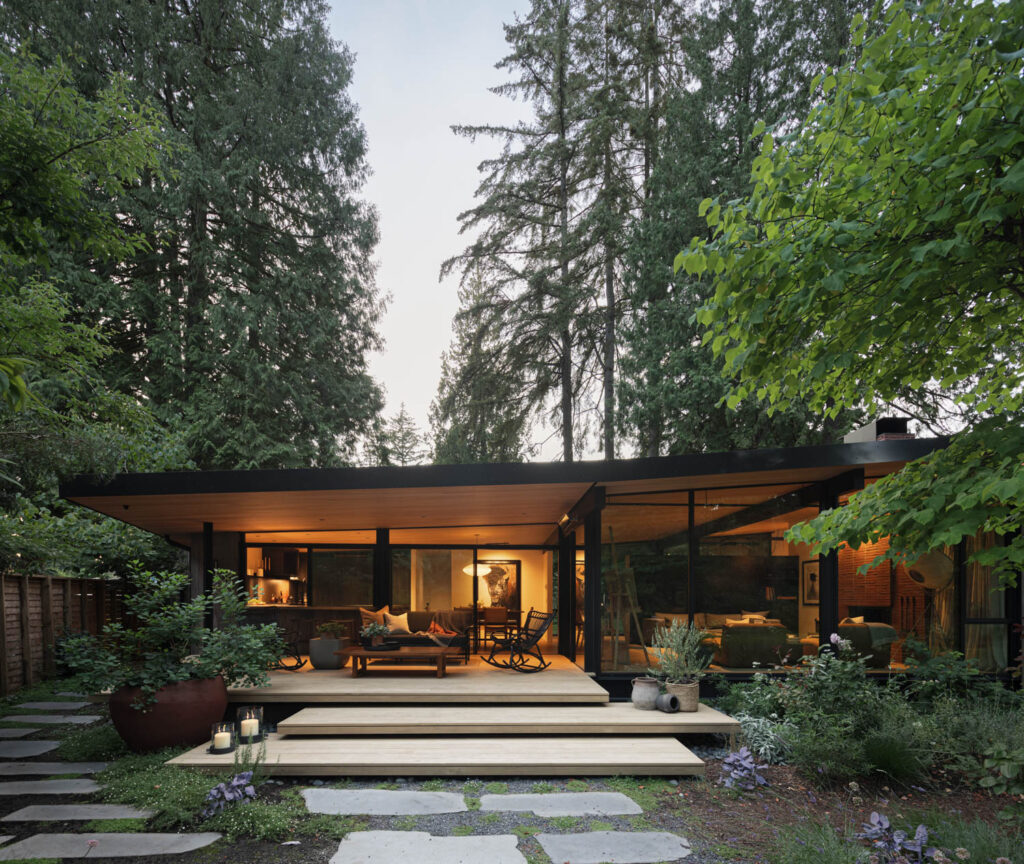 Nestled among the trees, this home enticed a young, creative couple to move from New York City to North Vancouver, British Columbia, where they decided to put down roots and raise their two children. The family liked the original proportions of the property and decided to expand the footprint minimally. The mid-century structure, however, didn't fit their vision so they called on Olson Kundig to reinvent it. The team of Erica Colpitts Interior Design took care of the interiors, which were inspired by the peaceful surrounding landscape and rural British aesthetic to echo the homeowners' fascination with the style. Read more about this indoor-outdoor living oasis.
9. An Indoor-Outdoor Oasis Along the California Coast With Striking Interiors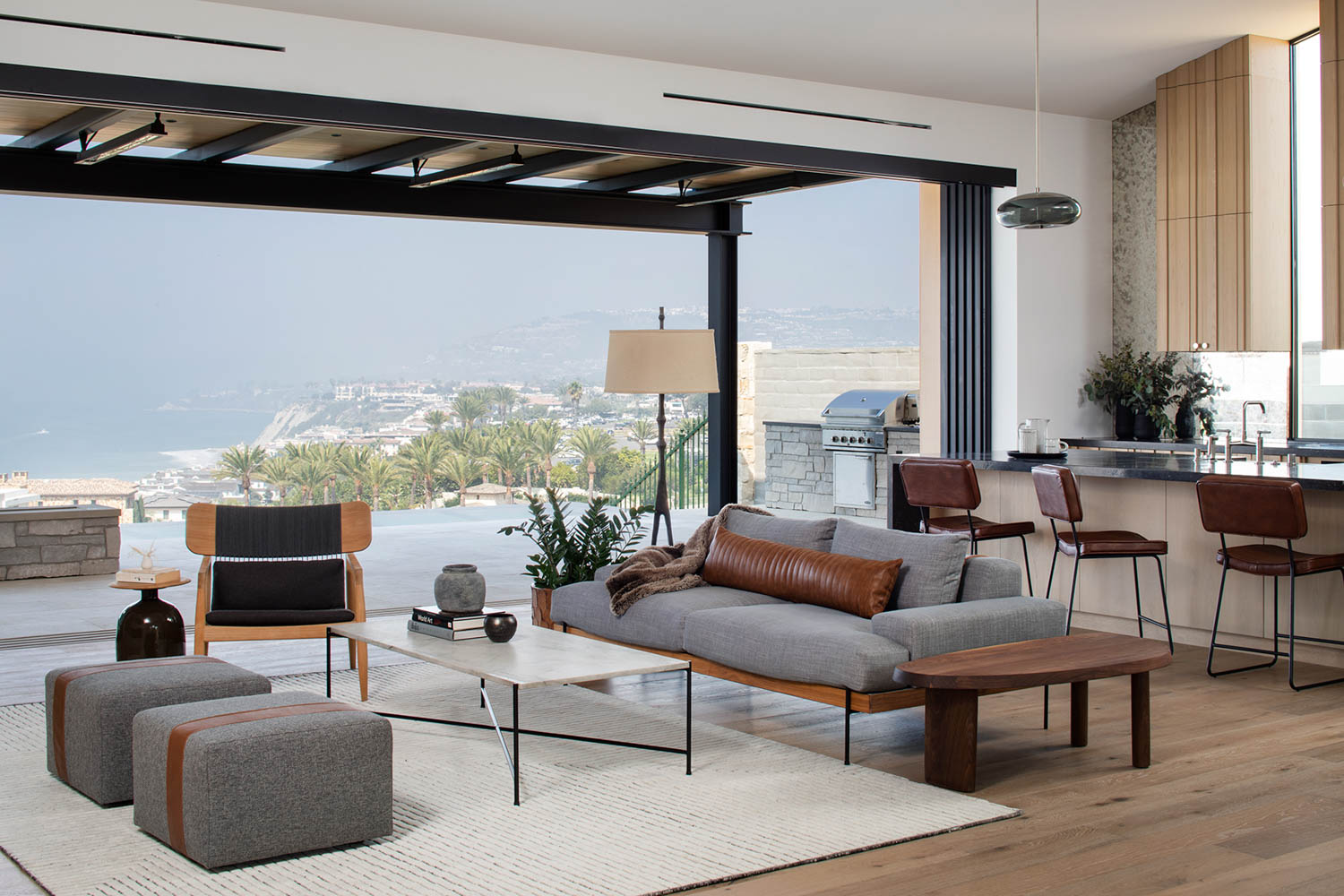 The old adage—location, location, location—holds true, especially when it comes to coastal living. That's why Summer Jensen, CEO and principal of Hawk & Co., decided to take advantage of this home's sweeping California views when designing its interiors. The structure of the house, designed by Brandon Architects, and its simplicity of materials offered a starting point. "I always look to architectural cues to inform the space," shares Jensen, noting that the home offers a nod to those in Napa Valley—rustic meets industrial. Read more about this California home.
10. This Sustainable Home by Pascali Semerdjian Architects Reflects São Paulo's Style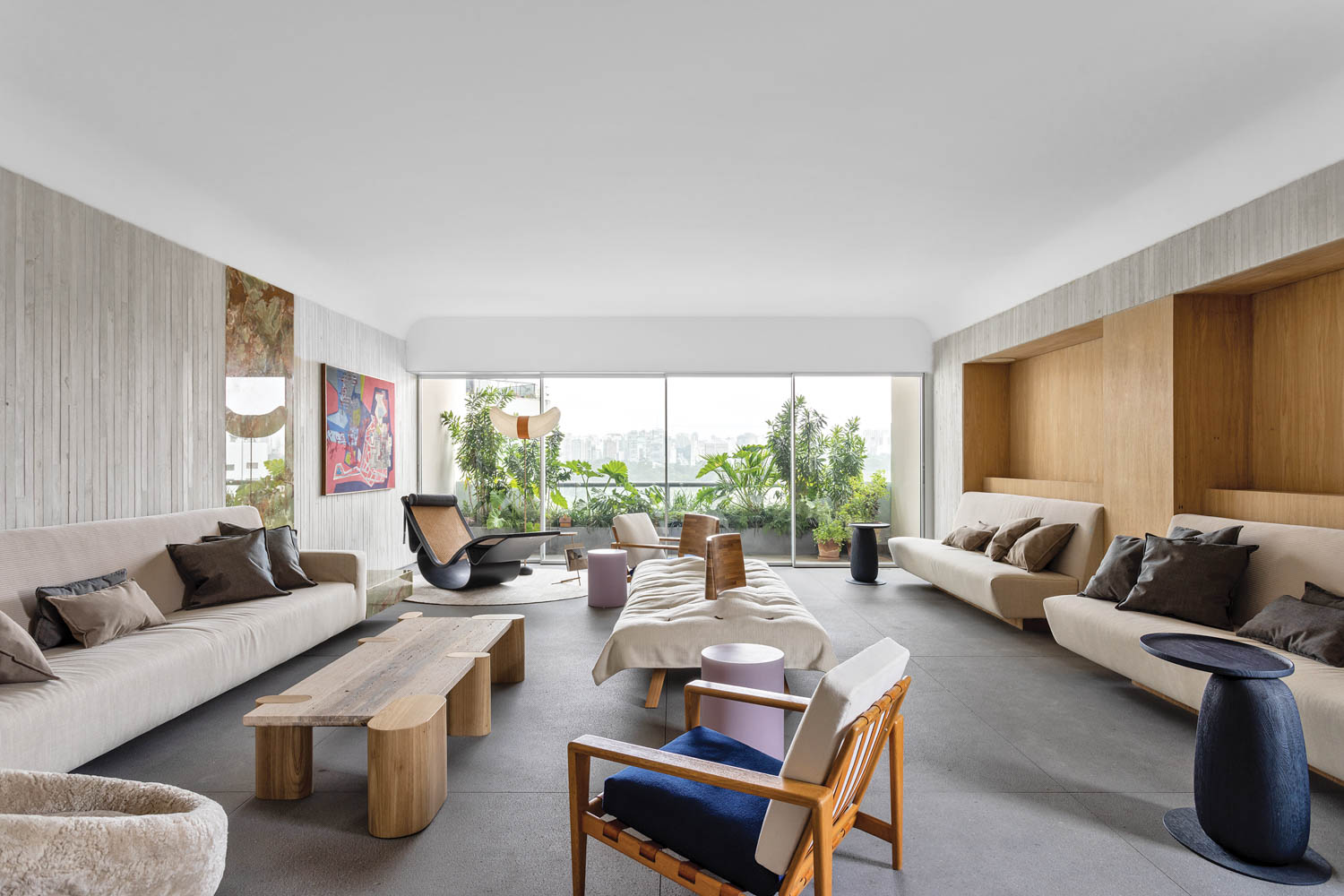 The first time Brazilian architect Sarkis Semerdjian met clients Renato Lulia Jacob and Emily Perry, the chemistry between them was obvious. Semerdjian, who is coprincipal with Domingos Pascali of the São Paulo-based firm Pascali Semerdjian Architects, had gone to London in late 2019 to visit friends when he was introduced to the pair, and the dynamic grew from there. After finding a suitable apartment in Vila Nova Conceicao, a leafy neighborhood adjacent to São Paulo's Ibarapuera Park, a gut renovation followed complete with plenty of greenery. Read more about this apartment design.
11. 4 Sculptural House Designs in Tip-Top Form
Inspired by American vernacular architecture, such as barns, and Louis Kahn's tripartite Kimbell Art Museum, a trio of identical pitched structures troweled in stucco and designed by Standard Architecture form a neat row. The living room opens to an expansive patio, complete with a modern pool design. Inside, rift-sawn oak paneling and floorboards warm the expansive 11,000 square feet, figuratively speaking, while oversized board-formed concrete fireplaces heat things up literally. Read more about this indoor-outdoor living space.
12. T.K. Chu Creates a Meditative Home Complete With a Shrine in Suzhou, China
Located in the Old City of Suzhou, China, next to the Couple Gardens (a UNESCO World Heritage site), sits villa Smriti Curtilage—a residential complex steeped in nature, art, and the city's storied past. When renovating the roughly 11,732-square-foot space, the team led by T.K. Chu of T.K. Chu Design Group, took into account the surrounding garden to inform the home's architecture. Expansive floor-to-ceiling windows ensure each ground-floor room offers a view, and curated accents throughout—such as biomorphic furnishings—solidify the connection to the landscape. Read more about this home.
13. Aidlin Darling Design Carves Out a Soaring Home on a Bay Area Precipice
Tucked into a wild, rugged setting—a steep hill on windswept Belvedere Island near San Francisco—this house by Aidlin Darling Design is at once resolutely modern and yet looks as if it's always been there, with crisp stone walls and deep timber overhangs that seem rooted in the earth. "The structure feels very permanent," principal and cofounder Joshua Aidlin affirms. Building such a house on such a site takes more than a little ingenuity, and the firm, having completed other projects on the island, was familiar with the rigors of the task—the primary challenge being to design something grounded that would offer shelter from the harsh elements. Read more about this home design.
14. Zarysy Reimagines the Cabin Aesthetic for a Lake House in Poland
When envisioning the interiors of a lake house in Sroda Wielkopolska, Poland, designer Jan Sekula, founder of Zarysy, drew inspiration from its natural surroundings, incorporating raw materials throughout, such as warm woods and grey stones. The decades-old trees on the property informed an interior aesthetic that melds the rustic with the modern, using green forest hues and pops of yellow and burgundy to create a cohesive thread throughout the indoor outdoor living spaces. Read more about this lake house design.
15. Laidlaw Schultz Architects Designs a Laguna Beach Beauty
Literally and figuratively, the project was picture perfect. Re the former: a Laguna Beach hillside setting with expansive views of the Pacific Ocean, about 3/4 miles away. Re the latter: the owners were open to a contemporary intervention for the late 1960s dwelling that would become their SoCal vacation home. Their only stipulation? That it be a departure from the traditional leanings of their primary Dallas residence. Craig Schultz, who led the job as partner of Laidlaw Schultz Architects in nearby Corona del Mar, got the message, while being equally sensitive to surrounding neighbors. Read more about this beach house design.
16. Architect Andreas Bründler Transforms a Former Carriage House into a Family Home
Not far from the 14th-century Spalentor Gate, an impeccably preserved part of the wall that once surrounded the Swiss city of Basel, a path leads to a parklike inner courtyard dotted with trees. This quiet oasis, removed from the town's bustle and noise, is the site of a striking 19th-century building, the carriage house of a villa that formerly occupied the property, which architect Andreas Bründler and his fashion-designer wife, Sandra, have transformed into their family home with plenty of indoor-outdoor living spaces. Read more about the family home design.
17. Inside an Award-Winning High Desert Retreat by Aidlin Darling Design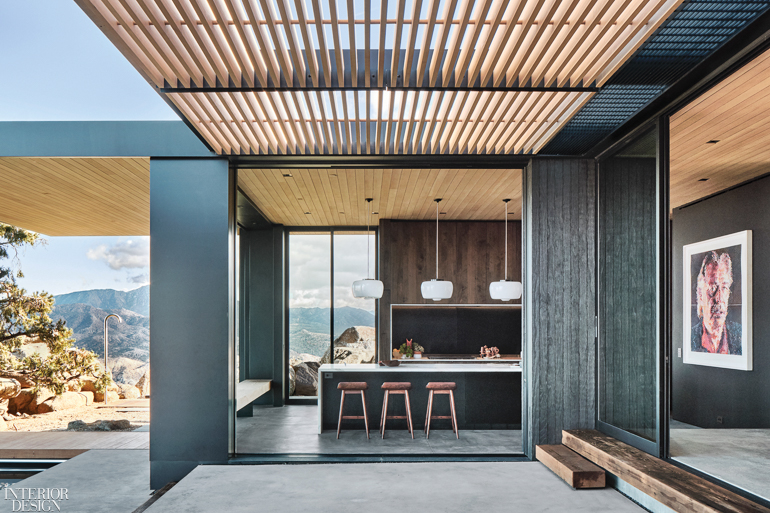 The clients, a city-dwelling couple, yearned for a refuge from urban life within the sublime desert-scape. Aidlin Darling Design responded by siting the 3,100-square-foot residence on a rocky plateau overlooking the Coachella Valley and San Jacinto mountain range. Composed of seven linked volumes bounded by two concrete anchor walls, the home's somewhat unusual footprint was conceived to fit the boulder-strewn landscape, which the design team took pains to preserve (not one Pinyon tree was cut down during construction). Read more about sustainable desert home.
18. Explore a Lush Beverly Hills Abode With Indoor-Outdoor Living Space
Smack in the heart of Beverly Hills a contemporary house presents a refreshingly modest face street-side. Nothing overly grand, nothing overwrought. Especially in comparison with many of its neighbors. The renovation of a single-story 1930s bungalow measuring little more than 2,000 square feet was done by the consortium of Abramson Architects, Magni Kalman Design, MODAA Construction, and the entrepreneur owner, himself a creative and design savvy, and features plenty of patio space to take in the lush surroundings. Read more about this home design.
19. Studiohuerta's Residence in Cabo San Lucas Works in Concert With the Elements
Growing up in Tijuana, Mexico, Gabriel Huerta lived in the kind of modest concrete house that fills cities across the Baja California peninsula. "Half of the lot was a courtyard," the Studiohuerta principal says. "The house was made cool through thermal mass and this exterior space. I don't remember living with air conditioning." As Baja urbanized in the mid 20th century, architects developed a pragmatic building style that used limited resources to shelter residents from the arid climate. For a vacation home in Cabo San Lucas, Huerta employed the same strategies and gave them a modern sculptural form. His approach resonates with the essence of indoor outdoor living spaces, harmonizing with the natural surroundings. Read more about the vacation home design.
20. Dylan Farrell Design Boldly Renovates a Sydney Home to Stimulate the Senses
"In just under four months, we crafted a modern, audacious 'surprise' home," says Dylan Farrell, cofounder of Dylan Farrell Design (with his wife and business partner Nicolette). For this four-bedroom Sydney home, the objective was to create modern spaces for a young family. With its quirky shapes, colors and proportions, the daring decor combines with minimalist hallmarks, and sharp details and tones throughout including a dining room that opens to the outdoors. Read more about the home design.