14 Simply Amazing Retail Store Interior Designs
When it comes to enticing shoppers off their screens and into brick-and-mortar locales, design details are paramount. From the streets of Tokyo, where minimalist store interiors house cutting-edge technology, to the tree-lined avenues of Paris, where Haussmann-style structures meet avant-garde expression, each retail locale offers a unique narrative of place. But the most innovative store designs go a step further, creating multi-faceted spaces to host events and community gatherings. As designers continue to push the boundaries of conventional retail store interior designs, here's a look at 14 environments that raise the bar, offering experiential spaces that invite connection. 
1. Peter Marino Architect Renovates a 3-Story Dior Boutique in Paris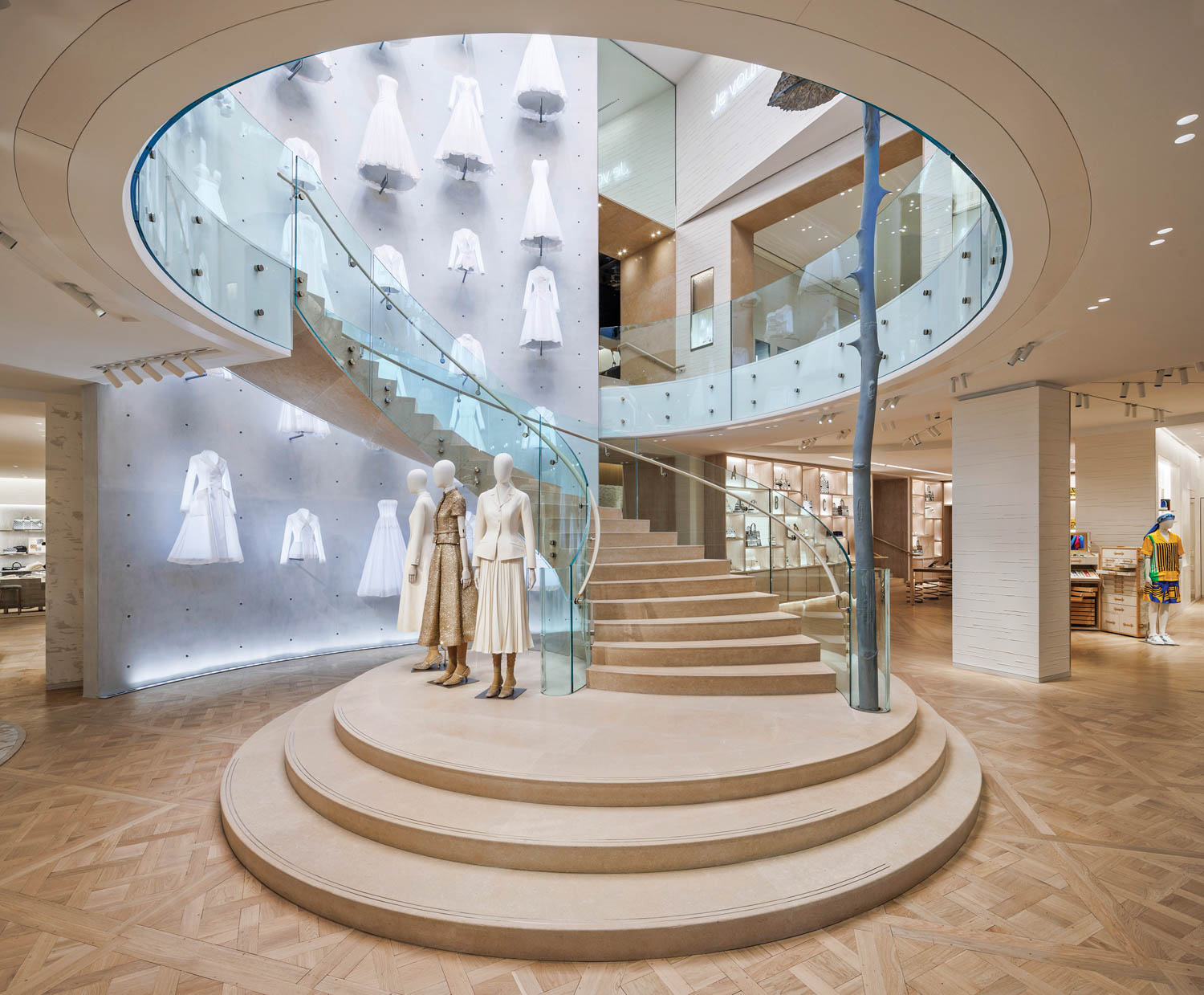 Back open after a two-plus-year renovation, Dior's 50,000-square-foot, three-level boutique—which includes haute couture salons, two eateries, three gardens, and a bookable private apartment—unfolds in a spatiotemporal narrative akin to a theater set, creating what firm principal and Interior Design Hall of Fame member Peter Marino describes as a journey through the "inner essence" of the brand. "It's not one idea through­out but, rather, walk-through spaces that tell a story, that keep the customer engaged and emotionally connected with Dior from start to finish." Read more about the design of the Dior boutique.
2. A Lladró Concept Store Opens in New York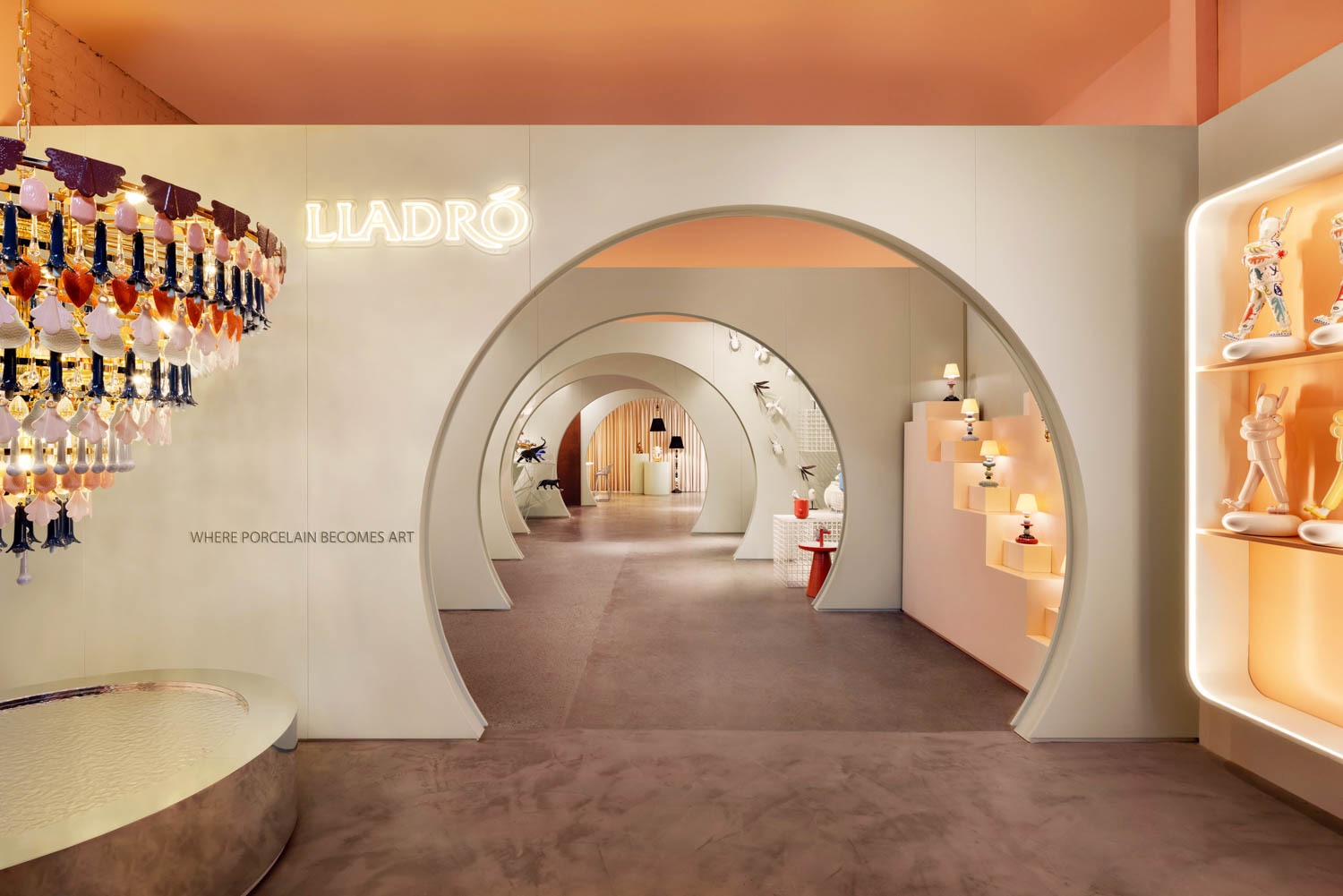 Spanish brand Lladró is known for its whimsical, eccentric porcelain pieces, ranging from avant-garde lighting to quirky figurines such as the trophies for the NYCXDesign Awards, which are a unique version of Lladró's iconic The Guest statues by Jaime Hayon. Now, in celebration of its 70th anniversary, the company opens up shop in New York's Meatpacking District next door to the recently shuttered Soho Home store. "It's an important launch that responds to our mission to continue revitalizing porcelain," says company CEO Ana Rodríguez. Read more about the Lladró store interior design.
3. Green Qween Dispensary Honors Queer History Through Design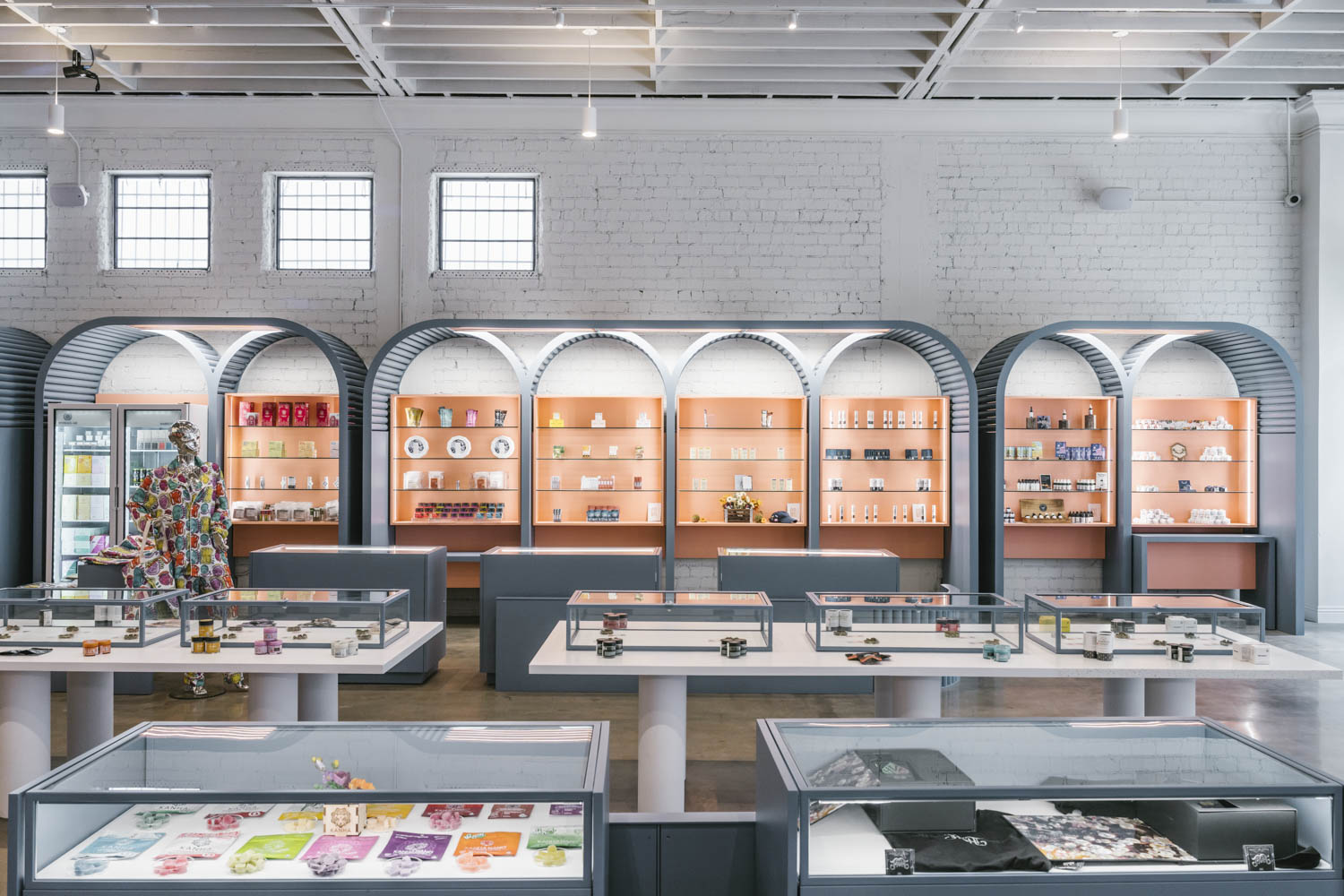 Part community organization, part social enterprise, Downtown Los Angeles cannabis retailer, Green Qween, has vowed to do business differently. Located in a refurbished Art Deco building on Broadway Theater Row, its apricot and mint fluted metal displays, light-reflecting disco ball, and crisp geometry not only make it an aesthetically pleasing space but one where all are welcome. But the design concept stretches beyond aesthetics, referencing queer history. Read more about this cannabis dispensary interior design.
4. Signed, Sealed, Delivered: See the Baltic Stationary Shop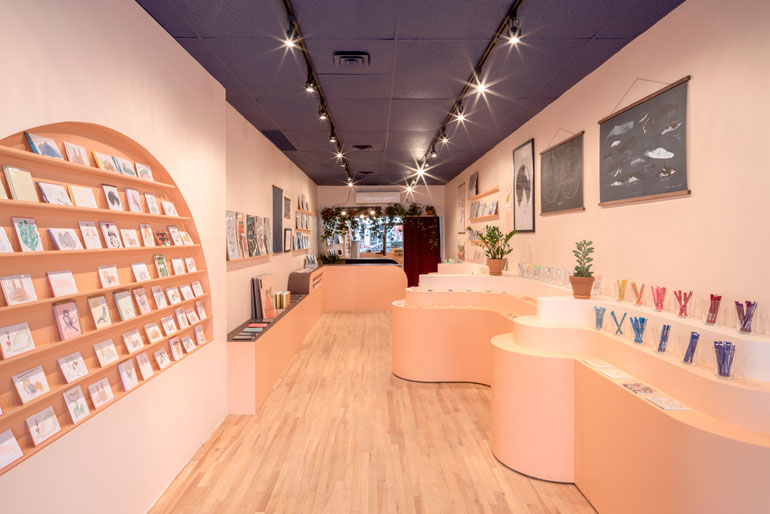 A successful store needs its customers to linger and wander. For the second outpost of Montreal stationery shop Baltic Club, architecture firm IvyStudio encouraged shopping and exploring. Working with a 10-feet-wide space, architects Philip Staszewski and Gabrielle Rousseau inserted curving, playful displays inspired by the company's wares. The design of the additions led to a distinctive experience, despite it being a small shop. Read more about this retail store interior design.
5. Explore the De Vinos y Viandas Wine Shop by Zooco Estudio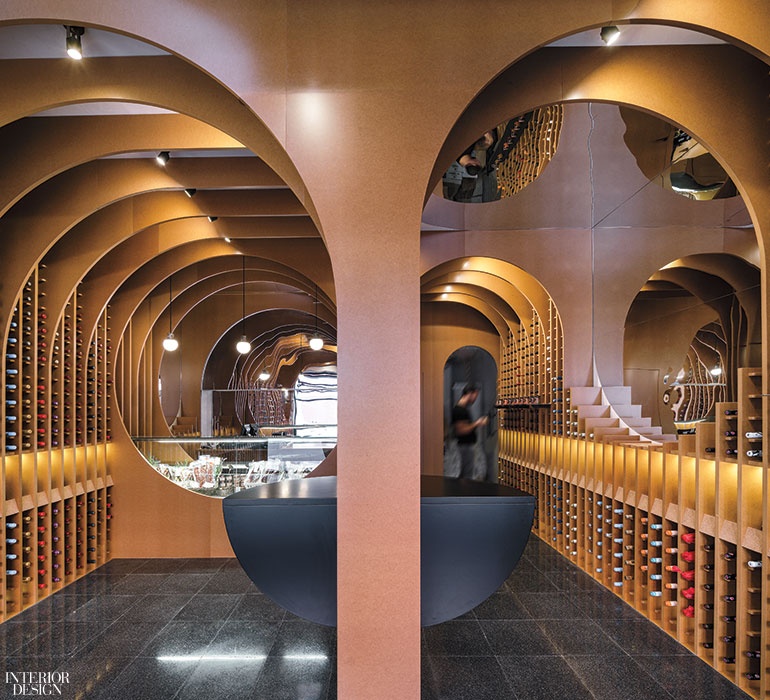 Although Valladolid, a large Spanish city, is no tourist haven—it's a hard-working metropolis with a buzzing economy—it is known for its mucha marcha, or ebullient nightlife, provided by busy cafés and tapas bars, great restaurants, and appealing stores, an intriguing new wine shop among them. Set behind a modern facade on a motley streetscape a few steps from the city's Old Town, De Vinos y Viandas is Zooco Estudio's contemporary homage to the region's famed underground wine bodegas—an imaginative update of the ancient vaulted cellars, built by Benedictine monks, that populate the rolling hills of northwest Spain. Read more about the wine shop design.
6. A Mykonos Jewelry Store Makes a Splash With Unexpected Interiors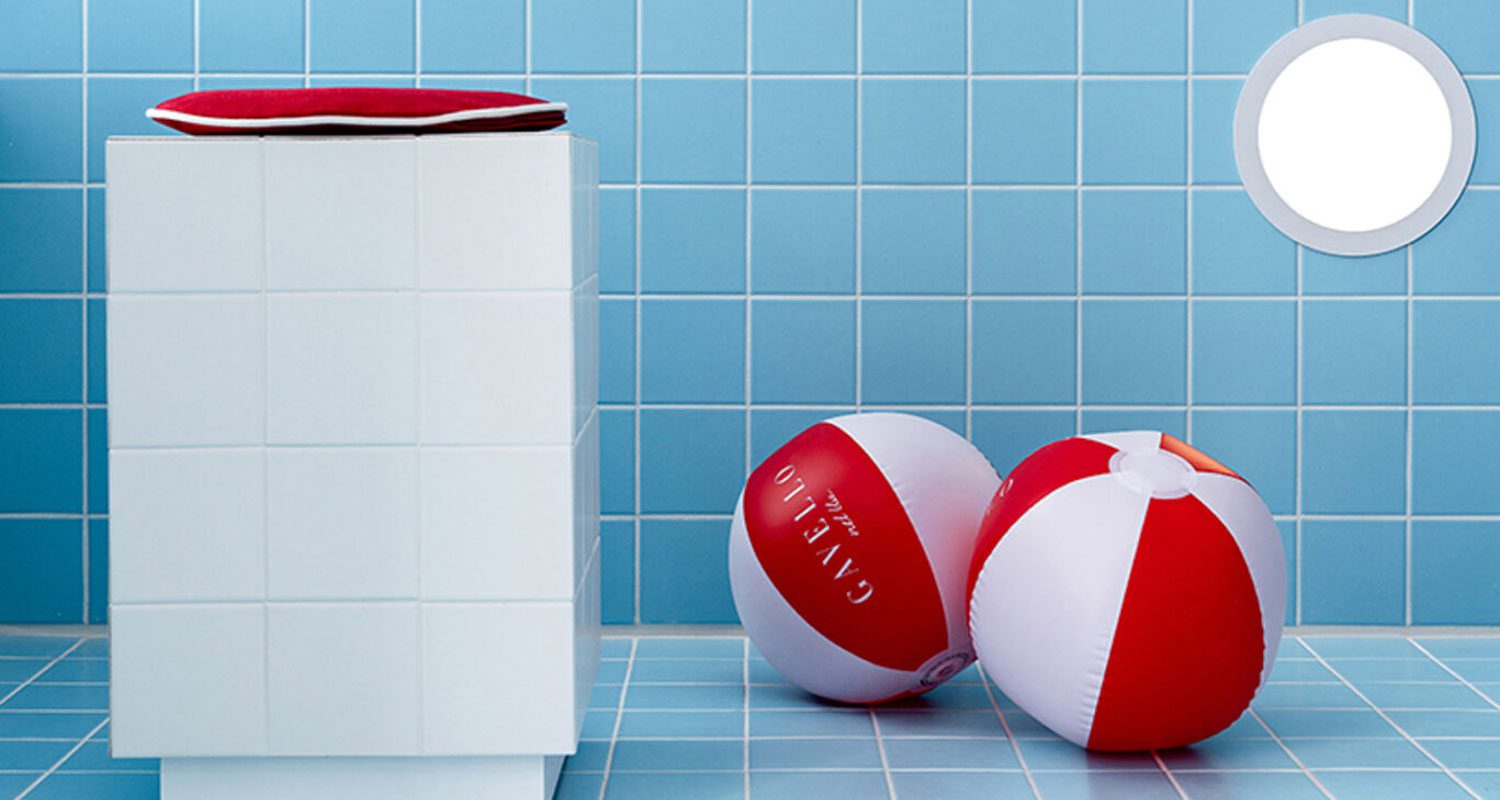 Athens-based design studio Saint of Athens dipped its toes into a unique retail project, pairing with Dive Architects for Italian jewelry brand Gavello's Mykonos storefront. While the Greek island provided a pristine backdrop and picturesque architecture, Saint of Athens creative director Nikos Paleologos also looked to principles of minimalism, eye-soothing forms, and subtle beauty. "The point was to combine the local spirit with a sense of modernity," he says. Read more about this playful retail store interior design.
7. Frama Studio Store's Copenhagen Flagship Blends Scandinavian and Organic
"All of what we do is as simple as it can be," Niels Strøyer Christophersen states. As Frama Studio's creative director and founder, he carries that viewpoint through from the firm's product designs to its interiors. But his version of simple embodies a Scandinavian-meets-organic sensibility. That's evident at his Copenhagen headquarters, which incorporates the flagship of its retail arm, Frama Studio Store. (Smaller shops are in Oslo and Stockholm.) Relocating from a nearby workshop, Frama now occupies the former St. Pauls Apothecary, a historic structure dating to 1878. Read more about this historic retail store interior.
8. Discover a Clothing Brand's Showroom That is Always in Bloom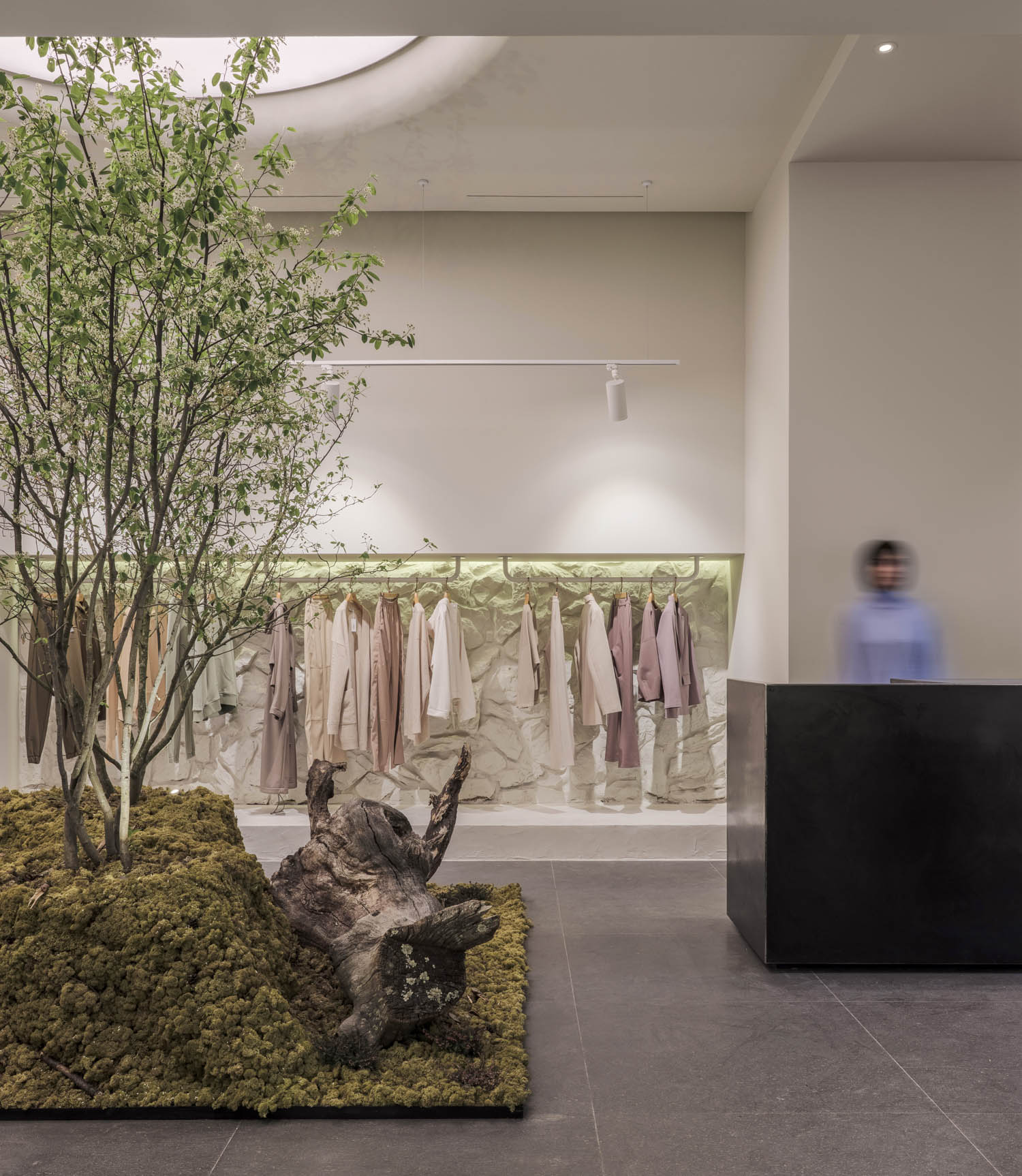 For a flagship showroom of a clothing brand in Moscow, JL Interior Design Studio turned to nature for inspiration. "The philosophy behind LaTrika is based on the unity of soul, mind and body and harmony with the surroundings," says studio founder Jenya Lykasova. "We wanted to convey the brand's vision and mission in the interior, so the concept of a calm and 'organic' space was born." Read more about this nature-inspired store design.
9. Patters Play in This Retail Hotspot by Giorgio Borruso Design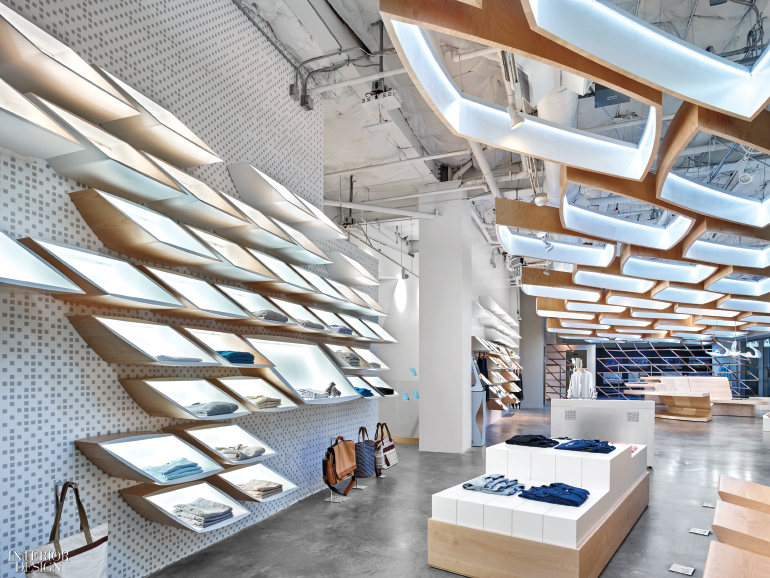 Giorgio Borruso's disruptive retail-technology concept (an INTERIOR DESIGN Best of Year award winner) touches down at an upscale mall, Santa Monica Place. And we again have proof of concept: Change the files, not the fixtures. The plug-and-play modular setup can bring any brand to market, at any time, almost anywhere, with minimal on-site work, thanks to the flexibility of shape-changing robotics, adaptable lighting, and individualized videos. The one constant is "the highest level of design and architectural aesthetics," Borruso says. Read more about this retail locale.
10. Glimpse a Shopable Installation in a Streetwear Store in Beijing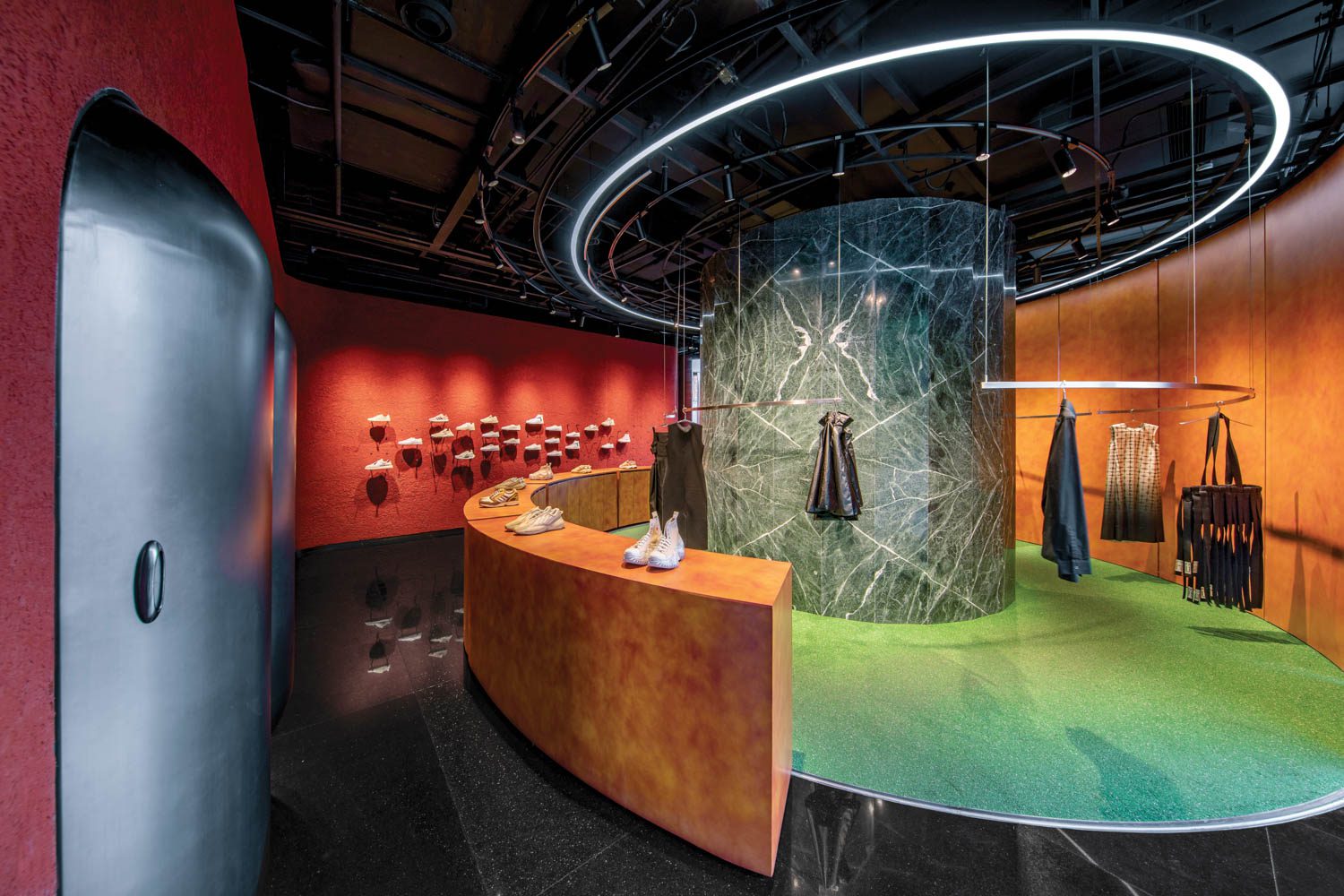 For the redesign of the 1,300-square-foot multibrand streetwear store, physical and conceptual coherence was introduced with a solar system–like layout that emphasizes the retailer's gravitational pull on producers and consumers alike. A central architectural element comprising monolithic curved walls clad in green marble or stainless steel is encircled by hanging clothes racks, shoe display cases, and moveable partitions like planets orbiting the KIKS sun. Read more about this futuristic retail store interior design.
11. Wutopia Lab Creates a Whimsical Bookstore in Yancheng, China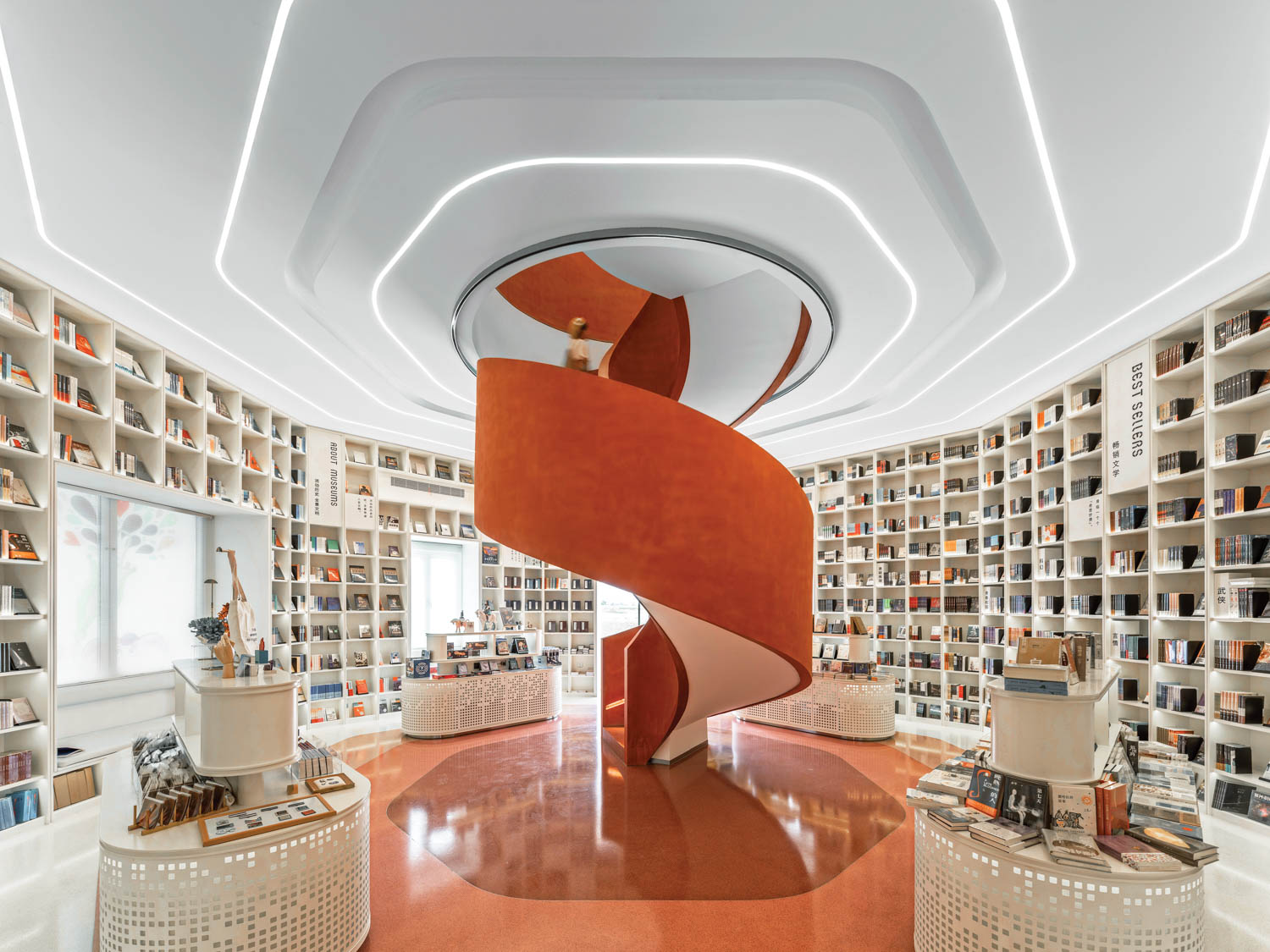 Yancheng may well be worth more than its weight in salt. For the past two millennia, the Chinese city's natural river salt reserves have seasoned Jiangsu province's many celebrated dishes. In fact, its name literally translates as salt city. North of Shanghai, Yancheng's development has progressed at a more temperate pace when com­pared with its glamorous neighbor despite a population of over 8 million. But for architects such as Ting Yu, founder and principal of Wutopia Lab, the city offers much room to experiment—and is the perfect place to unleash his creative prowess in experiential retail design at a parent-child branch of Duoyun Bookstore. Read more about this bookstore design.
12. Temproject Designs Mila's Beauty, a Joint Cosmetics Store and Café in Kyiv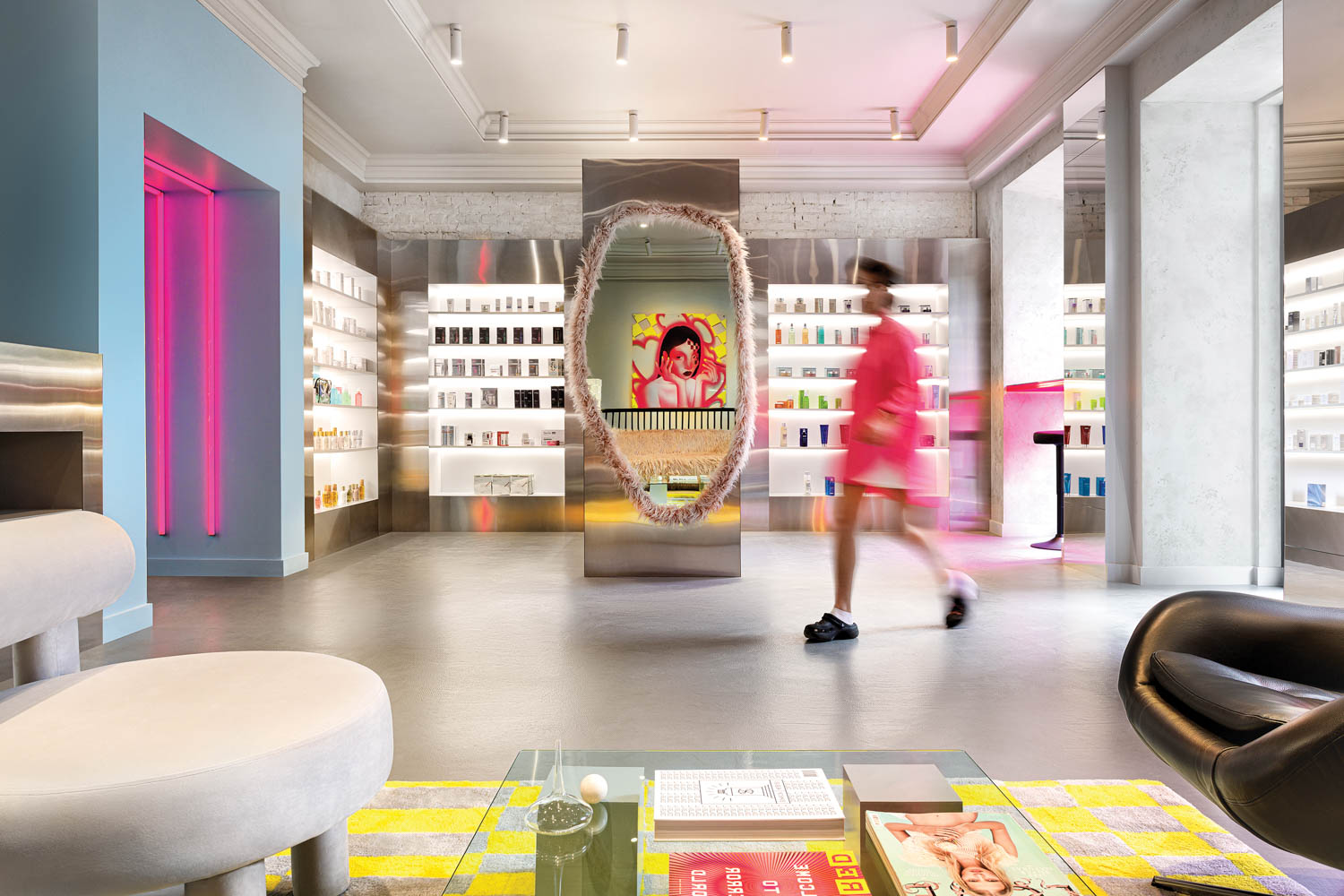 Anastasiia Tempynska, the former competitive ice-skater, now rising star architect believes we are all different, that's why we are beautiful. It's a philosophy that dovetailed perfectly with this joint cosmetics store and café, a 750-square-foot project in Kyiv, Ukraine, by her 2021-founded firm, Temproject. Read more about this hybrid retail space.
13. Walk Through a Calvin Klein Showroom by Architecture Research Office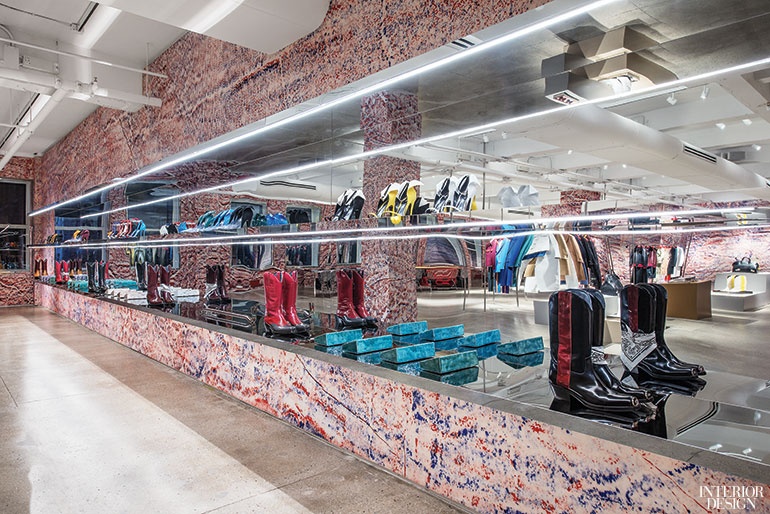 For 50 years, the Calvin Klein brand has defined and refined a particularly American approach to minimalism. It elevated jeans and underwear into status symbols with the touch of a sans serif logo. INTERIOR DESIGN Hall of Fame member John Pawson fashioned its New York flagship into a temple to home goods and apparel that changed the retail landscape for decades, asserting that luxury could feel utterly unfussy. Read more about the Calvin Klein store design.
14. Pretty in Pink: Glossier's NYC Flagship Showroom by Gachot Studios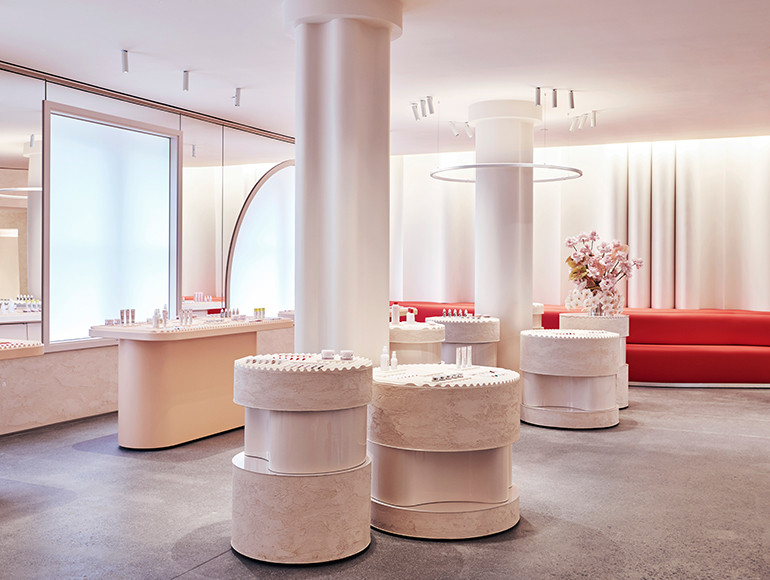 A home for lovers of dewy makeup, graphics and branding, and all things dusty pink reopened its doors in lower Manhattan earlier this month. Makeup and skincare company Glossier's new space, designed by Gachot Studios, now dominates two floors of its previous home at 123 Lafayette Street. One enters via an Instagram-worthy grand staircase of pink plaster and burgundy-and-red quartz pebble steps. Read more about this chic retail store design.